As wellness becomes an increasing priority for consumers, emerging innovations — from personalized vitamins to DNA-based diets — are transforming the way people approach nutrition.
Personalization is coming for nearly every consumer-facing industry — from algorithm-driven music recommendations to custom-design sneakers.
Now the rise of the $4.3T wellness industry — which has seen consumers embrace everything from CDB-laced seltzer to wellness-optimized real estate — is prompting an increasing number of nutrition companies to tap into the trend with customizable offerings. Just as with streaming services and footwear, the bet is that potential customers will prefer products that could better reflect their specific needs and preferences.
Personalized nutrition typically involves creating customized products or services based on factors such as one's genetic makeup, lifestyle, or environment. Companies touting this approach are leveraging emerging tech like at-home DNA testing and 3D-printers to promise benefits including healthier diets and more effective supplements.
In this report, we look at the trends driving the emerging space forward and consider some of the challenges the sector will face as it grows.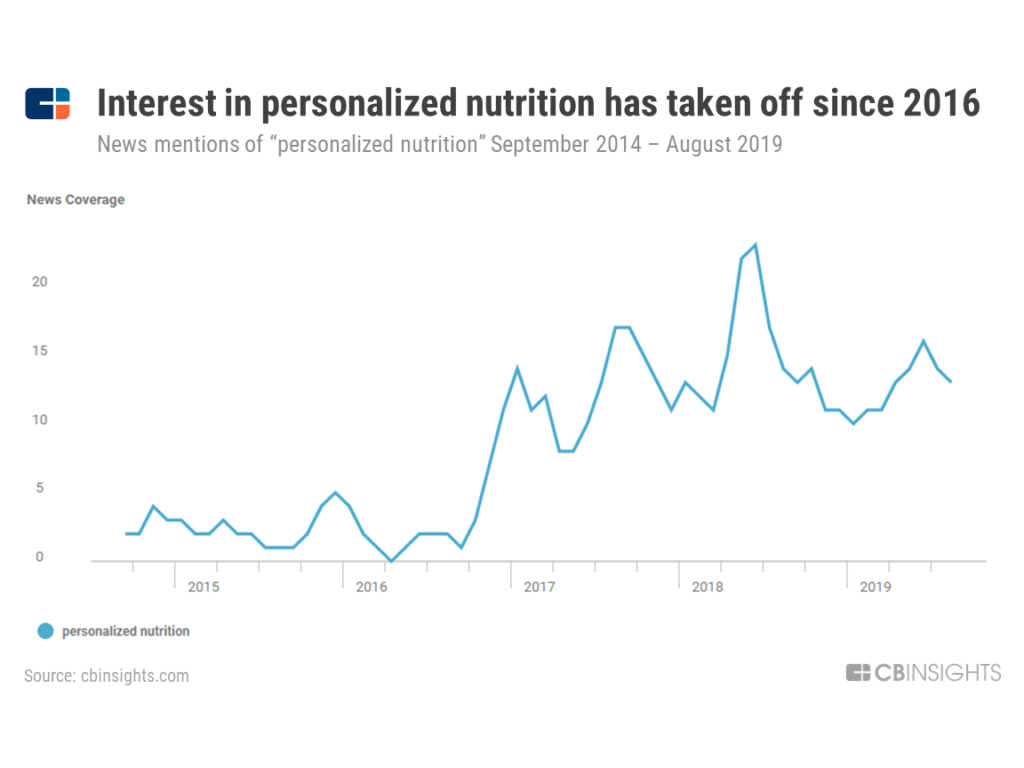 Mentions of personalized nutrition in the news has risen sharply as consumer interest in the space picks up.
table of contents
Wearables and apps are helping to track nutrient intake
Wellness-focused wearables refer to any technology that is physically worn on the body that monitors some aspect of users' wellness — such as tracking activity levels or quality of sleep. 
There's been a surge in the popularity of wearable wellness technology in recent years, with the global market for healthcare-related wearables alone expected to be worth $28B, according to CB Insights' Industry Analyst Consensus marketing sizing tool. 
Many common wearables, like those from FitBit and the Apple, can be used to log meals and track dietary intake — typically via manual entry or scanning barcodes. With this data, some services provide an estimation of caloric intake and a breakdown of macronutrients.
Other wellness wearables have been designed to help people with medical conditions — such as high blood pressure or diabetes — where patients can benefit from being able to provide accurate nutritional information to doctors. 
The Georgia Institute of Technology, for example, designed a mouth wearable that monitors salt intake. The sensor can wirelessly report salt consumption to an app, helping users manage the amount of sodium in their diets. Similarly, Tufts University researchers developed a tooth-mounted sensor that detects glucose, salt, and alcohol intake. 
Other devices in the space are intended to help those with certain allergies. Allergy Amulet, for example, has raised $1.6M to develop a portable food allergen sensor. The device signals if an allergen is present by analyzing a disposable test strip which has a sample of food on it.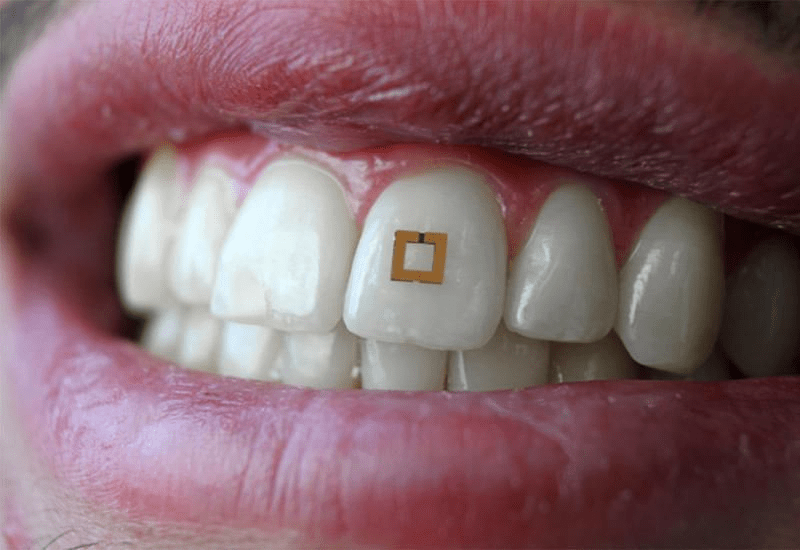 Image source: Tufts
A broad range of mobile apps are also tapping into data streams from wearables, and other sources, to provide nutritional recommendations.
HealthifyMe falls into this category. It is an India-based nutrition and fitness platform that combines food, water, and activity tracking with fitness coaching. Based on the input data, the app generates insights on nutrient intake and calorie needs. The company has raised over $25M in funding.
Another company in the space is Tel Aviv-based Nutrino, which uses AI to help recommend a dietary plan based upon a number of physiological signals from the user, such as stress and activity levels. Medical device giant Medtronic acquired Nutrino at the end of 2018, with the stated aim of using the tech to help patients with diabetes. 
The move would bring Nutrino into competition with a handful of personalized nutrition platforms that have been created with specific medical conditions in mind.
One example in this space is UK-based company Oviva, which works with the UK's National Health Service (NHS). The company offers a behavior change platform targeted at users with conditions including obesity, diabetes, and food allergies. Through Oviva's mobile app, users can track activities and communicate with dietitians for guidance. 
Though wearables can help provide hard data, their use cases are still limited and a number of nutrition-recommendation platforms currently ask users to self-report dietary habits or activity levels. One issue with this approach — even under the assumption that a nutrition platform is promoting sound advice — is the risk of undermining accuracy due to missing data points or personal biases. Though not a challenge that is likely to be resolved quickly, wearables may be able to provide a broader range of data streams as technology improves, possibly reducing some reporting burdens from the user.
At-home testing kits take off
At-home diagnostics kits are growing in popularity as consumers look to better understand their bodies and heritage, but a growing number of companies are also tapping into the trend to offer personalized nutrition services. Wellness startups touting these kits typically aim to provide tailored nutritional insights based on characteristics such as a user's genetic makeup, microbiome, or immune responses.
An example of this approach is personal genetics company 23andMe's gene-based food recommendations. Customers submit a saliva sample to the startup via an at-home kit. In return, users can opt to receive high-level dietary recommendations, such as how often to eat red meat or the number of vegetables to consume per day, based upon health-related information reported from others with a similar genetic make-up.      
But it's not just genetics that can provide dietary insights — gut microbiome testing is also picking up steam as a nutrition tool. These tests analyze the makeup of bacteria and other microorganisms — many of which play an essential role in bodily functions such as breaking down food — that live in digestive tracts. 
One of the more prominent companies in this space is at-home test provider Viome. It assesses a customer's microbes to suggest foods and supplements it says complements them. This service includes singling out specific foods within broader categories — for example, by telling a user to avoid bell peppers if a corresponding virus is found in a users' gut which targets the fruit and interferes with its digestion. The startup has raised over $45M in funding from a crop of investors including Khosla Ventures, Physician Partners, and Salesforce CEO Marc Benioff, among others.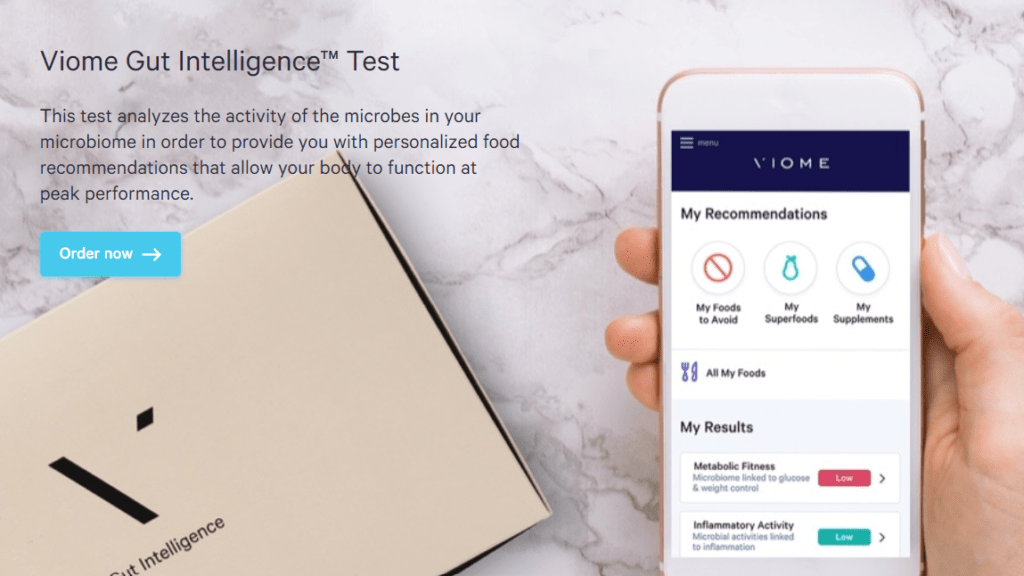 Image source: Viome
Allergies are also seen as a instructive way to make dietary recommendations. One startup in the space is digital health platform EverlyWell. It offers an at-home finger prick blood test that it claims measures a user's immune response — including delayed, non-life threatening reactions — to almost 100 food types. The Texas-based company has raised over $55M in funding from investors including Goodwater Capital, Highland Capital Partners, and NextGen Venture Partners.
Despite the touted benefits of the services described above, uncertainty exists around the effectiveness of approaches like nutritional genomics and the accuracy of at-home testing kits. Bodies such as the Academy of Nutrition and Dietetics are calling for caution in the field, stating that "The practical application of nutritional genomics for complex chronic disease is an emerging science and the use of nutrigenetic testing to provide dietary advice is not ready for routine dietetics practice." But such criticism has not put off a number of investors from betting millions on the future of space.   
Personalized pills look to boost wellness
Currently, many consumers take mass-manufactured medicines and supplements that tend to work with various levels of effectiveness depending on the individual. But that's beginning to change as the pharmaceutical and supplement industries tap into the personalization trend with the aim of improving convenience and meeting the rising demand from wellness consumers for products that promise better health. 
A number of companies in the space are using 3D printing to create supplements and medications that can be created with customized specifications — in some cases, this can allow multiple medications to be combined into a single pill.
One startup using this approach is Multiply Labs, which is developing personalized pharmaceutical capsules. It 3D-prints compartmentalized supplements that are designed to be released in the body at different times throughout the day, with the aim of enabling consumers to take less pills.
Another 3D printing method is being implemented by UK-based startup Nourish3D to create tailored supplements. The early-stage company makes "gummy stacks" made up of vitamins and nutrients and says that over 1B combinations are possible. 
However, not all companies in the personalized supplement space are using robotics to create their products. Care/of and Rootine take a different approach by offering tailored supplements in the form of powders and microbeads.
Care/of asks customers to complete an online survey about their health. It uses the responses to recommend a selection of vitamin packs and powders, sending out the products on a recurring subscription plan. The New York-based company has raised $44M from investors, with its 2018 Series B round led by Goldman Sachs Investment Partners.
Rootine, on the other hand, offers microbeads that deliver a customized dosage of vitamins throughout the day, with the goal of mimicking absorption of real food. Rootine uses an algorithm that analyzes data from genetic testing, a lifestyle questionnaire, and bloodwork to create tailored microbead combinations for users. 
A common criticism of this type of approach is around the reductionist nature of online questionnaires. Skeptics argue that nutritional advice based off a limited lifestyle questionnaire is likely to be less accurate, and ultimately less beneficial, than extensive tests overseen by healthcare professionals.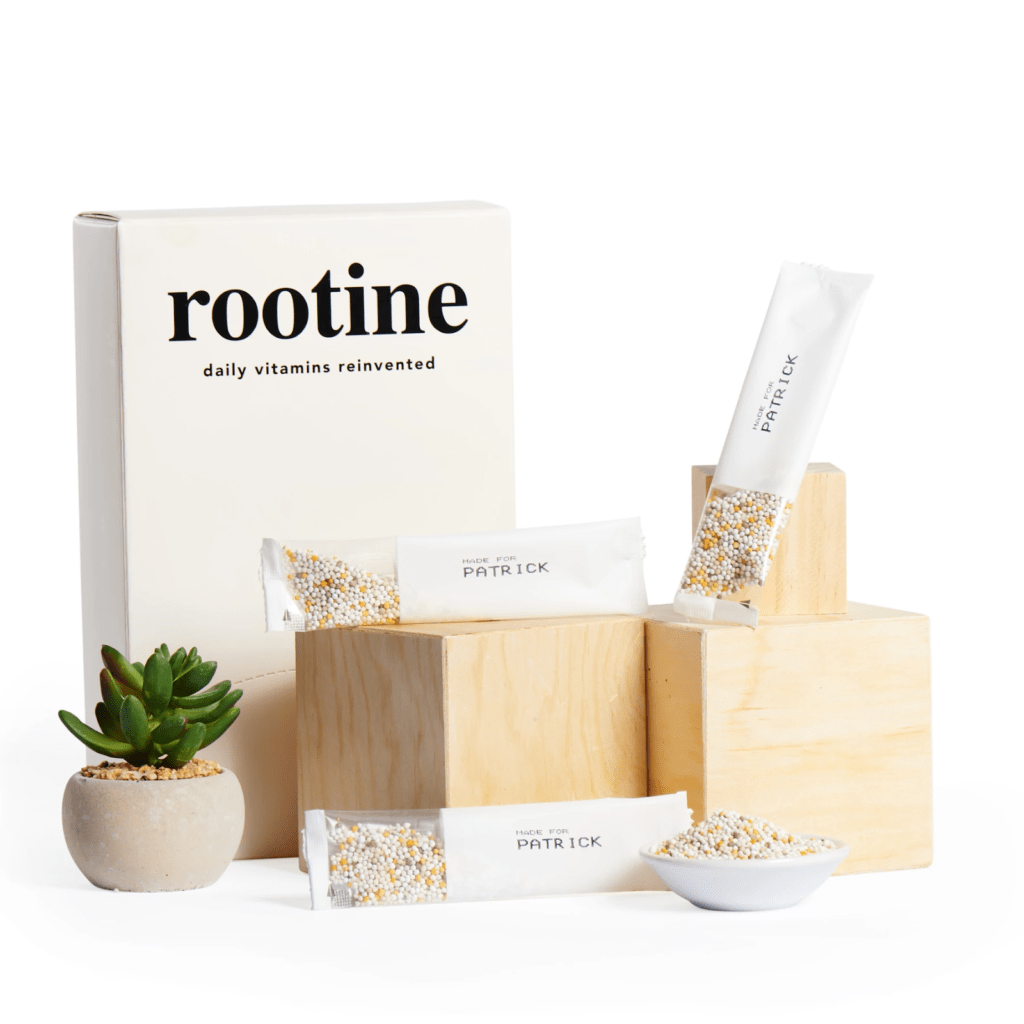 Rootine's microbead packs. Image source: Rootine.
Customized food and beverage gains traction
An increase in consumer interest in personalization has also spurred leading players in the food & beverage industry to offer customizable products that aim to better suit consumers' specific needs and lifestyles. 
One example is the Drinkfinity program launched by PepsiCo. The product allows consumers to create their own drinks by mixing pods of ingredients with water. Pepsi's Senior Director of Nutrition Sciences Sue Gatenby described the program as an attempt to offer "greater choice and flexibility to consumers." 
Drinkfinity's pods contain various dry and liquid ingredients that are marketed as having various effects. Its "Charge" pods contain coffee extract, and its "Renew" pods contain electrolytes that can help with hydration. 

Image source: Drinkfinity
Towards the end of 2018, Nestle piloted a personalized nutrition program in Japan. Its "Nestle Wellness Ambassador" program had users send photos of the food they were eating to an app. AI tech would then analyze the photos and additional personal data, from sources such as DNA and blood tests, to recommend capsules for nutrient-infused teas, smoothies, and snacks. The program had picked up around 100,000 users in Japan. 
Gatorade is also jumping on the customizable beverage trend with its hydration pods. Slated to go live in 2020, the company is offering a sweat-sensitive skin patch that changes color to indicate hydration and electrolyte levels. Users can send a photo of the patch's color to an affiliated app which then recommends a corresponding hydration pod.
Though the idea of customizable food and drink has resonated with some early adopters — and several big companies are willing to bet on the nascent sector — it remains unclear if the concept will catch on more broadly in the short-term. One barrier is that personalized food & beverage options can have a relatively high cost of entry. Another issue is that some consumers may find the idea of sharing detailed personal data, such as DNA test results, off-putting.
The outlook for personalized nutrition
The personalized nutrition market, buoyed by the broader wellness trend, is set to grow in the years to come as more consumers begin to expect the same level of customization that they find in industries like fashion or entertainment.

From DNA-driven dietary recommendations to 3D-printed pills to nutrient-tracking mouth wearables, the central promise is achieving better health through wellness offerings which match consumers' individual circumstances.
However, existing personalized nutrition platforms cannot yet replace advice from health professionals. Many touted wellness wearables are not yet ready to go to market, and emerging fields such as nutrient genomics are facing increasing levels of scrutiny and skepticism. These barriers, among others, mean that more advancements in the space will likely be needed to build public trust and sustain a more widespread trend.
That said, demand for personalized nutrition and wellness is increasing, and the approach may one day offer a compelling way to boost health for mainstream consumers — if technology and real-life outcomes can catch up to the promise.
If you aren't already a client, sign up for a free trial to learn more about our platform.