With platforms for renting, reselling, and partial ownership, brands can no longer ignore the trend of personal goods being treated as assets.
The Uber effect is starting to trickle down to more personal goods.
With consumers valuing experiences over possessions, a rising number of goods categories — clothes, furniture, jewelry — are becoming available for rent or resell, or even split into shares that can be traded.
ALTERNATIVE PROTEINS, FITNESS TECH, AND GAMING SURGED IN Q3'20
Consumer product startup investment activity spiked in Q3'20 as funding reached an all-time high. Download our free report now.
That's what we call the assetization of the economy: personal goods being treated as assets.
This is a trend that brands can no longer ignore.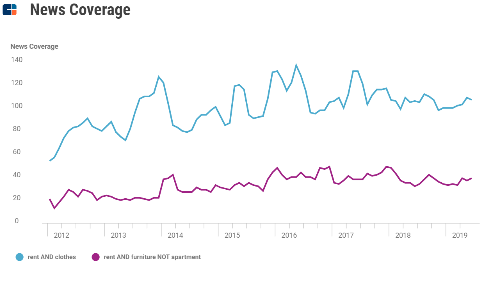 Evidence #1: News chatter about rental platforms for clothing and furniture has increased in recent years, fueled by the rise of rental startups such as Rent the Runway and initiatives by established companies such as IKEA.

Evidence #2: At the same time, the resale channel has been on the rise, making it easier for goods such as sneakers or handbags to change hands multiple times before eventually being recycled or destroyed.
The global luxury goods resale market, for example, is expected to reach $51B by 2024, according to CB Insights' industry analyst consensus.
Evidence #3: Last but not least, you can count on fractional ownership platforms to keep on expanding into a new range of goods including luxury cars, jewelry, or even art, making it possible to trade shares of these goods.
More on how blockchain is powering fractional ownership platforms targeting luxury goods here.
What to plan for
While still nascent, the assetization trend is clearly set to change the way goods are owned and consumed.
To make the most of this trend, brands need to start rethinking the way they design products.
Products for sharing. Brands need to start designing their products with new constraints in mind, as products are rented out or owned by different people during their lifetime.
This means making products that are more durable with materials that are resistant, easy to clean, and repairable. In a few words, strong standard design.
Standard design, personalizable features. The need for more personalization won't slow down, as consumers will still want products that meet their personal needs and tastes.
Expect easily personalizable features such as removable covers for sofas or resizable clothes to complement standard design.
Connected personal goods. Adding sensors to these products will allow brands to monitor usage and better track inventory.
Anticipate brands to start offering more connected services such as health monitoring or predictive replenishment of consumables to improve the customer experience as well as generate extra revenue for brands.
Last but certainly not least, the rise of the rental economy poses a key question for brands: who owns the goods?
If brands cannot count on consumers to pay upfront for the cost of the goods they consume, they will need to adapt their business model.
This could mean that brands rent out part of what they produce and keep it on their balance sheet. In which case you should expect new classes of asset-backed securities to emerge in order to finance this new business model.
You should also anticipate rental companies to become important firsthand buyers as more and more consumers subscribe to their service, thus gaining significant purchasing power over brands.
If you aren't already a client, sign up for a free trial to learn more about our platform.