110+ companies, from fintech to logistics & delivery, that are defining India's startup ecosystem
As a global tech hub, India is home to one of the world's most active startup ecosystems. The South Asian country boasts ten unicorns, including e-commerce site Flipkart, which has raised $4.7B to date and is the eleventh most valuable company on our unicorns list.
In 2016, Indian tech companies closed 965 deals, a 10% increase from the 881 closed in 2015. While this represents the highest annual deals count yet, typical mega-deal players like transportation service Olacabs and Paytm parent company One97 Communications didn't see much funding action. As a result the investment total for 2016 was $3.4B, lower than both 2015 and 2014.
Using CB Insights data, we created a periodic table showcasing the landscape of India's tech sector. Our periodic table consists of 3 components: a selection of companies that are defining the tech industry in the country, the investors (including venture capital, corporations, and corporate venture capital arms) that have been most active in financing them, and notable exits from recent years.
Click the image below to enlarge. This periodic table is not meant to be exhaustive of companies in the space.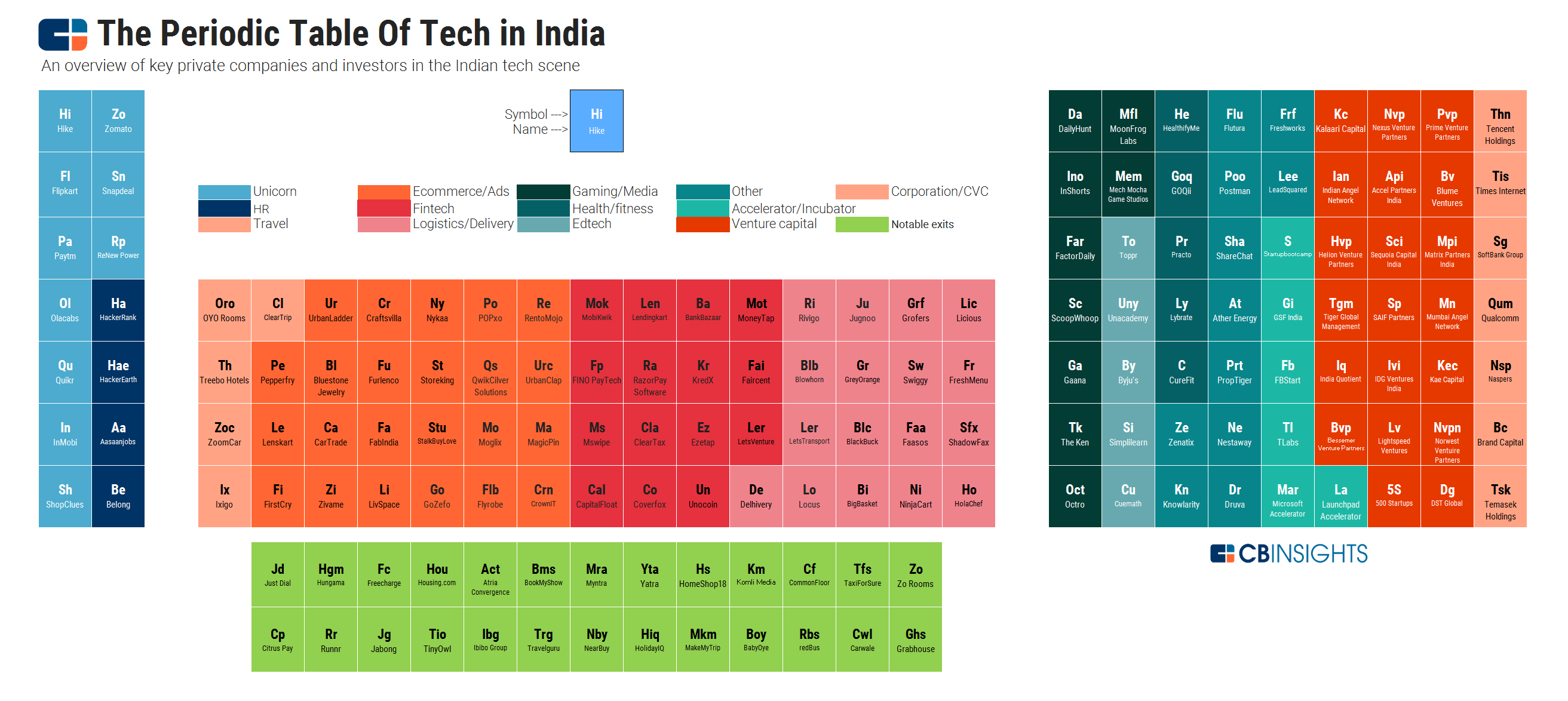 Navigating the periodic table of tech in India:
The top part of our periodic table lays out private investor-backed companies and the country's most active investors, while the bottom two rows (in green) call out the most notable exits in recent years.
We segmented India Tech into the following categories:
Accelerator/Incubator
Several accelerators and incubators nurture startups through their programs and invest money into them later. Our list includes Microsoft Accelerator, Google's Launchpad Accelerator, and Facebook's FBStart.
Venture Capital
Our table features both India-based and foreign venture capital funds. The most active investor in this category is seed- and angel-focused venture fund Blume Ventures, which has invested in 76 companies since 2012.
Corporation/CVC
This accounts for corporations and corporate venture capital arms that have made notable investments in India. Names include Japan's SoftBank Group, China's Tencent Holdings, and South Africa's Naspers.
Notable exits
There have been several notable exits in India's tech ecosystem over the past 5 years. Activity hit a peak in 2015, when Indian startups saw 182 exits—more than triple the 50 exits seen in 2012. 2016 continued on the same pace, with 178 exits in total. We've listed 26 exits in our Periodic Table, including mobile top-ups site Freecharge, which was bought by e-commerce site Snapdeal in 2015.
CategorieS
If you aren't already a client, sign up for a free trial to learn more about our platform.