After lowering return expectations for the 2017 fiscal year, the head of the US' largest pension plan is pursuing a "first step" toward a dedicated PE program.
As they face pressure on returns in a stubbornly low interest rate environment, many pension plans in the US have been considering shifting their portfolio strategies away from managed funds and into more direct investments, taking a page out of the playbook of Canadian pensions that have been more active in direct investments.
The California Public Employees' Retirement System (CalPERS) – the largest pension plan in the US – is the most prominent example, and may become the first public pension fund in the US to create its own direct private equity program.
CalPERs CEO/CIO Theodore Eliopoulos earlier this month expressed his intent to launch a direct investment program for the system within the next few years, enabling CalPERS to acquire or invest in companies directly without the involvement of fee-collecting private equity partners.
Eliopoulos' suggested program would take a buy-and-hold approach to acquisitions (with life sciences companies mentioned as potential targets), and would represent a possible "first step" toward CalPERS eventually running its own dedicated PE program.
Though a direct-investing strategy for CalPERs remains firmly in the idea phase (with a more detailed proposal expected within six months), it could catalyze an influx of direct PE investment activity among US pension plans.
Canada Pensions Go Direct
CalPERs' interest in direct investing comes at a time when the PE industry is delivering its best returns in years: US private equity funds in 2016 posted their strongest annual net returns since 2013, and all key sectors in the private equity index posted double-digit gross returns for the year, according to new data from Cambridge Associates.
Despite the return potential, US pension funds are cutting their allocations to PE in an effort to lessen the impact of management fees: Pension funds and other institutional investors disclosed giving just $3.2B to private equity funds in January and February of 2017, compared with $8.9B announced during the same period in the year prior, according to data from The Financial Times.
To respond to their fiscal challenges without eliminating private equity from their allocations, many have called on US pension plans to follow the lead of their Canadian peers.
As a response to low interest rates on more traditional assets, Canadian pension funds have chased riskier asset classes like private equity and even tech startups, becoming highly active direct investors in recent years, with many even paying their in-house officials as much as $5M to $6M per year to manage funds in a similar manner to PE firms.
CB Insights data shows that three of Canada's largest pension funds – the Canada Pension Plan Investment Board, Ontario Teacher's Pension Plan Board, and Caisse de depot et placement du Quebec – have made at least 88 direct investments in private companies since the start of 2012, totaling over $19B in funding, and are poised for year-over-year highs in deal count and dollar volume in 2017. Collectively, these pension funds have also seen 58 exits since Q1'12.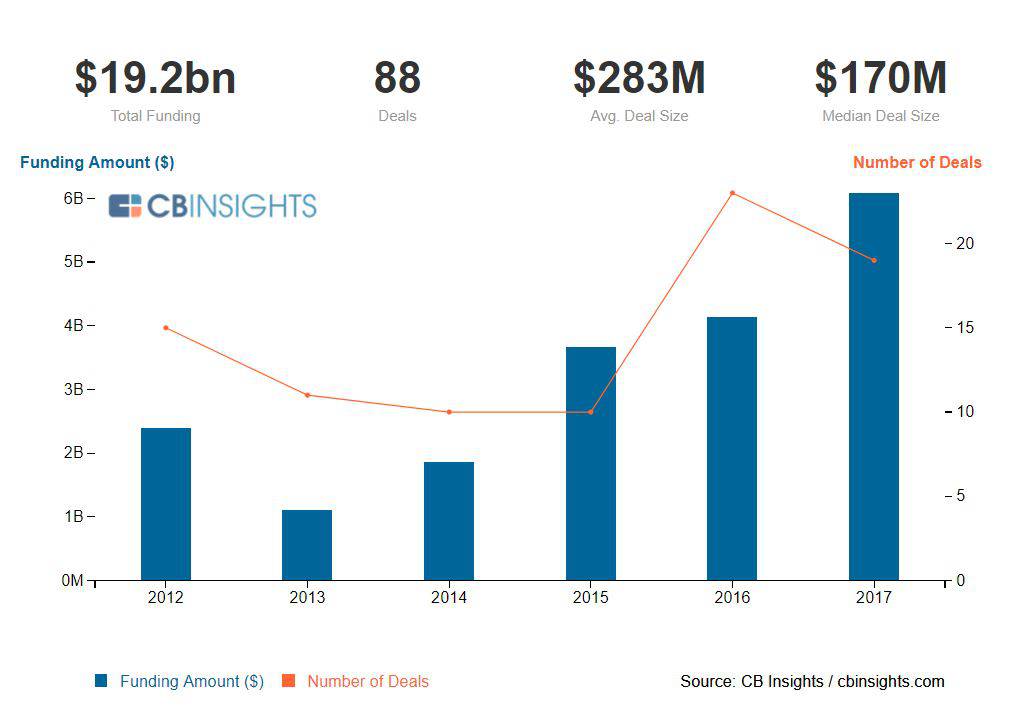 With studies showing that over 75% of US state and local government retirement systems have reduced their return assumptions since 2010, some believe a similar approach in the US could be a way for the country's public pension plans to boost returns.
CalPERs' Decreased Return Projections
Eliopoulos' discussion of a direct-investing strategy comes as CalPERs, which manages ~$320B in assets, enters its first year of decreased return expectations since 2012: Following a vote last year, CalPERs lowered its annual assumed rate of return from 7.5% for 2016 to 7.375% for the fiscal year beginning in Q3'17, and to 7% for the two years to follow. (CalPERS reported 11.2% returns for the fiscal year ended as of Q2'17 following two years of returns below 2.5%.)
And CalPERs' interest in direct investing isn't entirely new; Elioupolos asked his staff last year to explore options for modifying CalPERs existing private equity program to make it as cost-effective as possible. CalPERS' $26.4B private equity program is its best-performing long-term asset class, but also its greatest source of controversy: CalPERs has faced heavy criticism around its private equity operations since early 2015, when one of the plan's top officials acknowledged having little awareness of the performance fees paid to its private equity managers.
Since CalPERs began disclosing that information later the same year, the plan has acknowledged paying as much as ~$800M in annual fees to PE general partners. In fact, PE fees are commanding an ever-higher portion of US pension plans' profits, at large: Recent research found that PE fund managers raised their fees this year amid increased investor demand, despite hitting a record high of $1.57T in dry powder (uninvested capital) in Q2'17.
High levels of dry powder are generally viewed as a sign that buyout firms can't find suitable companies to invest in, and many attribute the recent peak to a combination of factors – including inflated private company valuations, a decrease in IPOs, and increased competition (among PE firms, VCs, corporates international investors, and institutional investors) for high-yield equity opportunities. That competition will only get stiffer if CalPERs brings its own $26.4B of PE-investing might into the mix.
If you aren't already a client, sign up for a free trial to learn more about our platform.