As connected exercise equipment unicorn Peloton makes its public markets debut, we highlight the biggest stakeholders in the company and how much their shares are worth.
The world's most valuable fitness tech startup is going public. Peloton, best known for its connected bike that allows users to stream cycling classes, priced its IPO on NASDAQ at $29 per share — at the top of its expected price range of $26 to $29 per share.
With a $4.2B valuation as of August 2018, the company has been far and away the most valuable fitness tech startup. It's also been one of the highest-funded: to date, Peloton has raised nearly $995M in total disclosed equity funding.
Now, Peloton's IPO marks a major milestone for its 25+ investors, which include a number of VC firms (G Squared, Kleiner Perkins, True Ventures), corporations (NBC, Comcast), angel investors (Uber CEO Dara Khosrowshahi), and more.
Breakdown of top stakeholders
Using Peloton's S-1 filing, we calculated how much its top stakeholders' shares were worth at the time of IPO, based on a $29 share price. Here's the breakdown.
Note: Peloton's S-1 refers to "L Catterton" and "CP Interactive Fitness LP" interchangeably; in this brief, we use "L Catterton" only. 
Please click to enlarge.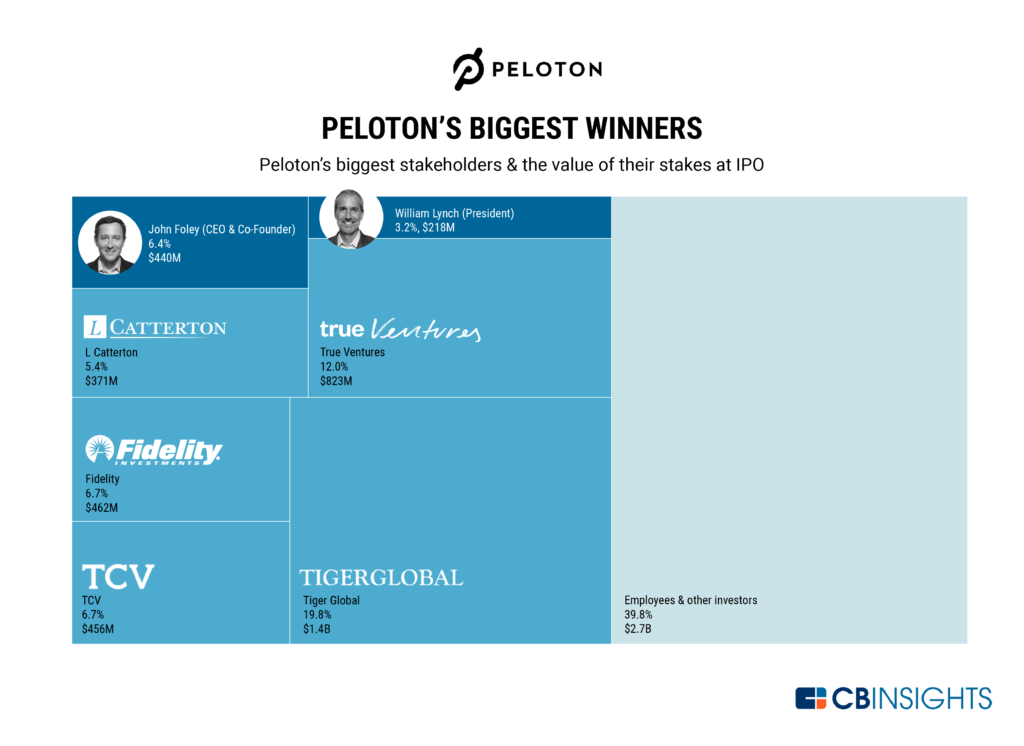 New York-based hedge fund Tiger Global Management leads with a 19.8% stake worth a massive $1.4B at a $29 share price. VC firm True Ventures takes the second slot, with a 12% stake worth $823M.
Financial services company Fidelity Investments and growth equity fund TCV (Technology Crossover Ventures) essentially tie with a roughly 6.7% share each (though Fidelity has slightly more shares, giving its stake a $462M valuation to TCV's $456M).
Private equity firm L Catterton has the smallest share among the company's leading institutional stakeholders, at 5.4% ($371M).
Peloton co-founder John Foley has a 6.4% stake in the company ($440M), while company president William Lynch holds 3.2% ($218M). Foley helped found the startup in 2012, while Lynch was brought on as president in January 2017.
Top institutional investors timeline
Peloton's top institutional investors all participated in traditional equity funding rounds to the company, though Peloton has also raised capital through debt rounds and crowdfunding platform Kickstarter over the last 7 years.
With the exception of L Catterton, all of Peloton's top institutional investors participated in the company's $550M Series F in August 2018 — the round that more than tripled the company's valuation, bringing it to nearly $4.2B.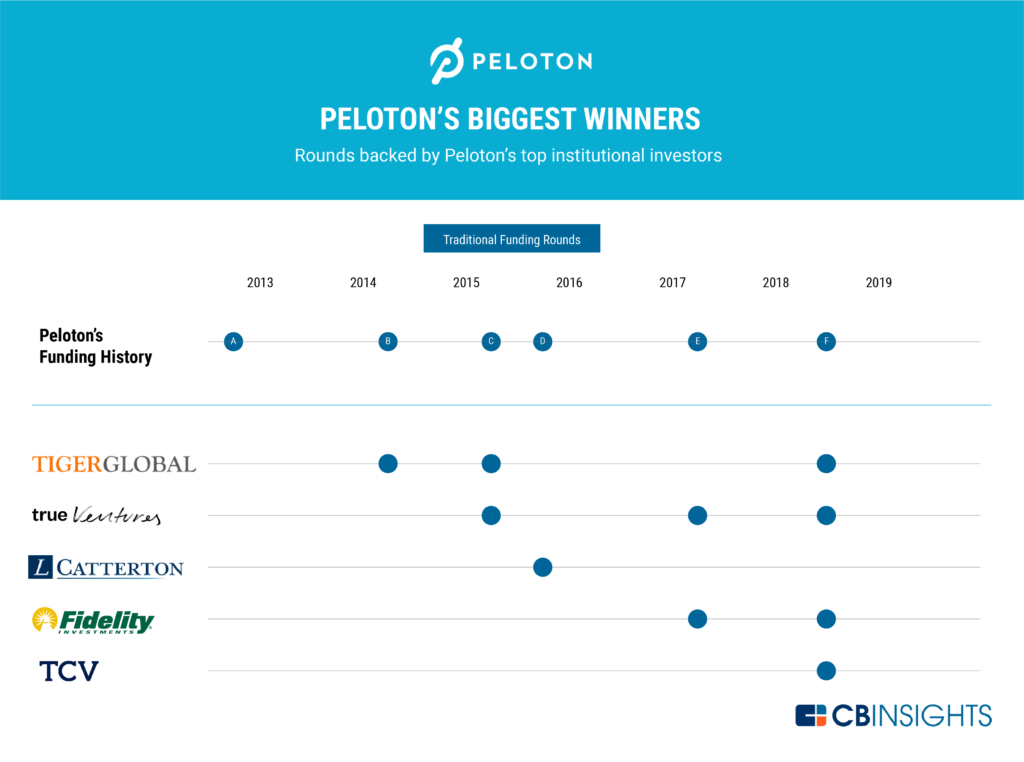 Tiger Global and True Ventures are Peloton's most frequent investors, each backing 3 rounds to the company. Tiger bet on Peloton earlier than other investors shown above, investing $10.5M into the company's Series B in early 2014. The firm now has the largest stake in the company.
True Ventures joined the investor pool a year later, and went on to co-invest with Fidelity in the $325M Series E round that earned Peloton its unicorn status, with a $1.3B valuation. TCV was the least frequent investor, only backing the company's most recent round.
Notably, Fidelity Investments has come up as a top stakeholder in two other recent major IPOs: cybersecurity unicorn Cloudflare and life sciences unicorn 10x Genomics.
If you aren't already a client, sign up for a free trial to learn more about our platform.