Using our headcount and valuation data, we look at payments players like Stripe, Brex, and Bolt to see which ones are the leanest.
Leading into 2022, numerous fintech unicorns operating in areas like payment acceptance and BNPL saw their funding, employee headcount, and valuations skyrocket. Among these, BNPL provider Klarna and payments processor Stripe reached valuations of $45.6B and $95B, respectively, in 2021.
The market downturn, however, has led to workforce reductions at both companies: Klarna conducted several rounds of layoffs, while Stripe reduced its staff by 14%, citing over-hiring. Additionally, both have received significant valuation haircuts.
The 2021 funding surge and subsequent valuation correction signal a market reset for key payment players, particularly for those caught on the wrong foot after prioritizing growth at all costs. On the other hand, some payments firms have shown efficient capital growth and labor utilization, commanding high valuations despite working with smaller teams.
In this brief, we use CB Insights payments data to identify which private players have the most efficient valuation-to-employee ratios. We look at the following data points: 
Top payment companies ranked by valuation

Top payment companies ranked by headcount 

Top payment valuations per employee
Top payment COMPANIES ranked by valuation
Among private payments companies valued at $1B+, the highest-valued players are:
Stripe ($50B)

Ripple ($15B)

Brex

($12.3B)

PhonePe

($12.2B)

Deel

($12B)
Stripe and PhonePe operate in the payment acceptance space, while Ripple, Brex, and Deel offer services in crypto payments, spend management, and HR & payroll, respectively.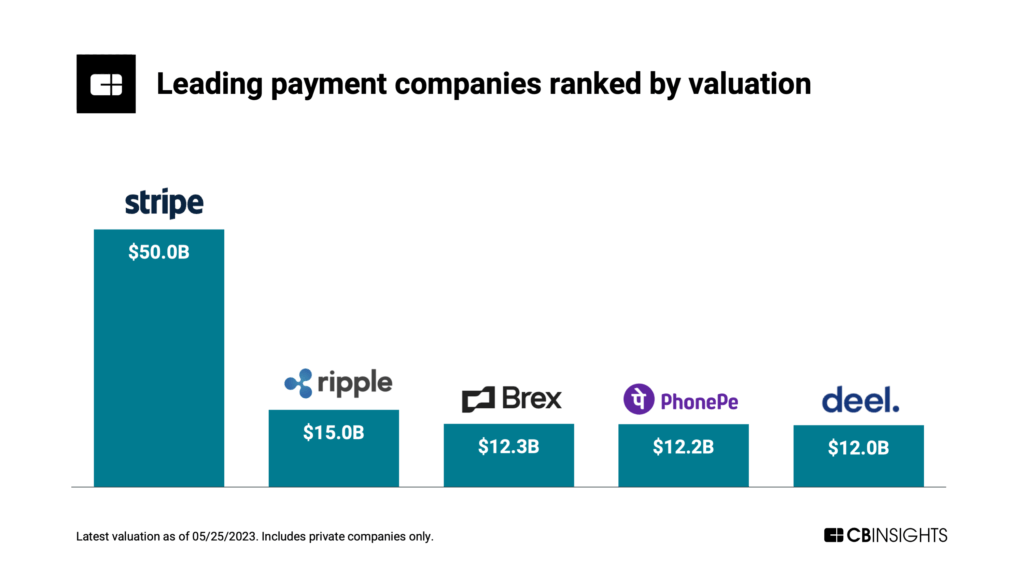 Since 2021, Stripe has experienced a nearly 50% drop in value. This mirrors other corrections in the payment industry — UK-based Checkout.com's valuation has fallen 73% to $11B, while cross-border operator Chipper Cash was devalued by 38% to $1.3B.