As the hybrid healthcare model takes off, investment to companies focused on improving virtual patient access, engagement, and care coordination — also collectively known as digital front door solutions — is on the rise. We look at what's driving investment, where the money is going, and what the implications are for 2022 and beyond.
Access to digital scheduling, provider profiles, and virtual care options have become the largest determining factors in a patient's choice of provider, according to patient satisfaction survey company Press Ganey.
Healthcare IT companies have been developing tools to make these services easily accessible to patients. Specifically, technologies for self-scheduling, virtual check-ins and screenings, patient access to records and data, virtual care options, and patient-provider messaging — known collectively as digital front door tech — are taking off. 
These tools have also seen increased investor attention due to the benefits they deliver for providers, who are more overwhelmed than ever due to staffing shortages.
Digital front door tech funding reached a record high of $1.9B in 2021, up 67% year-over-year. Notably, that figure is expected to grow more than 32% to surpass $2.5B by the end of the year.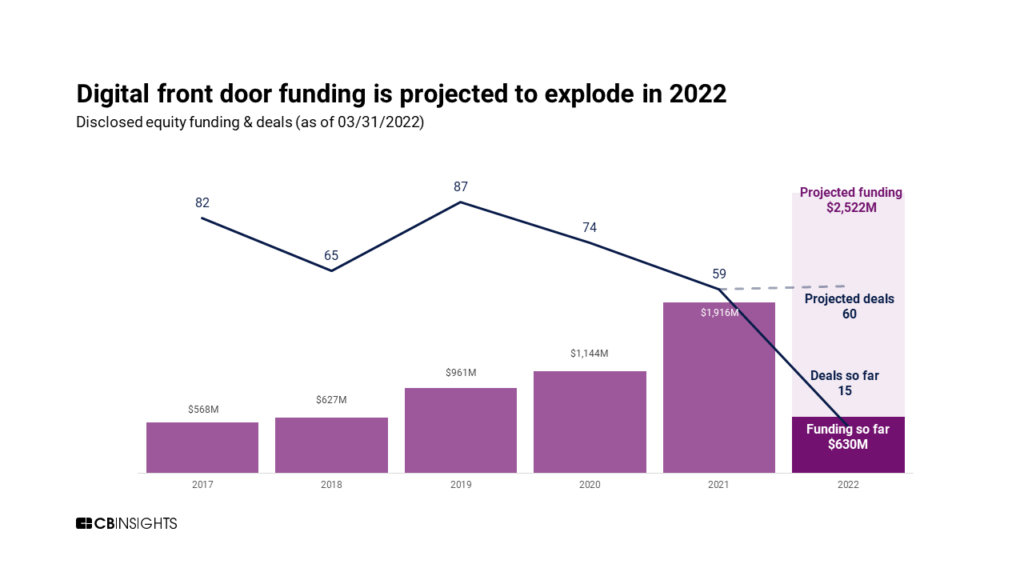 In this brief, we'll look at:
The

findings and implications

for this growth

The

market drivers

underlying this boom

The

categories

 receiving the most attention 
To dig into all of the underlying data in this brief, sign up for a free CB Insights trial here.
Track all the health IT companies in this report and many more on our platform
Public and private companies building new solutions designed for healthcare provider organizations.
Track Health IT Companies