As biotech company Passage Bio makes its public markets debut, we dig into the company's top stakeholders and how much their shares are worth.
Biotech firm Passage Bio, which develops gene therapies for rare central nervous system disorders, went public on February 28. The IPO took place during a quiet week for exits, amid an IPO slump and coronavirus-related market turmoil as the Covid-19 crisis grows. 
The Philadelphia-based company priced its IPO at $18 per share — the high end of its expected $16 to $18 pricing range.
Since February 2019, Passage Bio has raised $226M in disclosed funding from investors ranging from VC firms like Versant Ventures and OrbiMed to private equity firms such as Frazier Life Sciences.
BREAKDOWN OF TOP STAKEHOLDERS
Using Passage Bio's S-1 filing, we calculated how much its top stakeholders' shares were worth at the time of IPO, based on a $18 share price. Here's the breakdown.
Stakes are calculated based on shares owned immediately prior to IPO. Please click to enlarge.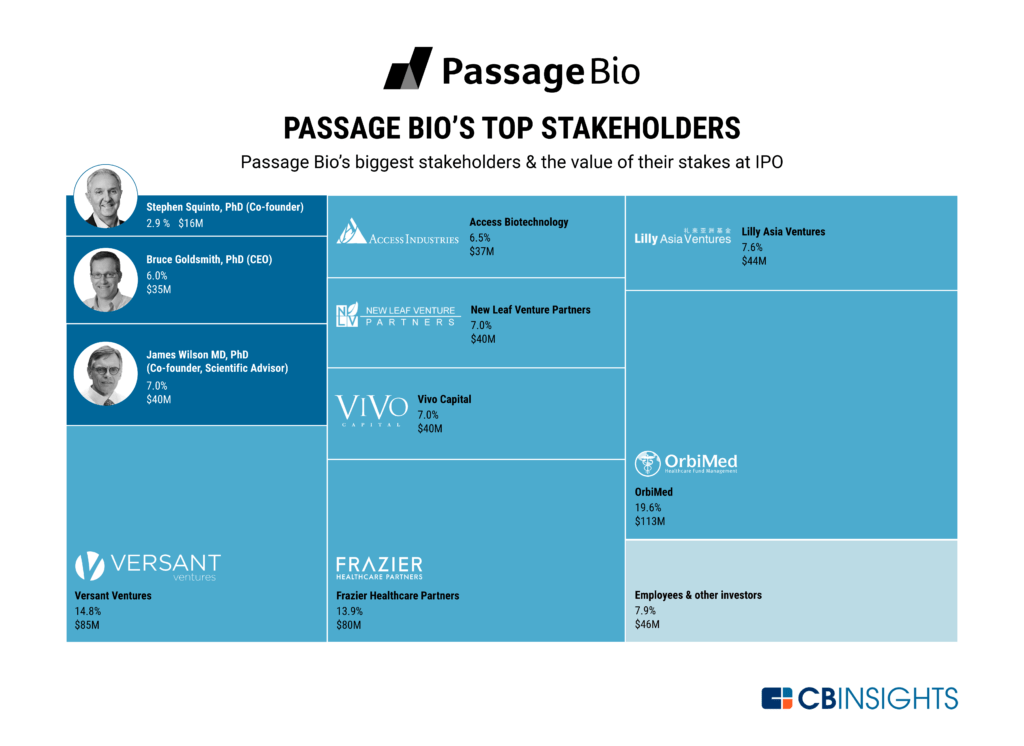 New York-based venture capital firm OrbiMed has the largest share in the company, at 19.6%, worth $113M at the time of IPO. It is followed by California-based VC firm Versant Ventures, with a 14.8% stake valued at $85M.
Coming in third is Frazier Life Sciences, with a 13.9% stake worth approximately $80M. Lilly Asia Ventures, Vivo Capital, and New Leaf Ventures round out the firm's top institutional investors, with stakes ranging between 7% and 8%.
Co-founder James Wilson holds a 7% stake in Passage Bio worth $40M. CEO Bruce Goldsmith owns 6%, valued at $35M, while co-founder and former interim CEO Stephen Squinto owns 2.9%, valued at $16M. 
TOP INSTITUTIONAL INVESTORS TIMELINE
With the exception of Access Industries and Versant Ventures, all of Passage Bio's top institutional investors participated in both of its rounds: a $116M Series A in February 2019 and a $110M Series B in September 2019.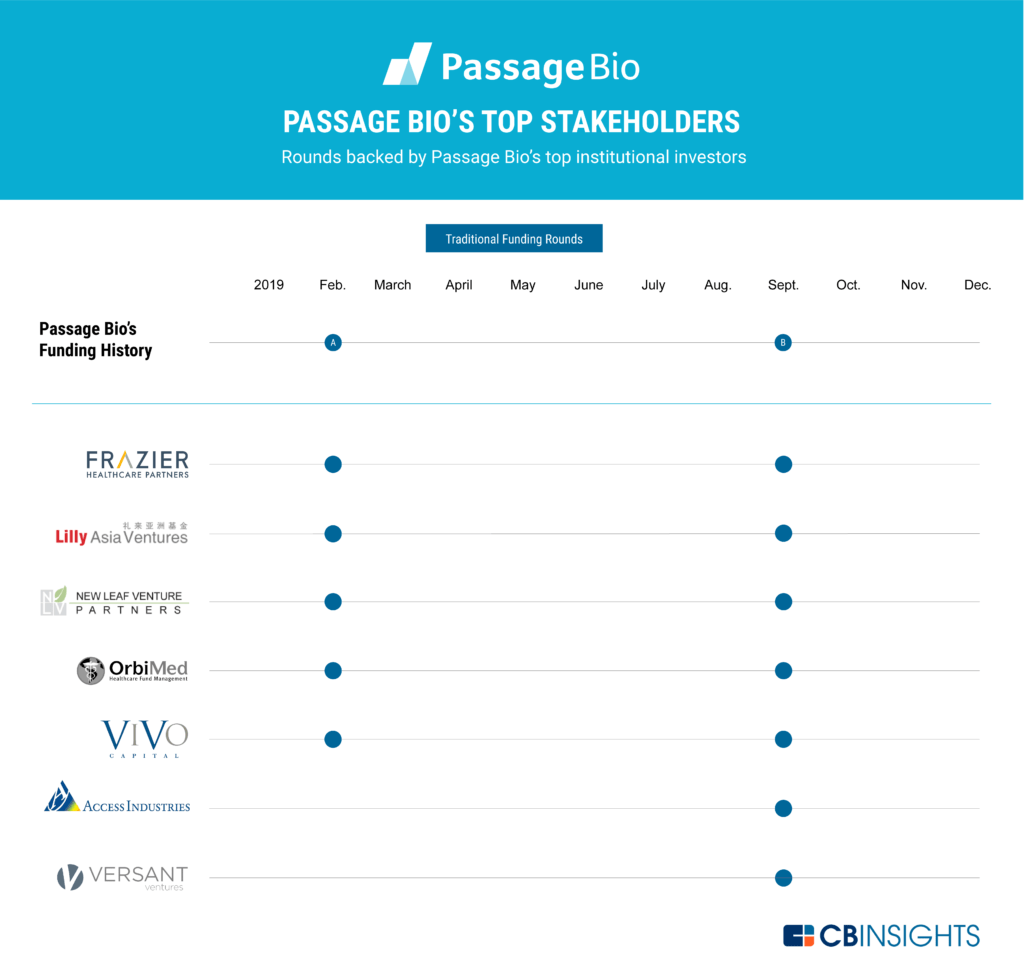 While the majority of these institutional investors co-invested in both rounds for larger shares, Versant Ventures took a different approach, participating in just the latter round to secure the second-largest institutional stake in the company.
If you aren't already a client, sign up for a free trial to learn more about our platform.