OYO is looking to expand its international footprint — especially in China. We look at how it could succeed in the shadow of Airbnb and its Chinese counterparts.
There's a new unicorn in town.
Yesterday, Indian budget hotel booking startup OYO raised $1B in a round led by Japanese financial giant SoftBank. Return investors Sequoia Capital and Lightspeed Venture Partners also participated in the financing, which now values the startup at $5B. (See our unicorn tracker for other private market companies valued at $1B+).
This is the second largest accommodation booking deal after Airbnb's $1.5B Series E (Jun'15), as well as the largest travel tech deal in 2018 year-to-date.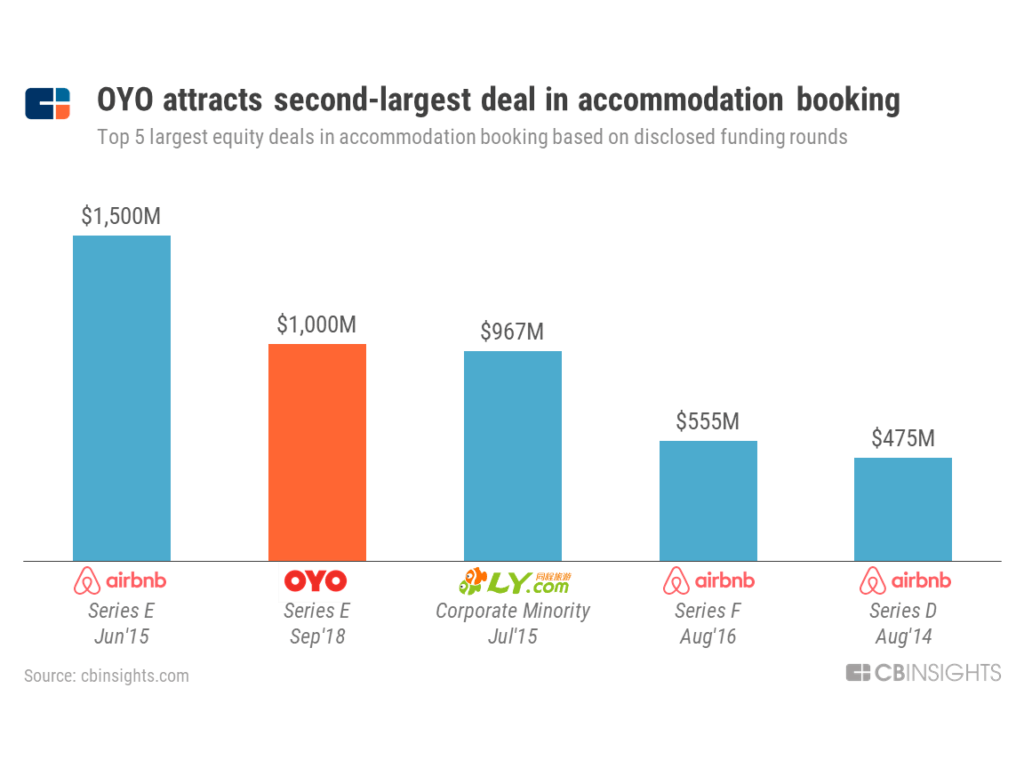 The company raised $552M in total disclosed funding prior to this new round, and currently has over 10,000 hotels on its platform — the majority of which are based in India.
Oyo plans to use its freshly raised cash to expand into new geographies such as China, where it plans to invest $600M  — another indication that the race for the Chinese travel accommodation booking market is intensifying.
Home sharing giant Airbnb, for example, has been struggling to grow in China (see our Airbnb Strategy Teardown for more detail), where it faces competition from local players TuJia and XiaoZhu.
After reportedly walking away from a potential merger with TuJia, Airbnb has managed to grow its number of listings to 200,000 at the end of 2017, up 125% year-over-year. This is still far from the 650,000 listings reported by Tujia.
But OYO's approach is different, which could help the newly-minted unicorn succeed in its expansion goals.
While it may cater to the same travelers, OYO operates in a different category, as it partners with budget hotels rather than homeowners.
The Indian startup has also been operating in China for almost a year, and has already reached 87,000 rooms in 171 cities, according to reports.
Additionally, OYO may count on the help of one of its investors, hotel management company China Lodging Group, to navigate regulatory hurdles and provide local support.
It is still too early, though, to say if OYO's expansion in China will be successful.
But the Indian budget hotel network appears to have found a strategy that will help it attract travelers looking for alternative lodging solutions, without going head to head with giants like Airbnb or other Chinese counterparts.
If you aren't already a client, sign up for a free trial to learn more about our platform.