In March, Oscar Health raised $165M at a $3.2B valuation. Did investors overpay or was this a bargain?
Oscar Heath just closed a $165M round of funding at a $3.2B valuation.
That puts Oscar in a class of its own when it comes to valuation.
Compared to incumbents like UnitedHealthcare, Oscar looks extremely expensive on a price-to-sales basis, i.e. valuation divided by annual revenue.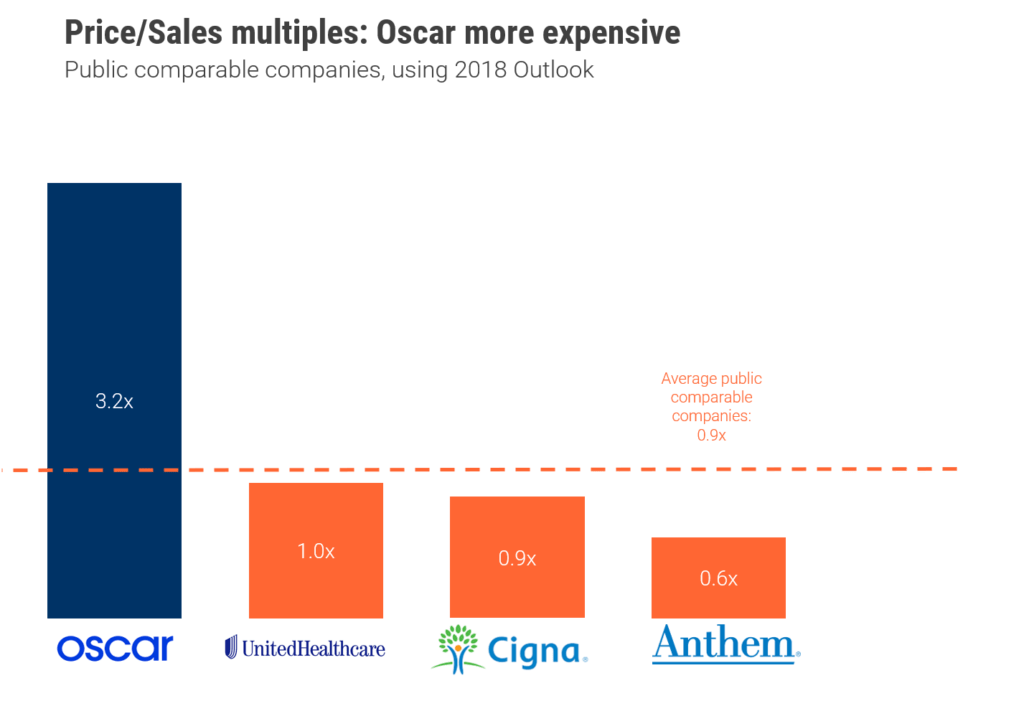 But digging into the numbers further reveals there's more to the story than a rich sales multiple. Technology, growth, and ambition mean that Oscar might live up to the seemingly stratospheric $3B+ valuation.
Note: Click here to see our Oscar Health Strategy Teardown from October.
Oscar has differentiated itself through a focus on customer service and technology. Oscar is now integrating more directly with doctors and hospitals, and has launched group plans through employers.
OSCAR AIMS TO UPEND TRADITIONAL HEALTHCARE
As we first discussed in our teardown, Oscar's goal is to put a human face on private health insurance. It aims to do the seemingly impossible: to make its customers love health insurance. Instead of seeing health insurance as a necessary evil, Oscar wants customers to put it at the center of their health and wellness needs.
In 2014, Oscar launched in New York, signing around 14,000 customers.
Three years later, at year-end 2017, open enrollment for 2018 closed with 260,000 enrolled members compared to 100,000 for the previous year.
At the time, several insurers were exiting certain Affordable Care markets. Meanwhile, Oscar doubled down: The company is now in six states, launched a small business insurance product for business with less than 100 employees, and in 2017 signed deals with both Cleveland Clinic and Humana (interestingly, reports suggest Humana is in deal talks with Walmart).
Partnerships, expanded offerings, and enrollee growth mean the story is getting exciting for Oscar. The company just raised another $165M in March (and are now at nearly $900M in funding all in). Based on the company's recent growth and fundraise, we wanted to see how its valuation stacked up to that of the much larger public health insurers.