Oscar has tried to disrupt health insurance with a focus on customer experience and technology, but success has been mixed. As the company changes tack, what does the future of a next-gen US health insurer look like?
Oscar has raised more than $700M, with the aim of disrupting health insurance by building a direct relationship with customers.
In simple terms, the company's goal has been to put a human face on private health insurance. It aims to make its customers love health insurance — as opposed to seeing it as a necessary evil — and put Oscar at the center of people's health and wellness needs.
The company has weathered its share of challenges while burning through hundreds of millions of dollars: Oscar has struggled to find its footing in the US healthcare market for individual coverage, and has faced an uphill battle in assembling a network of doctors and hospitals.
As the company moves into its fifth year of operation, Oscar's strategy is beginning to take a new shape.
Our analysis shows Oscar is slowly managing to contain its costs by integrating with hospitals, bringing key functions like claims processing in-house, and improving the health of its customers.
The biggest risk to Oscar remains the uncertainty surrounding the health insurance marketplaces known as exchanges, which are operated by the states. The exchanges were the pillar of Obamacare, or the Affordable Care Act, which sought to bring coverage to millions of Americans who did not have health insurance through their employers.
Health insurers including Oscar have found it difficult to eke out a profit from plans they offer on the highly regulated exchanges. At the same time, the current US administration is hostile to the Affordable Care Act and is taking steps to undermine it through legislation and regulatory tweaks.
In this landscape, Oscar has clearly begun to hedge against its former focus on individual plans and the exchanges.
Oscar has begun moving away from Obamacare in two ways: by integrating more directly with doctors and hospitals, and also by beginning to offer group plans through employers.
Meanwhile, it has also doubled down in care services, significantly expanding telemedicine and concierge teams as well as launching its own primary care clinics.
But while Oscar is beginning to control its costs and improve its tech and experience, will it be enough to win out against existing incumbents and bring the company to profitability? And will its strategy of tight integration with doctors and hospitals, while limiting the number of in-network providers, be appealing enough to consumers?
We examine Oscar's strategy, numbers, partnerships, and future in this analysis using CB Insights data.
TABLE OF CONTENTS
Enough of an Edge? Oscar's Focus on Tech and Customer Experience
When Oscar began rolling out its product in 2014, the company touted simplicity above all else. Josh Kushner (one of the co-founders) said in 2014:
"Our ethos and mission is to create a good consumer experience. We wanted to create an experience like having a doctor in the family … The existing players don't care about satisfying the customer."
Competing on scale, price, and distribution was always going to be difficult due to the size of incumbents. However, Oscar saw its edge in customer satisfaction, where the health insurance industry as a whole has an ultra-low net promoter score (NPS) of 12 out of 100.
(NPS is a measure of how many customers would recommend a product or service to friends. For context, companies like Apple boast NPS scores of 70 or more.)
Oscar, unlike its peers, prioritized customer experience, brand, and simplicity. It outlined its rules for simplicity in a 2014 deck (excerpted below):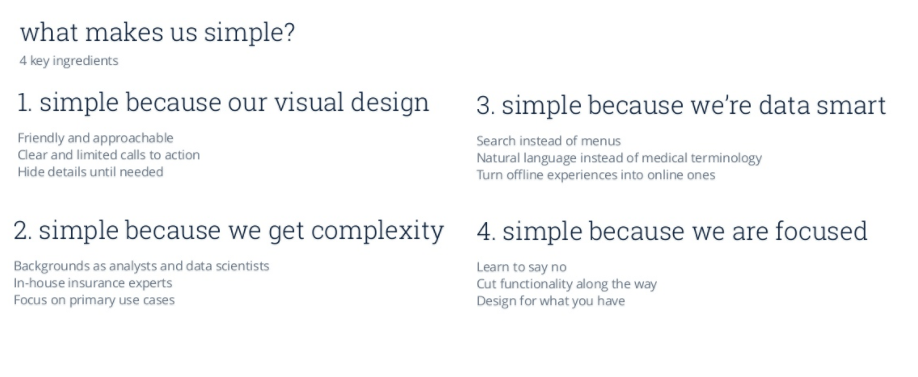 The same year, Oscar filed a patent for "Modeling Healthcare Costs" that showed preliminary views of the company's user interface and experience. Again, this demonstrated its focus on simplicity, but also on price transparency. An oft-cited complaint against health insurers are their confusing statements, with murky information around reimbursements and payouts. Oscar's UI sought to address that.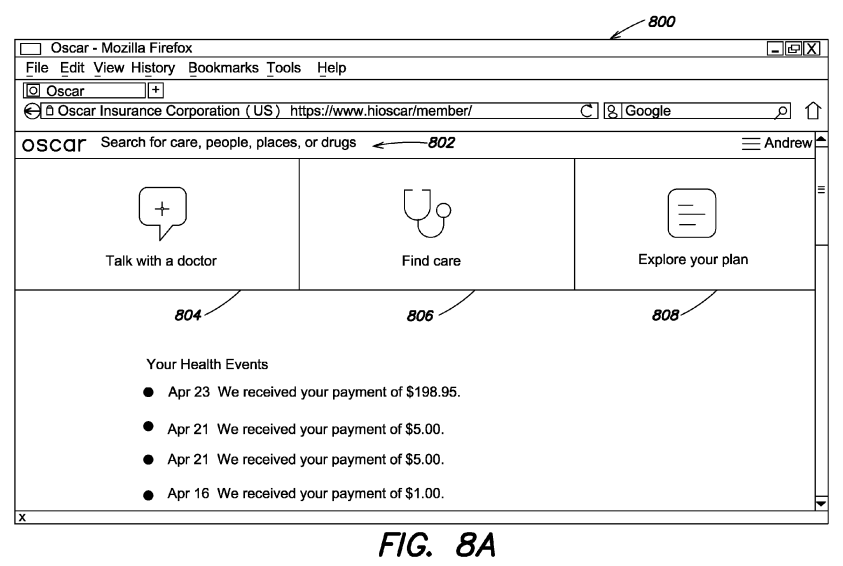 Oscar Mobile
Since then the company has maintained this focus on the customer experience. In its latest app overhaul, the company emphasized the fact that limiting options actually improves functionality and increases usage.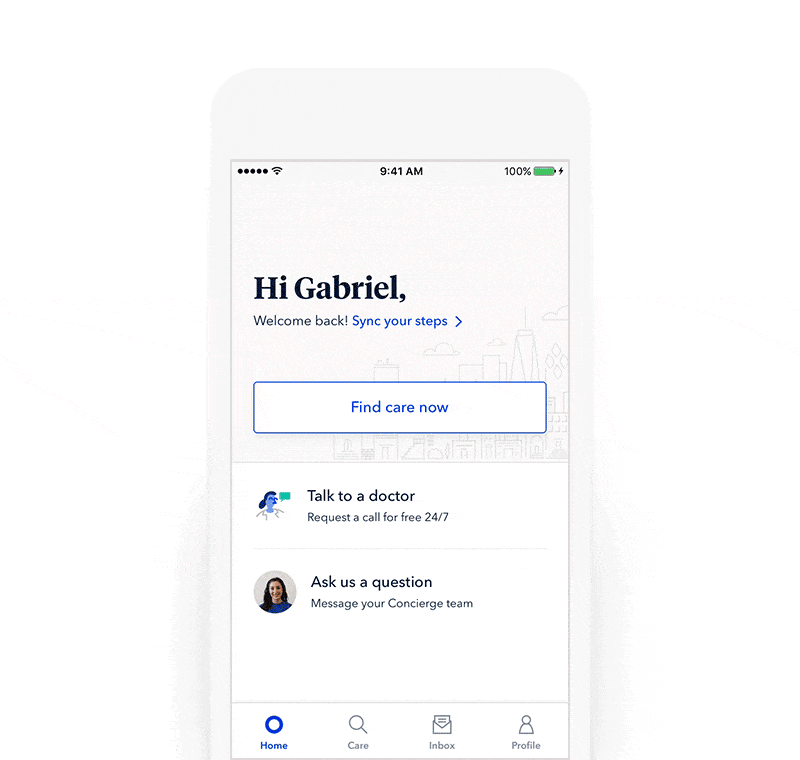 From the beginning, Oscar has highlighted its high-touch services, including telemedicine and "Ask your concierge," a health insurance advice team. Oscar dedicates a team of 3 concierges and a nurse to each individual to help answer health questions and guide patients through the healthcare system.
The company sees this high-touch model as a way of gaining a competitive edge, stating 35% of all first-time doctor visits for members go through concierge teams. Oscar aims to be a patient's first touch point with the healthcare system, as opposed to an afterthought — and is doubling down on this intiative, as we talk about later.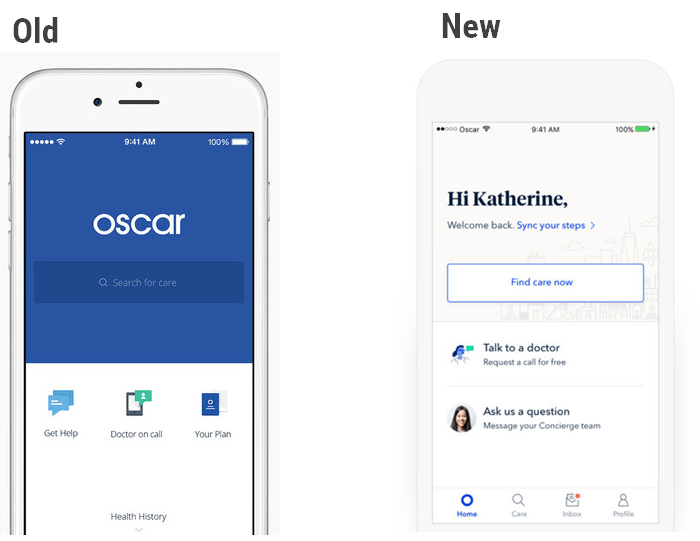 One recent addition to the Oscar home page is a step count tracker. Notably, Oscar gives up to $240/year to members that hit step tracking goals, boosting the company's relationship with clients while simultaneously encouraging them to be more active.
The tracker also gives members a reason to visit the app more regularly, encouraging user engagement and allowing Oscar to remind its consumers of the insurance brand, even when they're not seeking healthcare. Oscar claims a third of its total members used the app in September 2017.
Oscar announced its step-tracking reimbursement as one of its differentiators in partnership with Misfit Wearables in 2014. Today Oscar tracks steps using an assortment of step-tracking wearables as well as Apple's built-in step tracker in the iPhone and Google Fit on Android.
Oscar has a high satisfaction rate for its app, receiving relatively high ratings, especially compared to competitors. While Oscar has an average app rating above a 4.0 since last August, UnitedHealth and Anthem's were 1.9 and 1.5, respectively, during that time period.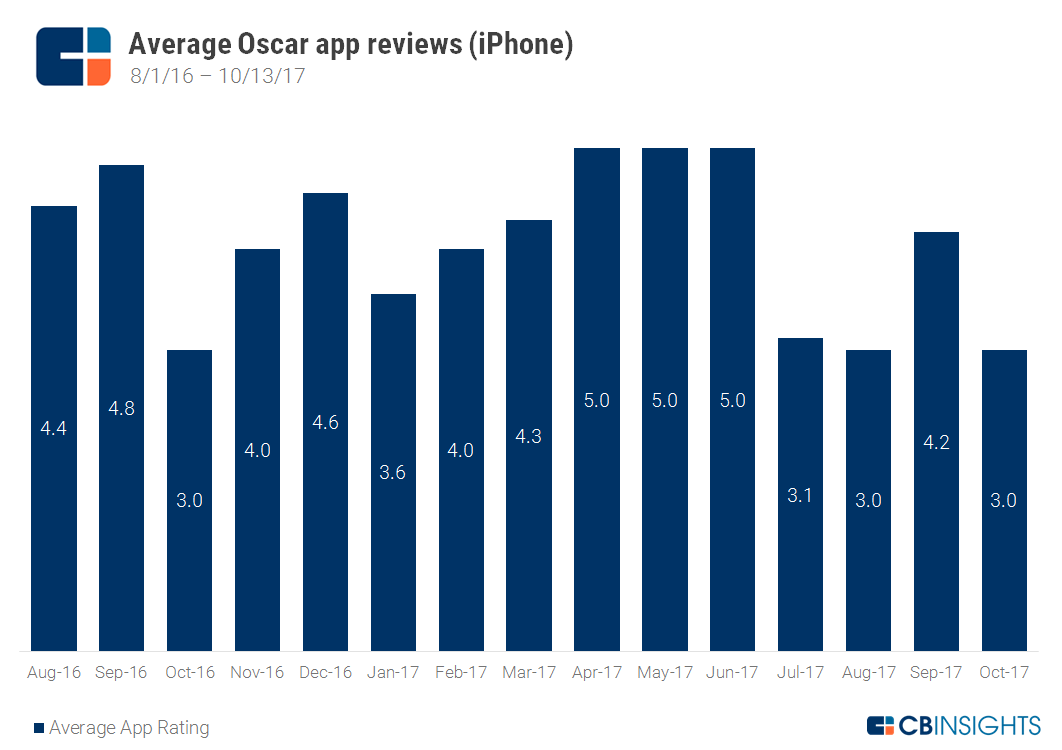 Oscar Onboarding
Even beyond its app, Oscar boasts streamlined processes. Oscar's online onboarding and price quote tools ask easy-to-answer, straightforward questions:
My zip code is _______
I'd like to cover _______ (yourself or dependents)
I'm ______ years old
I make $_________ with __ people in my tax household
Tell us about your health and we'll recommend a plan for you. Your answers will have no impact on rates. (see below)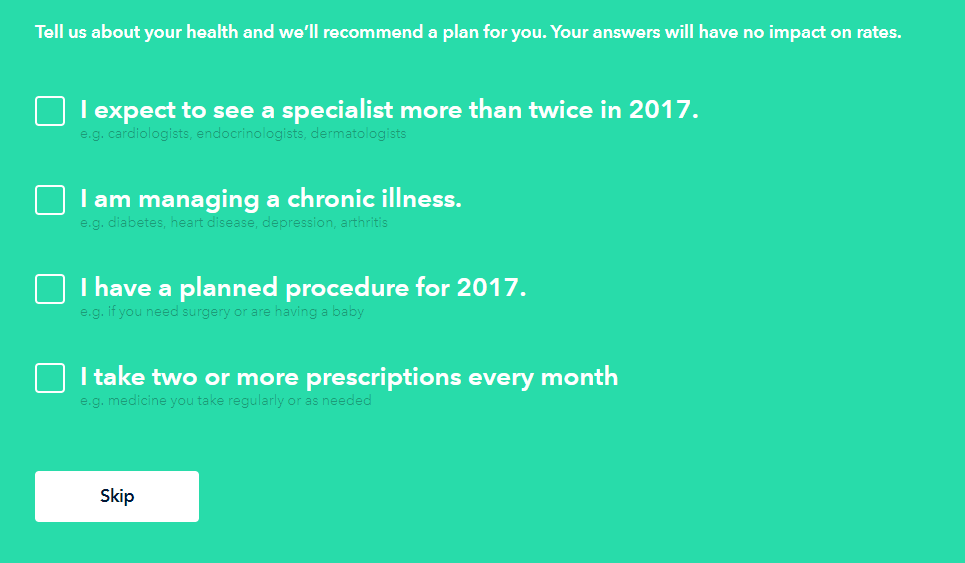 Following the questionnaire, Oscar shows a selection of plans and their details (benefits, rates, etc.). Notably, everything within this onboarding process remains within Oscar's website, in contrast with several other major insurers — like Aetna or UnitedHealth — that outsource parts of this process to third parties like healthinsurance.com and ehealth.
This idea of bringing everything in-house to fully control the patient experience is a recurring theme in Oscar's strategic moves.
Track all the digital health startups in this brief and many more on our platform
Startups working on digital health have the potential to change how medical care is practiced and delivered. Look for Digital Health in the Collections tab.
Track digital health startups
Oscar's Vertical Integration with Hospitals and Internalization of Functions

When Oscar began, it focused on the exchanges and geographic expansion, moving to multiple counties in New York, New Jersey, Texas, and California within two years. In order to do this, the company outsourced many back-office functions, including claims processing, and also turned to companies like MagnaCare for their networks of hospitals and providers rather than developing its own.
This turned out to be a more expensive strategy, and additionally made the customer experience worse, since Oscar had to rely on the legacy processes of third parties.
In the last couple of years, Oscar has spent a considerable amount of resources to instead create its own tools, networks, and primary care channels. This is actually outlined as part of the company's 2012 internal deck, which discussed starting Oscar with a focus on the user interface and slowly expanding down the "healthcare stack," incorporating wellness programs and later its own provider network.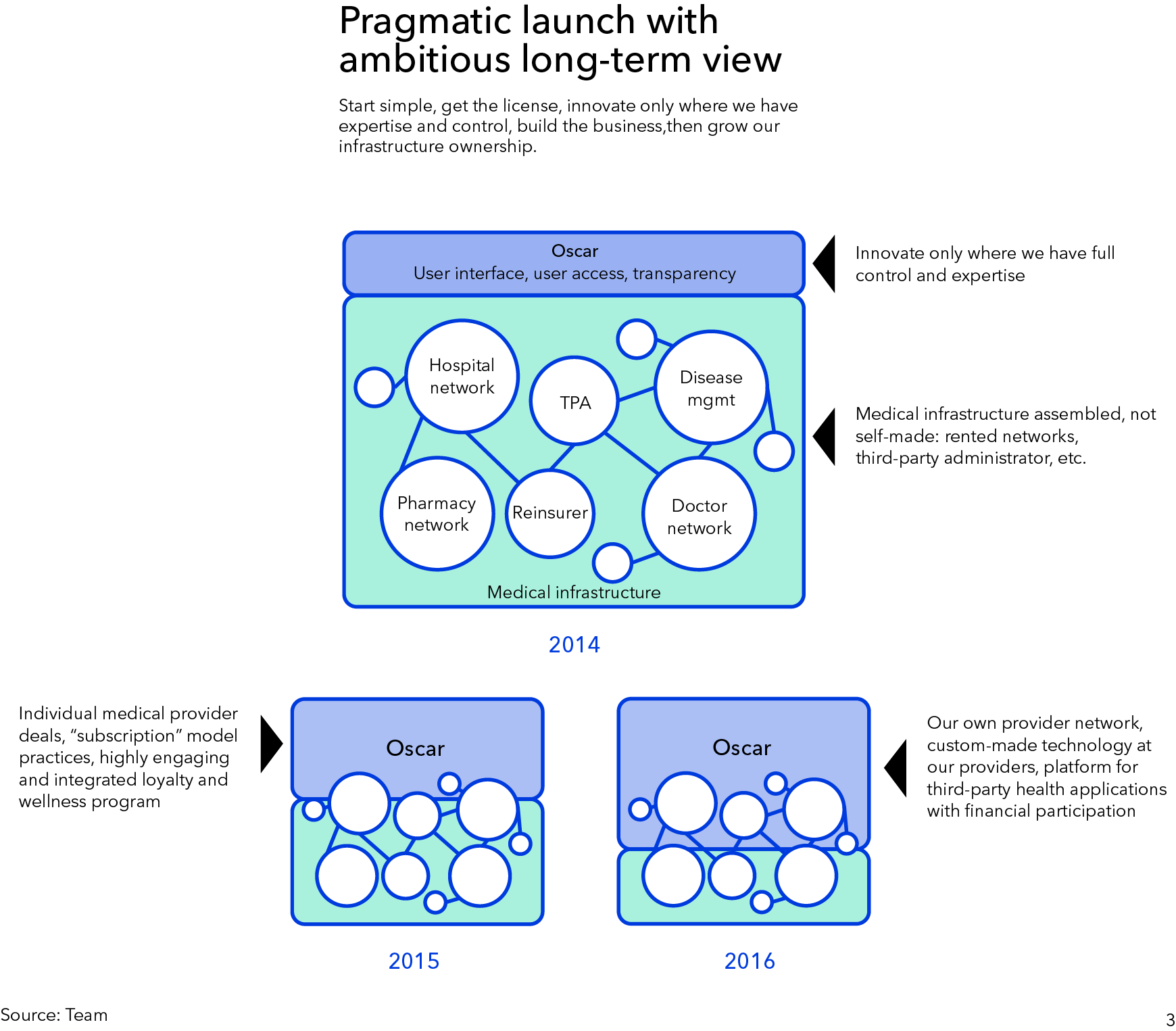 Claims processing
One of the functions Oscar is bringing in-house is claims processing. Most health insurers outsource large parts of their claims and process them in batches, and Oscar did too in its early days. Now, to improve the customer experience, Oscar wants to handle claims in real-time.
The company's goals for this system are stated below (taken from their blog):
Reduce errors
Better monitoring of data to ensure up-to-date information
Eliminate denied or delayed claims
Tighter fraud and abuse monitoring to prevent unnecessary bills for members
In its first few years of operation, Oscar received many complaints due to unexpectedly high bills and out-of-network surprises. Oscar's new claims system seems geared to making sure members are not caught off-guard with bills, reduce billing errors that might cause sticker shock and resolving billing issues quickly.

The new claims system is also supposed to send information about patients in real-time, keep provider information up-to-date, and speed up authorizations. Considering some prior authorizations could take weeks, speeding up this process is necessary if one of Oscar's key differentiators is to excel in user experience.
The company plans to roll out this new system in 2018.
Hospital Networks
The Affordable Care Act introduced a marketplace for insurance companies to sell plans directly to individuals. This provided a great opportunity for Oscar to instantly get in front of a significant number of individuals who were supposed to flock to the exchanges.
Since Oscar was only two years old at the time, it had to rent out a network of hospitals from provider network MagnaCare to be operational by the time the exchanges opened. This cost Oscar a 30% upcharge to use.
In 2016 the company announced it would be halving its network (when its MagnaCare contract expired), as it doubled down on the "narrow networks" model of providing patients with fewer choices, in exchange for a better experience and usually lower prices. This is also an extension of Oscar's "simplicity" theme, i.e. less choices means a better experience.
The news of Oscar's network shrinking was followed by its decision to pull out of the Dallas and New Jersey exchanges due to profitability concerns, leading to a surge of press scrutiny on whether Oscar was failing at its mission. We captured this increased media attention using our Trends tool, which mines millions of media articles to track tech and innovation trends. (More recent upticks have primarily been associated with major news around the Trump administration and ACA.)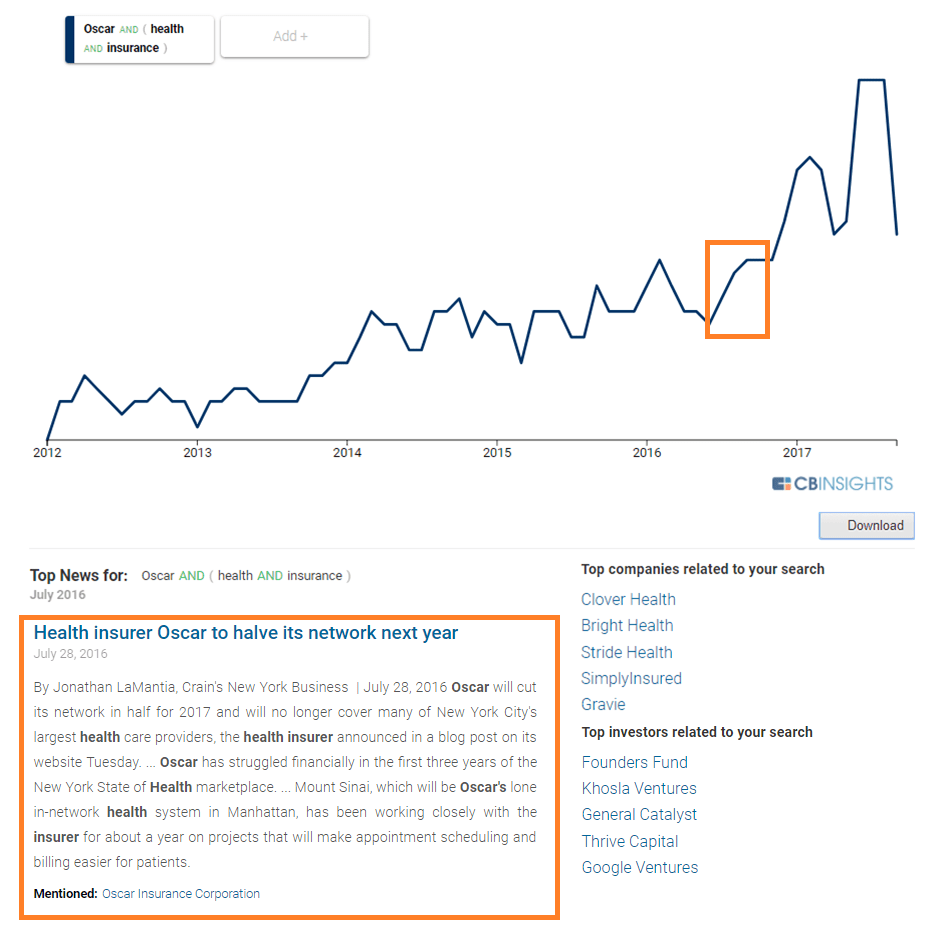 As Oscar continues to expand into new geographies, building hospital networks (and avoiding the MagnaCare upcharge) is challenging. The company is striking some partnerships to do this.
Small group insurance for employers is a new product Oscar rolled out this year — allowing Oscar to diversify its product offering beyond just the individual exchanges. This has been the focal point for its advertising campaign in New York.

Another example is in Tennessee, where Oscar is partnering with Humana to offer small group insurance as a 50-50 partnership.
Through the Tennessee partnership, Oscar gets access to Humana's network in the area, a method for the company to quickly enter a state without paying a premium to rent a network. Humana receives Oscar's customer-facing support systems and can outsource the operations for small group insurance to Oscar.

In Ohio, Oscar is doing something analogous by partnering with the Cleveland Clinic and selling a co-branded individual plan on the exchanges in 2018.
Oscar offers the Cleveland Clinic its customer engagement platform, insurance expertise, and technology stack, and in turn receives the Cleveland Clinic's brand and network of physicians. As more providers sponsor their own health plans, Oscar can act as an "insurance-as-a-service" provider, offering these tools to health systems.
There are several open questions about whether these partnerships will be successful, including:
How easily will Oscar be able to integrate into the Cleveland Clinic? Can it do this scalably with other health systems?
Many provider-sponsored plans burn money due to higher-than-expected claims costs and difficulties in population health management. How can Oscar's tools remedy this?
Considering Oscar/Cleveland Clinic is one of the last plans to launch on the individual exchange in Ohio, what kind of population can be expected to sign up (i.e., will they be left with the least desirable patient pool)?
How willing are customers to stay exclusive to the Cleveland Clinic's network?
This experiment could dictate how Oscar partners with providers going forward.
Telemedicine And Primary Care
While Oscar works with hospital networks, the reality is that the company wants to keep people out of the hospital completely. This is one of the reasons Oscar places its telemedicine functionality in the front of the app, claiming 23% of its members use the feature. Virtual care is also one of Oscar's high priorities in terms of hiring, (which we'll examine further in the jobs analysis below).
Oscar is also moving into brick-and-mortar primary care itself through opening the Oscar Center in conjunction with the Mount Sinai Health System. The center made its debut in Brooklyn in 2016, and is available to Oscar's New York members.
The center has comprehensive primary care and basic mental health services and helps members who need to manage complex conditions. The facility also blurs the line between health and wellness, offering yoga, prenatal classes, and more. The company claims that 98.6% members who use the Oscar Center would recommend it.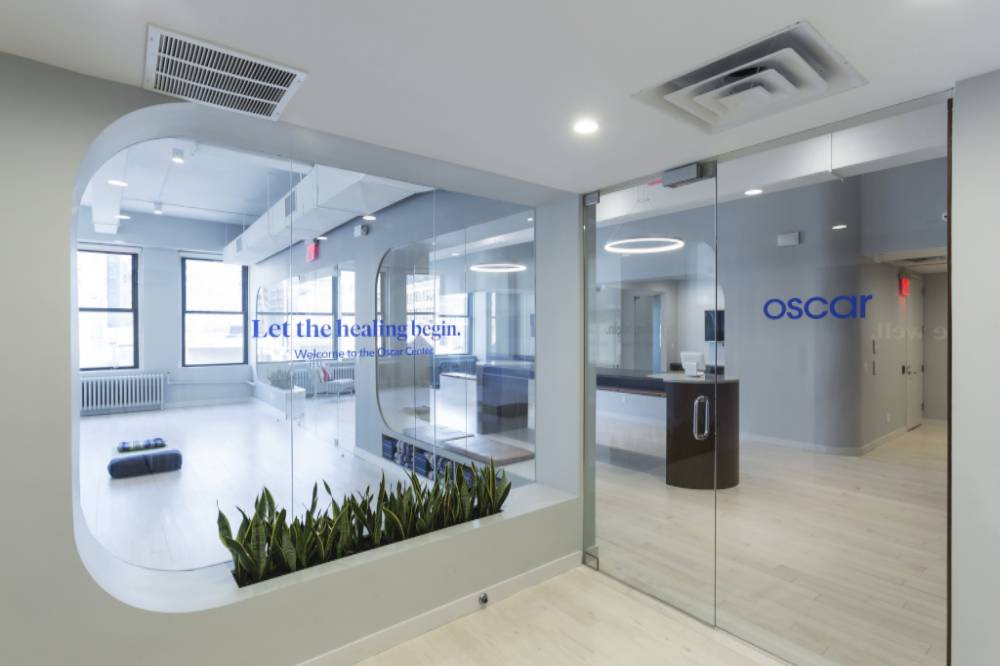 This expansion into primary care rides two distinct trends:
The first is the trend toward tech-enabled primary care clinic networks, as evidenced by the financing of companies like One Medical, Forward, and Iora Health, among others. However, while these companies monetize through a subscription, Oscar would presumably monetize its offering by keeping its patients healthier.
The second involves companies moving to become more vertically integrated to provide their own healthcare services. Instead of needing to negotiate with each primary care clinic it partners with, Oscar can have better control of pricing by building its own. It can also build the clinics with tech that immediately integrates with its systems.
---
With Oscar bringing more of these functions and networks in-house, the company expects to contain its costs more effectively. As Mario Schlosser, CEO of Oscar, has claimed:
"In 2017, I feel for the first time that all of these pieces are in place in a way that you will see it flow through to the financial results as well."
Oscar by the Numbers — Money & Membership
Oscar's enrollment increased dramatically in its first 3 years, from fewer than 20,000 in the first year of enrollment to more than 8X that size two years later, as it expanded into more states and exchanges. However, in 2016 Oscar announced it was pulling out of New Jersey and Dallas, leading to a drop in total enrollment.
For 2018, the company has announced its entrance into new states (Tennessee, Ohio), a return to old states like New Jersey, and expansion for both its product offerings and geographic reach within other states like New York, California, and Texas — suggesting that Oscar's enrollment numbers will increase in 2018.
However, Oscar's enrollment is still extremely small compared to established players like UnitedHealth and Anthem, which have 47M+ and 33M+ medical enrollees respectively (which doesn't even include their dental, Medicare, and other plans).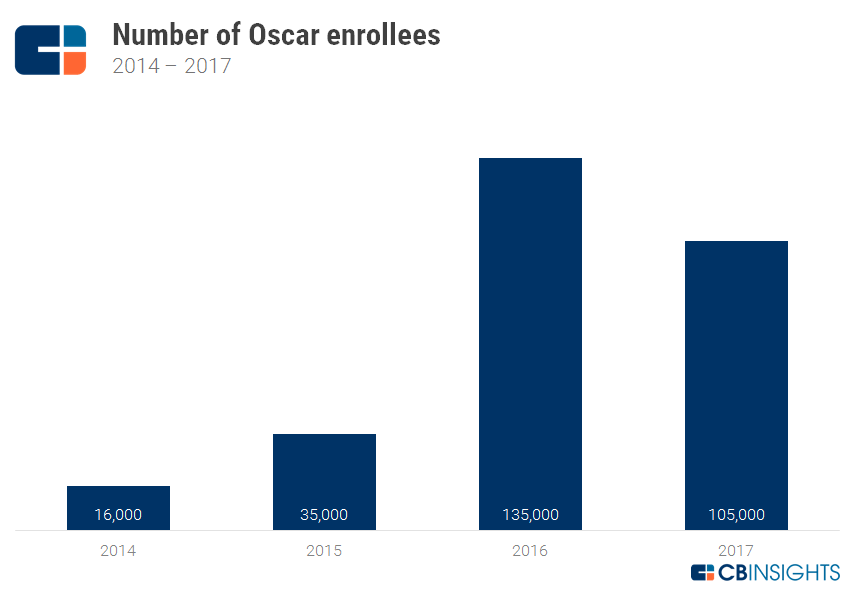 Alongside this geographic expansion, revenue has seen a similar trend, with a 238% revenue spike between 2015 and 2016. However, after Oscar pulled out of several markets, 2017 has been off to a much slower start, with just $72.8M in revenue across three markets in Q1'17.
Oscar's losses have also mounted, topping more than $200M in 2016. This could in part be due to the cost of building out networks in new states, marketing, and high upfront costs associated with building tools Oscar used to outsource (such as claims processing).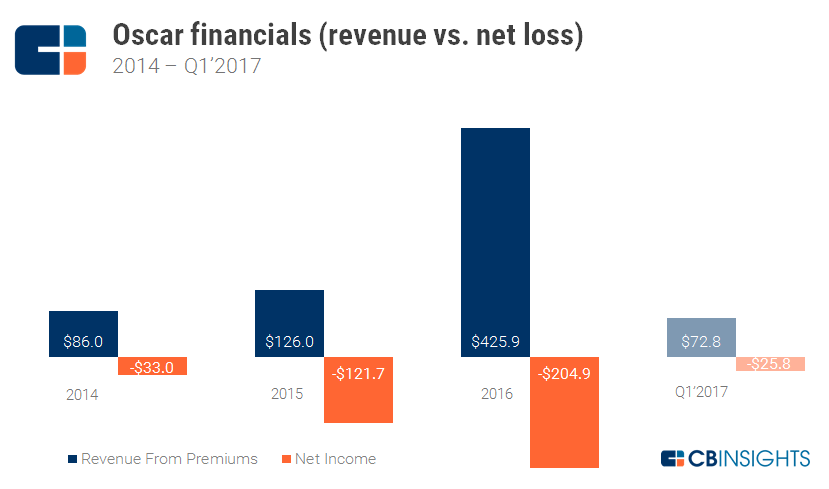 Looking at Oscar's expense reports for New York, California, and Texas, it's clear that hospital costs and services eat up most of Oscar's revenue. However, Oscar's hospital costs have decreased by more than 43% between Q1'16 and Q1'17, which could be due to a combination of slashing the size of its provider network, dropping the number of enrollees generally, and also building its own network as opposed to renting one from MagnaCare, which included the 30% upcharge as stated above.
It's also worth noting Oscar's comparatively high expenditure on administrative costs. As a point of comparison, Health Insurance Plan of Greater New York spends about 9% of revenue on administrative costs and CareConnects spends approximately 16%. Oscar spent more than half of its revenue on administrative costs in Q1'16, though it dropped closer to 40% in Q1'17. Part of this large expenditure could be the cost of building out its own internal systems like a claims processor, while part of it could be Oscar's focus on customer service which uses a higher touch system, such as its concierge teams.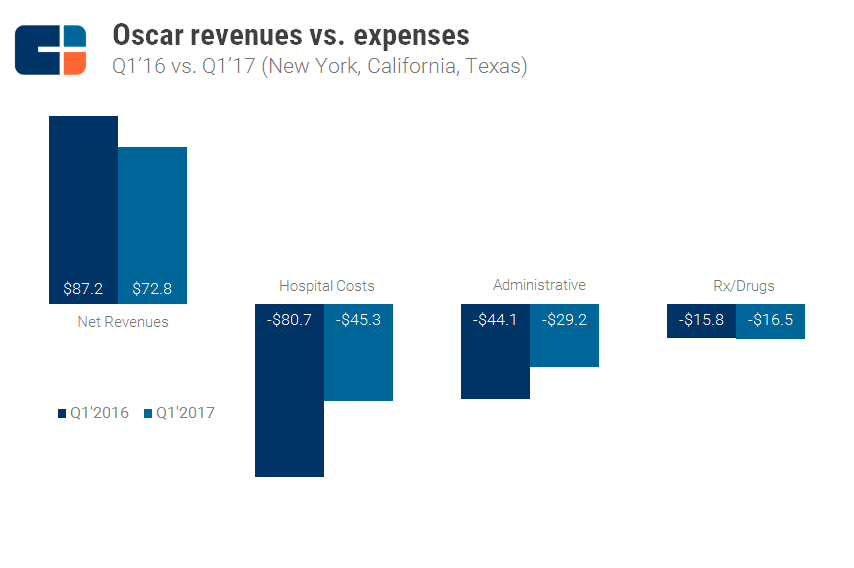 Oscar appears to be getting control of its finances, with losses representing a small percentage of revenue in 2017. However, the company will have to raise a considerable amount of money going forward, with the company likely coming close to the end of its current runway.
So far, Oscar has raised more than $727M in disclosed funding since 2013, with its most recent $400M round raising at a $2.7B valuation. The company raised its Series C about 20 months ago, and will likely raise again as the numbers come in from next year's enrollment period when people sign up for health insurance plans.
The company demonstrates the capital-intensive nature of starting a new insurance business. Its first round of institutional financing back in 2013 was for $40M, followed by $30M a year later as the company began rolling out its plans.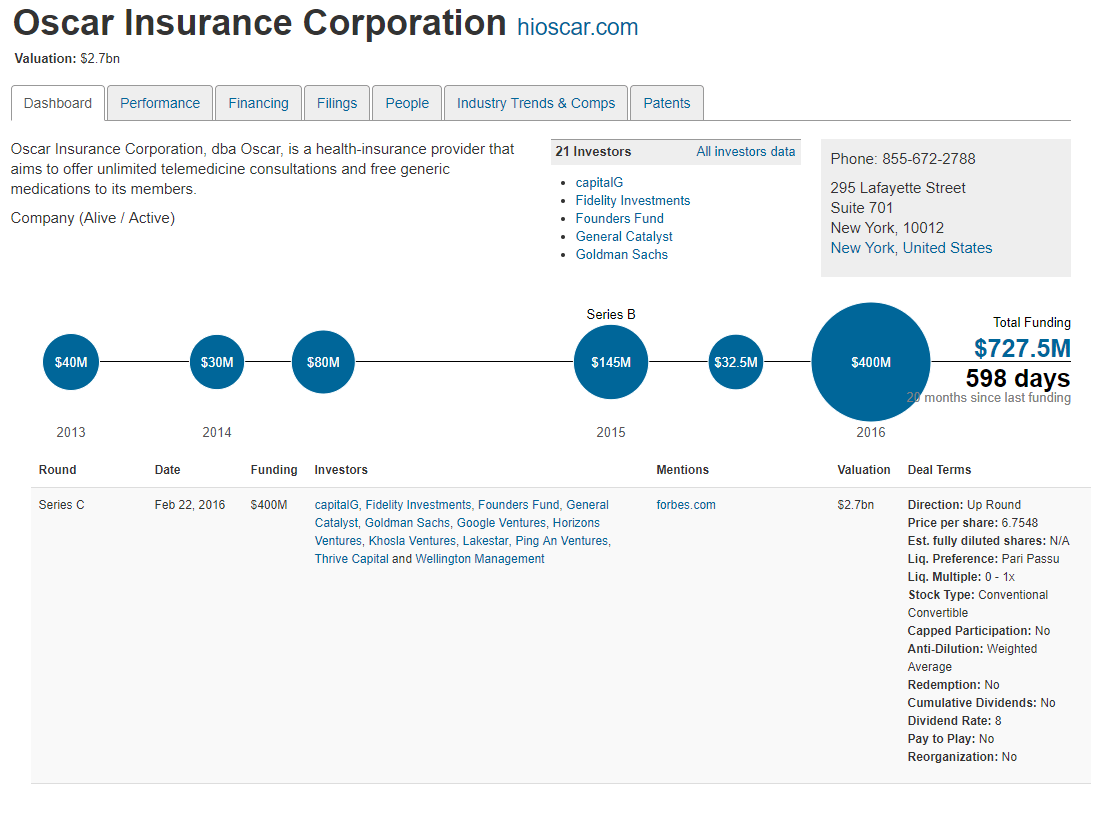 Will Oscar find investors to pony up the required capital for expansion? Brian Singerman of Founders Fund (one of Oscar's big investors) talked about how optimistic he was for the company's future and cash position. But will enough other investors feel similarly?