Some companies are positioning their products as opioid alternatives, others are fighting back against claims they have helped exacerbate the crisis.
With opioid deaths at record highs, this type of drug is on the minds of public company execs and an increasing topic of discussion in earnings calls.
In the last quarter, we've seen a record number of companies talk about opioids as the US begins to scrutinize the addiction crisis.
In 2017, we've seen more than 300 mentions of opioid related terms in the earnings calls of US-listed public companies with the lion's share happening in Q4'17 and the quarter still isn't over.
Terms included "opioid," "opiate," "oxycontin," "oxycodone," "fentanyl," "hydrocodone," and "vicodin."
Mentions of opioids on earnings calls skyrocket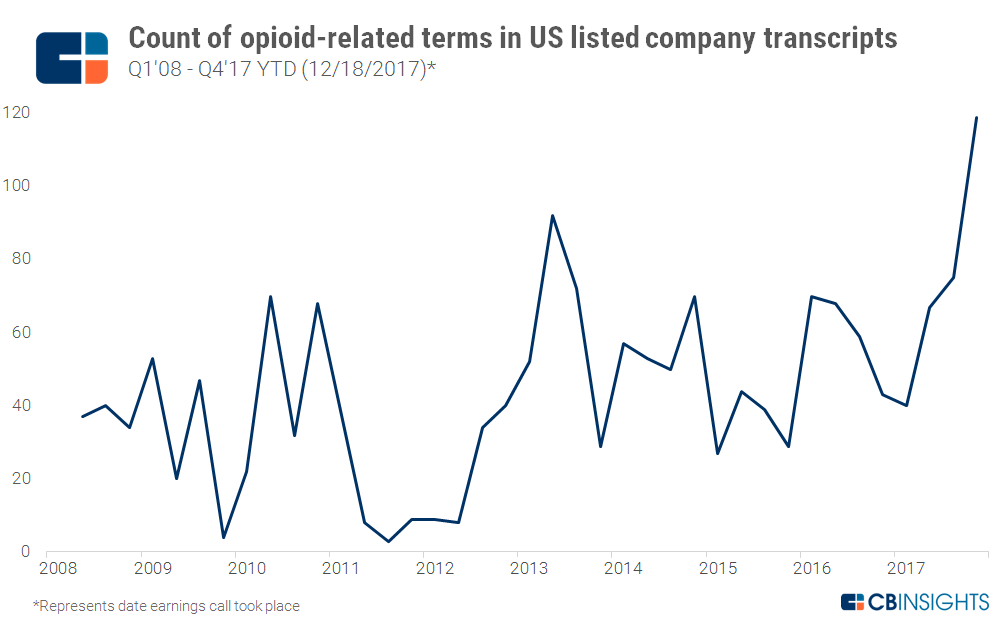 In 2010 we saw the first spikes of discussion in earnings calls as several companies talked about products in their pipeline that were potentially safer alternatives to current opioids like Oxycontin. Treatments for opioid-induced diseases also emerged from pharma, biotech, and medical device companies.
In 2013,  the FDA released a draft-guidance for pharma companies developing new formulations of opioid drugs to make sure they were taking anti-abuse measures. The regulatory body also began collecting data on the efficacy of treating chronic pain and wrote an open letter to opioid prescribers about the harmful effects of opioids and more.
This meant in 2013 that analysts grilled public pharma/biotech companies on their earnings calls about how they were planning to react to the FDA guidelines and attention (creating a spike in that year in the chart above).
Pharma industry develops substitutes
In 2017 there has been a spike in mentions across the board as more companies in the pharmaceutical supply chain look for chronic pain substitutes and address the role they play in the opioid epidemic.
We've also seen more widespread use of the phrase "opioid epidemic" or "opioid crisis" as the death toll continues to rise.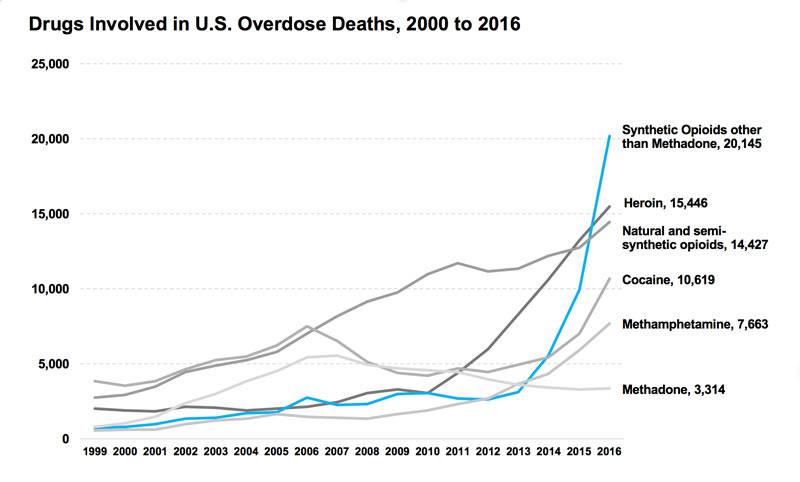 Some companies mention opioids more frequently than others, usually when they're developing competing products or target a condition caused or exacerbated by opioid use. Below are companies that have mentioned opioid related terms more than 100 times since 2008.
All of them are pharmaceutical companies, with the majority focusing on abuse-deterrent pain alternatives.
Pacira Pharmaceuticals and Nektar Therapeutics mentioned opioids more than other companies by a large margin. Pacira Pharmaceuticals creates a non-opioid alternative to post-surgical pain management, and Nektar creates an opioid without euphoric effects to avoid addiction.
Both companies stressed the importance of combating the opioid public health crisis multiple times in every earnings call of 2017.
Who talks about opioids the most?
2008 – 2017 (12/19/2017)

| Company | Number of mentions of opioid related terms in earnings calls |
| --- | --- |
| Pacira Pharmaceuticals, Inc. | 510 |
| Nektar Therapeutics | 425 |
| Endo International Plc | 242 |
| Acura Pharmaceuticals, Inc. | 238 |
| BioDelivery Sciences International, Inc. | 233 |
| DURECT Corporation | 218 |
| Alkermes Plc | 206 |
| Collegium Pharmaceutical, Inc. | 175 |
| Titan Pharmaceuticals, Inc. | 174 |
| Egalet Corporation | 154 |
| Depomed, Inc. | 154 |
| Insys Therapeutics, Inc. | 147 |
Drug distributors play defense, insurers are quiet
Drug distributors have also begun mentioning the crisis, with McKesson dedicating a section of their Q4'17 earnings call to addressing opioid abuse.
However, the company only mentioned opioids 9 times since 2008, while other distributors like Cardinal Health mentioned it only 11 times, and AmeriSource mentioned it for the first time in Q4'17.
Every single one of the distributors last quarter mentioned their involvement with either local authorities or government departments like the DEA to curb opioid over-prescription. McKesson directly addresses the Washington Post piece on drug distributor's role in the crisis claiming much of the piece reflected misinformation and the focus should be shifted to producers and the means which these drugs enter the system in the first place.
Noticeably absent from opiod mentions were any major insurance carriers, with the exception of Cigna which said in its Q2'17 earnings its goal to reduce opioid use by 25% by 2019. Notably, Cigna recently announced it will not be covering Oxycontin for employer-based insurance plans and plans to significantly manage an oxycodone alternative by using different penalty types. Cigna will likely touch on this again in its Q4'17 earnings call, which has not yet taken place.
One interesting note is that while earnings call analysis show public companies keeping abreast of opioids, media coverage of the area has been slower. Using our Trends Tool, we see some coverage in 2012 and 2013.
However, the passing of Phillip Seymor Hoffman in 2014 brought a national spotlight to the rise in heroin addiction and opioids as a whole. Since then there's been much more scrutiny. In 2016 opioid related deaths were the top causes of drug overdoses and in 2017 it was declared a public health emergency by President Trump and his administration.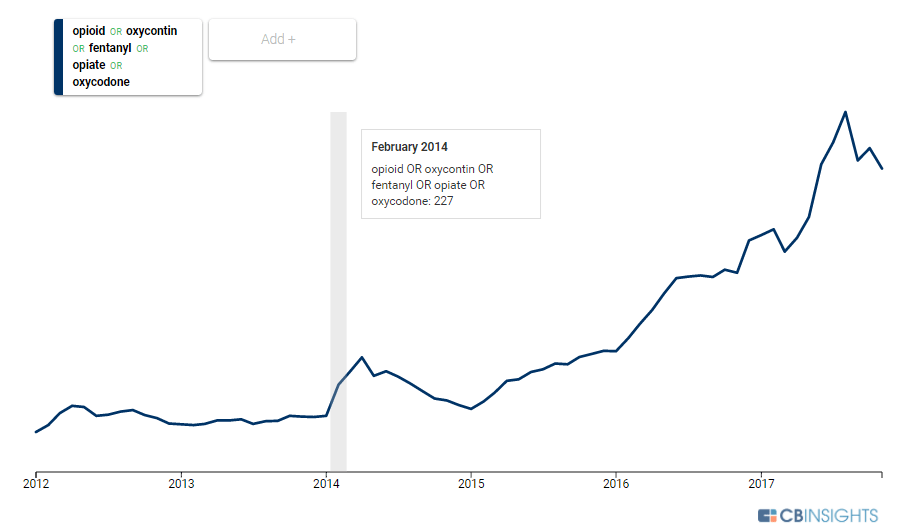 If you aren't already a client, sign up for a free trial to learn more about our platform.