From media to healthcare to financial services, we dig into how corporations are leveraging open-source software to transform their businesses.
Businesses across industries are turning to cutting-edge tech like artificial intelligence, the cloud, and automation to drive digital innovation. The thing these technologies all have in common? Open-source software. 
Open-source software is publicly available source code that developers can access, edit, and build on. But the technology is expanding beyond the realm of software developers — and the media is taking notice.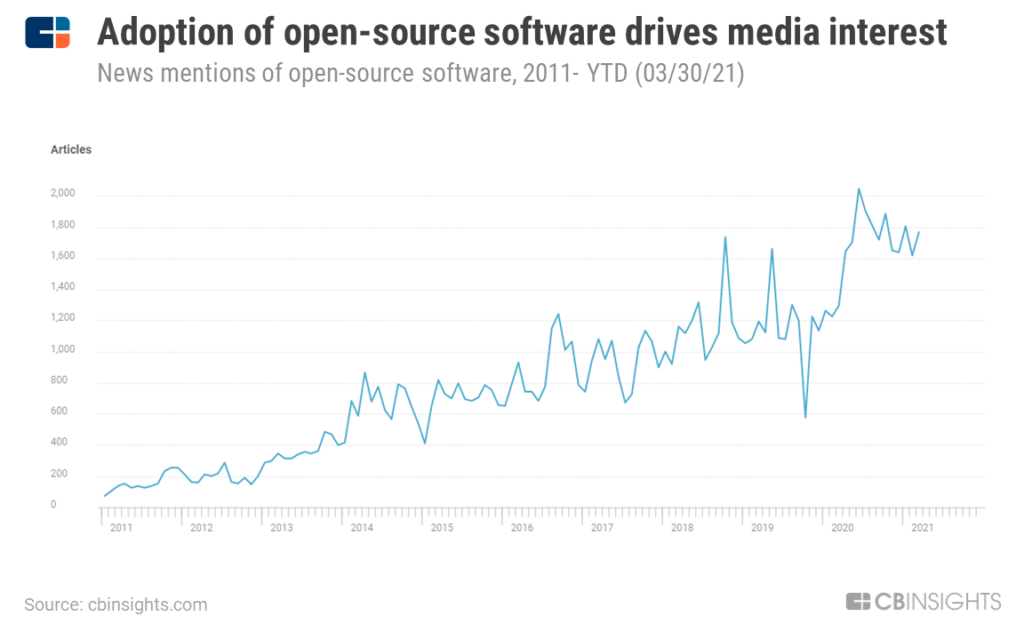 Today, companies across industries are leveraging open-source software as a core component of their products and operations. The crowd-sourced approach helps keep code dynamic and up to date.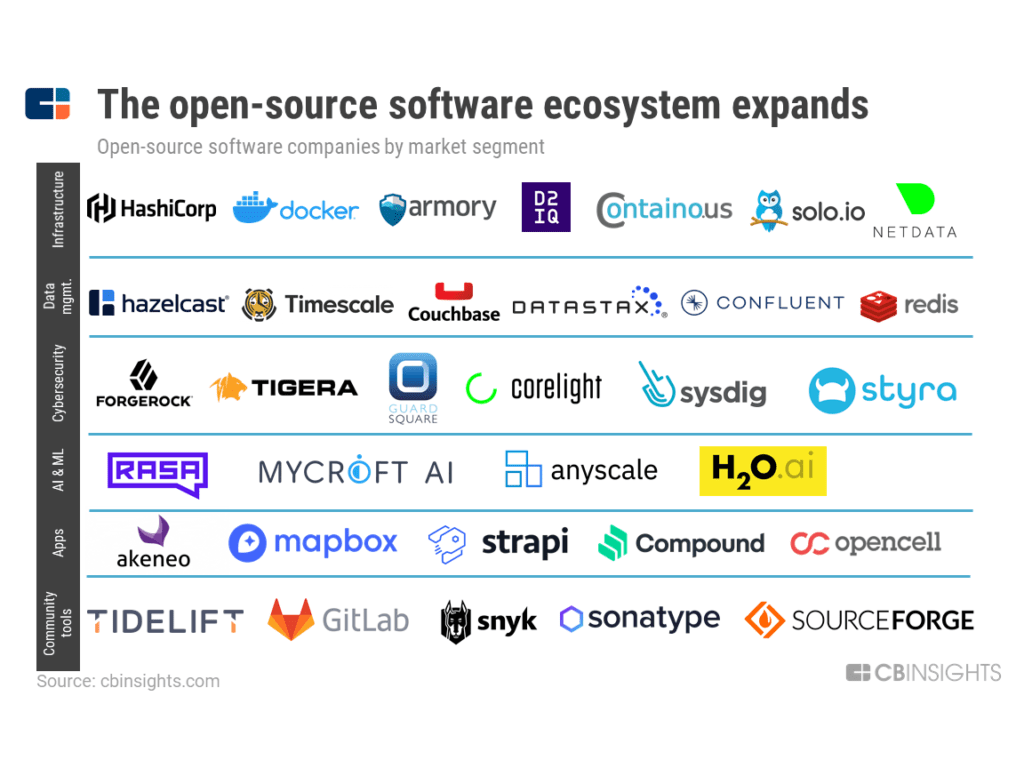 For example, AI startup H2O.ai provides an open-sourced platform for building machine learning models. Meanwhile cybersecurity company ForgeRock built its business around an open-source code project. 
Below, we highlight some of the key industries where open-source software is making an impact.
1. Industrials
Open-source software's role in industrial environments is growing, as areas like energy production and manufacturing become more connected.
Manufacturing company Bosch ranked among the top 100 corporate contributors on GitHub — a public code repository platform home to millions of developers — in 2020. The company leans heavily on open-source software when creating its IoT Suite, a platform for connecting IoT devices and applications. 
Bosch has worked with the Eclipse Foundation, a community of developers and organizations contributing to open-source projects, to add foundational capabilities like remote service interfaces and a back end for software updates to its platform.
Joining Bosch as a top open-source contributor, energy company Equinor boasts a community of 35+ active contributors on GitHub. In 2015, the company enacted an official policy whereby all the software it develops will be open-source. It has also outlined 6 central values for guiding its activities in the ecosystem, including transparency and collaborative participation.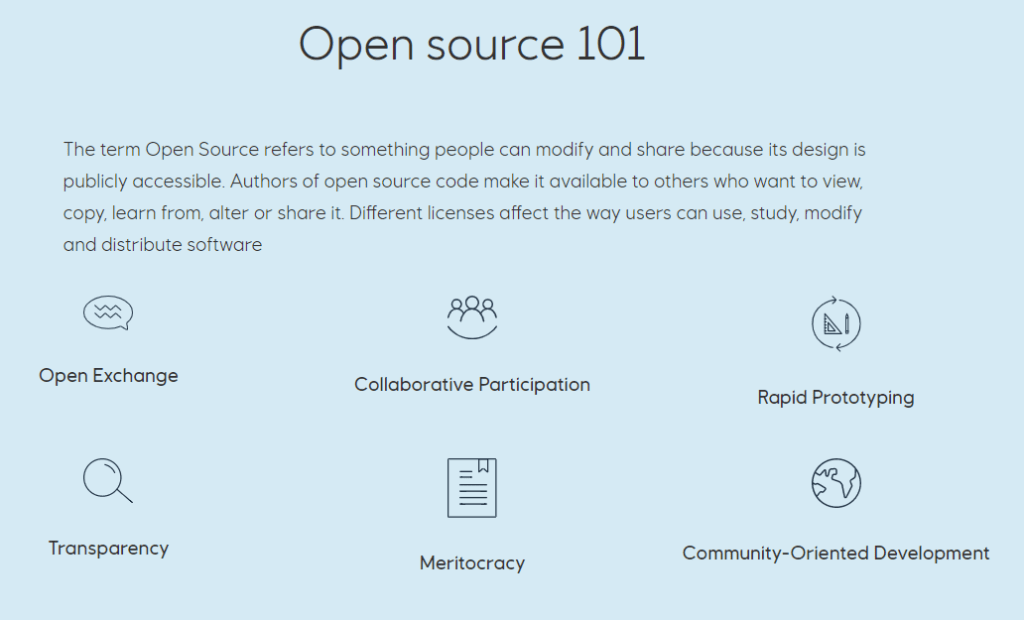 Source: Equinor 
With 400+ repositories on GitHub, Equinor contributes broad solutions to the open-source community. These include designing internal digital interfaces (data dashboards) and industry-specific solutions (reservoir predictions, well logs) aimed at the unique challenges faced by energy companies.
Equinor's participation in the Northern Lights project alongside Microsoft, Shell, Total, and the Government of Norway underscores the role of open source in solving global issues. The project will include open-source software from Microsoft, and will also make its carbon capture, transport, and storage process open to the public for copy and improvement. 
"The Norwegian government's initiative and support for what will be the world's first open-source CO2, transport, and storage project shows real vision and commitment. Northern Lights is designed to provide a service to industrial emitters who can now take action on emissions that can't be avoided." — Shell CEO, Ben van Beurden
2. Media
Media companies are also finding uses for open-source software. BBC has over 50 open-source projects and is among the most prolific corporate contributors to Github. Active in open source since launching its first website, BBC's projects center on internal efforts to produce and distribute content.
For example, BBC's StoryPlayer project allows those inside and outside BBC to create and distribute video and audio content that audiences can interact with and personalize. This technology supported the 1,000th episode of BBC's TV show Click, an interactive experience where more than 300,000 audience members could follow their own storyline.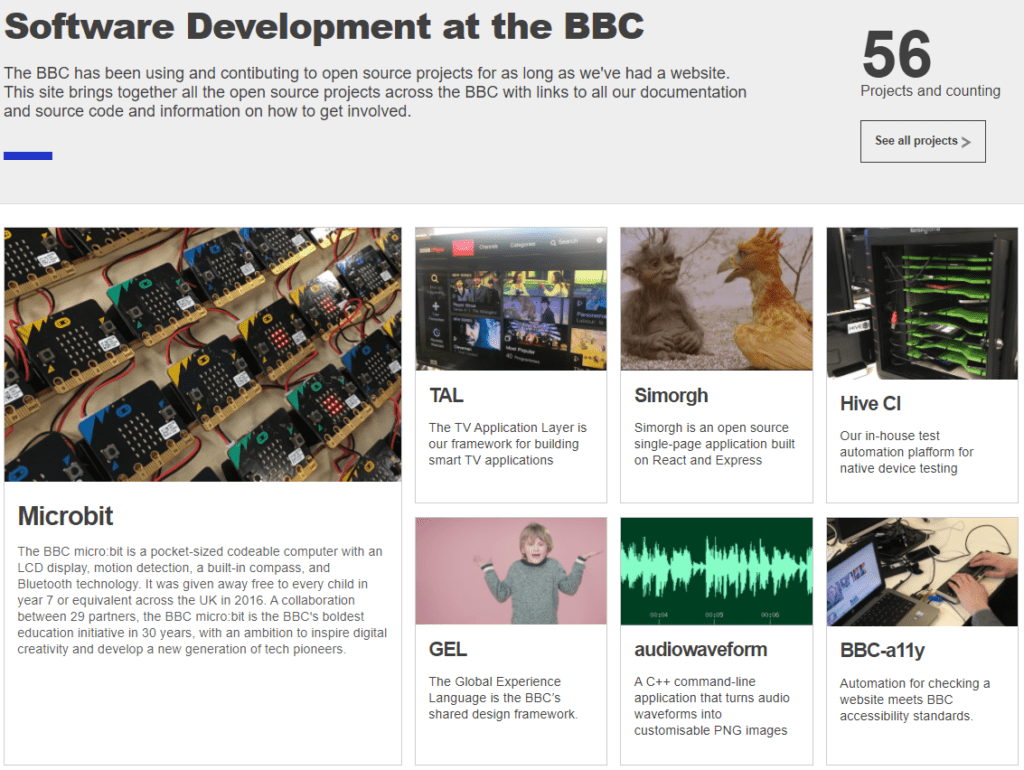 Source: BBC 
Meanwhile, Netflix counts nearly 200 repositories and over 50 active contributors on GitHub. The streaming company has shared its learnings from rapidly scaling a cloud-powered platform with the community. Its open-source tool Chaos Monkey exposes engineers to failures and incentivizes them to build resilient systems, with a goal to improve service reliability.
Netflix also open-sourced several cybersecurity tools, including Security Monkey, which monitors public cloud accounts for misconfiguration and policy changes. The company also developed Metaflow, to help data scientists run analyses and make predictions. 
Netflix also benefits from the contributions of 40+ other organizations, including Yelp, Squarespace, and Staples.
3. Transportation 
The transportation and logistics sector faces increasing pressure from digitally native newcomers like Uber and Amazon, which embrace open-source software.