In today's digital age, the dominant narrative is that e-commerce has fully eclipsed physical retail. The truth looks a bit different.
The most potent symbol of the ascendance of e-commerce and downfall of physical retail is, of course, Amazon.
By making a wider range of goods available for a lower cost directly to consumers, Amazon has eviscerated the business models of major department stores.
From 2006 to 2016, the five big department store chains — Sears, JCPenney, Nordstrom, Kohl's, and Macy's — lost a combined $75B in market value due to the Amazon effect. During those same 10 years, Amazon went from $17.5B to $355.9B in market value.
Physical retail was dead, and e-commerce, for all intents and purposes, was dancing on its grave.
Yet, when you look at Amazon's Q1'18 financial results, you see a line for "Physical stores" with some very large numbers after it:

In Q1'18, the e-commerce giant reported revenue of $4.26B from physical retail — bigger than Sears, and bigger than JCPenney.
In other words, the so-called "destroyer of physical retail" is now one of the biggest names in the brick-and-mortar game.
And it isn't alone. Since 2012, retail space occupied by brands that started online has grown by 1,000% in the top 300 malls in America. Digital companies that disrupted physical retail are now moving into brick-and-mortar stores themselves.
With its Whole Foods acquisition, Amazon is taking over an entire physical company and hundreds of its stores, in addition to offering its Amazon Books locations. But other companies are starting from scratch, building a new business model that relies on maintaining a superior customer experience online and transferring it to physical retail. Examples include:
Bonobos' physical retail locations, Guideshops, have an average transaction size of $360 — double the size of an average online purchase.
Warby Parker make more than $3,000 per square foot in its retail locations (more than Ralph Lauren, Best Buy, or Tiffany & Co).
When Indochino opened its first three showrooms, the company paid itself back in the first 6 months.
These companies represent just the first wave of direct-to-consumer brands expanding into brick-and-mortar retail. Hot on their heels are the likes of Glossier, Everlane, and Casper, which are learning best practices for moving to physical retail from these trailblazers.
In this analysis, we look at how several online-first companies — Bonobos, Warby Parker, and Indochino — have made strides from their digital beginnings into the brick-and-mortar world.
We also look at 3 other direct-to-consumer companies — Glossier, Everlane, and Casper — that are following in their footsteps to transform physical retail.
Contents
Why physical retail still matters
This year, worldwide revenue in the e-commerce fashion market is projected to hit almost half a trillion dollars. It will add another $250B in the next four years: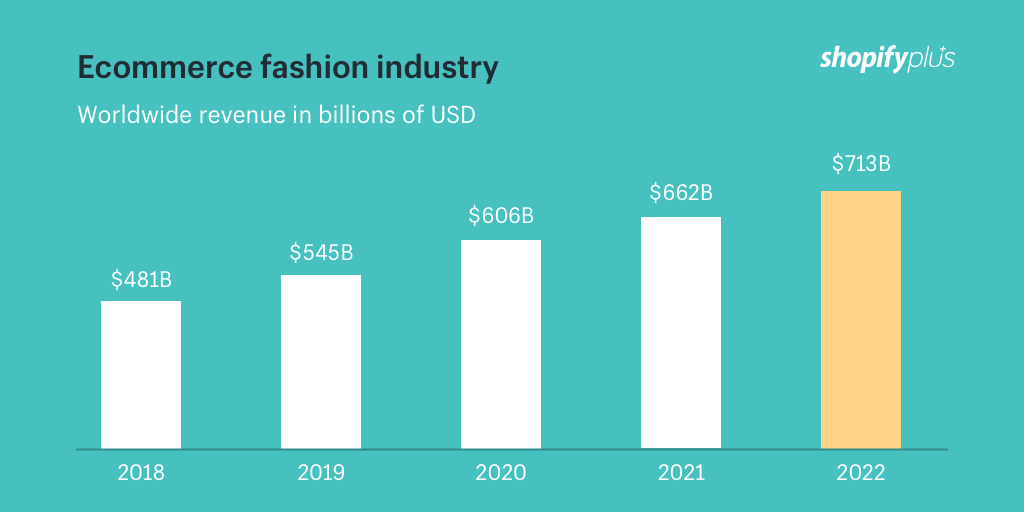 Source: Shopify
But offline sales are still a key driver of growth. According to Forrester Research, "well over 90 percent of sales still happen in physical stores, so there is a huge, compelling reason to think about the physical store as a driver of sales."
There are tons of people — potential customers — who want to see and touch products before they buy them. When customers are missing out, so are companies.
Online-only brands can approach the offline channel without any of the baggage of the big retailers (i.e. staff & inventory costs), creating a new kind of retail experience that is customer-driven, personalized, small-scale, and fueled by existing offline success.
Bonobos
How Bonobos went from a lobby dressing room to 50 stores
Men's clothing retailer Bonobos launched in 2007 with one goal — to keep men out of stores. From the start, founder and CEO Andy Dunn was anti-retail. Talking about physical retail in 2010, he said he saw stores as a money pit, sucking away profits:
"It's hard to make money because you wipe away a lot of your profit with store level expenses."
Dunn was right. From launch to 2010, the company sold 100,000 units of menswear and grew revenue to almost $10M — entirely online. The company saw no need to open physical locations or offer merchandise in stores.
At the time, the US online apparel market was worth $17B, and growing. Shoe retailer Zappos was already highly successful, netting over $500M in revenue as an online-only brand. Bonobos had a profitable business model and saw no need to "wipe away" profits with brick-and-mortar.
But as it grew online, feedback from customers showed that the company's online-only business model was impeding growth.
Bonobos was missing out on doubling its customer base because, as Dunn said in a 2012 NYT interview, about half of its potential customer base simply wanted to try clothes on before buying them.
The company first realized the place physical retail had to play for its brand when the company tried to launch shirts (after years of successfully selling pants exclusively). According to Dunn,
"We made these great fitting shirts and put them on the site, and no one cared. They weren't selling well."
The company then decided to test its first offline store (known as a Guideshop) in the lobby of its NYC headquarters in 2011. It set up a fitting room to give customers a chance to feel and try on the shirts to encourage buying.
It made a difference, according to Dunn. "People were coming in and trying them on. They were buying stuff, often $500 or $1,000 at a time, but they weren't walking out with the product. They were receiving it a day or two later. The clothes weren't even there."
Due to the success of this "try before you buy" model, Bonobos has opened 50 Guideshops since then.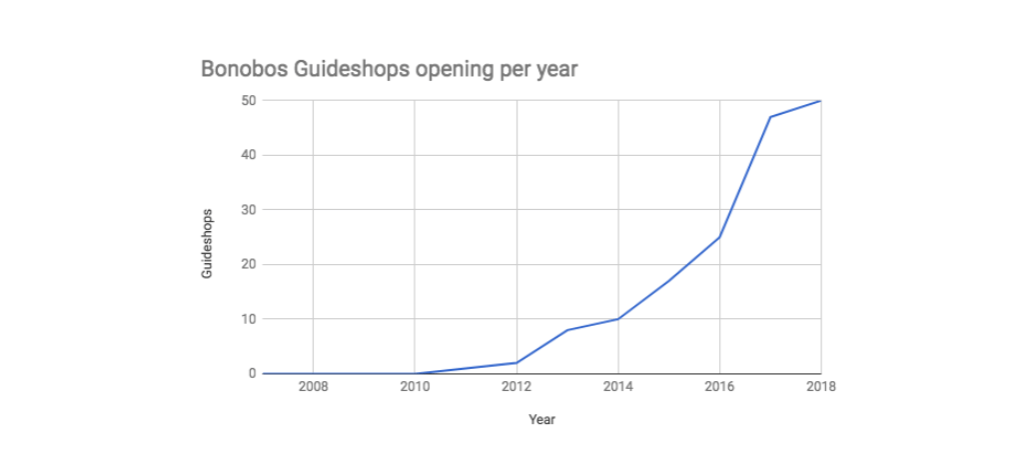 By 2013, even with just a few stores open, revenue had rocketed from that 2010 pre-store $10M to $70M. Before being bought by Walmart last year, revenue was set to hit more than double that, with year-over-year growth at 30%.
Physical stores have allowed more Bonobos customers to understand the value the brand offers, and in turn the brand has reaped new revenue.
Achieving success through 'showrooming'
A superior customer experience brought Bonobos its early online success, and the creation of Guideshops allowed the company to expand that experience into physical retail.
According to co-president and chief marketing officer Micky Onvural:
"There's a lot of hyperbole about retail dying, but [it's really that] the model's changing. There is still a place for a physical experience. You just have to think differently about how you do it."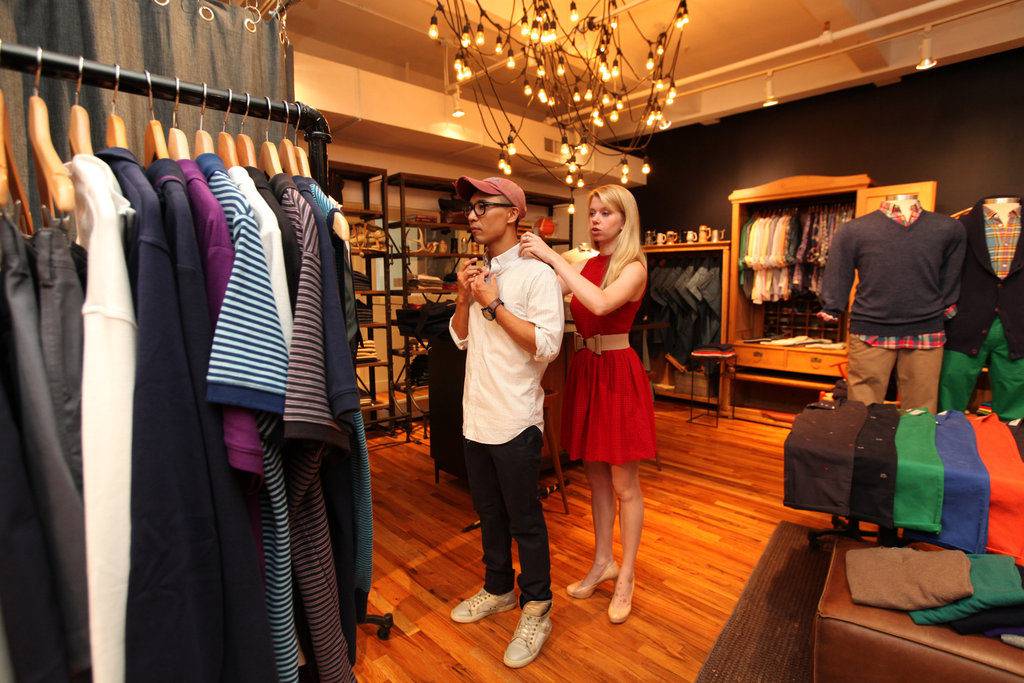 Source: New York Times
Guideshops offer a unique experience. Customers can walk in, but Bonobos encourages them to make an appointment. If they do, they get a 45-minute one-on-one session with a Guide — a Bonobos employee that walks customers through the company's clothing lines, helping them choose fit and style.
The Guides can devote this time because they aren't taken away by other store tasks: there is no inventory to stock and no cash registers to man.
Guideshops work because they offer visitors one-on-one attention. They are more like visiting a personal stylist than a fast-fashion outlet.
When they're done, customers don't take the goods out of the store. Instead, the Guide orders them from the fulfillment center to be delivered to customers' homes. This cuts down on inventory, square footage, staff, and accompanying payroll and benefits costs. All these chip away at the usual costs of physical retail that make it a low-margin option.
By giving the customer a tour of its products but having them walk out without any products, Bonobos has turned "showrooming" on its head. Showrooming — checking out products in the flesh in a brick-and-mortar store, only to order them cheaper online on Amazon — has been a bugbear for physical retailers for years.
But Bonobos wants people to showroom. The company would like customers to buy what they try during their one-one-one, but it's the aftereffect that really matters. Bonobos doesn't care about the hundreds of dollars a consumer spends after one visit; it cares about the thousands of dollars they'll spend for years to come.
building a million-dollar store on just 700 square feet of real estate
Personalizing the shopping experience has led to success for Bonobos — and it doesn't take a large location to do so.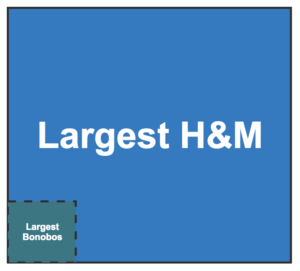 Guideshops are small: the first NYC Guideshop was just 700 square feet. Today, the average Guideshop is less than 1,500 square feet, and the largest, in NYC's Flatiron district, is only 4,000 square feet.
To compare, the average H&M store is 20,000 — 25,000 square feet, and the largest is 63,000 square feet. (Essentially, you could fit about 16 of the largest Bonobos in the largest H&M.)
As mentioned, Guideshops can be small because of their "no-inventory" model. The stores are just for feel, fit, and experience. They are there to "guide" a customer through the process of ordering the right items online.
"In terms of what we can build with this no-inventory model, we can take much smaller real-estate spaces because we don't have to have every single product on the rack." — Onvural
Smaller stores also require less staff. This cuts costs not only by reducing payroll, but also by requiring less outlay for benefits, insurance, or lawsuits. This means that even in expensive neighborhoods, Bonobos can still keep costs low, through naturally lower staffing costs.
Other cost savings come from less shipping, especially as inventory doesn't need to be moved from the warehouse to stores.
And the benefits are big. Bonobos reports that the average Guideshop-led transaction is $360, double the size of a regular online purchase. Store visitors also repurchase quicker — 58 days vs. 85 days for web-only customers. This means that an offline Guideshop customer might be worth over $2,000 per year for Bonobos, compared to just $772 for an online-only purchaser.
Warby Parker
How Warby Parker went from an apartment to 74 stores
Online prescription eyeglasses retailer Warby Parker's move to retail arose from popular demand.
When its home trial program started struggling with increased demand, co-founder Neil Blumenthal would invite people to his Philadelphia apartment to try on new direct-to-consumer glasses.
"People would come in, and we would lay out the glasses on the dining room table. And we thought it was going to be a sub-optimal experience, but it ended up being a very special experience in that we could build relationships with our customers. They could try on all the glasses. We started to realize maybe there was a place for traditional brick-and-mortar retail."
This gave customers the chance to try on all the different styles Warby Parker was producing, while also giving the company the chance to start building relationships with customers to find out what they liked and disliked. That special experience is now built into all of its stores.
"[The] medium doesn't matter. It's the experience that matters and we need to design those experiences from the moment they hear about the brand."
When Warby Parker finally opened its flagship New York store, almost 2,000 people showed up on the first day. Since 2011, the company has gone on to open 74 stores, and continues to grow.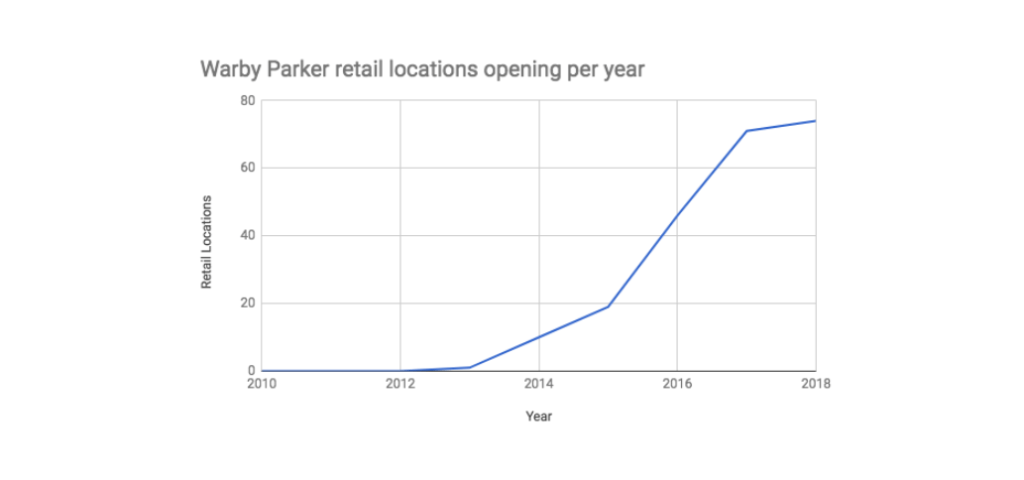 Redesigning & digitizing the optical experience
Warby Parker stores are designed to feel like a library or bookstore instead of an optician's office. When the company launched its first store, it announced:
"At the library, we take our time, browse the aisles, and thumb through interesting titles. We wanted to give our store the same thrill of discovery."
A "thrill of discovery" is not something you typically associate with a trip to the optician.
Traditional optician stores are not generally designed for a great customer experience. For one thing, they have high levels of inventory from multiple brands at multiple price points. (In comparison, Warby Parker frames begin at $95 and don't go far beyond that.)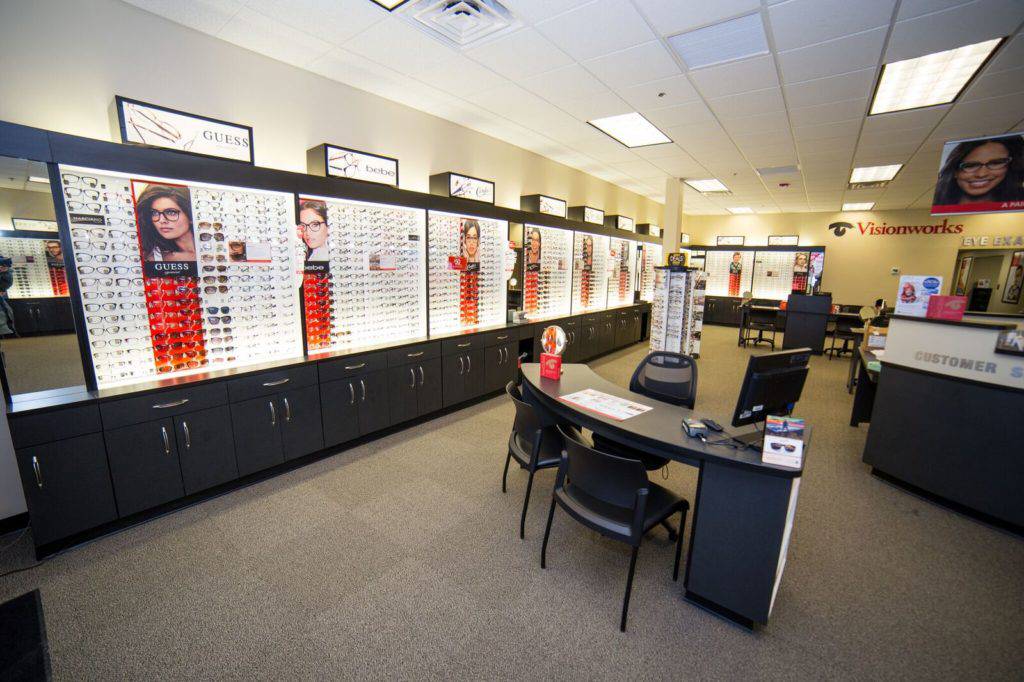 Source: MRG
They also tend to lock eyeglasses away in cabinets, requiring a high-touch sales process.
But Warby Parker locations aren't designed to mimic optical stores. In fact, only 30 of the 74 stores (40%) offer eye exams. The stores are effectively fitting rooms for eyeglasses, where people are free to roam the store and try out as many displayed styles as they want.
The experience is also highly digitized. An anchor greets customers, and if someone has a particular need, the associate will pass them off to another sales associate around the store, tablet in hand, to offer one-on-one help.
The tablet allows associates to bring up all of a customer's information: whether someone has already purchased from Warby Parker, what frames they already own, their current prescription, and even address and billing information. Associates can also process an order on the spot, for glasses to be shipped directly to a customer's home.
The stores' customer experience and physical design is what drives success for Warby Parker.
"The best brands and retailers have to give people a reason to go into a store … every day in the press, traditional retailers are announcing bankruptcy or closing stores, and it's because they haven't innovated the shopping experience." — Dave Gilboa, co-founder and co-CEO of Warby Parker.
Even the layout of the store is designed to streamline the shopping process. The design is mirrored on either side of the store, frames are laid out for easy trial, and there are enough mirrors for everyone.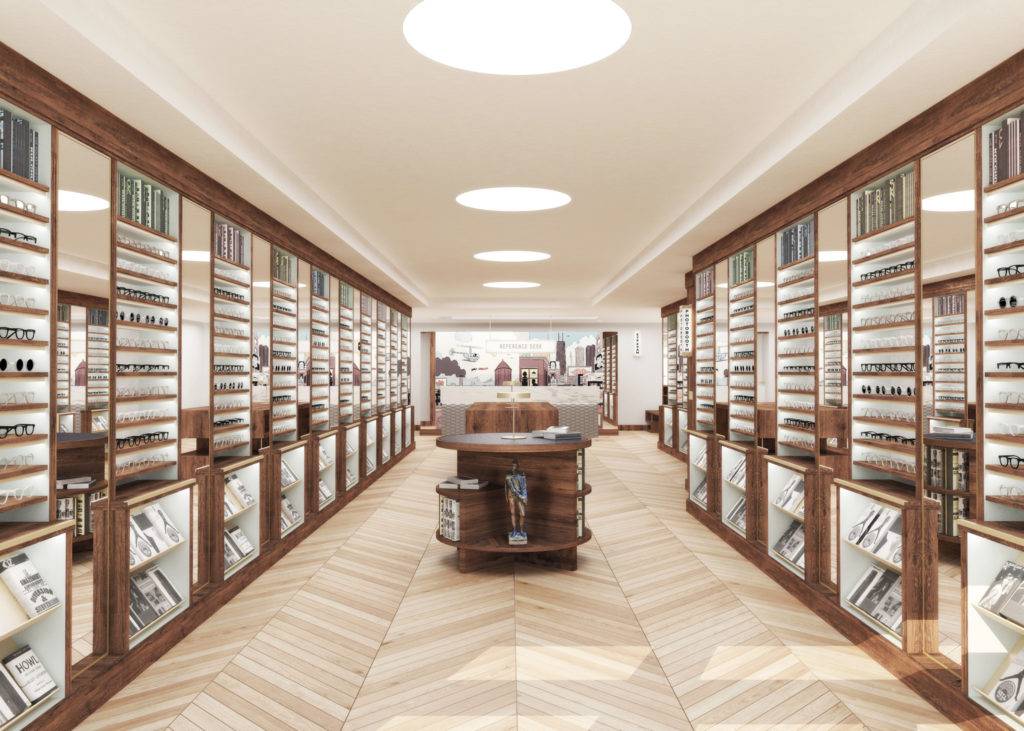 Source: The Chicago Tribune
Warby Parker streamlines the purchasing process to generate $3,000 per square foot
Less than 5% of the prescription glasses market is online. By remaining online-only, Warby Parker would be restraining its own growth.
"More than anything we just want to give customers options. We like to say that we're experience-focused, but medium-agnostic. We don't care if customers are engaging with us through a physical store, online, through their phones, through channels like Twitter or Instagram. We just try to make things as easy as possible, regardless of the medium." — Gilboa
To get people to buy in-store requires word-of-mouth. A great product coupled with a great experience for buyers often guarantees they will tell their friends, who then might be open to the idea of visiting a store.
When people first try and buy in-store, they enter the Warby Parker ecosystem. Moving forward, they are then converted to shopping online, due to convenience and cost. They'll return to the Warby Parker stores, but what started as an offline purchase gets 2–3x'ed online.
And while the company's business model is built on inexpensive glasses, it can still afford to open stores in prime retail locations that will drive its offline/online ecosystem.
The Greene Street store in NYC generates sales of $3,000 per square foot. Average rent in that part of the city is about $775 per square foot for ground floor retail space, meaning sales are about 4X the real estate costs.
Like Bonobos, Warby Parker keeps costs low through smaller store sizes — the Greene Street store is about 2,500 square feet — but it is the company's in-store process that allows it to make the most of the smaller space.
Indochino
How Indochino went against ITS business model to open 26 stores
Made-to-measure menswear brand Indochino wanted "customer acquisition centers."
"Indochino was born out of the belief that custom clothing should be accessible to everyone. We started online and, while we were seeing huge success, we also realized that there are many people who prefer the in-person experience of having someone guide them through the process of designing a suit." — Drew Green, CEO
Home measurements allowed Indochino to offer made-to-measure tailoring online. Instead of spending $2,000 on a suit, customers could measure themselves, upload those measurements to the Indochino website, and a custom suit would be sent to them in four weeks.
The model worked. By 2011, the company already had 17,000 customers and millions in revenue. But as Bonobos and Warby Parker had previously discovered, it was restricting its potential customer base by offering online-only.
Plus, not everyone wants to take down their own measurements, or have a friend do so.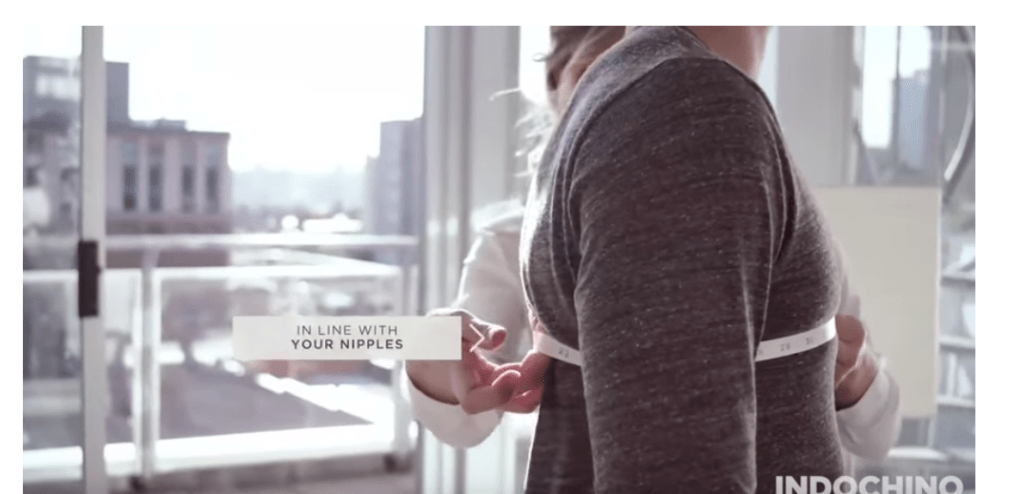 Source: Indochino
The company's initial model for getting around this problem and increasing customer acquisition was its "Traveling Tailor" initiative.
These pop-up stores, available in cities around the US and Canada, proved to be a great acquisition channel for the company.
So Indochino started making them permanent, opening the first "showrooms" in its native Canada in 2014.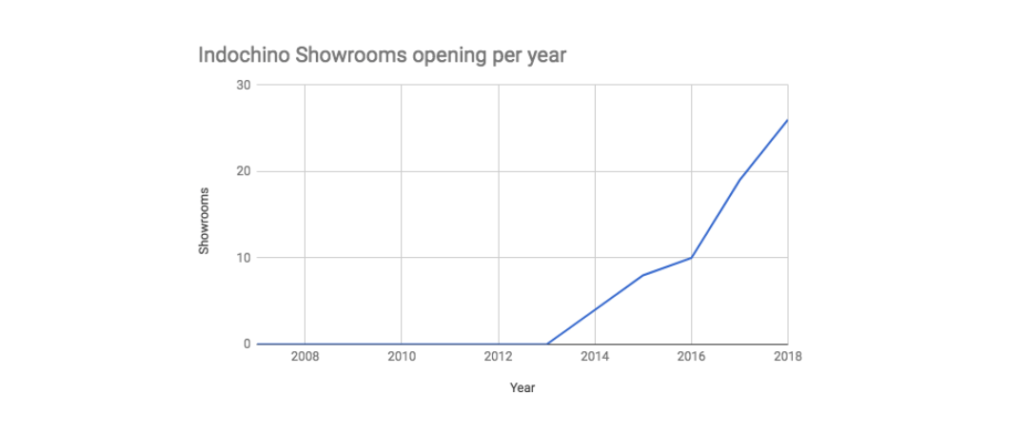 The company has exhibited pretty much straight-line store growth since then, opening approximately 5 stores each year. The goal is to open 100 over the next 10 years.
Customers who go to any one of its 26 stores get to enjoy the tailoring experience for a fraction of the price of an entirely bespoke suit.

Source: Indochino
The in-store experience allows for two improvements over the original, online-only system:
Measurements are taken by a professional. One of the reasons Indochino stores succeed is because customers have concerns about taking their own measurements. Even if the suit is lower-priced than other made-to-measure offerings, customers rarely want to drop $500 on something that isn't guaranteed to fit. When measured by a professional who understands the cut and fit of Indochino suits, customers are more likely to be satisfied with the results.
Customers can choose the fabric and customizations. All fabrics and customizations are available online, but at the store, customers can feel fabrics and see linings in person before buying.
These features increase buyers' comfort levels and offer greater value. Before they were getting a great suit; now they're getting a great suit and a great experience.
Indochino bucks popular wisdom and makes the mall an asset
Indochino keeps costs low in the same way as Bonobos and Warby Parker — a no-inventory model and streamlined retail experience. But it's also throwing something else into the mix: malls.
"We want to eventually get to 150 stores, and I think we can get there by working with top-tier malls." — Drew Green, CEO.
The general wisdom is that malls are dead. In 2015, 15% of malls had up to 40% of their retail spaces vacant.
But malls aren't so much dying as they are changing.
Luxury malls, or "top-tier malls," as Green calls them, are thriving. Occupancy is above 95% and stores opening are net positive.
Canada-based Indochino is among them: its first stores were in top-tier Canadian malls. In the US, you can find Indochino at the SouthPark Mall in Charlotte, NC, between luxury brands Tory Burch and Burberry, and in Tysons Galleria in McLean, VA, along the same row as Bally, Burberry, Prada, and Cartier.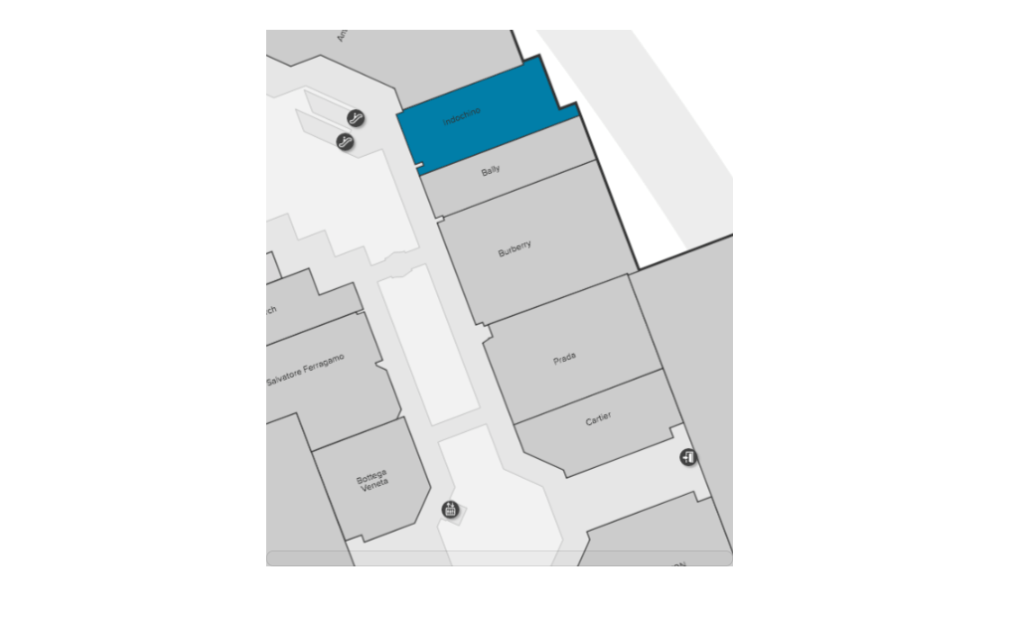 Source: Tyson's Galleria
These mall spaces offer efficiencies over standalone brick-and-mortar. In mall locations, all the infrastructure is already in place for retail, and there is no long-winded approval process that there is with many standalone stores. Particularly for brands expanding aggressively, malls offer the ability to get up and running quickly. Luxury malls allow Indochino to expand into physical retail quickly.
This, coupled with a no-inventory model, leads to an opening cost that is one-tenth that of a traditional store.
Indochino uses digital marketing and old-school word-of-mouth to drive a flywheel effect
Indochino uses localized landing pages to highlight nearby locations and drive people to its stores.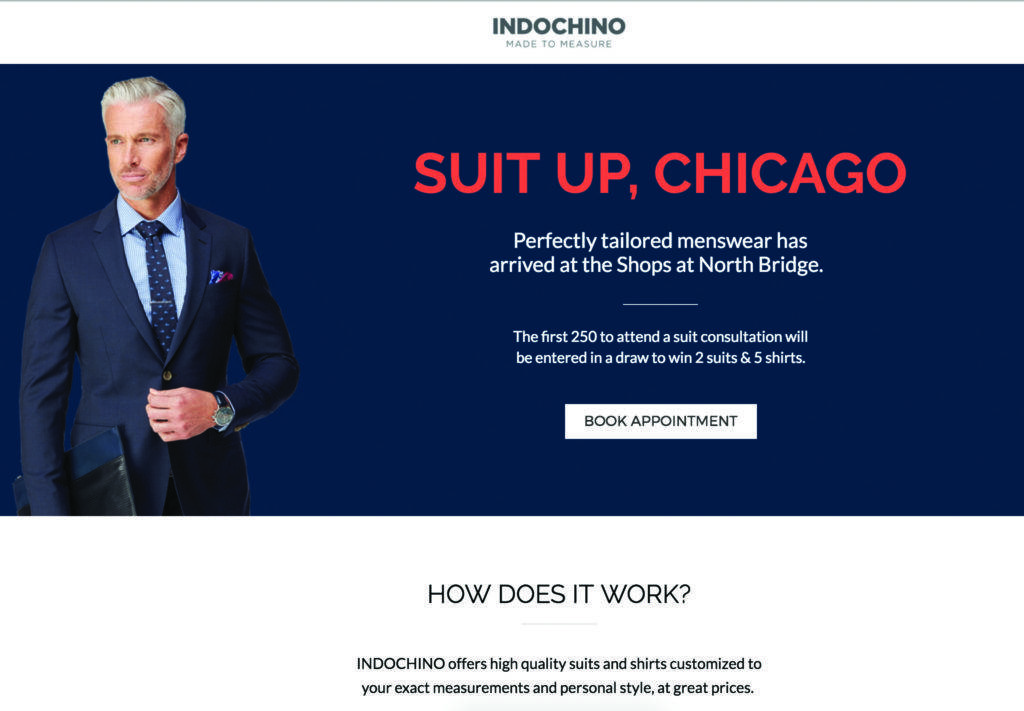 Source: Target marketing
Physical retail isn't cannibalizing online growth; it's adding to it. According to Indochino CEO Drew Green:
"In 2016, which was our first full year in brick-and-mortar retail, we grew 31% year-over-year on a comparable basis. With that we decided to look into how to enter markets differently and more cost-effectively. The three showrooms we opened in 2016 all paid back within their first six months, and that's created a template and an opportunity for us to expand more rapidly this year."
In 2017, that year-on-year growth was at 50%, and, as the company added its 20th showroom, physical retail became Indochino's primary acquisition channel. This leads to a flywheel effect where customers are introduced to the brand through the physical retail experience, but then go on to spend more online. Online sales grow twice as fast in markets with physical retail.
These customers also spend more offline. With an in-person style guide, they are more likely to splurge for the custom lining or the monogrammed blazer at a higher price point. Also, learning about different styles, fabrics, and fit in person will likely lead to more purchases made online in the future, since all measurements would already be in the Indochino system.
Like Warby Parker, physical retail for Indochino adds to this flywheel effect through another channel: word-of-mouth. "The clients that come in and enjoy the experience of our showrooms, they tell two friends and that's where we've seen the business grow," says VP of Design Dean Handspiker.
This is old-school customer experience: if a brand offers a superior experience, people will tell their friends about it. That is how all of these companies are growing, online and off.
The new class: How three new companies will make waves in physical retail
Bonobos, Warby Parker, and Indochino are all making a success of physical retail. And because of that, more and more online-first brands are following them into brick-and-mortar.
While it's too early to say this strategy will be successful for other companies, you can already see that they're following the same models as their forebears, understanding that experience, low costs, and omnichannel offers are key to success in modern retail.
Glossier is generating more revenue per square foot than the average Apple store
You have to take an elevator to reach the first physical Glossier store, based in New York. Six floors up, and you're in Instagram heaven.
Source: Harper's Bazaar
But this store isn't just for show. It's a business — one that is excelling.
Founder Emily Weiss says that the store makes more revenue per square foot than an Apple store, meaning that it's even outdoing Warby Parker and potentially hitting $5,000 per square foot.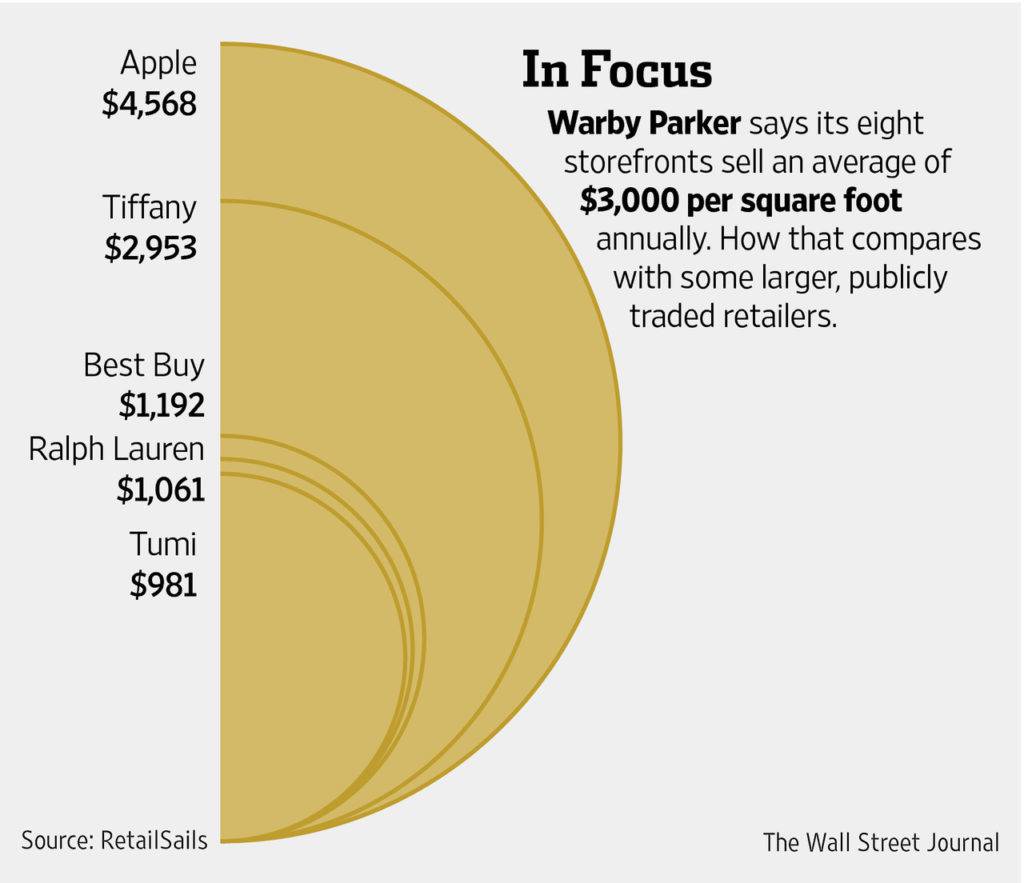 Source: Wall Street Journal 
The reason this store is successful is the same reason we've seen with other stores: customer experience. Weiss says:
"I don't know what to tell you, except that it's really, really, really weird in here! For you to go out of your house and make a pilgrimage somewhere, there needs to be a reason. And this, this is the new luxury!"
Couple a fantastic experience with a good product and a low-cost space, and Glossier is already making brick-and-mortar a success.
The company has already opened up another 1,500 square foot store on Melrose Place in Los Angeles, as well as launching a pop-up in London. All of these stores are small — the New York one doesn't even have a storefront — but the reputation of Glossier still gets people in the door. Once there, they try, they post on Instagram, and they buy.
Here are some elements that help keep that flywheel spinning:
Trying products on in person gives customers the assurance that what they buy online at a later date will work for them.
Customers sharing the experience online means that the beauty of the stores will reach hundreds of thousands of people, far beyond New York, L.A., or London.
Customers buying the products first in-store and then online gets Glossier to the potential $5,000 per square foot mark, making the stores worth investing in.
Everlane knows you want to touch before you buy
In 2012, Everlane CEO Michael Preysman told the New York Times, "We are going to shut the company down before we go to physical retail."
In 2016, he said, "I don't know of any retailer in the apparel world that I think has a great experience."
In 2017, Everlane opened its first store, and Preysman changed his tune:
"There was this belief back then that the online experience was far superior to the physical one. But as we've grown, our brand has become about more than just our products. We've created a community."
The direct-to-consumer nature of brands like Everlane allow them to experiment with these channels. They are incentivized to create Preysman's community because they have a direct relationship with the customer. Any additional touchpoints improve the experience and make the flywheel spin quicker.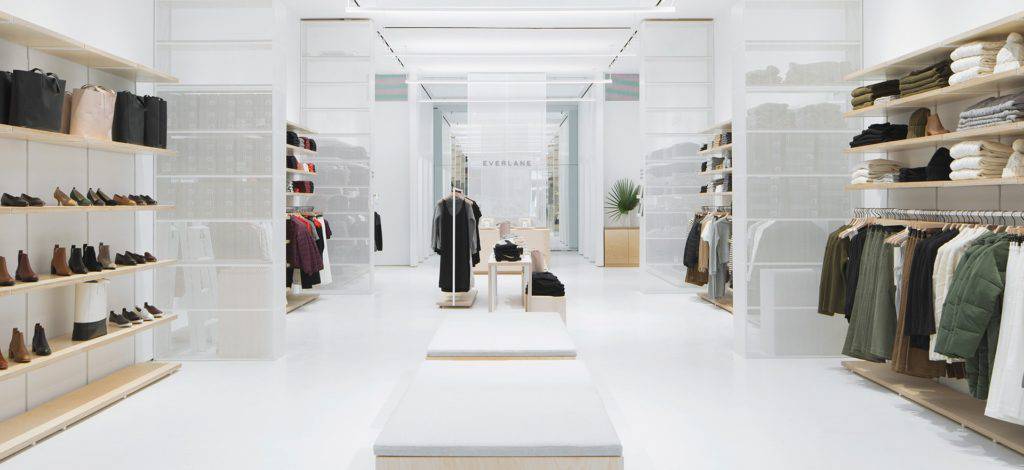 Source: Everlane
Known as "Everlane IRL," the SoHo shop mirrors the online store. Simple, clean lines make it all about the product. The store is bigger than most Bonobos locations but still smaller than most fashion retail, coming in at 2,000 square feet.
Rather than make an appointment, customers can walk straight in. Unlike other companies described above, Everlane lets visitors walk out with what they want, as the store is more than just a showroom.
How is it different from a regular store? There are two key features:
The store meets customers' preferences. Everlane realized that customers preferred to return and exchange items in person, and the store allows them to do just that.
The physical experience is blended into the online experience. Consumers check out using their online accounts, and there is no barrier between what they bought online vs. offline. The experience is seamless.
Everlane has just opened a second store in San Francisco — this one reaching the dizzying size of 3,000 square feet — with plans to expand further. According to the Preysman, the ideal ratio is "70 — 80 percent digital and 20 — 30 percent physical."
So expect more Everlane IRL soon.
Casper stores are about the experience, not the product
Casper is the newest direct-to-consumer company to get into the permanent physical store game, opening its first store, the Casper Sleep Shop, in New York this past February.
The store has six bedrooms, each furnished and designed differently, where customers can literally get into bed. There, they can test mattresses, pillows, duvets, and sheets. The sleep experience goes beyond just products, with the shop also playing host to sleep and wellness events. Casper wants the store, and its brand, to be associated with all aspects of a great night's sleep.
Co-founder and COO Neil Parikh sees this store as the first of many, "a couple of hundred, perhaps."
In fact, Casper opened up its next location right next door to the first. Known as the "Dreamery," the location goes even deeper into the sleep experience.
In the main store, customers test products by getting into the beds; in the Dreamery, they test them by falling asleep on a Casper mattress, under Casper sheets. For $25, customers can have a nice little 45-minute nap to take the edge off their New York City day.
These stores aren't the only places consumers can try Casper beds before you buy. When it invested in Casper, Target also bought the chance to get Casper mattresses into its stores nationwide. For Target, this is a great opportunity: a top brand selling well in its stores.
For Casper, the short-term benefit seems obvious — Target offers a massive retail network Casper can immediately plug into. Long term, however, that strategy runs the risk of diluting that brand and the special Casper experience. If you can test and buy a Casper mattress at any of the thousands of Target stores in the US, why go to the Dreamery?
Conclusion: The physical retail flywheel
The successful strategies highlighted above depend on myriad, interrelated factors.
If a brand chooses to (1) open a physical retail location, it must (2) create a better experience than its retail peers. To do that without bankrupting itself, it has to (3) keep costs down and (4) unite its entire retail experience.
Each of these highlighted companies, from Bonobos in 2012 to Casper in 2018, are succeeding at steps one through four. All are young in their retail lives, but by offering great experiences coupled with great business models, you can expect each to continue to grow in the real world, changing the retail landscape and delivering a seamless experience to their customers.
If you aren't already a client, sign up for a free trial to learn more about our platform.