Competition across the fashion space is heating up, especially with the emergence of online-first brands.
Fashion retailers are struggling.
The retail apocalypse has already pushed A'Gaci, American Apparel, True Religion, and other brands into bankruptcy.
Even fashion giant H&M is showing signs of a slowdown, posting flat sales growth for the past two quarters. Additionally, the company has reportedly accumulated over $4B worth of unsold clothes.
Its share price has also stumbled over the past 4 years, falling from a peak of $7.35 in Jun'14 to less than $3 — $2.69 in August 2018.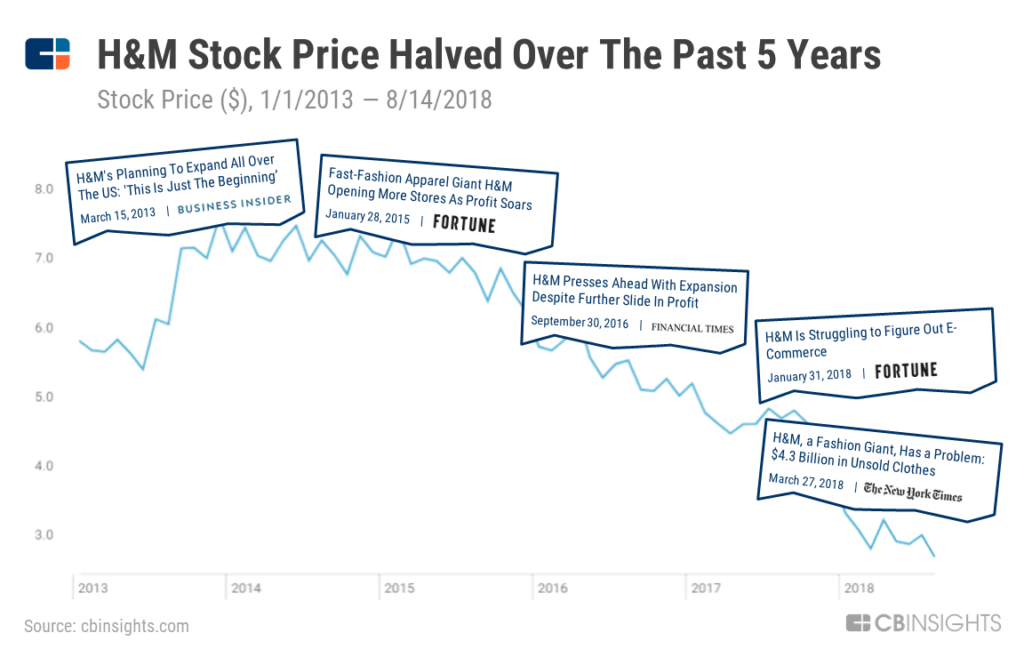 While more traditional brick-and-mortar retailers are struggling, online-first fashion brands are flourishing.
These companies are thriving by making fashion trends available to shoppers faster, enhancing the in-store experience, focusing on sustainability, and engaging shoppers at the design stage, among other things.
And while large fashion brands such as H&M and Zara have already launched their online stores, many are still generating the vast majority of their revenue offline.
In this analysis, we look at how online-first fashion brands are appealing to shoppers and what fashion retailers at large can learn from them.