With always-on digital connections and step-changed consumer demands, the grocery store experience is evolving. From text-based customer service to virtual kitchens, we visualize the tech changing our trip.
The past year forced grocers to focus on omnichannel connections. Online grocery sales growth skyrocketed an estimated 53%, and these new digital shopping behaviors are projected to stick. 
The pandemic also changed the store shopping experience. Circulars stopped and prepared food bars faded, while restaurant food delivery exploded and demand for contactless checkout heightened. We covered tech helping supermarkets respond here. 
At the same time, interest in health & wellness and sustainability took hold.
With this context, we look at what the grocery trip is set to look like in two years.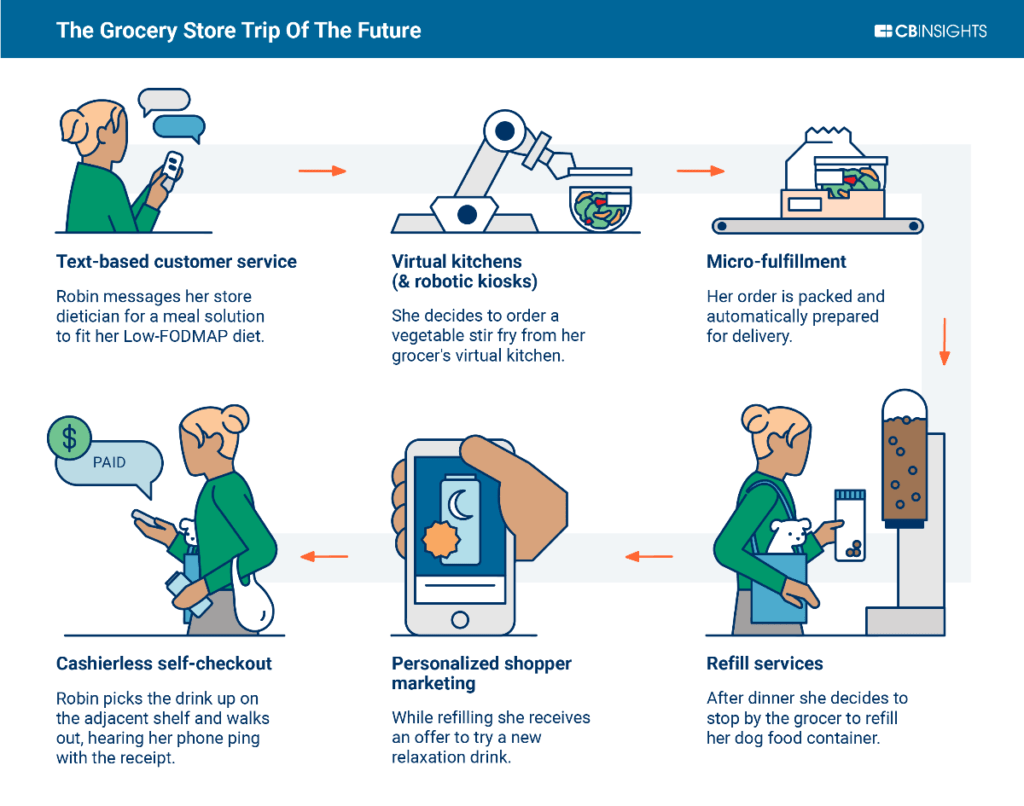 Let's dig into the tech changing our trip. 
1) Text-based customer service
Our phones have become an essential resource for grocery shopping. Increasingly, chat-based service options are gaining traction.
These solutions range from Albertsons' live chat for online grocery support to ShopRite's Registered Dietitian Chat for nutritious meal and product advice to Equal Parts "text-a-chef" service to suggest recipes. 
Clients can reference our Tech Market Map Report: Consumer & Retail Customer Service Tech to identify solution options and service providers.
2) Virtual kitchens (& robotic kiosks)
Even before the pandemic, virtual kitchens (i.e., cloud kitchens) were gaining attention. In 2020, investment took off. 
A high-profile example of a supermarket getting involved is Kroger, which has partnered with ClusterTruck to trial fresh meals for delivery or pick-up from its stores. Notably, Walmart has also announced its own initiative with Ghost Kitchen Brands in Canada.
Alongside this, robotic food prep tools are also seeing increased interest. Earlier this year, for instance, DoorDash acquired robotic salad maker Chowbotics. In December 2020, online grocery platform Ocado invested again in made-to-order meals robot provider Karakuri. 
Clients can check out our Tech Market Map Report: New Products And Services In Food And Beverage to identify more providers.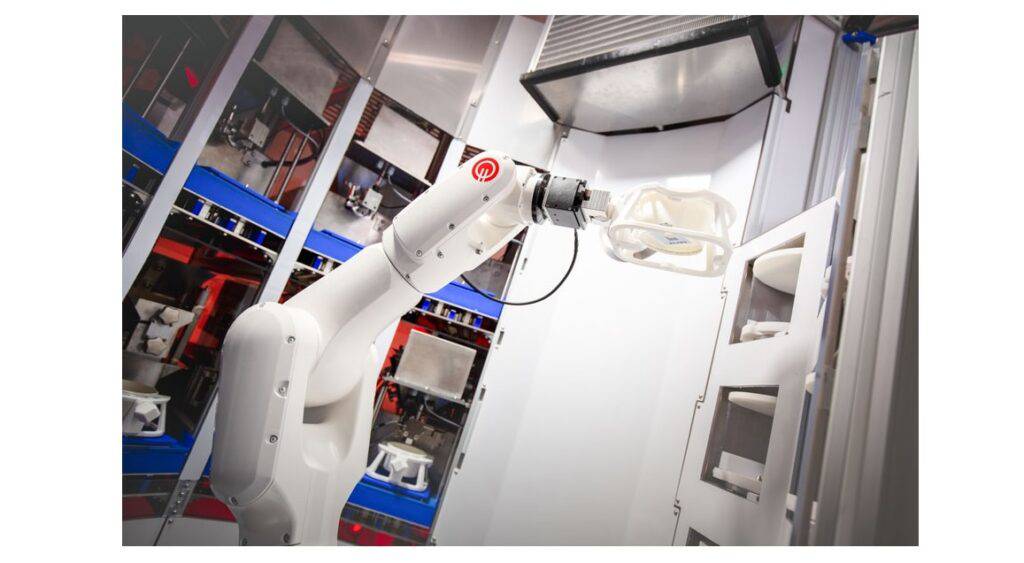 Source: Karakuri
3) Micro-fulfillment
With the growth of online grocery shopping, making fulfillment profitable is a top priority for retailers. One way they're accomplishing this is through micro-fulfillment centers — compact, automated sites. The micro-fulfillment market is projected to grow 10x over the next 4 years.
We already see signs of expansion with Walmart's recently announced addition of automated micro-fulfillment solutions to several stores and H Mart's planned launch. 
Dig into our full breakdown of micro-fulfillment here. Clients can also read our Robotic Fulfillment Center Technologies: Providers And Solutions report.
4) Refill services
Attention to reusable or refillable packaging reached all-time highs in 2020. This focus has been aided by legislation, such as the EU's ban on a variety of single-use plastics, and CPG giants like P&G and Nestlé asserting sustainable packaging commitments. 
Last year, P&G introduced reusable aluminum shampoo bottles with refillable packs, and Nestlé started piloting in-store dispensers for pet food.
See our CPG trends report for more details on this trend.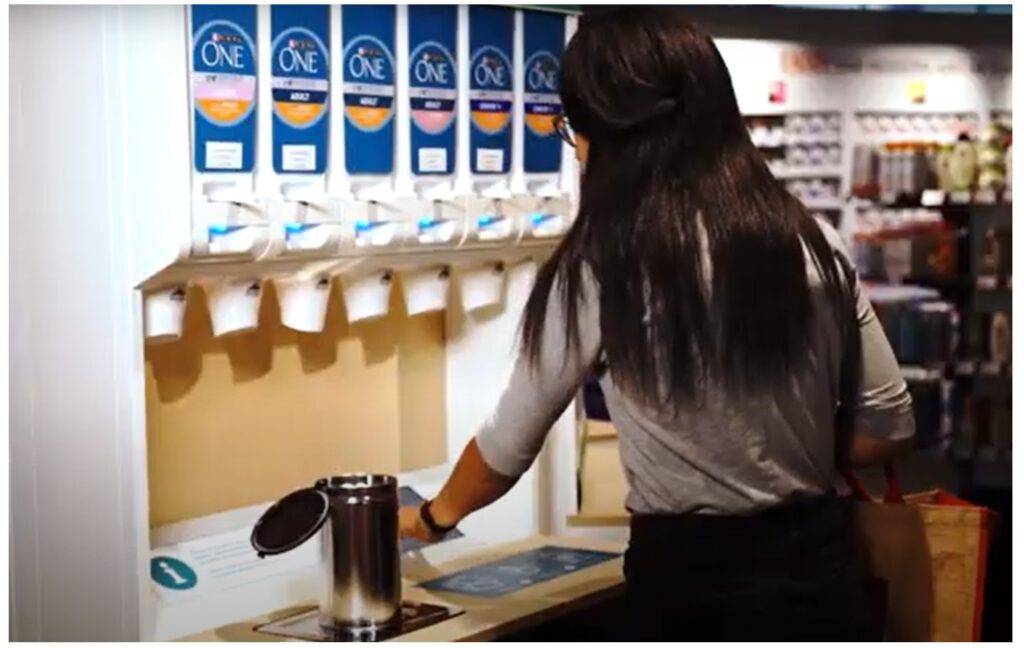 Source: Nestlé
5) Personalized shopper marketing
Shopper marketing has moved digital, with retail giants from Target to Walgreens to Albertsons operating their own retail media networks. 
Alongside grocers' closed-loop systems, brands also want personalized marketing solutions that share more data, offer more creativity, and can give a stronger ROI. There is an array of private companies looking to fill this need, as profiled in our client-only Targeted Marketing Tech Market Map.
Clients can also see our vendor assessment of Omnichannel Customer Engagement providers for consumer & retail. 
6) Cashierless self-checkout
Contactless payment grabbed executive-level focus last year, with the likes of Dollar General and Yum! Brands discussing initiatives. Alongside this, autonomous "just walk out" technology spread, with a growing list of retailers including Kroger, 7-Eleven, Circle K, and Giant Eagle launching pilots.  
Clients may survey this market map of the landscape and review this contactless checkout vendor report for an in-depth analysis.
In all of these elements, we see an emphasis on process efficiency and data collection across touchpoints to offer a more relevant and seamless shopper experience — across digital and physical shopping interactions. 
If you aren't already a client, sign up for a free trial to learn more about our platform.