Also discussed are why companies are now using multiple cloud platforms and top players in the language learning market.
Today, we discuss Duolingo and Memrise and who will win language learning, whether omnichannel is over, the blockchain, and more, including:
You know omnichannel is dead when these retailers are talking about it
The $115B language learning market is still up for grabs
Who owns the most blockchain patents?
 Tech companies are turning to multiple cloud providers
The startups taking on India's exploding fintech market
Did omnichannel die in 2017? While retailers still talk omnichannel, have technology startups moved on?
According to earnings call transcripts, omnichannel is still very much on the brain for retailers. The buzzword hit a record high for mentions on earnings calls in the quarter ended March 31, 2018.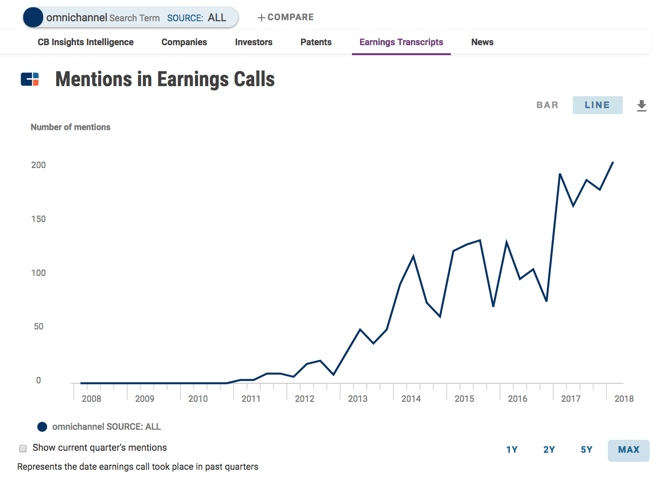 Omnichannel, if unfamiliar, indicates the blending of retail channels (mobile, web, in-store) into a single experience.  
Interestingly, the two retailers talking up omnichannel the most are Macy's and JC Penney. Both of their 5-year stock charts are depressing. Here's Macy's: