Oil & gas corporates are investing and partnering with IoT technology companies to develop analytics platforms, improve energy efficiency, and identify major infrastructure risks.
From Total to Engie to Saudi Aramco, major oil & gas companies are ramping up Internet of Things (IoT) investments, as they look to improve operations. These technologies range from machine-to-machine (M2M) communications to wireless sensors to IoT analytics software, among others.
To get a better sense of where the sector sees opportunity in the IoT, we looked at the activity of the 12 biggest oil & gas corporates that have invested in the space, either through the parent company or any other associated investment vehicles.
We used the CB Insights platform to map direct investments, acquisitions, partnerships, vendors, and internal developments within the space. We only included energy companies that have made direct IoT investments. Those that have exclusively partnered or only pursued other types of non-investment IoT initiatives were not included.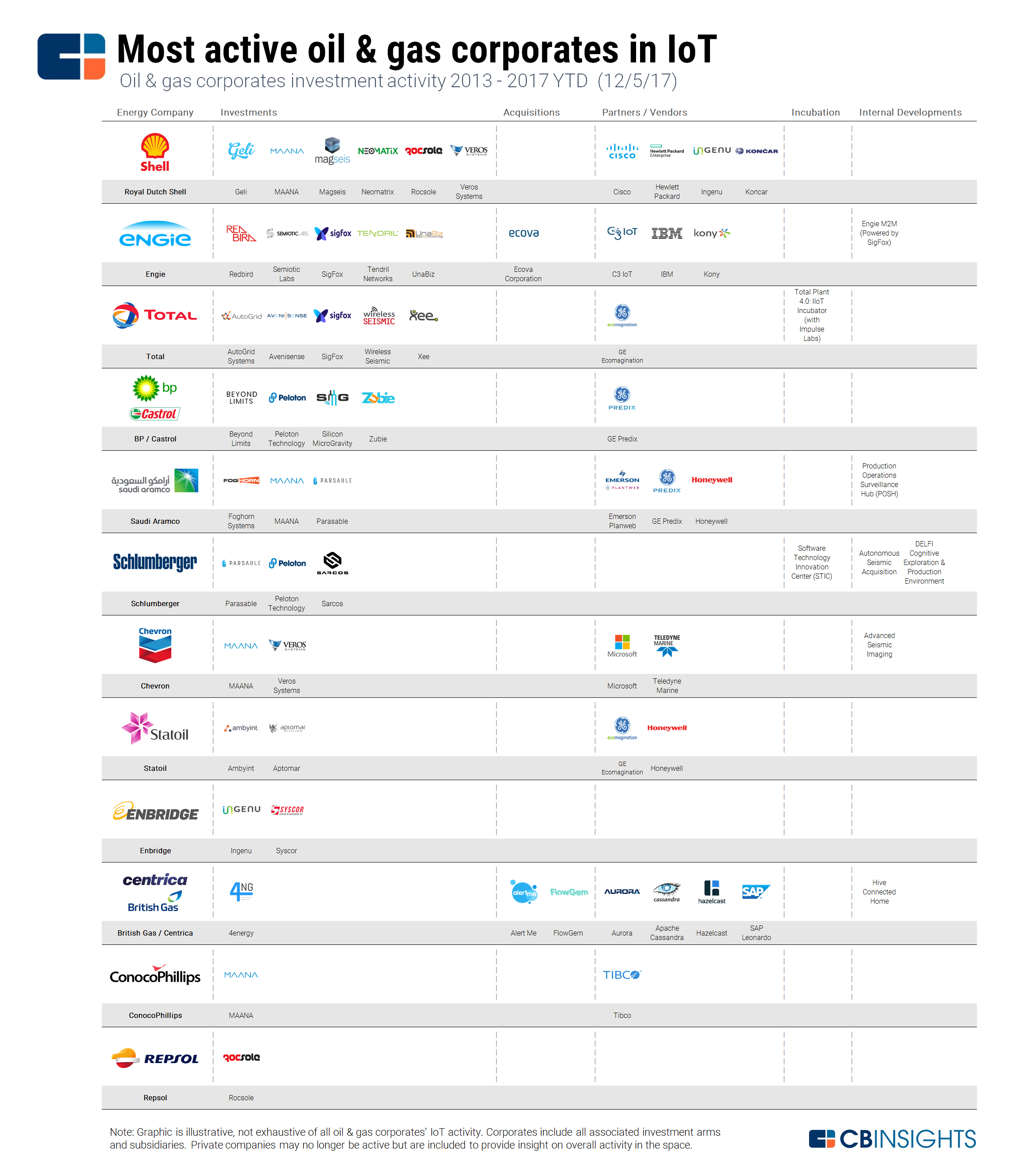 INVESTMENTS & Acquisitions
Looking at the direct investment data, these 12 oil & gas corporates have participated in over 35 rounds totaling over $575M in disclosed funding to 27 companies since 2013.
Significant IoT investment by oil & gas corporates began in 2015 with a $115M Series D investment to Sigfox, a provider of cellular connectivity for IoT and M2M communications. Investors in this round included Engie, a France-based energy provider, and other non-oil & gas investors. Engie has been the second most active IoT oil & gas investor after Shell.
In the following year, SigFox raised the largest round of all oil & gas backed IoT companies for a second consecutive year with a $160M Series E. While Engie did not participate in the financing, French-based energy provider Total did.
Other notable oil & gas corporates' IoT investments in 2016 include Total Energy Ventures International's backing of seismic (earth vibrations and quakes) data acquisition company Wireless Seismic and smart energy distribution software company AutoGrid Systems. In addition, Chevron Technology Ventures, Saudi Aramco Energy Ventures, and Shell Technology Ventures backed MAANA, an IoT analytics platform, in a $26M Series B.
Most recently, Peleton Technology, a connected and automated vehicle technology company, raised a $60M Series B with participation from Castrol innoVentures (BP) and Schlumberger Technology Investments, among other non-oil & gas investors. This was the largest IoT investment backed by oil & gas corporates so far in 2017. Foghorn Systems, an edge computing platform for industrial and commercial IoT applications, also raised a $30M Series B from Saudi Aramco Energy Ventures, among others.
Notable acquisitions since 2013 include Engie's 2014 acquisition of energy cost saving platform ECOVA, British Gas' 2015 acquisition of energy monitoring system Alert Me, which they previously invested in, and Centrica's 2016 acquisition of water leak detection software FlowGem.