Amid shifting industry priorities, oil and gas corporate investors are increasingly focusing on renewables, carbon capture tech, and more. We look at where the most active O&G CVCs are placing their bets.
Oil and gas (O&G) giants have historically focused on technology to improve operations in refining, processing plants, and exploration activities.
But falling oil prices, supply chain shortages, and other factors exacerbated by the Covid-19 crisis are shifting priorities for the industry at large. Increasing incentives and policy pressures in favor of renewables, decarbonization, and other clean energy tech are also driving a greener business agenda.
Corporates' VC arms are increasingly placing their bets on alternative energy, carbon capture, mobility, and other environmentally focused solutions. For instance, Shell Ventures participated in energy-saving software provider Palmetto's Series B $29M funding round in July.
Below, we look at investment activity of the 5 most active oil and gas corporates since 2015, and what their latest bets signal about the future.
Top oil and gas CVCs
In 2019, the top 5 oil and gas corporate venture capital firms (CVCs) participated in over $1B worth of VC deals across 55 transactions. In 2020 year-to-date, O&G CVC deal participation is down 18% compared to the same time last year.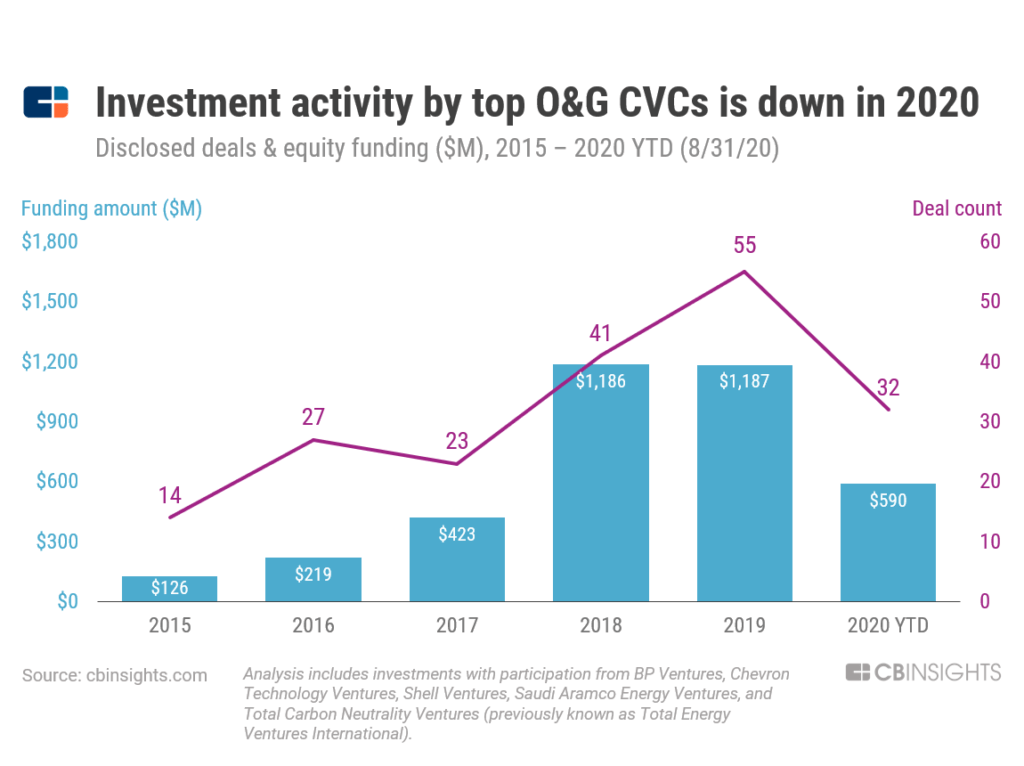 Oil and gas majors have long used VC investment to understand emerging technologies that improve core operations of exploration, production, and refining. In recent years, industry CVCs have invested in sensors and other IoT technologies that have improved monitoring, analytics, and remote control capabilities.
For example, both Shell Ventures and Chevron Technology Ventures have backed Veros Systems, which makes data and analytics software for predictive monitoring of industrial asset reliability and production efficiency. 
Other O&G giants have invested in O&G exploration software startups. For instance, BP Ventures participated in AI-based upstream software provider Belmont Technology's $7M funding round in April 2020.
But where the need to understand technology to aid in core operations drove O&G CVC investment in the past, a shift towards environmentally sustainable energy infrastructure increasingly drives investment activity today.