Nvidia's graphics cards have become essential picks-and-shovels for data centers, gaming, and autonomous vehicles. While cryptocurrency mining is a hyped area for Nvidia's GPU chips, our earnings call transcript tool suggest it's not as important. We take a look at what Nvidia's Q1'18 results mean for the company's strategy.
Nvidia's bread-and-butter markets are gaming, data centers, and auto tech. Despite all the hand-wringing about cryptocurrency mining, Nvidia has barely mentioned cryptocurrency keywords on its calls. For the last few years, however, the C-suite has talked data centers and auto with far greater frequency on earnings calls.
On its most recent earnings call, Nvidia warned investors that cryptocurrency miners' demand for GPUs will drop by two-thirds due to increased mining difficulty. CFO Colette Kress said, "Cryptocurrency demand was again stronger than expected, but we were able to fulfill most of it with crypto-specific GPUs … Looking into Q2, we expect crypto-specific revenue to be about one-third of its Q1 level." After a cryptocurrency bull run into early 2018, hype has fallen and miners are seeing profits shrink. And some miners are turning to more energy-efficient ASIC chips.
Looking at the numbers and executives' statements, it's clear that gaming is the real growth area for Nvidia. This is unsurprising given these categories represent a far greater proportion in revenue.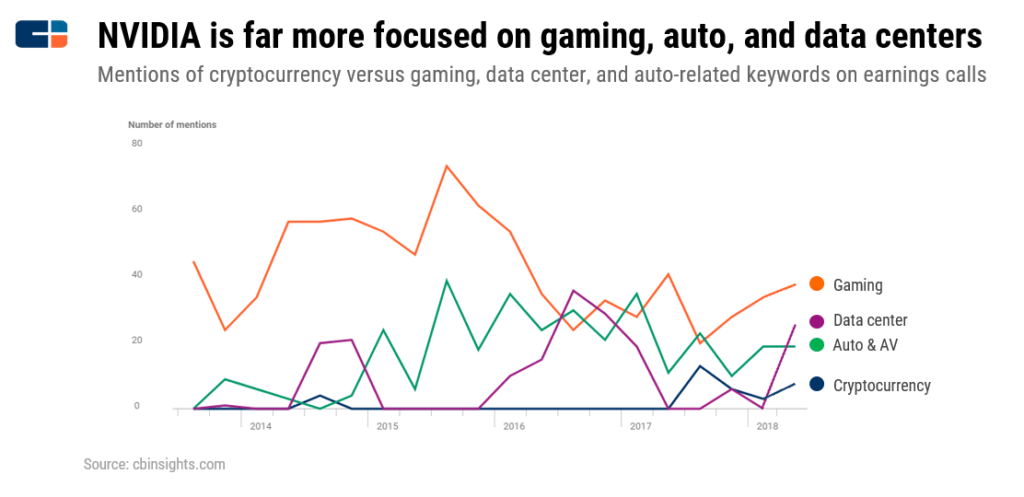 Other Data Points