Beauty is more than skin-deep, as interest in food, beverages, and supplements with beauty benefits is hitting an all-time high. 
Across the CPG landscape, functional foods, beverages, and supplements are receiving greater attention. Consumers are seeking health benefits, such as increased energy or relaxation, from their dietary choices — notably from ingredients like adaptogens. Now, ingestibles with beauty-related benefits have come into sharp focus.
In geographies like Asia, "beauty-from-within" foods, beverages, and supplements that offer to improve the physical appearance have been popular for some time. In fact, a survey by Innova found that a third of Chinese consumers opt for edible products that promise to support appearance.
The trend has also caught on more recently in other geographic regions. For instance, US-based Vital Proteins, which offers collagen-based products and was acquired by Nestle in June 2020, entered the Canadian market last year and is quickly expanding its footprint. Australia-based Vida Glow, which claims to sell a package of its Marine Collagen supplement every 4 seconds, expanded its reach to consumers across the globe in May 2021. 
Overall, the global ingestible beauty products market is worth $217B, according to CB Insights' Industry Analyst Consensus market sizing tool. Interest in nutrition products with these beauty benefits, also known as nutricosmetics, has been building for the last few years.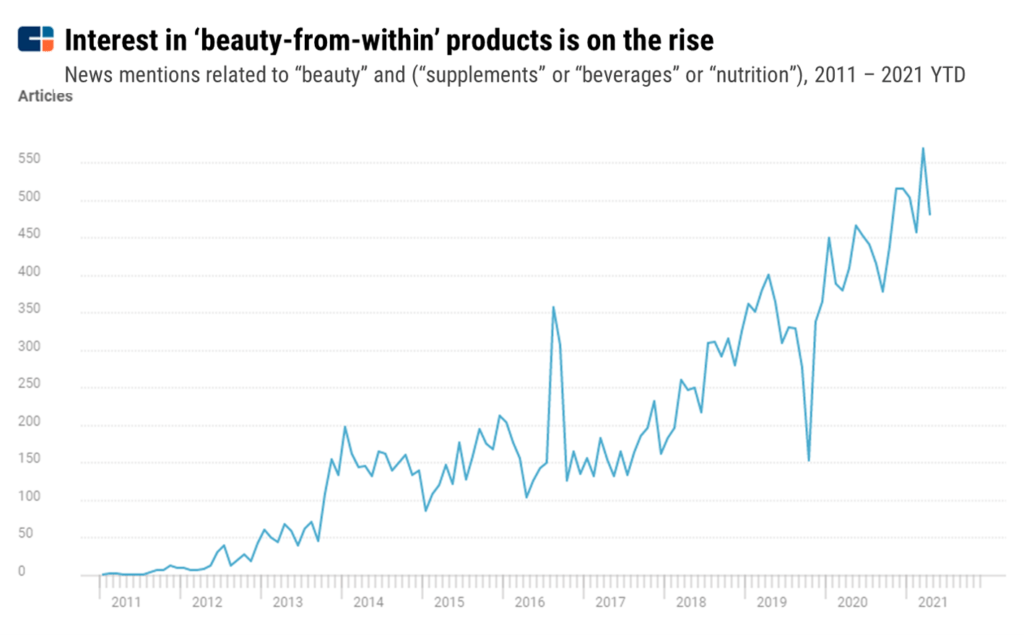 WHAT YOU NEED TO KNOW:
Most applications focus on skin health:

Most nutricosmetics are focused on improving the appearance of the skin from the inside out, reinforcing the strong demand for skincare products in recent years. Collagen is one of the most common ingredients,

while adaptogens are becoming more common in products made by startups like

Moon Juice

and

kindroot

. 

The category is expanding with new beverage formats:

While beauty-from-within products typically come in the form of gummies or vitamins, beverages are rising in popularity. Many of the most well-known startups, like Moon Juice and

The Beauty Chef

,

are known for their powders and concentrates that stir into drinks. More ready-to-go drinks are becoming common in forms like water (

Flow Hydration

) and coffee (

Pop & Bottle

). 

Meal kits are expanding into a more holistic approach:

Supplements and beverages account for most startup activity, while there is a gap in food products with beauty benefits. The exception is meal kit startups like

Sakara Life

and

Urban Remedy

, which are taking a holistic approach by offering multi-day meal plans geared toward providing other benefits, such as increased metabolism and immunity.
WHAT'S NEXT:
The health and science overlap will continue to grow:

Beauty-from-within products will need to prove their effectiveness in order to go mainstream. Some brands — like

Nutrafol

, which focuses on hair growth — use clinical trials to back their claims. Other startups — like

Sundaily

, which sells a gummy to help prevent signs of aging and was acquired by

Grove Collaborative

in 2020 — have founders with medical backgrounds that bolster their credibility.