A handful of startups are leveraging new tech to design cheaper, safer, and more efficient nuclear reactors that could help boost the production of low-carbon energy.
Nuclear power is at an inflection point.
The atom-splitting technology can provide a reliable, abundant supply of low-carbon energy — a boon for combating global warming — powering everything from industrial processes to electricity for homes.
But the tech is notoriously difficult to develop: the nuclear industry is hamstrung by high capital costs, public fears over safety, questions over long-term management of nuclear waste, and the potential for the proliferation of weapons-grade fissile material.
Even energy giants can find the economics difficult — 100+ year-old industrial group Westinghouse filed for bankruptcy after sinking nearly $9B into a failed nuclear project that was plagued by cost overruns.
This confluence of factors has accelerated efforts to develop new nuclear technologies that aim to mitigate nuclear's most-pressing challenges while retaining its advantages.
A handful of startups are looking to rejuvenate the slow-moving nuclear industry (most nuclear reactors operating today are based on designs from the 1970's) by lowering costs, mitigating risks, and better meeting the growing demand for low-carbon energy.
We used CB Insights data to look at startups working on 3 key types of emerging nuclear reactor designs: molten salt reactors, traveling wave reactors, and small modular reactors.
Molten Salt Reactors Look to boost safety
Molten salt reactors (MSR) have attracted the majority of VC funding invested in the space. There are 6 VC-backed MSR companies with a total of $64M in funding — well below the typical multi-billion-dollar price tag associated with nuclear energy projects.
MSRs have multiple safety and efficiency advantages compared to light water reactors (LWR) — a typical reactor design for current nuclear power stations. The molten salt reactor design relies on a combination of liquid fuel and a molten salt coolant, compared to pressurized water in LWR designs. The molten salt coolant allows the reactor to operate at a comparatively low pressure, reducing the risk of an accident. In addition, many MSR designs consume nuclear fuel that would otherwise be considered waste, which could help alleviate proliferation and safety risks.
Terrestrial Energy is the most well-funded startup working to bring MSR technology to market. With $39M in funding and backing from ARPA-E, the Department of Energy's R&D arm, Terrestrial has hit several important milestones. In February 2019, for instance, the company completed a feasibility study with Canadian Nuclear Laboratories to identify sites for a commercial nuclear power plant.
The company plans for its "Integral Molten Salt Reactors" to come online in the 2020s. Notably, its reactor is designed for both consumer power generation and industrial heat. Many industrial processes, like metal smelting, require very high levels of heat that most low-carbon energy sources, including traditional nuclear, cannot provide. Terrestrial says that its reactor is capable of delivering temperatures up to 600°C at a distance of 5 km, a capability that would give it an advantage over many other forms of energy production.
However, the ability for a startup to build a prototype reactor, let alone bring one to market, is currently unproven. Notably, one of the most prominent MSR startups, Founders Fund-backed Transatomic Power, suspended operations in September 2018 after failing to identify a way to build a reactor within a reasonable time frame.

Source: Terrestrial Energy ISMR
Traveling Wave Reactors recycle spent fuel into new energy sources
TerraPower is a startup building on designs pioneered in national labs. The startup, backed by Khosla Ventures and Bill Gates, raised $35M in a 2010 Series B funding round. TerraPower's primary focus is the traveling wave reactor (TWR), a design that uses depleted uranium for fuel.
TWRs use a combination of depleted and enriched uranium to power a reaction that converts the depleted uranium to usable plutonium, which adds additional fuel to the reactor. By consuming depleted uranium, TWRs could help reduce global stockpiles of nuclear waste that pose environmental and proliferation risks.
Of the handful of nuclear energy startups in operation, TerraPower is closest to a prototype. The company has developed a working computer simulation of the TWR reactor and has manufactured the first test assembly of the reactor.
Small Modular reactors use size to reduce costs
Small modular reactors (SMRs) are powered by traditional light water nuclear reactor technology shrunk down to a far smaller scale than a typical nuclear power project — which today normally involves the construction of extensive infrastructure to power large geographic areas.
Smaller, more flexible reactor designs could increase the reach of nuclear energy beyond large, centralized facilities. SMR designs being developed today offer innovations in scale and safety, with the goal of allowing safe, inexpensive reactors to be deployed for industrial and residential use.
SMRs have already been deployed in military settings on aircraft carriers and submarines, but the technology has yet to be used been used to supply commercial energy.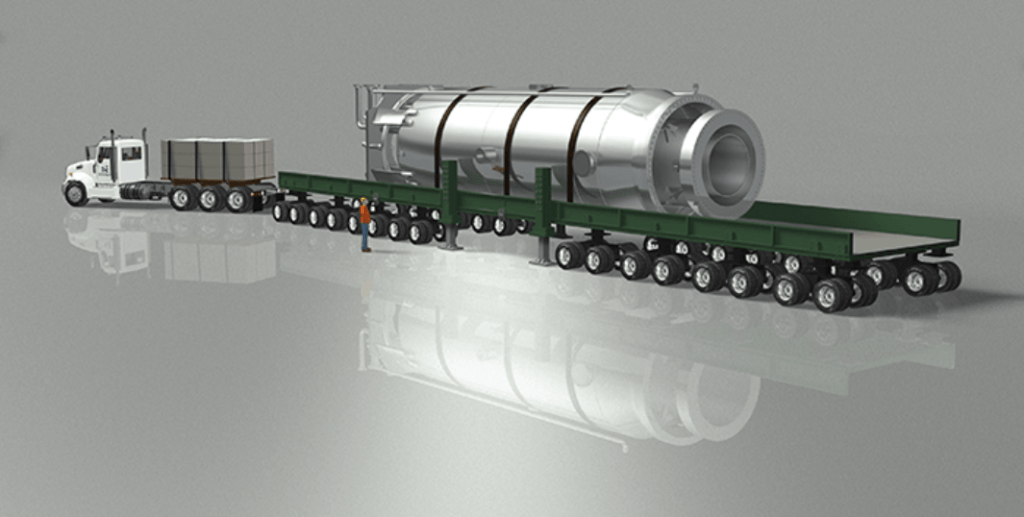 Source: NuScale Reactor Rendering
NuScale is a startup working to bring SMRs to commercial markets. NuScale manufactures SMRs in factories and assembles them on-site, with the goal of driving efficiencies over traditional assembly methods.
NuScale is currently working with Utah Associated Municipal Power Systems (UAMPS) to install an SMR power plant by 2026. In addition, NuScale is backed by Enercon, a provider of engineering and technical services for the nuclear power industry, a partnership that may better equip NuScale to successfully bring its design to market.
If you aren't already a client, sign up for a free trial to learn more about our platform.