Alcohol-free spirits and cannabis-infused drinks are rising to compete with traditional beer, wine, and spirits.
The alcohol industry is experiencing a slow down.
Consumption in the US dropped for a third consecutive year in 2017, according to IWSR. And global figures continue to remain stagnant, with a mere 0.01% increase in volume over the same year.
Driven by a rising focus on health & wellness as well as a changing social landscape (among other things), alcohol companies targeting traditional drinking occasions — such as happy hour — are increasingly moving into non-alcoholic alternatives.
We used CB Insights data to look at where alcohol companies are diversifying and placing their bets.
AB INBEV, Diageo explore alcohol-free Beverages
Alcohol producers have been particularly active in the non-alcoholic beverages sector.
The world's largest brewer — AB InBev — has been the most active so far, with 7 disclosed acquisitions or investments in the space. This includes Brazilian juice Do Bem, energy drinks Hiball, and plant-based beverage Canvas, among others.
The company hopes to see low-alcohol and non-alcoholic business represent 20% of global sales by 2025, up from 8% today.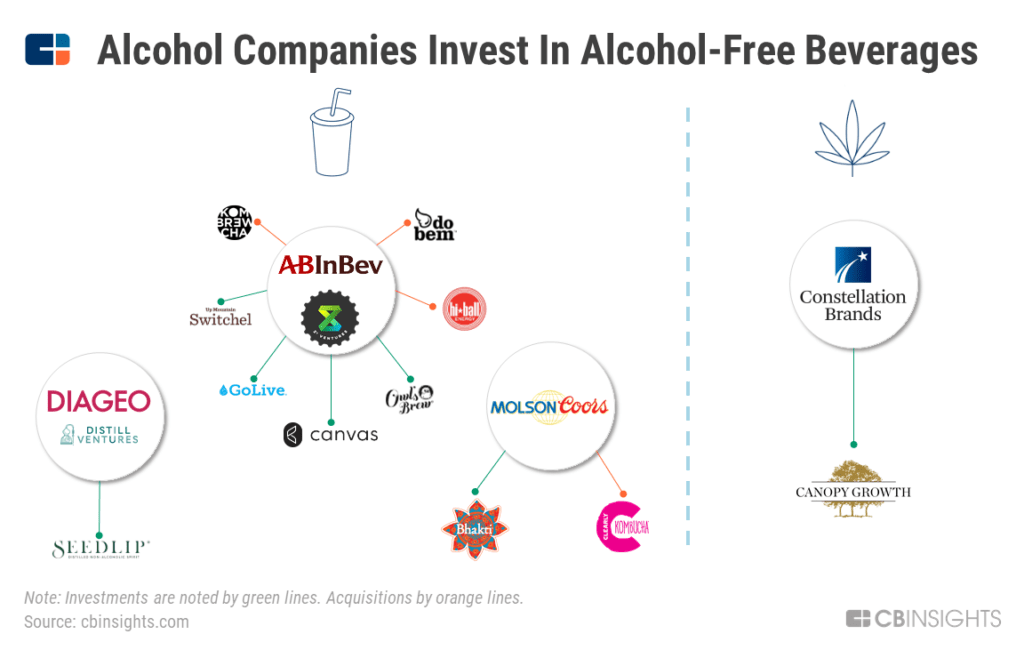 No-alcohol and low-alcohol beers have gained traction among other large brewers as well, including Heineken — which launched Heineken 0.0 in 2017 — and Budweiser — which released its no-alcohol Prohibition Brew in 2016.
Spirits producers are also following suit, with the help of startups.
Diageo, for example, is racing to expand in the non-alcoholic category through its venture arm Distill Ventures. It has already invested in alcohol-free gin brand Seedlip, and has made a number of undisclosed investments targeting alcohol-free beverages.
French company Pernod Ricard announced it would start distributing alcohol-free gin brand Ceder's in the UK in Jul'18, but hasn't invested in the company.

Cannabis is a rising trend
In addition, alcohol companies are betting big on cannabis-infused drinks.
American beer, spirits, and wine company Constellation Brands recently announced a $4B investment in cannabis company Canopy Growth, raising its stake from just below 10% to 38%.
Earlier this year, Heineken's subsidiary Lagunitas released a THC-infused sparkling water in collaboration with AbsoluteXtracts. Additionally, MolsonCoors partnered with The Hydropothecary Corporation to work on cannabis-infused drinks.
Diageo is also rumored to be looking at Canadian cannabis companies to invest in or partner with.

What's NExt?
As big alcohol companies diversify their offerings, the beverage space will continue to evolve.
New drinking occasions may emerge: JoyBrau, for example, offers a non-alcoholic protein-infused beer as an alternative to the post-gym protein shake.
Soft drinks giants may also face competition, as many of these alcohol companies have established distribution channels and deep pockets.
Furthermore, as alcohol producers shift their brand portfolios, retailers, bars, and even airlines may want to reallocate shelf space and adapt their beverage assortment.
If you aren't already a client, sign up for a free trial to learn more about our platform.