Following the release of some questionable speculation about which industries could survive an Amazon takeover, we investigated a selection of recent analyst claims to spotlight the strategic moves some aren't seeing.
As Amazon continues eating up industries as varied as grocery, logistics, and apparel, startups and investors are looking for a place to hide. Where won't Amazon go? What sectors are Amazon-proof?
Analysts, business leaders, and journalists are hunting for the safe spaces. But are the "safety zones" they're spotting really safe? When it comes to most industries, the question isn't whether Amazon will enter or not; it's how the internet giant will enter, and how big the impact will be.
Following a few recent reports on industries that could evade Amazon's capture, we used intelligence from our database and our Amazon Strategy Teardown to take a critical look at whether so-called "Amazon-proof" sectors are good hiding places (or not).
Payments 
According to a recent Goldman Sachs report, Amazon is not "an imminent threat to PayPal or the card networks." But imminent isn't the issue; in this area, Amazon is a looming threat extending into all aspects of the online payments and financial-services ecosystems.
Goldman's analysis pits Amazon Payments against PayPal, looking at the threat entirely in terms of merchant volume (where PayPal has the upper hand). Since Amazon Payments has seen middling success to date (with just $6B processed in 2016 compared to PayPal's $336B, according to Goldman reports), and since PayPal remains available at a reported 90% of the same places Amazon Payments is, PayPal been deemed by some as "Amazon-proof," for now.
But that limited view discounts Amazon's customer-first focus and larger financial services vision. Data shows that Amazon has been interested in financial services — either to reduce friction in the purchasing experience, or to own more of the payments value chain — since at least 2003, when the company applied to patent a network-based transaction processing system.
As they absorb more and more of that value chain, Amazon Payments may evolve into an integrated payments platform underneath the "Bank of Amazon." Consider the recent launch of Amazon Cash, which allows individuals to deposit cash into their Amazon accounts by presenting a smartphone-scannable barcode at the cash register of a physical store.
That initiative, designed to welcome underbanked individuals into the Amazon ecosystem, is just one operational area in which Amazon already behaves like a bank: the company partnered with Wells Fargo in 2016 with a mind for offering student loans to Prime customers, and the Amazon Lending service has surpassed $3B in loans to small businesses since it was launched in 2011.
The company is also now offering thousands of loans to e-sellers in India, the world's largest e-commerce market, and has also been quietly expanding its relationship with Stripe, using the unicorn online payments startup to handle a growing share of its e-commerce transactions.
Those underpinnings have "primed" the company's payments foundation to serve individuals, not just merchants. As Amazon keeps making it easier for customers to both store and spend their money in the Amazon ecosystem, more of them will — extending the company's infamous network-effect cycle, pictured below, further into financial services.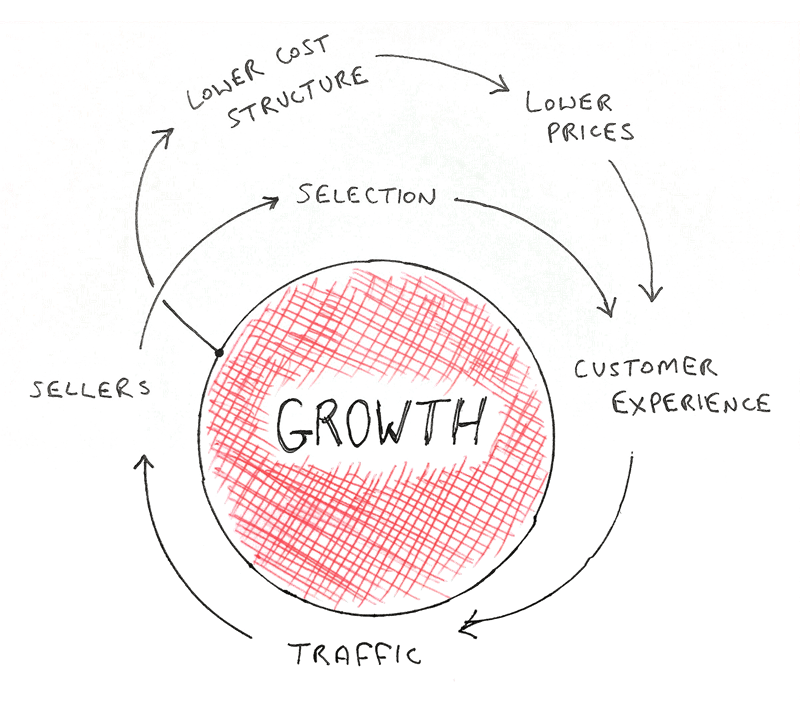 As sellers follow customers over to Amazon, it will put PayPal in a more precarious place than Goldman's projections play it. (As for Amazon's ambitions in banking and card networks generally, note the rumors that Amazon was interested in buying Capital One in Q1'17.)
Pharma
Several analysts have also recently cited pharmaceuticals as an Amazon-proof industry. On Investors Alley, for example, Tim Plaehn remarked that he doesn't "expect Amazon to get into the drug making business anytime soon." This seems sound: while Amazon made a few moves in Q1'17 toward serving customers' health in diagnostic ways (for example, investing in AI-powered cancer detection start-up GRAIL and integrating WebMD with Alexa), we have yet to see them invest resources into drug discovery- or development-related efforts to date.
But Amazon has made plays into other areas of the pharmaceutical space. The company was searching to fill healthcare-focused business development roles earlier this year, and showed interest in pharma as far back as 1998, when it made the first of two investments in Drugstore.com (later acquired by Walgreens in 2011, then shut down in 2016).
In Japan, where Amazon can use local pharmacists to approve drug deliveries to patients, Prime Now already includes drug delivery services. The regulatory and contractual restrictions Amazon would face attempting to provide similar services in the US have been cited by those analysts who say Amazon is not a strong threat in the space.
For example, earlier this year Mizuho Securities pointed to the fact that most insurance plans require members to use their plan's pharmacy benefit managers (PBMs) for home delivery, and that mail order penetration at large has been flatlining or declining in recent years. They also noted that there has been "a trend out of mail back into retail because people like going to retail pharmacies to get their drugs."
Similar guidance from Morgan Stanley in May 2017 added that "CVS, Express Scripts, United Health/OptumRX and others have long-existing enterprise contracts and relationships that are likely to make it difficult for AMZN to break into without a PBM."
They also said that, "from a distribution standpoint, difficulties breaking into industry include a complex Healthcare system, warehouse operations that need to be tailored for pharmaceutical handling (temperature control, etc.), a complicated billing system, and a consolidated industry."
The thing is, those retail pharmacies people "like going to" for their prescriptions are already on Amazon's M&A radar. In addition to being active private-market investors, CVS, Walgreens, and Rite Aid have all been rumored acquisition targets for Amazon. Amazon itself has boosted M&A activity in recent years (inching closer to the deal activity levels of other top tech companies, shown below), and proved itself willing to make a major acquisition with the purchase of Whole Foods.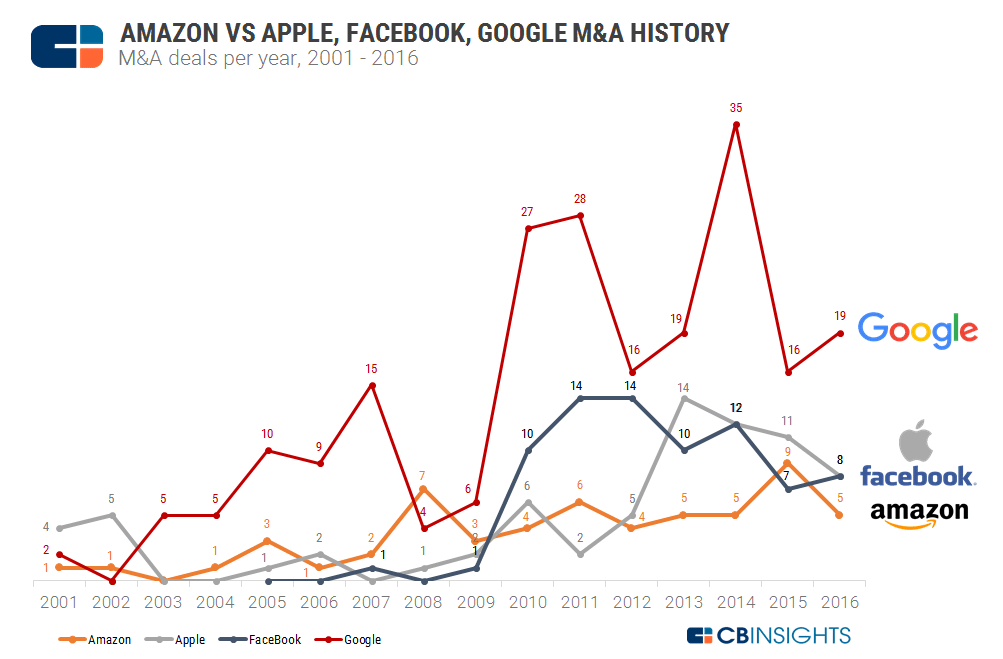 By purchasing any major drugstore retailer (which Amazon could do just as quickly and unexpectedly as it bought Whole Foods), Amazon could tear down the contractual barriers posed by PBMs and acquire the infrastructure to support pharmaceutical handling, billing, and so on.
With that infrastructure in place, Amazon could apply its notorious affinity for efficiency and transparency toward lowering prescription drug costs — which many consumers would probably love a whole lot more than they "like" going to the retail pharmacy.
INDUSTRIAL PURCHASING
Morgan Stanley maintained its "pharma is safe" take in an August 2017 report as well. The firm's latest safe-zone analysis included a five-factor "BRIAN" framework for assessing the "pace and potential of Amazon disruption" of an industry; pharma-related examples landed under both Regulatory Hurdles and Nuances/Complexities Behind Transactions.
In a piece summarizing the BRIAN report, Bloomberg highlighted the Morgan analysts' claim that lengthy purchase processes and extensive contract negotiation processes may keep Amazon away:

But by now, everyone should understand that Amazon has a knack for lessening the time involved in buying almost every product there is — whether that's a Land Cruiser or your enterprise web services. So while there's merit to Morgan Stanley's analysis that lengthy contract negotiations may act an Amazon deterrent, the company's ever-expanding logistics footprint could support further moves in industrial- and manufacturing-related areas.
Amazon began working directly with manufacturers back in 2013, using the Vendor Flex program (which has since evolved into "Fulfilled by Amazon") to enter facilities and take control over the online retail logistics for manufacturers. Amazon's patent activity regarding infrastructure-related initiatives — including applications around intermodal vehicle warehousing and aquatic storage — shows the company could offer such services to manufacturers of large equipment, creating relationships to support further market capture in the space.
And yet again, the inefficiencies of contract-agreement and negotiation processes can be lessened with a single acquisition. With companies like Katerra and Iron Planet (acquired by Ritchie Bros. in Q3'16) bringing the construction management and industrial purchasing processes online, Amazon could easily buy up a foundation to support moves into those and similar areas.
Ultimately, investors and entrepreneurs looking to avoid being "Amazoned" are wise to do more than assume the internet giant won't enter their industry — and instead assume Amazon will enter any industry where it might advance its expansive vision of being the earth's most customer-centric company.
If you aren't already a client, sign up for a free trial to learn more about our platform.