From snack aisles for co-eds to city-specific running shoes, retailers are fine-tuning their product offerings to meet the needs of their local communities.
This summer, Nike unveiled its latest brick-and-mortar venture in Los Angeles: Nike by Melrose, a physical store that uses local online shopping data to determine its in-store inventory.
While the store is a first for Nike, it's part of a bigger trend in retail — product and inventory localization.
Retailers are personalizing the consumer experience by tailoring their inventory to fit store location demographics. Examples range from the neighborhood-specific inventory at Target's small format stores to Adidas' city-specific running shoes.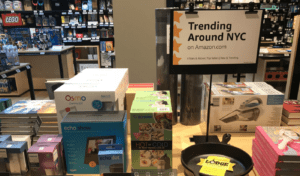 Just this week, Amazon opened its new Amazon 4-star store in Manhattan. The store sells Amazon items that are highly rated (4 stars or more) on the webiste, and features "trending around NYC" items frequently purchased by customers in New York.
There's a lot to gain from this trend: 63% of consumers are interested in personalized recommendations from retailers, according to a recent study.
Given that 7,000+ US retail locations shut down in 2017, retailers cannot afford to ignore consumer preferences.
Below, we outline three major retailers' localization strategies — and where the trend is headed next.
Major retailers and brands go local
Target uses community research to effectively stock small stores
Target has been an early adopter of retail localization via its small format stores.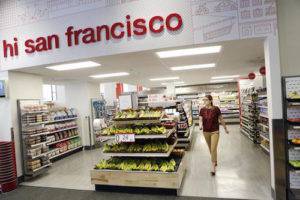 Target opened its first small-format store in Chicago in 2012. Geared toward a young urban demographic, the store offered apparel, food, and apartment essentials. Today, Target has opened dozens of small-format stores around the US.
These stores often tailor their inventory to their locations. For example, a small-format store located in a neighborhood with many young families will stock more family-related and children's items, while stores in culturally diverse communities may stock a wider variety of food options.
To do this, Target conducts community-based research — including listening sessions with local guests, groups, and community leaders — to best understand what to offer at a particular location.
Recently, Target announced it would expand its small-format store offerings near college campuses. The retailer has already opened 7 small stores on college campuses this year, with plans to open 3 more by the end of 2018. Locations include UC Berkeley, Tufts, UNC Chapel Hill, MIT, Harvard, and more.
The stores cater to college students, featuring grab-and-go food options and other snack supplies.
Additionally, Target is ramping up same-day delivery services for its small-format urban stores. This means shoppers in areas where car ownership isn't common don't have to haul home their groceries on public transportation.
According to CEO Brian Cornell:
"In urban markets like New York or Chicago, San Francisco, Boston and D.C., the ability to shop our urban small formats and then hours later have someone deliver that package to your doorstep for a $7 charge [has been] very well received."
Overall, these localization efforts seem to be paying off. Target brought in $17.78B in revenue for the 3 months ended August 4th — $500M more than analyst expectations. While this is due to a number of factors, some of the success can certainly be attributed to small-format stores and localization.
Nike BY MelRoSe uses data to match products and services to needs of neighborhood
Nike has taken localization to the next level through its experimental "live concept store," Nike by Melrose.
The store leverages data and technology to tailor its in-store offerings for its West Hollywood location.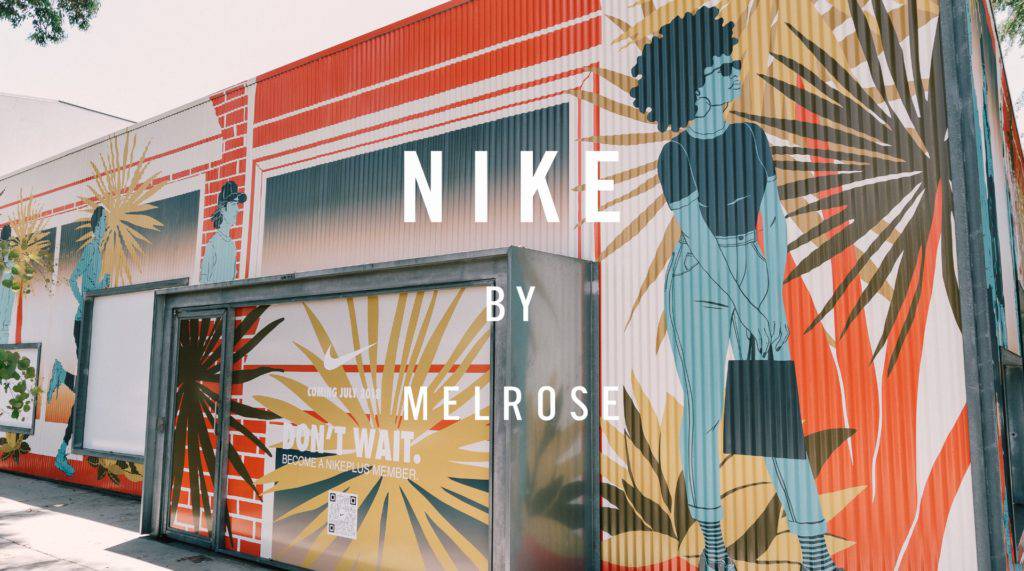 Nike uses local online customer shopping data from Nike.com and purchasing data from local members of its free NikePlus loyalty program to decide how it stocks the store. Customers can also use the NikePlus app to let the company know what activities they do while wearing Nike apparel.
For example, the low-cut sneaker Nike Cortez is a popular purchase in LA — so the store stocks more of that item, in various colors.
Nike plans to add new data-driven tailored inventory to the store every two weeks to keep its products relevant to local shoppers. It will also offer city-specific styles based on what Los Angeles consumers want, regardless of the company's broader seasonal priorities.
"When we say 'by Melrose,' we really mean this assortment is created by their interests and their engagement and their purchases." — Michael Martin, VP of Digital Products, Nike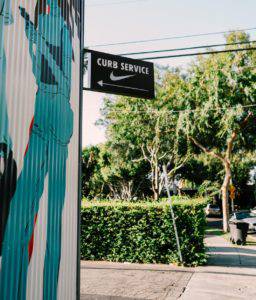 Beyond localized inventory and products, Nike plans to customize store services to match the needs of the community. For example, to cater to LA's car culture, the Nike by Melrose store features a curbside pick-up option for customers who don't have time to park or walk into the store.  
Apart from localization, Nike by Melrose aims to learn NikePlus members' habits, in order to recognize them when they enter a certain geofenced area around the store. "As Nike learns customer behavior through the app, it might reserve special items for you, whether you have requested them or not," according to Fast Company.
The store is part of Nike's greater goal to leverage data to cultivate relationships with customers built on personalization, convenience, and positive in-store experiences.
Adidas uses new speedfactories to customize apparel 
As Nike enters the world of localized apparel, Adidas is already one step ahead. Last year, the company announced its new line of localized, city-specific shoes, manufactured in its new Speedfactories.
A Speedfactory is a new type of manufacturing facility developed by Adidas to bring the entire shoe production process under one roof. Adidas typically manufactures its shoes in Asia, in a process that takes several months across multiple factories. However, Speedfactories can produce shoes in mere days, primarily in one building.
The facilities leverage digitally automated machinery like 3D printing, robotic arms, and computerized knitting to cut down on production time and the need for manual labor.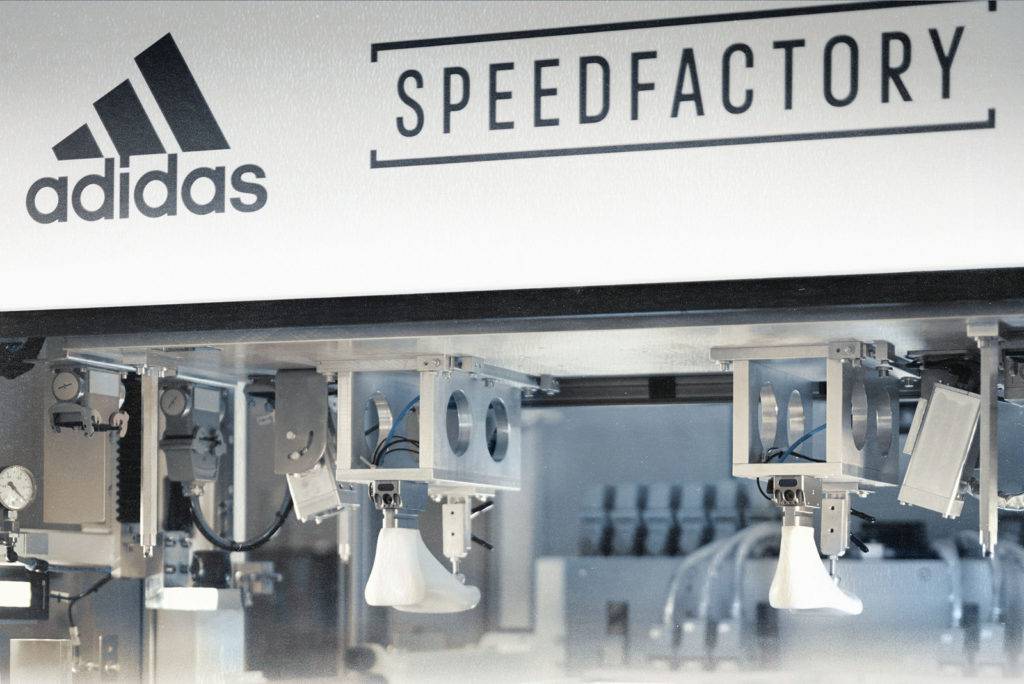 Adidas opened its first Speedfactory in Germany in 2017 and its second in Atlanta in spring 2018.
While Speedfactories are known for fast production times, they are also known for their flexibility, and can adapt to consumer preferences.
"[Adidas] can actually tune the shoe to the customization that the consumer wants to have. That's the goal: full customization, but without compromise on speed." — Gil Steyaert, an Adidas executive board member.
Adidas has begun to leverage its Speedfactories to bring localization to the shoe manufacturing process.
The company's new AM4 ("Adidas made for") line of sneakers offers shoes that are custom-designed for the needs of runners in cities around the world.
For example, the AM4NYC running shoes are specifically designed for the sharp turns of New York City's street grid, and were created using sport-science data and feedback from local athletes.
Adidas has also designed shoes catered toward runners in London, Paris, Los Angeles, and Shanghai, and soon will add Tokyo.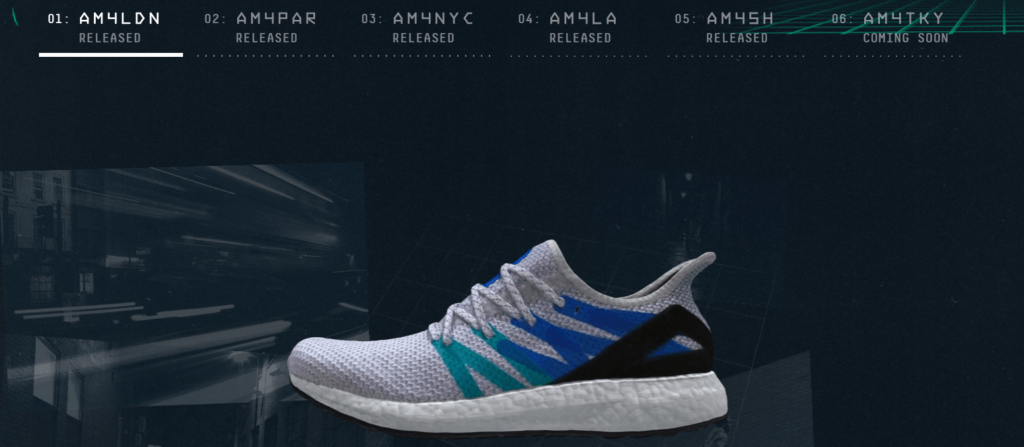 Each AM4 shoe is equipped with a near field communication chip that allows runners to sync their shoes with the Adidas mobile app to receive original content and information about the product. Adidas also plans to use this technology to gather feedback from customers about how the shoes perform, to make future iterative improvements.
While Adidas doesn't plan to stop manufacturing shoes in Asia, the company aims to produce 1 million pairs of shoes per year between its two Speedfactories by 2020. Even further, Adidas has a goal to reach 50% of its sales from digitally-manufactured "speed-enabled" products by 2020, according to Quartz.
What's next?
Whether designing snack aisles for college students or athletic shoes for city runners, Target, Nike, and Adidas are all using localization to attract repeat shoppers.
More importantly, these companies are using data and customer feedback to iteratively experiment and improve their products and services. Going forward, we will likely see further development of this feedback loop between retailers/brands and their customers, as companies seek to quickly cater to customers' needs.
Similarly, we will also likely see further development of mobile retail apps that connect with shoppers to help companies understand customer satisfaction and product use (especially in the case of apparel, such as running shoes).
"Ideally, the vision is to build and print on demand," — Eric Liedtke, CMO, Adidas
Localization may also be a stepping stone toward a future of complete individualized customization.
Case in point, while Adidas is using its Speedfactories to create its city-specific AM4 sneaker series, it is also using the factories as a testing ground for exploring individualized customization. The company is working with 3D manufacturing startup Carbon (which already partners with Adidas to create carbon-printed insoles) to find new ways to tailor apparel to individual consumers on-demand and at scale.

And Adidas isn't alone. Nike and Brooks Running have also explored 3D printing as a method for customized shoe manufacturing.
As apparel companies delve further into localization and new forms of manufacturing, we will continue to see them explore ways to produce individualized apparel at scale.
If you aren't already a client, sign up for a free trial to learn more about our platform.