With the acquisition, Nike plans to enhance its digital capabilities in order to sell digital sneakers in the metaverse. Here are the top-line bullets you need to know.
Nike, a global sports retailer, has acquired RTFKT, a creator of virtual sneakers and collectibles, for an undisclosed amount.
WHO ARE THE PARTIES TO THE DEAL?
RTFKT: Utah-based RTFKT is a non-fungible token (NFT) studio that creates digital collectibles, such as sneakers. The company employs game engine, blockchain authentication, and AR technologies. Founded in 2020, the startup brought in $4.5M in revenue in FY'21.
Nike: Oregon-based Nike designs, develops, markets, and sells athletic shoes, apparel, equipment, and services. Nike's annual revenue came in at $44.5B in FY'21, up 19.1% year-over-year. The company employs about 73,300 staff globally.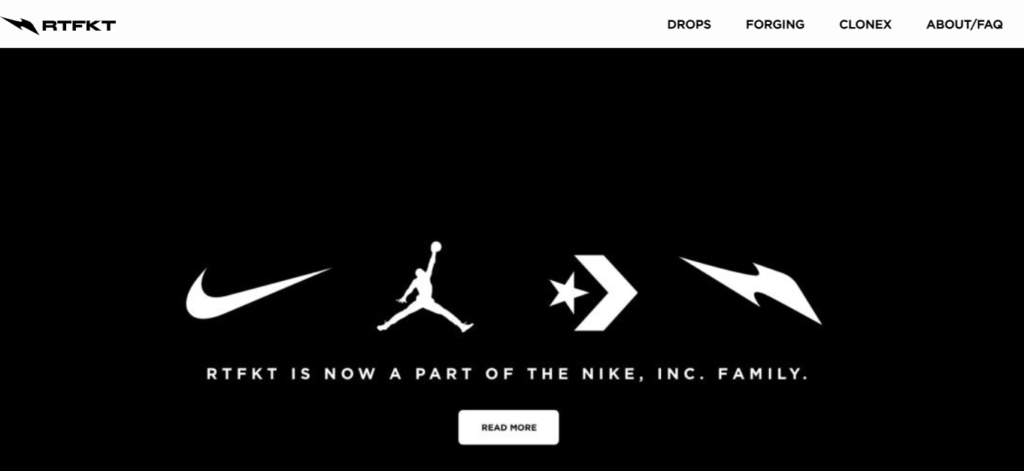 Source: RTFKT
WHY DOES THE MARKET MATTER?
The global NFT market is currently valued at $14B and is expected to reach a value of $75B by 2025, according to Jefferies.
The market's growth is likely to be fueled by the novelty value of owning a digital asset, the growing popularity of digital art, increasing fan engagement with sports NFTs, and the potential to integrate NFT collectibles into online games.
NFT sales surged from $28M in Q3'20 to $10.7B in Q3'21, according to DappRadar.