NFTs are a very real opportunity for brands and retailers, with applications ranging from authenticating tangible goods to reducing friction in e-commerce to generating new revenue through virtual sales. Here are the top-line bullets you need to know.
This year is looking bright for blockchain technology applications again.
From improving supply chain traceability to lowering e-commerce transaction costs, we've highlighted several of these applications across the consumer and retail space here. 
Now, non-fungible tokens, or NFTs, are blowing up. They're driving huge prices and capturing executives' attention, with mentions of "NFT" or "non-fungible token" on earnings calls soaring over the past months. For brands and retailers, they could represent a huge opportunity to tap into the growth of virtual worlds and connect with consumers.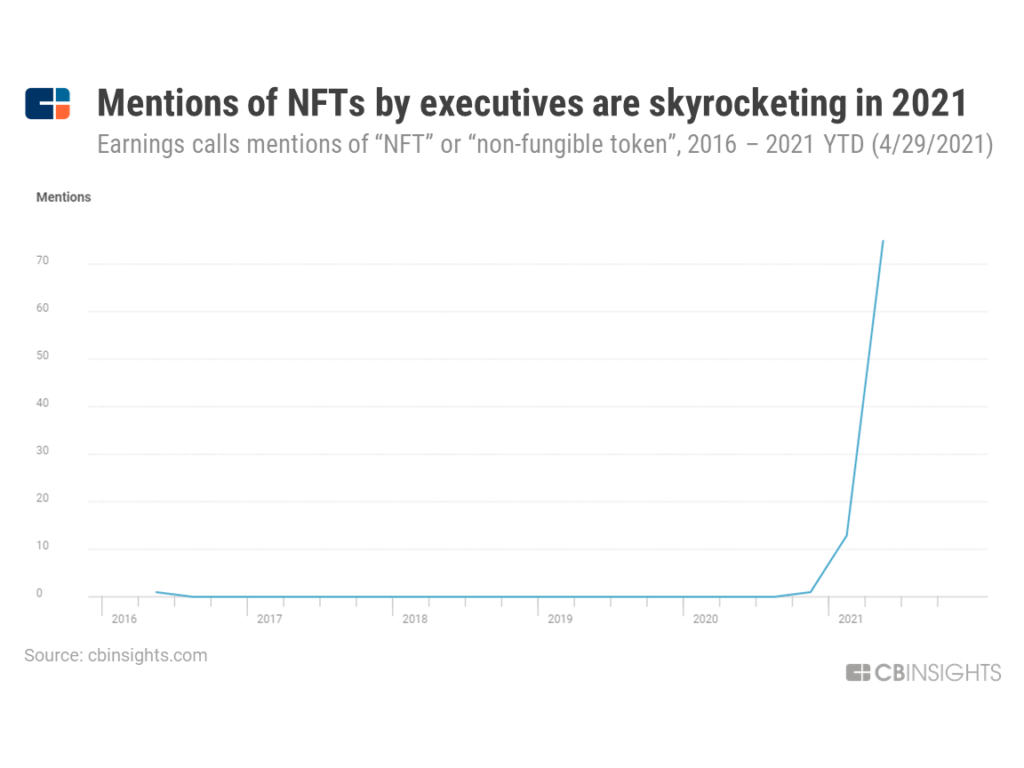 What you need to know
What are NFTs?

NFTs are defined as "unique, digital items with blockchain-managed ownership," per NFT marketplace OpenSea. In other words, NFTs represent digital assets or virtual goods — which can range from images to songs to videos to tweets — that are verified through blockchain technology. You can read more about the NFTs in our explainer

here

.

Digital art is leading adoption

: While NFTs can represent many things ranging from trading cards to plots of virtual land such as the ones you can buy on

Decentraland

, most of the recent headlines have been about digital art being sold for eye-popping prices. This includes a $560K New York Times column, Beeple's $69M JPEG, a $7M Cryptopunk icon, and Jack Dorsey's $2.9M tweet, among others.

CPG brands are experimenting with NFTs

: The likes of Pringles and Taco Bell have already issued and sold some NFTs as a way to promote their brand and products to younger audiences. More recently, General Mills auctioned 10 digital artworks as NFTs to promote the return of its chocolate-flavored Dunkaroos, a popular snack brand that was discontinued in 2012 in the US. In addition to owning these NFTs, the highest bidders will receive some chocolate-flavored Dunkaroos before they hit store shelves. 
What's NEXT
Expect luxury players to lead adoption: Luxury goods and NFTs share several attributes, including scarcity and prices largely driven by intangible value. As we highlighted in a

past brief

, luxury brands such as Gucci and Louis Vuitton have already been experimenting with selling virtual goods for some time and are rumored to be close to releasing NFTs. For brands, success will heavily depend on their key audience's familiarity with virtual goods as well as their ability to create a unique online shopping experience. Authentication of tangible goods is another application of NFTs that is particularly relevant for luxury goods. Paris-based

Arianee

is already offering its NFT-based tracking and authentication solution to several luxury brands such as Audemars Piguet and Breitling.

NFTs will be increasingly used to create unique digital experiences, engage with online customers

: While not all brands can make a business out of selling virtual versions of their products — food and beverage, for example — they can still benefit from using NFTs to engage customers, especially those spending time in virtual worlds or

metaverses

. As previously mentioned, CPG brands are already leveraging the current buzz around NFTs to promote their products and increase brand awareness among new demographics by auctioning digital artworks related to their brand or product. 

Decentralized commerce may be next, as a practical use case of NFTs for brands and retailers: NFTs aren't just about intangible goods. As infrastructure is developed, merchants could tokenize physical products and services to help reduce online transaction costs and arbitration risks by bypassing intermediaries such as Amazon or Alibaba. For example, a fashion brand could tokenize the ownership of a physical swimsuit and sell this token — the ownership of the swimsuit — to any consumer or reseller. The payment would be escrowed to protect both parties and reduce counterparty risk. The buyer could then redeem the token and get the swimsuit delivered or resell it. Startups such as

Boson Protocol

and

Splyt Core

are already working on building NFT-based decentralized commerce infrastructure, touting additional benefits such as enabling physical good authentication. 
If you aren't already a client, sign up for a free trial to learn more about our platform.