Record funding and the rise of remote work have put a number of US cities on the VC map. While reports of Silicon Valley's demise are exaggerated, these cities are actively courting the region's tech talent and smart money.
Silicon Valley is still the startup capital of the US by a mile. 
The region had a mammoth funding year in 2021, doubling year-over-year to top $106B. And in Q1'22, despite a funding decline of 2% quarter-over-quarter (QoQ), the region's share of total US funding grew 9 percentage points to 41%.
However, Silicon Valley has a sky-high cost of living and an ultra-competitive environment among startups vying for VCs' attention. Buoyed by the rise of remote work, many in tech are leaving in favor of cheaper, less competitive cities. 
In particular, Sun Belt cities have beckoned a wide range of tech workers, founders, and investors. For instance, compared to California, Florida and Texas have no income tax — a boon for workers — and a cheaper cost of living. The pandemic also drove many residents out of densely populated urban centers toward smaller, midsize ones.
Below, we explore investment trends in 3 up-and-coming tech hubs — Austin, Miami, and Dallas — that have seen some of the strongest levels of funding and population growth in recent years.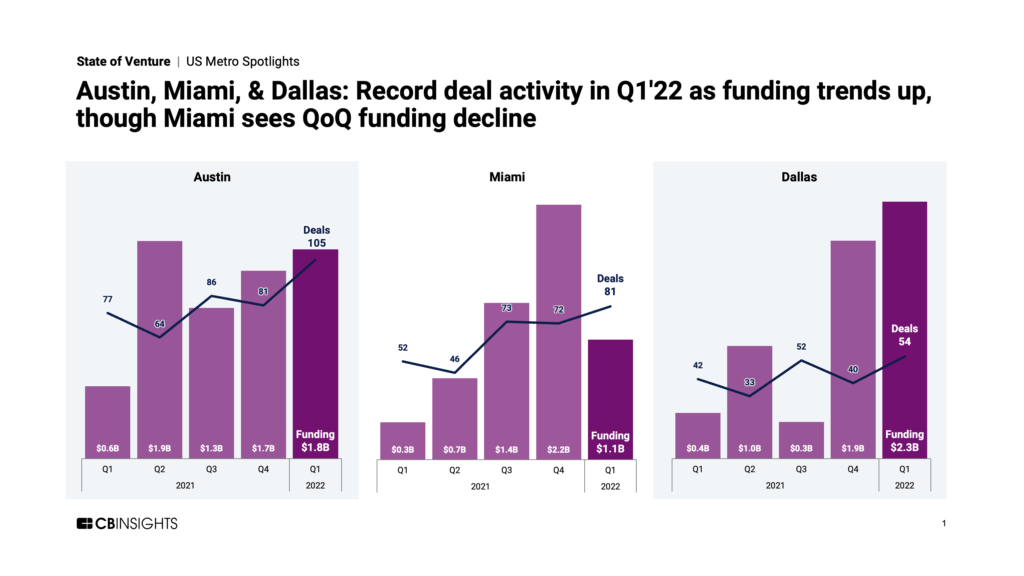 Austin, TX
Austin is on a roll. 
In Q1'22, the city had its second-best quarter ever for funding ($1.8B) and saw a record 105 deals. Early-stage deal share sunk to 50% — a 5-year low if the trend holds through 2022 — as startups in the city mature into later stages.
Austin is now the fastest-growing major metro area in the US, with an estimated 184 new residents each day. Austin's tech scene is also growing at a rapid clip: From May 2020 to April 2021, Austin gained tech workers at a higher rate than any other US metro by far, according to LinkedIn data.
Many of these workers are coming straight from Silicon Valley, discouraged by the area's high taxes and cost of living. According to a Bloomberg analysis of USPS data, during the pandemic, more of Austin's new residents moved from San Francisco than from anywhere else outside of Texas. 
Top tech companies are also moving: Tesla and Oracle both relocated their headquarters from Silicon Valley to Austin during the pandemic.
As Austin's tech scene has developed, the city has seen significant funding growth. Funding more than tripled QoQ in Q2'21, and has since held at $1B+ levels every quarter — it even grew in Q1'22 despite the venture market's downturn.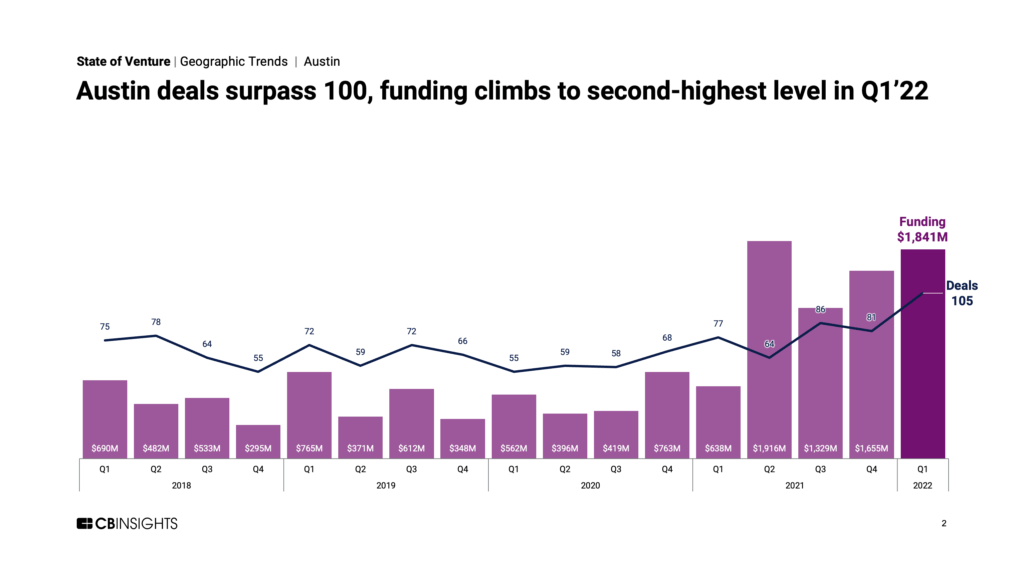 Austin's tech scene represents a range of sectors. For instance, while some of the largest rounds in Q1'22 went to smart city and infrastructure startups — including parking software firm FLASH and 3D-printed building developer ICON 3D — the city is also home to digital health unicorns such as Wheel, Everly Health, and Iodine Software.
Funding and investor highlights in Austin:
Unicorns:

The Austin metro area has 11 unicorns to its name, including 3 born in 2022: FLASH, Wheel, and enterprise AI company

SparkCognition

. Austin's most valuable private company is

The Boring Company

, a $5.7B tunneling startup founded by

Elon Musk

.

Top deal:

The biggest round in Q1'22 went to FLASH, which raised a $250M private equity round. This was one of 6 mega-rounds (deals worth $100M+) in the quarter.

Top investor:

Austin's own Silverton Capital was the most active investor in Austin-based companies in 2021, with 14 deals, as well as in Q1'22 (5 deals).
Miami, FL
Investors are also looking to Miami as the next big US tech hub. These include Founders Fund general partner Keith Rabois, as well as Blumberg Capital's David Blumberg, whose reasons for moving include the ease of being "on the phone to Israel and New York without any time zone-related problems" and the city's proximity to Latin America for deal-making.
Meanwhile, in January 2021, Japan's SoftBank Group pledged to invest $100M in tech startups in the region — only to blow past this goal, investing over $250M within 9 months of the announcement.
After a bonkers Q4'21, funding to Miami-based startups fell 50% in Q1'22 to $1.1B. However, deals ticked up to a new high of 81 from a record 149 disclosed investors, signaling broad and growing interest in startups in the region.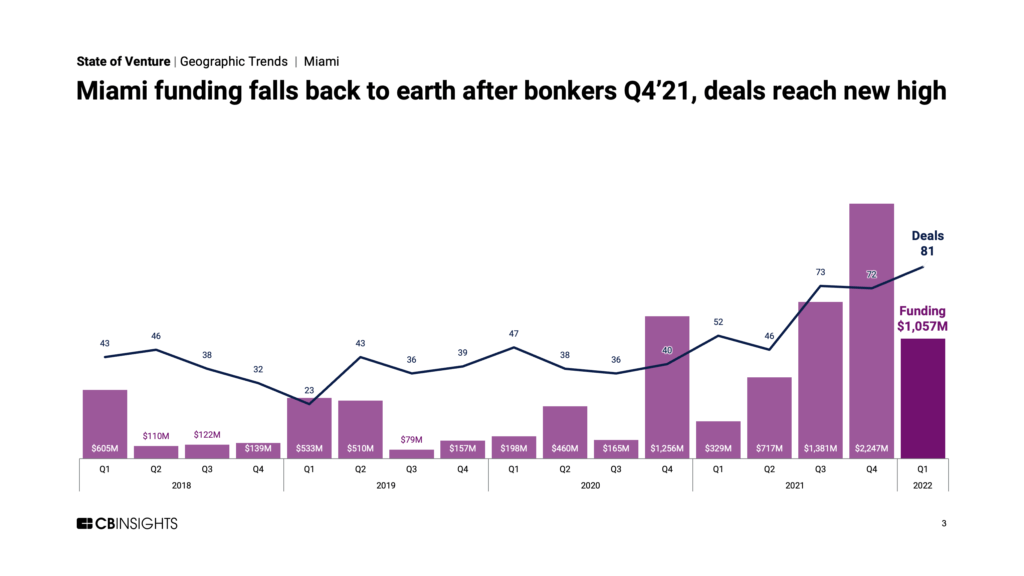 Blockchain tech has become an increasing focus in Miami, which has hosted the international Bitcoin Conference for 2 years running. Blockchain.com recently moved its US headquarters to the city, while eToro opened a US hub there. Mayor Francis Suarez has vocally supported the influx of crypto business.
In Q1'22, Miami took the #4 spot — after New York, Silicon Valley, and LA — for blockchain & crypto funding, with over $500M. Despite representing just 1.5% of all US venture funding in the quarter, the city accounted for nearly 9% of all US blockchain funding.
Funding and investor highlights in Miami:
Unicorns:

The Miami metro area is home to 10 unicorns, including 2 additions in 2022 so far: design materials marketplace

Material Bank

and

Yuga Labs

, which owns the Bored Ape Yacht Club and CryptoPunks NFT collections. Yuga Labs is also the city's most valuable unicorn at a $4B valuation.

Top deal:

Miami's largest deal in Q1'22 was Yuga Labs' $450M seed round, led by Andreessen Horowitz. This was also the quarter's largest seed round across all

global

regions.

Top investor:

SoftBank was the top investor in 2021 with 7 deals, while Florida Funders, a VC fund and angel network based in Tampa, took the top spot in Q1'22 with 3 deals.
Dallas, TX
Dallas' tech scene has been quietly — but rapidly — growing. Investors, founders, and big tech companies have not been as vocal about the city as Austin or Miami, but the numbers speak for themselves.
Like Austin, Dallas was one of just 4 US metros to see funding grow QoQ in Q1'22, amid a pullback across venture as a whole.
Moreover, year-over-year, Dallas saw tremendous growth — far more than any other US city. Funding soared 462%, from $403M to $2.3B, boosted by a $1B late-stage round. Deals also surged to a new high of 54. This included 6 $100M+ mega-rounds.
Dallas' tech workforce is also growing: It's now the #3 metro area in the country, after NYC and LA, for number of tech job openings.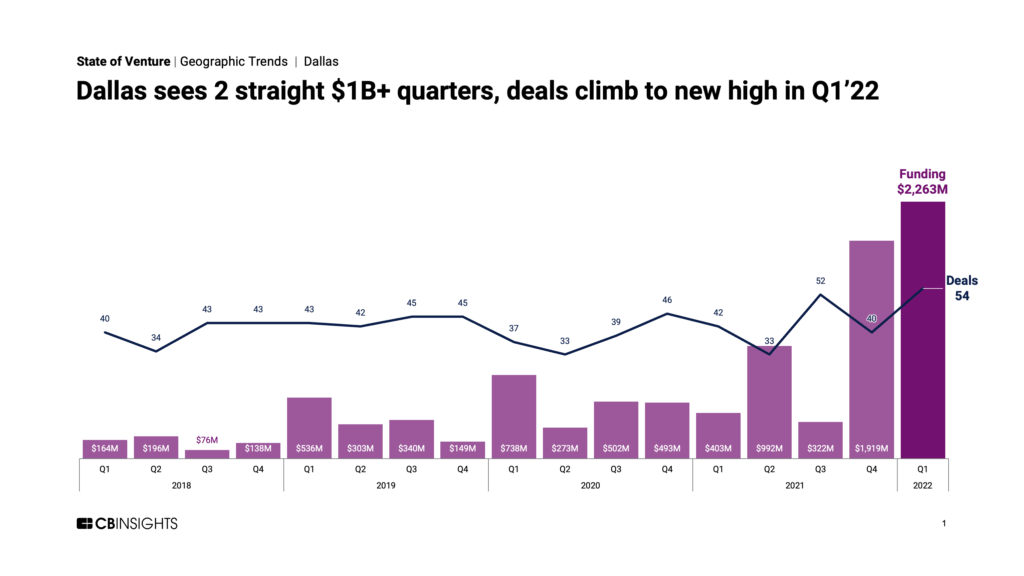 Funding and investor highlights in Dallas:
Unicorns:

The Dallas metro area counts 6 unicorns, including 1 addition in Q1'22:

Island

, which develops an adjustable web browser for enterprises. Dallas' most valuable private company is precision oncology startup

Caris Life Sciences

, worth $7.8B.

Top deal:

The biggest round in Q1'22 went to cybersecurity firm

Securonix

, which raised a $1B Series D. This was one of 6 mega-rounds (deals worth $100M+) in the quarter — after just 4 mega-rounds in all of 2021.

Top investor:

Since 2017, the most active investor in Dallas companies has been Revolution's Rise Of The Rest Seed Fund, which backs startups based outside of Silicon Valley, New York, and Boston — the traditional US tech hubs. The fund has participated in 11 deals in Dallas since 2017. In Q1'22, Sequoia Capital, Stripes Group, Insight Partners, and Rally Ventures tied for the top investor spot with 2 deals apiece.
For more insights on the top regions, startups, and investors in VC, download the full State of Venture Q1'22 Report.
If you aren't already a client, sign up for a free trial to learn more about our platform.