Friendly's went bankrupt, and Subway is closing 500+ locations. But even as fast food and casual dining stalwarts struggle, people haven't stopped eating out — in fact, they're spending more at restaurants and bars than ever. Where they choose to go, though, is fundamentally shifting.
Brick-and-mortar businesses have been hammered over the past decade — with the exception of one bright spot.
Dining out.
But it's not your parents' fast food and casual dining chains that are seeing the upside. Instead, new millennial-inspired and tech-infused dining trends have been emerging across the US and internationally.
Fast food and casual dining aren't going away — but they are fundamentally changing.
"Fast food" is no longer just greasy burgers and fries. It's a perfect espresso shot pulled in record time by a fully robotic barista. It's a stand-up omakase meal at a sushi kiosk.
And "casual dining" is a far cry from a family meal at Applebee's. It might mean a night out with friends at a food hall that doubles as an event space, or visiting a restaurant that has meals for you and your dog.
From matcha kelp noodles at the vegan fast casual By Chloe, to wild ferments at kombucha taproom Cultured South, the way we eat in America (and around the world) is changing.
The old guard of American dining are switching up their games to compete:
McDonald's is adding self-serve kiosks to many of its franchises, upping the ante with mobile order technology.
Domino's is taking things even further, incorporating artificial intelligence to make sure its pizza toppings are perfectly distributed. Not to mention piloting autonomous pizza making and delivery.
As more customers expect on-demand ordering, big players have struck deals with startups like UberEATS and GrubHub to ensure greater reach and retain existing customers.
New restaurant concepts are redefining how we think about food, pushing established brands to reinvent themselves, spurring entrepreneurs to be creative with visual platforms like Instagram and recipes like pea-based protein, and paving a new way forward for the idea of casual dining itself.
It's a new way that's overdue.
Last year, Friendly's, Bennigan's, Logan's Roadhouse and Joe's Crab Shack all filed for bankruptcy. This year, Subway plans to close more than 500 locations.
Many of yesterday's casual dining brands are dying, but not because millennials "don't eat out." Americans dine out more than ever before. In 2017, the National Restaurant Association reported annual sales of $799B — close to 48% of the total amount that Americans spent on food.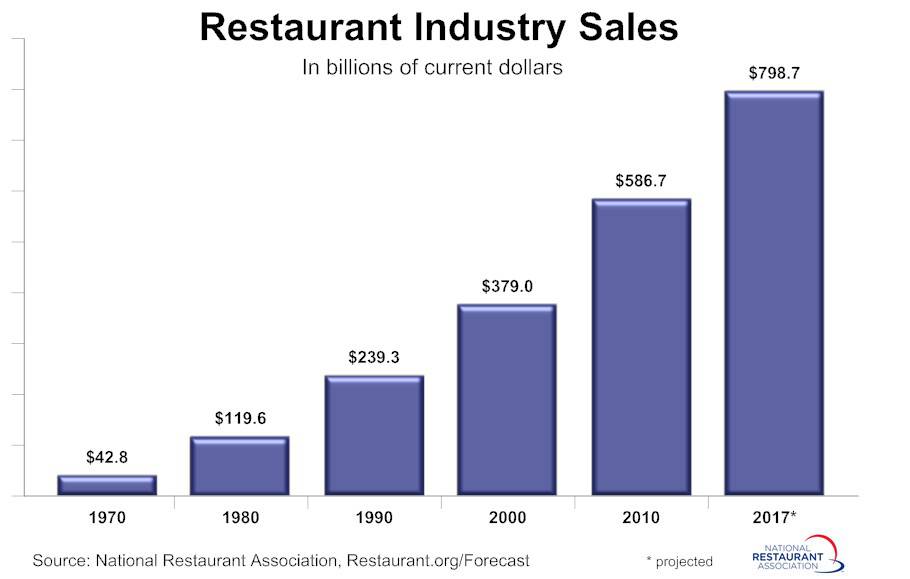 That's not a new development. In the past decade, restaurant and bar purchases have grown at twice the rate of general retail spending. Market share is simply shifting away from big chains that haven't successfully innovated, flowing instead to new models for creating and selling food to customers.
Many of these models target millennials, who now make up the majority of the workforce in the United States, while others (like Tesla's Supercharger Drive-In) cut across generations to target all types of affluent customers. Still others simply offer new opportunities for restaurateurs, whether through unique placement geographically (in a still-revitalizing mill town, say) or temporally (a bar only open from Sunday to Wednesday).
Each of the 11 restaurant concepts we surveyed reveals something vital about how casual dining and fast food is changing. Scroll down to start reading, or click through the menu below.
table of contents
1. Vegan fast casual: By Chloe
By Chloe, the so-called "vegan Shake Shack," recently raised $31M to take its perfectly curated, ready-for-Instagram aesthetic international.
By Chloe is the first high-profile vegan spinoff of the fast-casual model. Like Shake Shack, the idea behind the restaurant is simple: high-quality food, built with high-quality ingredients, served at high speed.
The restaurant has 12 current locations, in New York, LA, Providence, Boston, and most recently London, and another 20 are planned.
With the company's early success, we can see the emergence of a larger trend.
The first wave of fast casual restaurants, most of which targeted broad categories like Mexican food (Chipotle) and soups and sandwiches (Panera Bread), is no longer ascendant. The second wave — including By Chloe, as well as the Mediterranean-influenced Cava — applies the same approach, but to niche lifestyles that have passionate (and relatively affluent) adherents.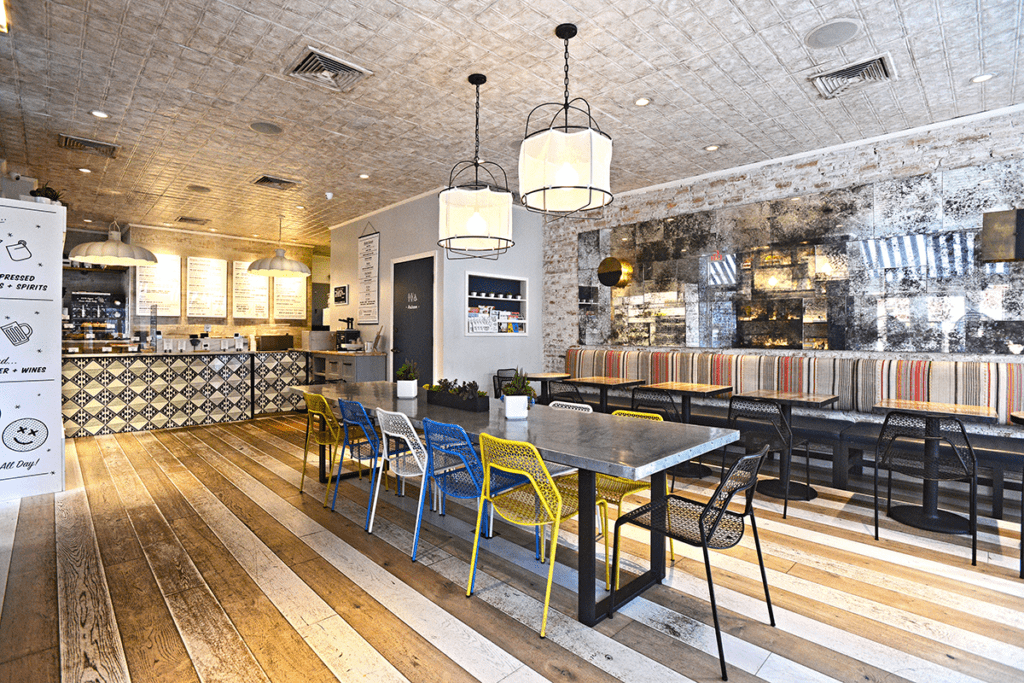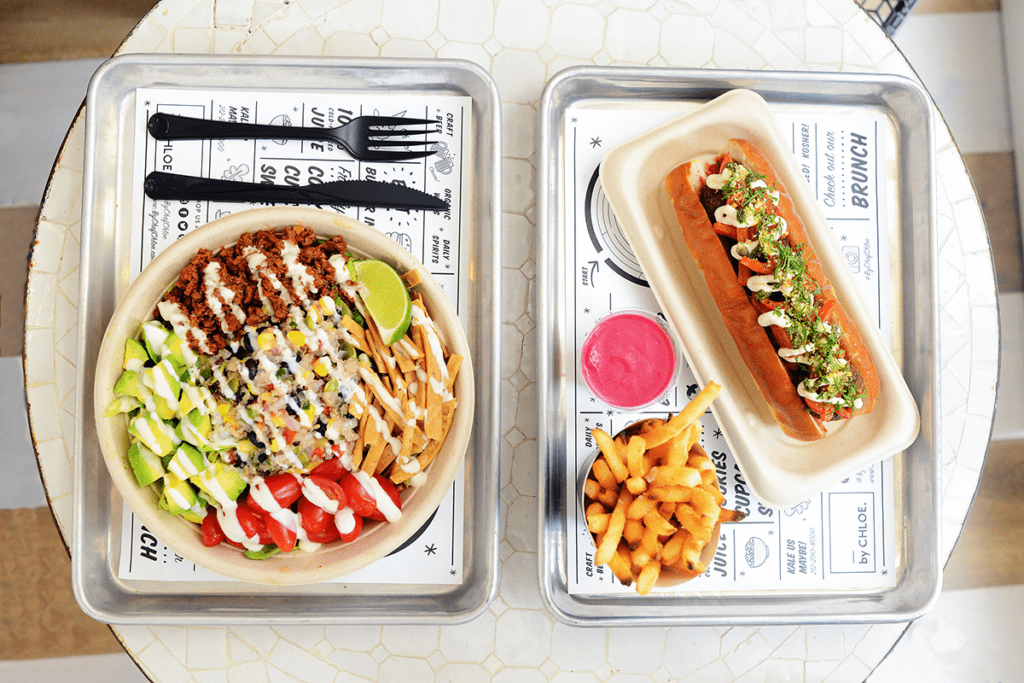 By Chloe's menu features vibrant versions of traditional dishes, such as Fenway Nachos (tortilla chips, spicy seitan chorizo, black beans, corn salsa, guac, and tofu crema) and avocado pesto pasta. These are inventive, plant-based alternatives, tailored to consumers' growing appetite for healthy, delightful, and beautiful meals.
By Chloe isn't just for vegans, and it's received positive reviews from a range of customers. One New Yorker review described the vegan mac and cheese, made with sweet-potato-cashew-cheese sauce, shiitake bacon, and almond parmesan, as "better than the real thing." Tasting Table highlighted the veggie burger as "NYC's most talked-about burger" and "hard to put down."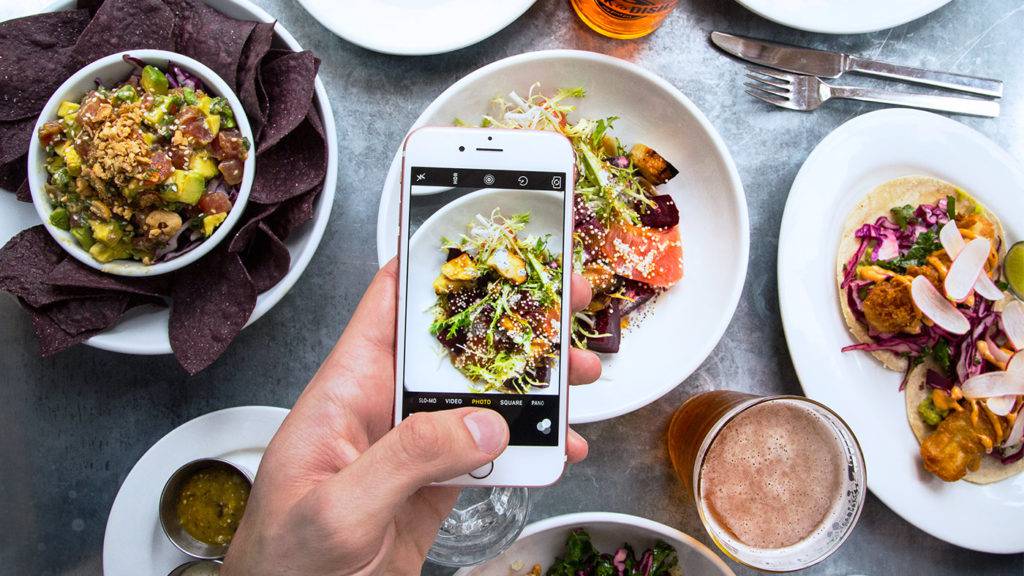 Photo credit: Tasting Table
An enormous part of By Chloe's success is that its dishes and restaurants are optimized for social media. Bright colors, cute interior designs, and tantalizing ingredients have sprung up on feeds worldwide, helping to drive the chain's international expansion.
Co-founder Samantha Wasser recently opened a Middle-eastern-style spinoff, Dez, in New York's Soho district, with a similar focus on zesty dishes like a fire roasted eggplant mezze with pomegranate, herbs, za'atar, and tahini. Two weeks after opening, @inthedez had 7,800 Instagram followers. Meanwhile, the #bychloe Instagram hashtag has been used over 30,000 times.
By Chloe's and Dez's instagrammability has allowed these niche vegan-lifestyle brands to gain mass mindshare. This approach to marketing is enabling a new wave of specialized fast-casual brands to take root. Amplifying already adorable aesthetics, Instagram has become a low-cost engine for viral growth.
2. Meat 2.0: Next Level Burger
In contrast with many fast-casual menus, "meat" at Next Level Burger is not advertised as organic, local, or grass-fed. It wasn't pasture-raised, nor did it grow old with its biological parents: instead, it's a next-gen product of food science.
Patties at Next Level Burger consist of pea protein, yeast extract, and coconut oil. Some of them actually "bleed," thanks to an injection of beet juice inside the "meat." The company and its primary supplier, Beyond Meat, are driving a new wave of food businesses using technology to create meat substitutes. Other variations include tomato-based tuna and clean meatballs grown from cells.
The Beyond Burger was developed over a seven-year period, using amino acids, lipids, trace elements, carbs, and minerals (meat's core components) that are also found in plants.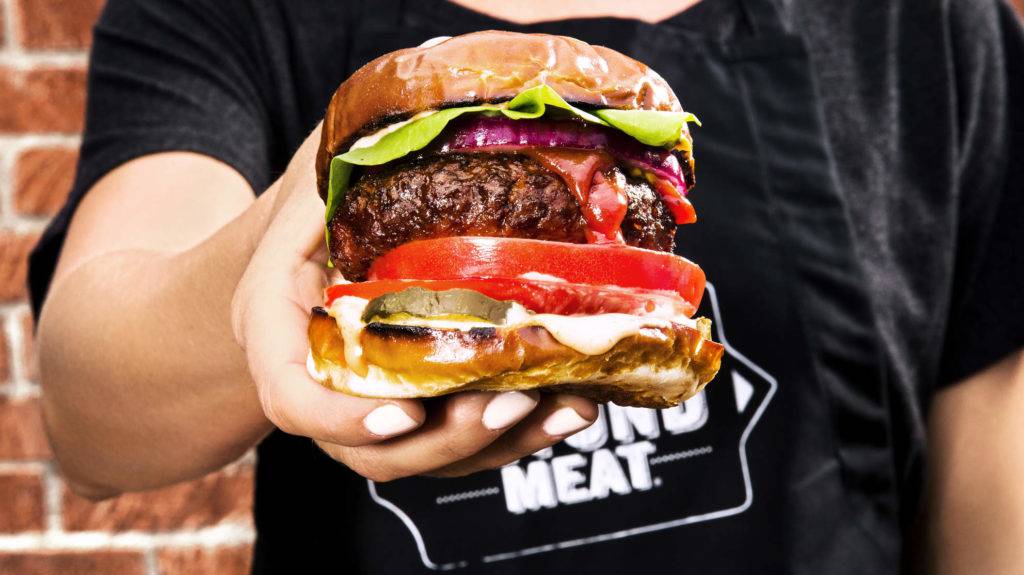 Photo credit: Health
The burger's success spurred Next Level Burger's expansion into five new locations in Seattle and California, along with a new East Coast location at Whole Foods 365 in Fort Greene, Brooklyn.
Existing casual dining and fast food restaurants like Bareburger and White Castle have also found success through partnerships with companies like Beyond Meat and Impossible Meat. For White Castle in particular, the previously struggling brand received rave reviews on its revamped menu.
The Beyond Meat team assembles its patties in a way that's similar to making pasta: they mix and compress the ingredients, then shape the mass into a patty. Each has 20 grams of protein, along with an array of vitamins, minerals, antioxidants, and omegas specifically designed to help performance during recovery from workouts.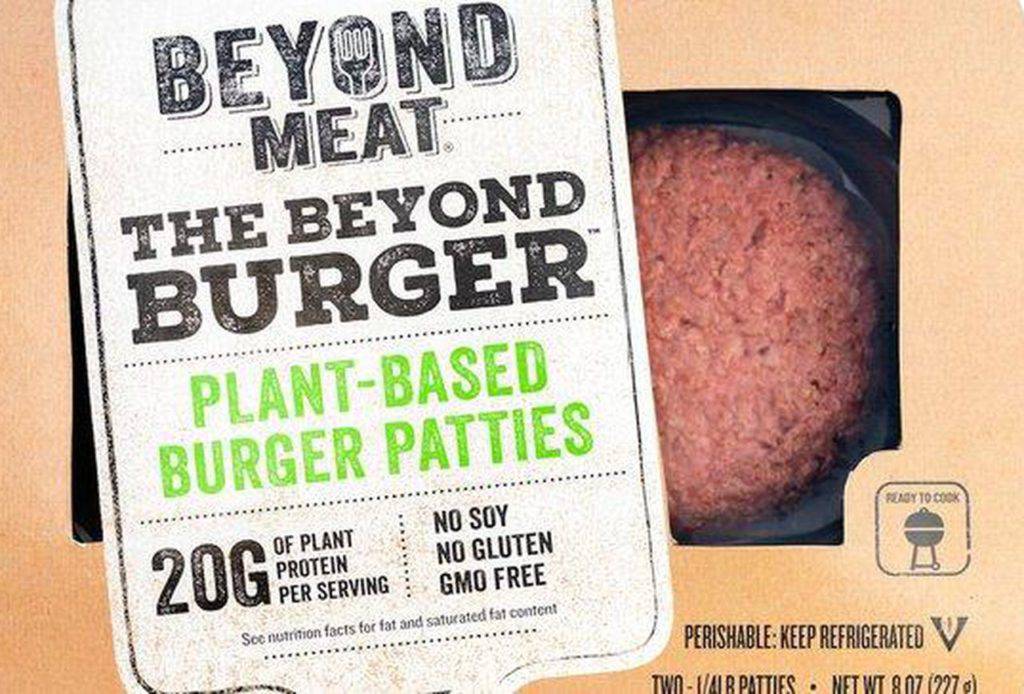 Photo credit: Forbes
Beyond Meat has racked up $103M in funding from backers as diverse as Kleiner Perkins Caufield & Byers, Tyson Foods, The Humane Society of the United States, and Bill Gates.
With the global meat, poultry, and seafood industry projected to hit $7.3T by 2025, companies successfully develop meat alternatives that are healthier, less environmentally damaging, and still palatable have an enormous opportunity, as Americans gradually begin to cut real meat out of their diets.
3. The sophisticated food hall: North 3rd Street Market
North 3rd Street Market opened in Williamsburg, Brooklyn, in May 2018, just in time for the dreaded L train shutdown. With a large portion of North Brooklyn soon to be cut off from its main artery into Manhattan, the emergence of the new artisan food mecca is expected to be a magnet for the borough's 2.6 million residents, still hungry for the highest quality and greatest variety of options.
North 3rd Street's vendors are the crème de la crème, including coffee shop Champion, Di Fara Pizza, bakery Bien Cuit from James Beard-nominated baker Zachary Golper, and nearly twenty more. Many of these are unique to North 3rd Street: while some might be successful stand-alone establishments (like the popular ramen destination Chuko), most don't have locations in many other food halls.
This makes North 3rd Street Market more than the conventional caricature of the food hall (a place where you have lots of mediocre options). It makes it a destination for discovery in addition to a place to drop in for a decadent croissant, pierogi, or order of pancit noodles. It also makes higher-end vendors more accessible to the average customer. While a reservation at Soho's BondSt could be out of reach for some, diners can easily stop by its North 3rd Street location, GoFish Sushi Box.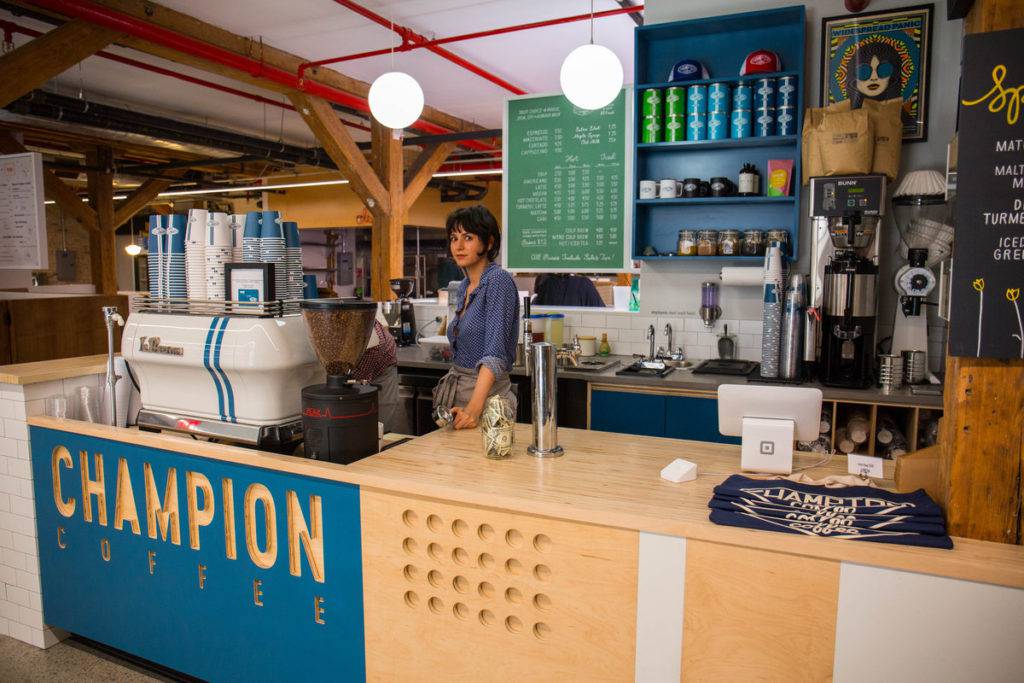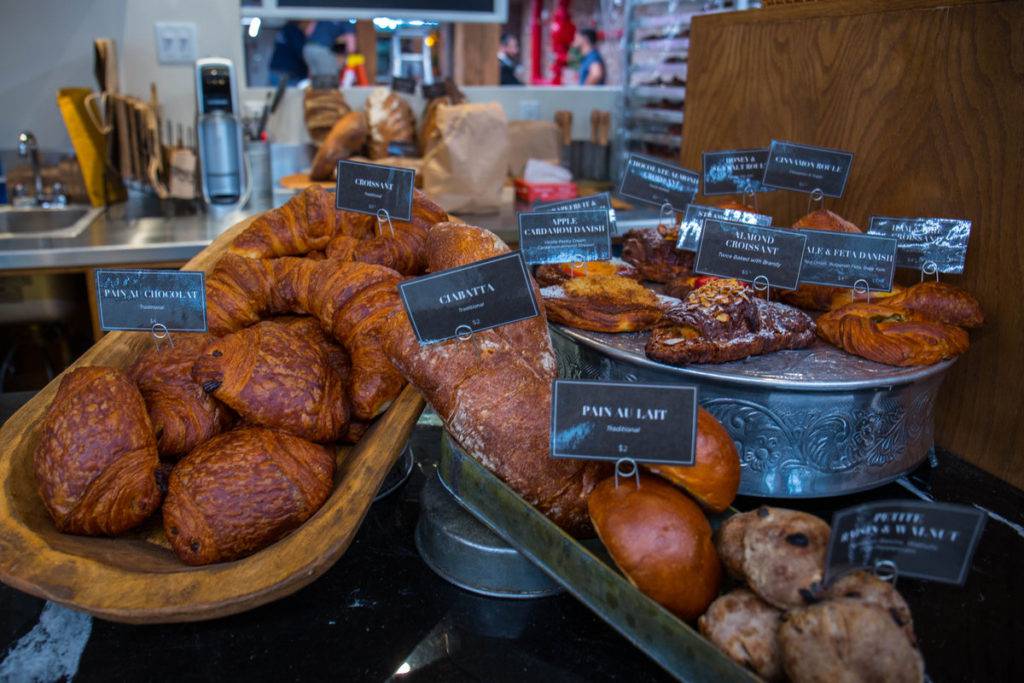 Photo credit: Gothamist
The entire North 3rd Street venue is a 15,000 sq ft space, renovated with exposed brick walls and an entrance that evokes a forest with a tangle of branches. Gothamist lauded its "smart pedestrian flow" and "bright, spacious" atmosphere.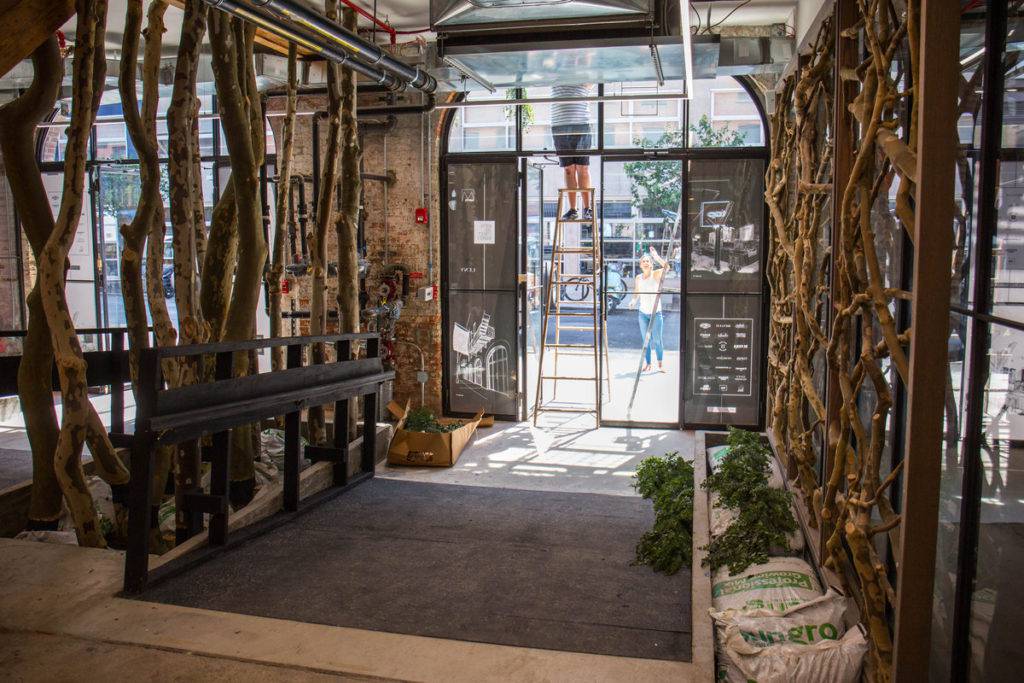 Photo credit: Gothamist
North 3rd Street Market breathes new life into the food hall concept at a time when several vendors have begun to churn from other locations, particularly in New York City. Some vendors have raised concerns that food halls weren't as supportive as originally advertised — for example, landlords reportedly tacked on additional fees like delivery charges, as well as asking some startups to redo their menus to fit into the hall's larger theme instead of allowing vendors creative autonomy.
But with commercial rents continuing to rise in most urban areas, it's been a challenge both for small businesses and national retailers to find affordable space. Setting up shop in a food hall can bring a less-well-known vendor a consistent flow of traffic (particularly if adjacent to a household name like Katz's).
Rental space per square foot is comparable or even less than general retail (~$100 — $300 vs. ~$250, respectively). Developers that are deliberate in their sourcing and that nurture a diverse set of high-quality vendors — both emerging and established — have a strong opportunity to stand out from the crowd and build a dedicated following.
4. The sushi kiosk: Miso Ko
Acclaimed chef Guy Wong will open his first Miso Ko location in Atlanta's Ponce City Market this summer — a casual grab-and-go sushi stop that also marks a return to more traditional Japanese sushi traditions. The concept is making waves in the food world, offering a unique combination of old-world and new-world themes. It's also hot on the heels of Wong's previous successes Le Fat and Miso Izakaya.
Successful chefs opening smaller, more casual venues is not new. Mario Batali developed pizzeria Otto and his casual (although sprawling) Eataly venues after the success of higher-end establishments like Babbo. In Boston, Oleana founder Ana Sortun opened the lunch and takeout venue Sofra.
What makes Miso Ko distinct is that it offers a choice between convenience and a more intimate sushi experience. Its kiosk format allows guests to quickly pick up sushi to go from the counter. At the same time, Miso Ko aims to bring American sushi closer to its Japanese roots, where sushi chefs are akin to neighborhood bartenders.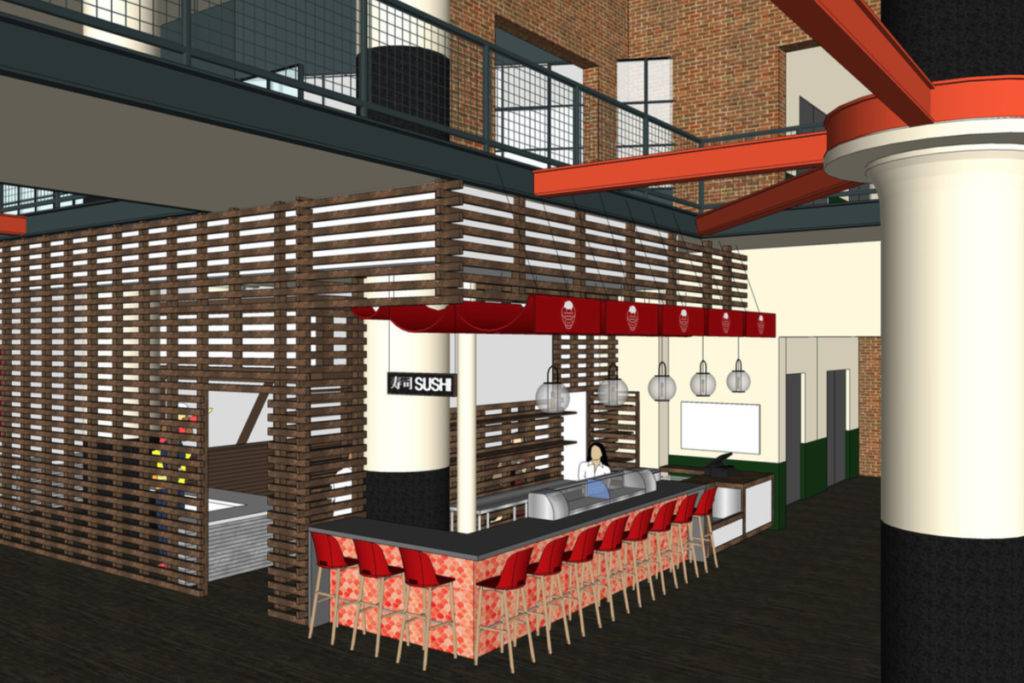 Photo credit: Eater
In Japan, sushi is almost always consumed at a bar, with a pared down, seasonal menu that the chef consistently rotates and communicates to his customers as they dine. In Japan, instead of ordering sushi in bulk, it's customary to order piecemeal, in smaller portions, to keep the fish fresh and the rice moist.
In this sense, Miso Ko is redefining many Americans' notion of ordering sushi. While the option to pick up a quick order exists for convenience, Miso Ko will also offer made-to-order sashimi, nigiri, and makimono. Wong is also planning to incorporate freshwater eel, octopus, squid, and soft-shell crab into the menu, and to set up 12 high-back barstools to facilitate greater interaction with the sushi-making process.
More than 4,000 sushi restaurants across the United States gross more than $2B annually. While businesses have recently tried to shake things up with sushi "donuts" and "burritos," Miso Ko's spin is unique in its focus on tradition. With Wong's successful track record, the concept is likely to have enormous early success — and could set the stage for a new series of sushi venues to come.
5. Automatic food: Cafe X
Cafe X in San Francisco is one of the first food businesses to successfully integrate robots into its operations. Despite some skepticism about a machine's ability to craft a quality latte, in 2017 Cafe X opened with solid reviews from Grub Street and Eater, along with a range of tech publications like Wired and PC Mag. In June 2018, the company opened its first kiosk on the streets of downtown San Francisco.
Seventy-three percent of the tasks that workers perform in food service and accommodations have automation potential. However, many restaurants that tried to automate their operations have failed, due to high fixed costs and technical complexities.
For example, CaliBurger, which purchased the burger-flipping robot Flippy to aid cook staff, got off to a rocky start, ultimately sending Flippy on an extended vacation for some "upgrades" after just one day of work.
Yet Cafe X has been able to stay in the game, control its costs, and hook customers, by focusing narrowly on coffee drinks. In addition to taking a customer's order, a robot barista can fulfill and deliver a coffee order in roughly six steps.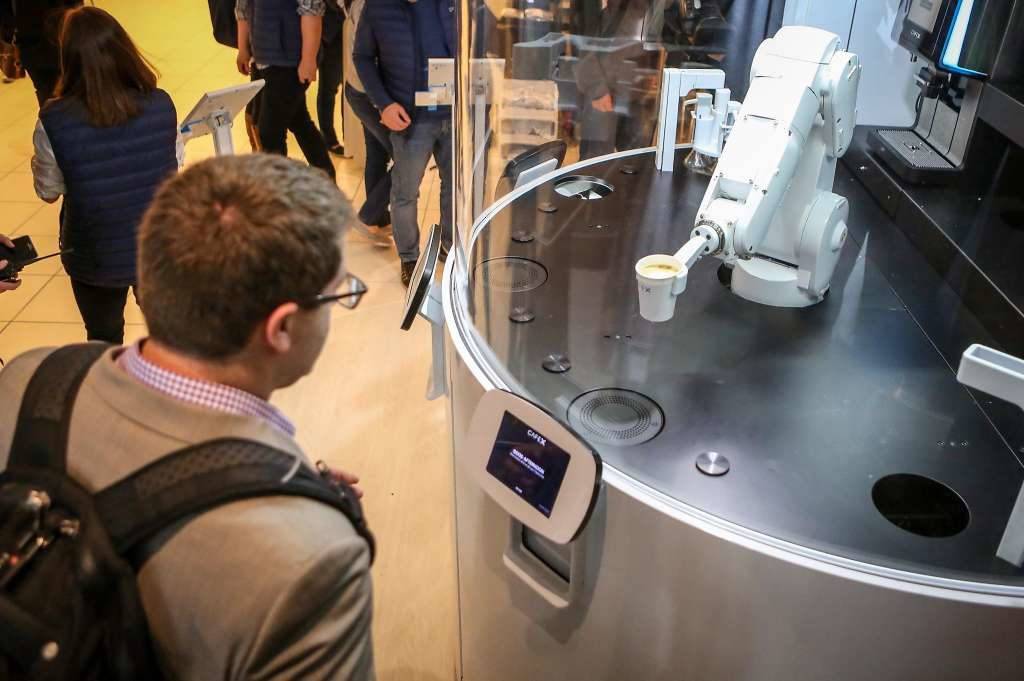 Photo credit: SF Gate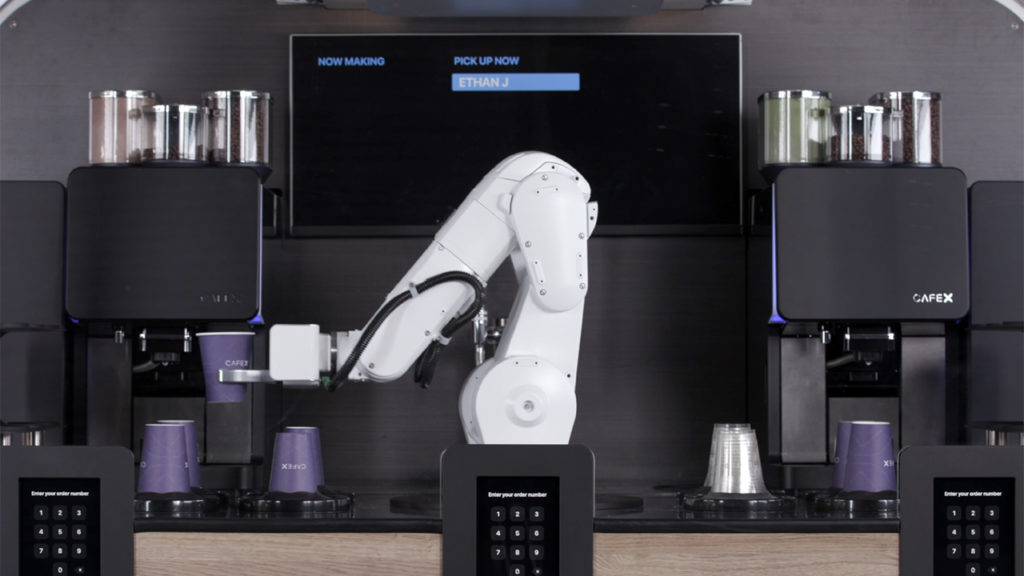 Photo credit: Business Wire 
The robot grinds the beans, moves the mixture into the coffee machine, heats the milk, and delivers the beverage. When taking an order, the robot is able to note specifics, like which local artisan roaster a customer prefers, as well as desired coffee strength and type of milk (including oat milk and other nondairy alternatives). The entire process can take just seconds.
Restaurants that have automated concrete and repetitive aspects of their operations are seeing strong results.
Zume Pizza, another early adopter, has been able to keep its labor costs to only 10% of its total budget, compared to 25% at the average restaurant. Replacing human pizza makers with machines that can handle a simple set of tasks has allowed the restaurant to serve more people faster and for less money.
These innovative concepts have even spurred the growth of manufacturers — like Chowbotics — that focus exclusively on robots for restaurants. The Redwood City-based startup recently raised a $16M Series A from investors including Foundry Group, Techstars Ventures, Galvanize Ventures, and the Geekdom Fund.
In some cases, automating specific pain points has allowed restaurants to hire and train more employees, thanks to greater efficiency and increased order volume. Starbucks, for example, rolled out its mobile ordering app in 2015. In 2016, it employed 8% more US workers than the previous year in order to meet demand. Panera posted similar results, hiring 10,000 new employees in 2017 after installing ordering kiosks at several locations.
Restaurants that take advantage of new technologies in thoughtful ways may be not only to cut costs and boost efficiency, but also expand their capacity.
6. Rest stop upgrade: the Tesla Supercharger drive-in
Every day across the United States, weary travelers and truck drivers pull off the highway and into rest stations, where they step out to stretch, take a break from their journeys, and eat a hot meal.
It's a quaint picture. Too quaint, if you're Elon Musk: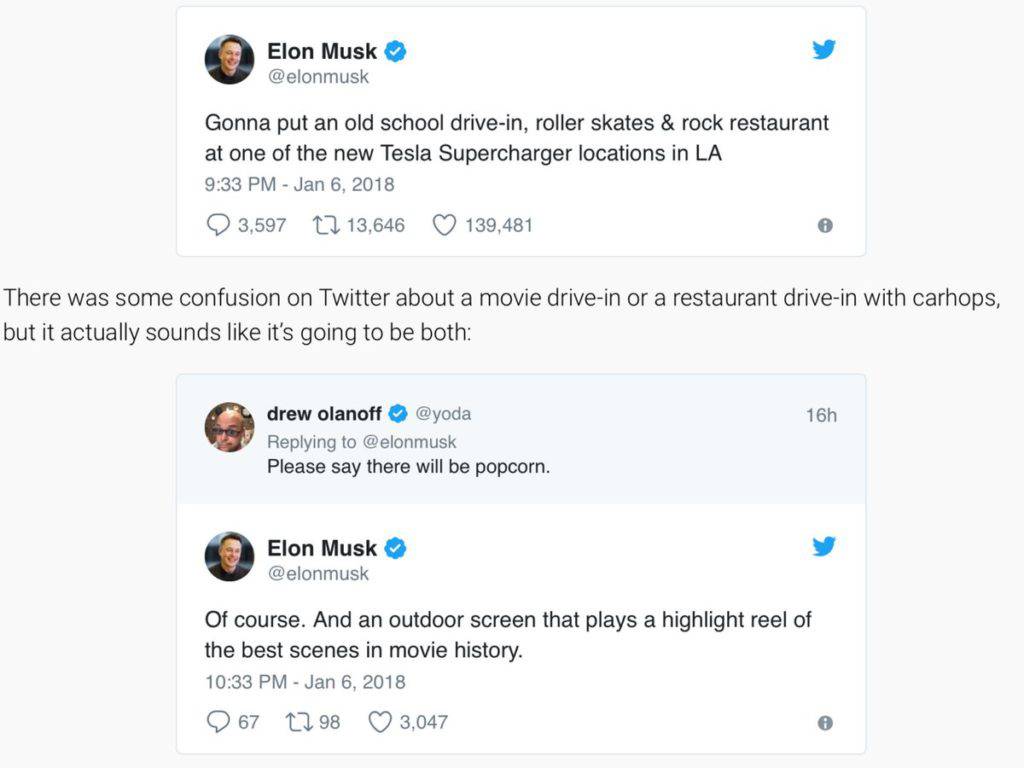 Source: Twitter
Musk's idea — building a novelty throwback restaurant at a Tesla Supercharger location — gives an interesting glimpse into how an electric vehicle future might reconfigure the often-derided yet classically American rest stop experience.
"We can just have the menu pop up as soon as you put the car into park," Musk said on Twitter when asked how patrons would order. There would be collectible medals for different Supercharger restaurants, as well as "an outdoor screen that plays a highlight reel of the best scenes in movie history"— so it would be a part drive-in theater as well.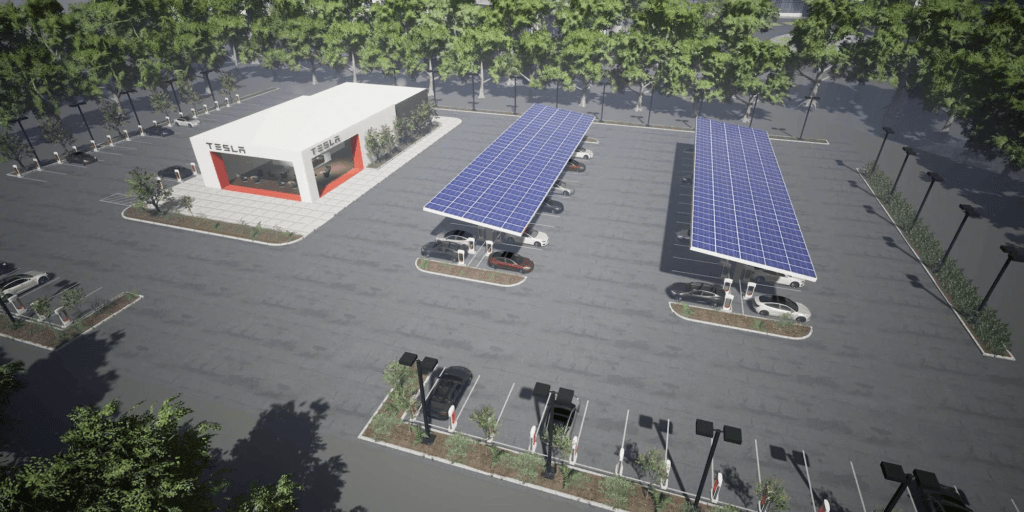 Tesla put in an official application with the city of Santa Monica, CA to build the project, which is currently in the presubmittal phase. Whether it will go forward is anyone's guess — but the Tesla brand, name, and MSRP on its vehicles alone would seem to give the reimagined rest stop a real shot.
For nearly a century, the rest stop was an American dining tradition — not a destination itself, but a place to stop for a quick bite on your way elsewhere. Many areas had benches for picnics; others offered classic on-the-go options like burgers, fries, and shakes. A few even had drive-in movies or waitstaff on roller skates. Rest stops became iconic American landmarks that dotted the nation's major highway routes.
Yet, in recent years, cash-strapped transportation agencies have been shutting down rest areas in many states, including Florida, Michigan, Ohio, and South Dakota, along with an initiative to do so in Connecticut. Today, just 2,877 remain.
Simultaneously, Tesla has installed 350 new charging stations in the past year, up 38% from its previous record. This brings the total number of supercharger stations to 1,120 locations worldwide. If Musk's flagship operation in Santa Monica succeeds at rekindling national affection for the rest stop, the infrastructure is already in place for rapid expansion.

Tesla charging locations. Photo credit: Tesla
In addition, many existing state-funded rest stops are being revitalized with private funds. Delaware, for example, recently contracted with airport retail operator HMSHost to operate a new 42,000 sq ft welcome center on I-95, featuring dining and shopping options for travelers.
Combined with Tesla's existing and planned charging stations, the foundation for a new generation of roadside restaurants continues to grow. While Musk moves ahead with his experiment in Santa Monica, developers across the nation have an enormous opportunity to follow suit and turn their roadside rest areas into tourist magnets.
7. The kombucha taproom: Cultured South)
Melanie Wade opened Georgia's first kombucha taproom, Cultured South, in May 2018. More than simply kombucha, the restaurant offers an array of fermented foods, including kefir, Jun, and vegan cheeses, along with educational classes about fermentation.
By opening a restaurant in a category as nascent as "kombucha taprooms," Cultured South carves out a powerful first-mover position in a market that barely existed just two or three years ago.
It's a unique market — one we're likely to see a lot more of going forward — that has been driven and propelled by the internet.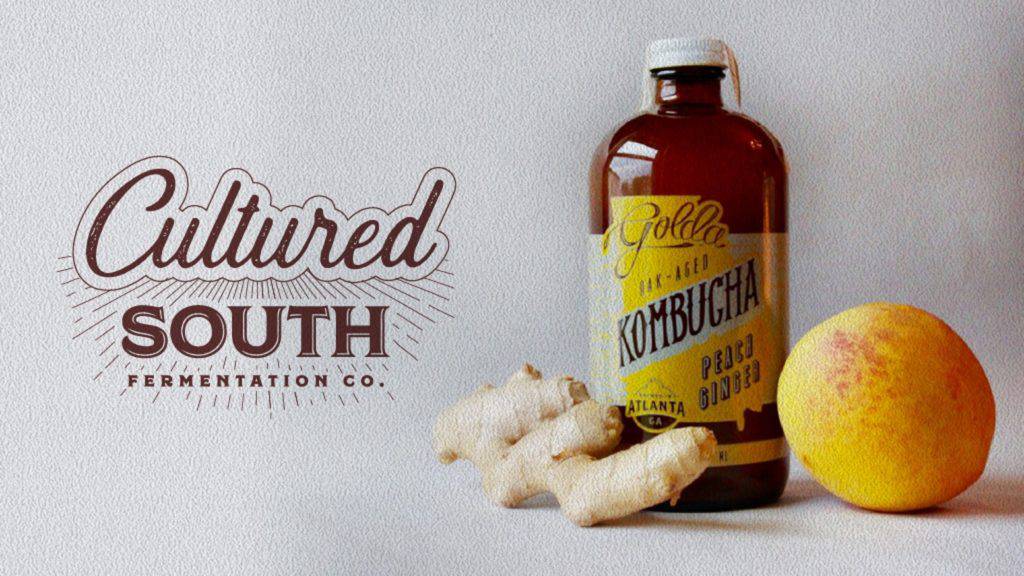 Photo credit: Kickstarter
Just a few years ago, kombucha was a virtually unknown, highly obscure obsession belonging to experimental home cooks.

Even today, interest in kombucha is mostly concentrated in coastal regions, especially in the Pacific Northwest.

But even with an uneven distribution of interest in the US, kombucha has outgrown its niche roots and become a mainstream sensation over the last several years.
Today, fermentation in general is no longer an underground, DIY obsession — it is an everyday part of American eating and drinking culture
Kombucha brands like GT and Health-Ade are available on shelves in Target and Walmart. In 2016, PepsiCo acquired KeVita, a leading manufacturer of kombucha and other fermented beverages. In 2017, sales of kombucha and other probiotic-packed beverages jumped 37.4%.
Despite all of this, most communities in America still don't have a "kombucha place" the way they have might have a go-to coffee spot. That's in part because trends today can emerge and blow up much faster than restaurant groups and beverage companies can capitalize on them. For entrepreneurs wanting to own neighborhood iterations of emerging trends like kombucha, the door is largely open for nimble first-movers.
8. Holistic fast casual: Mendocino Farms
As the original fast casual concept quickly becomes outdated, only the savviest survive. To this end, Mendocino Farms, founded by industry veterans Mario Del Pero and Ellen Chen, has clearly defined itself as an industry leader. The chain offers a hospitality experience a notch above its peers and embraces an ethos of mindful consumption.
Currently, Mendocino farms has 20 locations in California, with plans for 6 more CA locations as well as its first restaurant in Texas.
Economic recovery has loosened the purse strings for restaurant-goers. Consumers who were once limited to inexpensive chains like Chipotle during the great recession can now afford (and are looking for) slightly more upscale options. Venues adding a finer touch to the original fast casual concept are increasingly winning out.
Where Chipotle has a basic design, with concrete floors, plywood, and stainless steel, Mendocino has created cozier interiors, rebuilt with hardwood surfaces. And while Chipotle boasts healthier options than chains like McDonald's, it is no match for Mendocino's menu with creative and place-based twists, often relying on local ingredients.
For example, Mendocino's Sherman Oaks, CA location offers an Asian Spring Roll Salad with Mary's free-range chicken breast, spicy Fresno chilis, and Scarborough Farm arugula.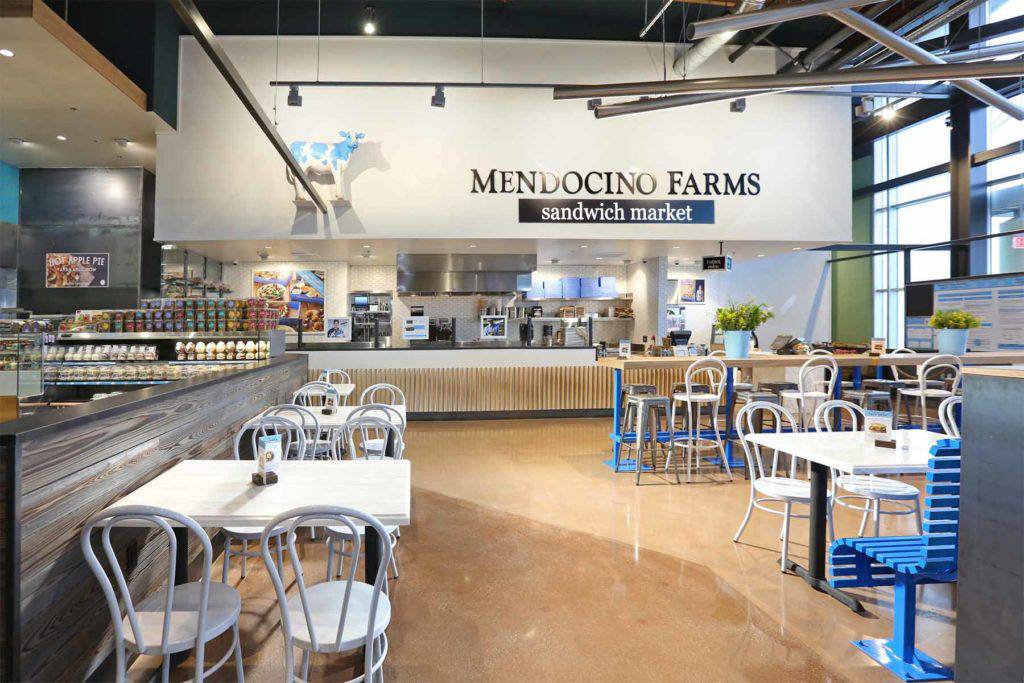 Photo credit: DL English Design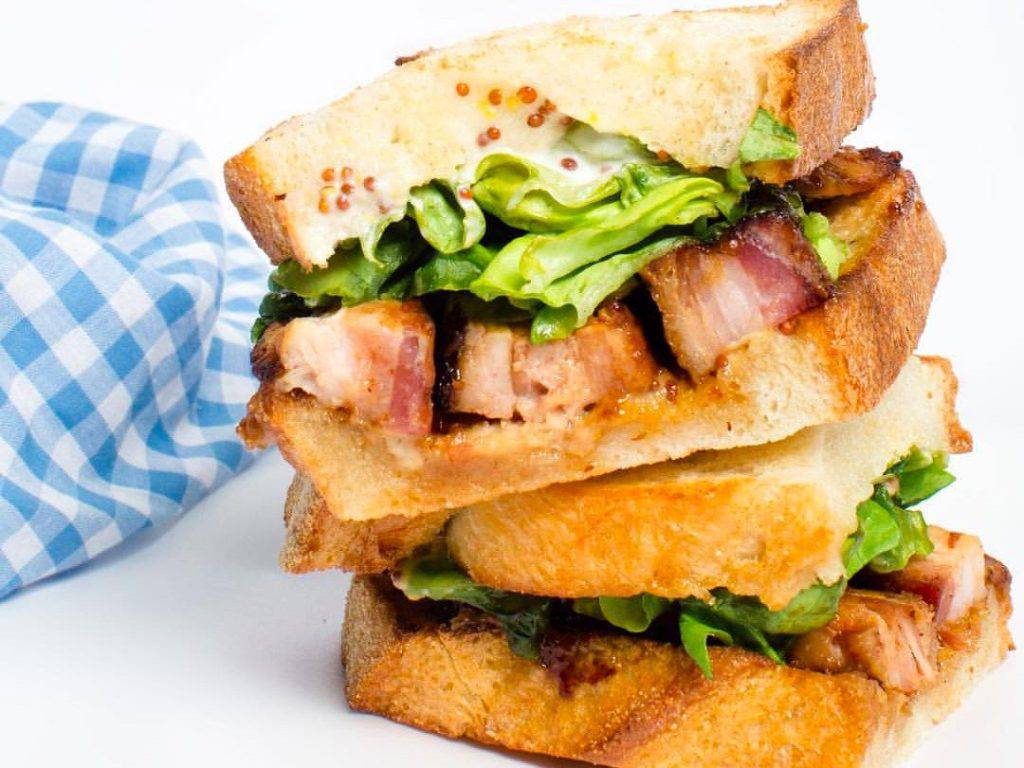 Photo credit: Business Insider UK
In the past, a food business could distinguish itself by sourcing local ingredients and appealing to millennials — but that's no longer enough. Mendocino Farms also offers cornhole and foosball games at many branches, recreating their restaurants as family gathering places instead of simply venues for eating and drinking. As many shoppers are now looking to retail locations as social hubs, rather than just destinations for a single product or service, Mendocino Farms has diversified well.
Today, each Mendocino Farms unit averages about $3.4M. In November 2017, private equity giant TPG Growth acquired a majority stake in Mendocino Farms, and Harald Herrmann, former president of Darden Restaurants, announced his plans to join as CEO.
Fast casual is still a $47B industry — but to remain in the game, Mendocino has had to differentiate itself not only in the quality of its food but also by offering a more elegant, holistic, and inclusive experience.
9. Pets allowed: Lazy Dog Restaurant & Bar
At Lazy Dog, pets are more than just allowed — they're treated like paying customers.
After 15,000 years of canine domestication, we've finally arrived at a point where pets are welcomed into nearly all aspects of daily life. Although some venues still eschew dogs, Lazy Dog embraces.
The chain presents itself as a safe haven for pets and their owners. Each location has a dedicated patio for animals and even offers them entrees, such as grilled hamburger patties and brown rice. For humans, the Rocky Mountains-inspired franchise offers comfort food like a 14-oz. rib-eye steak and a peach-raspberry hand pie.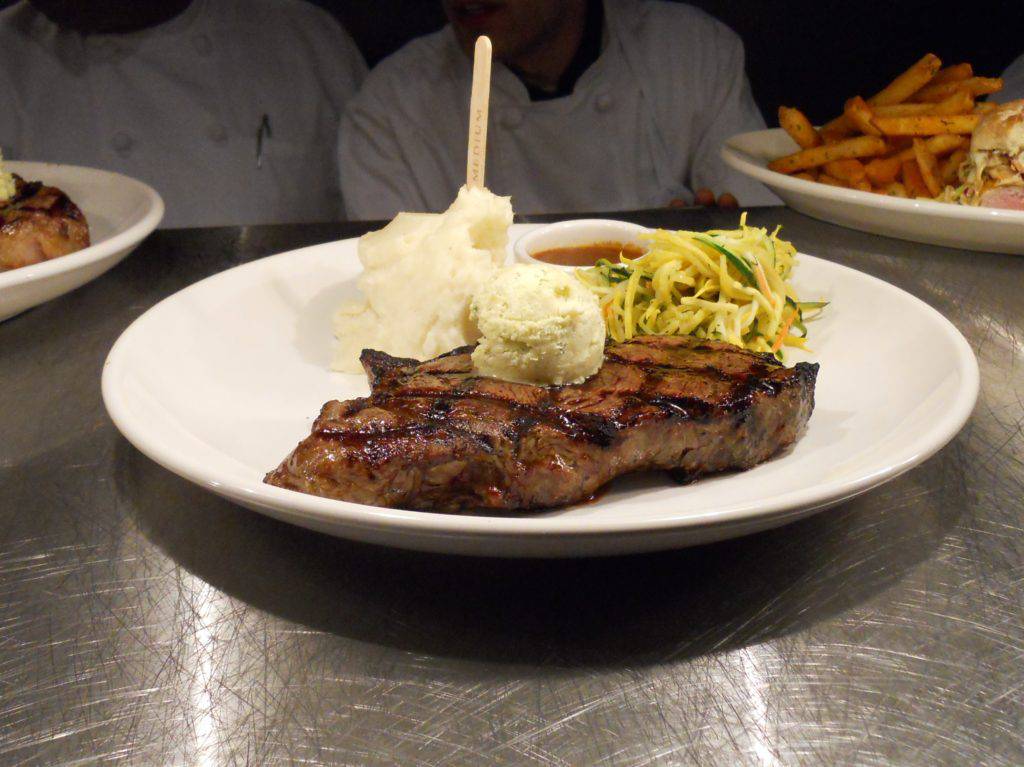 Photo credit: Indeed Text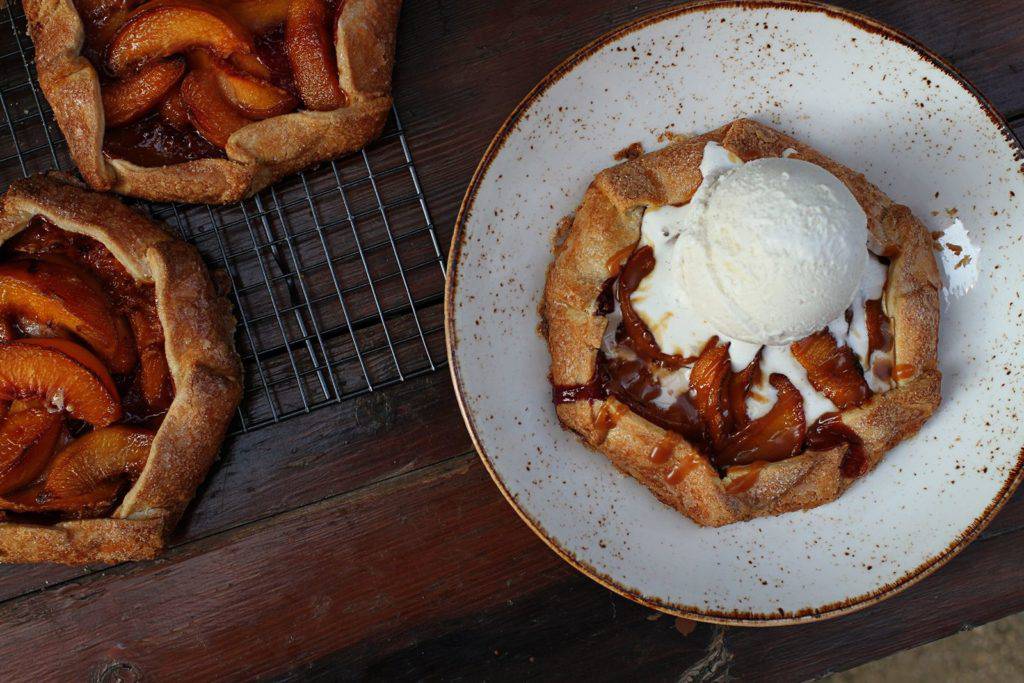 Photo credit: RestaurantNews.com
Lazy Dog recently expanded into Colorado, growing from its 22 California locations. The decor of each venue evokes a lodge, featuring stonework, amber lighting, and fireplaces.
Lazy Dog aims to deliver many of the comforts of home cooking — and building out a space for pets further elevates the restaurant's down-home hospitality. Last year, American Pet Products published 2017 findings that 68% of all US households owned pets, and 48% of Americans owned dogs. In addition, the ownership of companion animals has skyrocketed. In January 2018, Delta reported that it carries 700 service or support animals per day.
For Lazy Dog, going pet-friendly represents a specific hook for younger customers. While baby boomers used to represent the largest segment of pet owners, Gen Y recently supplanted them.
While orienting a restaurant toward pets could potentially alienate some customers, concerns about health hazards or general disruptions to the dining experience haven't held Lazy Dog back, with units averaging $6.1M in annual sales. As new locations continue to open throughout the country, the benefits are clearly outweighing the risks.
10. Community initiatives: Loom
Loom, from James Beard Award-winning chef Cortney Burns (formerly of Bar Tartine in San Francisco), represents a new generation of chefs creating change in their communities. Set to open in early 2019 in the former mill town of North Adams, Massachusetts, Loom's menu will be based on local ingredients and historical recipes. Its underlying mission is to help spur the burgeoning arts economy and further investment in the post-industrial town.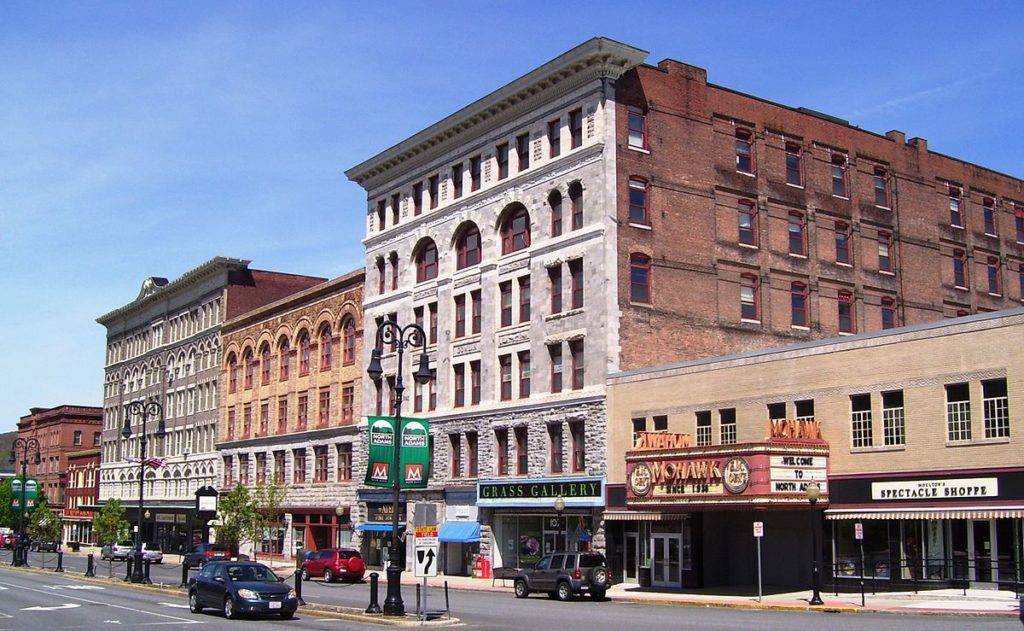 In a time of rising regional inequality, where many small to mid-sized communities in the Midwest, Northeast, and Southeast continue to lag due to the lasting impacts of industrial decline, policy changes and partnerships in both the public and private sectors are funneling more money to these areas.
In 2017, the Chicago Fed published a report outlining strategies to support foundations and Federal Reserve Banks as they support recovery in legacy cities. Recommendations include investing in projects that deliver both financial and social returns, revitalizing downtown areas, coordinated workforce development, and effective PR and communications strategies.
Mission-driven restaurants are excellent candidates to help fulfill funders' goals. If planned correctly, they can be vehicles for quick employment and professional development, venues for community gathering, and cultural hubs. Especially when a celebrity chef (like Loom's Cortney Burns) is involved, a project can bring in out-of-town diners.
Restaurants that execute their visions in these regions well have the potential to receive a boost financially and professionally from a wide network of supporters, both local and otherwise.
11. The weeknight bar: School Night
Traci Des Jardins's new Dogpatch bar School Night is not your usual bar. For one, it's only open four nights a week, from Sunday to Wednesday (hence the name).
For another, it doesn't even have its own building. School Night is located inside The Pearl, a well-known San Francisco events space with whom it shares a liquor license.
This model of sharing among retailers is quickly gaining popularity as pressures have mounted on many restaurants, particularly in the Bay Area, in the past year. From brutal building inspections to the rising cost of serving food in the region — largely due to new minimum wage and health insurance standards — restaurants are being forced to figure out new collaborations to stay afloat.
School Night is an anomaly, however. The restaurant has not only been able to survive in a challenging environment; it's flourishing.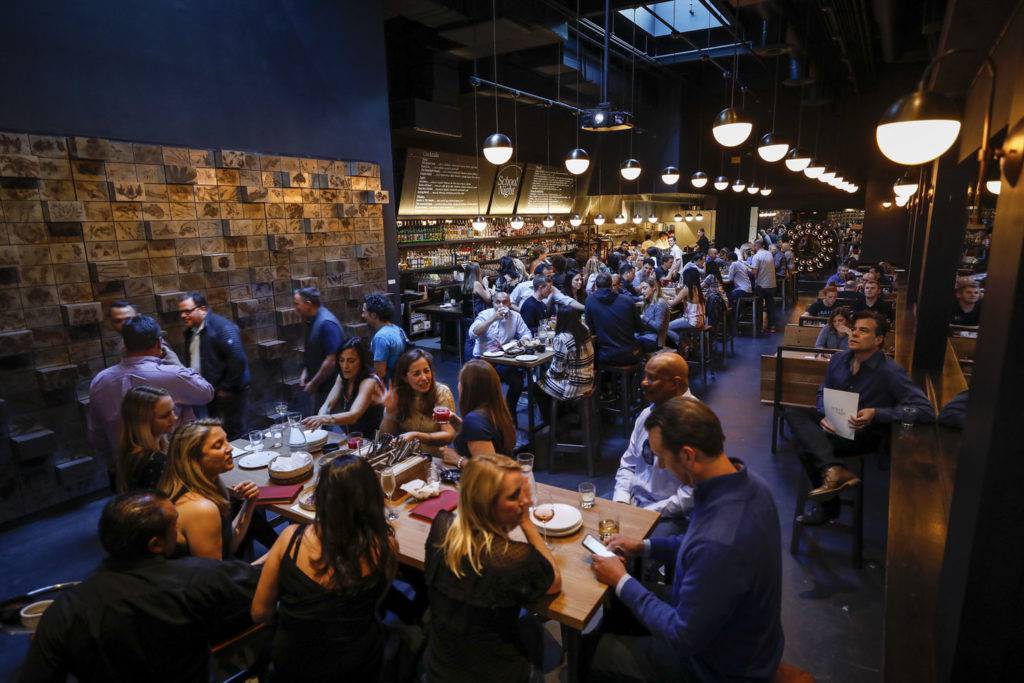 Photo credit: School Night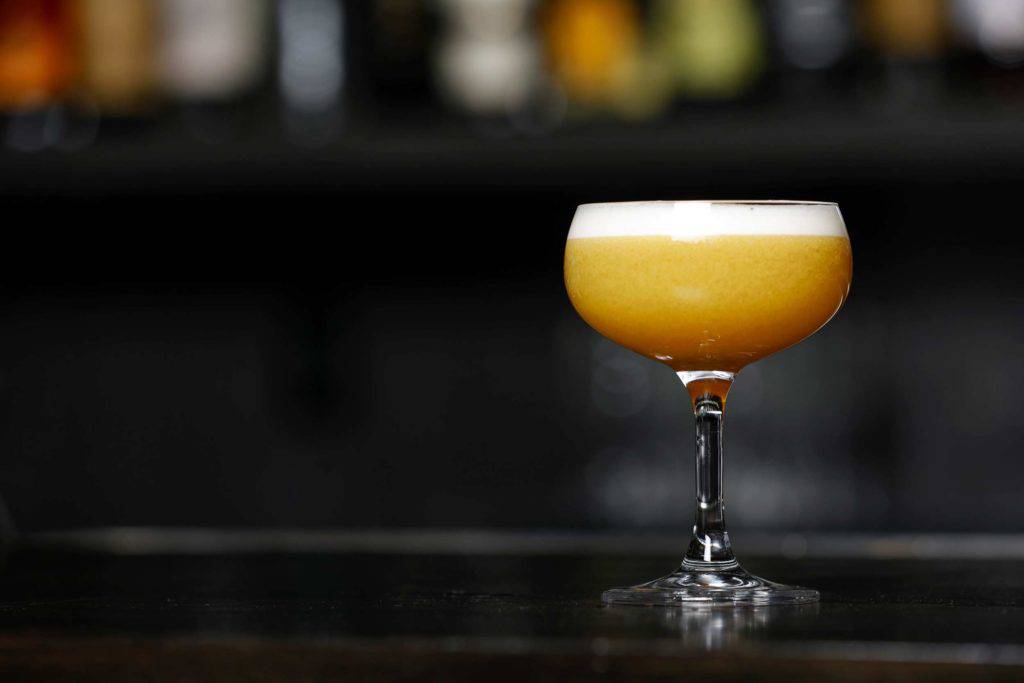 Photo credit: School Night
Inventive Mexican-Peruvian offerings like fideo, ceviche, and agave cocktails are drawing positive press from publications like Eater and Zagat.
In addition to a creative menu, School Night has three strategies that have helped drive its success:
The bar rents out the space for events on the nights that it's not open, bringing in a significant alternative line of revenue during a time when it doesn't need to supply staff.
It can hire from a pool of experienced waitstaff who are less occupied Sunday — Wednesday nights (shifts generally become busier Thursday-Saturday).
Due to the above cost-cutting techniques, the bar can offer cocktails at a discount to their competition, bringing in customers despite being open at unusual times.
Going forward, we will likely see more restaurants and bars like School Night — places that figure out new ways to prosper by collaborating with others in the immediate vicinity.
Strategies for staying inspired & remaining relevant
The 11 concepts above — vegan fast casual, futuristic burger joints, the sophisticated food hall, the sushi kiosk, automatic food, the bougie drive-in, a kombucha taproom, holistic fast casual, pets-first, chefs as agents of social change, and the weeknight bar — are emerging from shrewd chefs and restaurateurs. These people understand:
Purchasing power has shifted to diners ages 22 — 36.
This age bracket seeks meals that are healthful, gentler on the environment, and aesthetically pleasing.
Dining out is less of a luxury and more a means of socializing and connecting with like-minded peers.
Demand for inventive, exciting meals is becoming more geographically dispersed, moving beyond New York and Los Angeles to smaller cities.
Technology can be an asset to a restaurant's operations when deliberately incorporated to complement the work of human employees.
As the above trends reshape dining, significant opportunities exist to become more creative with current operations.
It is not always necessary to start from scratch. Using the above models to develop new social media tactics, invest in automation, or branch out into a new region could go a long way toward refreshing an established brand or start a new one — whetting customers' appetites for years to come.
If you aren't already a client, sign up for a free trial to learn more about our platform.