Ahead of the personal finance education site's IPO, we break down its market, revenue, and competition. We also see how NerdWallet's valuation multiple stacks up against competitors like Credit Karma, LendingTree, and Zillow.
Last week, NerdWallet filed to go public. The company was bootstrapped for many years before ultimately raising multiple funding rounds from the likes of RRE Ventures and Institutional Venture Partners, among other investors.
NerdWallet's market
The company competes in the US financial services digital advertising market, which, per the company's S-1, is expected to be worth more than $23B in 2021 and has been growing at double-digit rates annually. 
To grow its total addressable market (TAM), the company is looking at international expansion as well. To this end, it acquired UK-based Know Your Money in 2020. You can see all of NerdWallet's M&A activity here. 
With its international ambitions, the company, according to its S-1, is hoping to tap into global financial services advertising spend, which it pegs at $73B.
NerdWallet's revenue and competition
NerdWallet posted revenues of $228M in 2019 and $245M in 2020 — a 7.4% revenue growth rate year-over-year (YoY). The figures from the S-1 are provided below.

In the S-1, the company highlights a number of competitors, including:
Per CB Insights, NerdWallet competitors include the firms listed in its S-1, as well as several others in the personal financial management education & content space, as displayed below. While the business models, strategies, and revenue mix of these competitors vary, all target financial services advertising dollars in some form. 
Other competitors identified by CB Insights include Frank, GoBear, The Penny Hoarder, and Evolution Finance (the operator of CardHub and WalletHub), among others.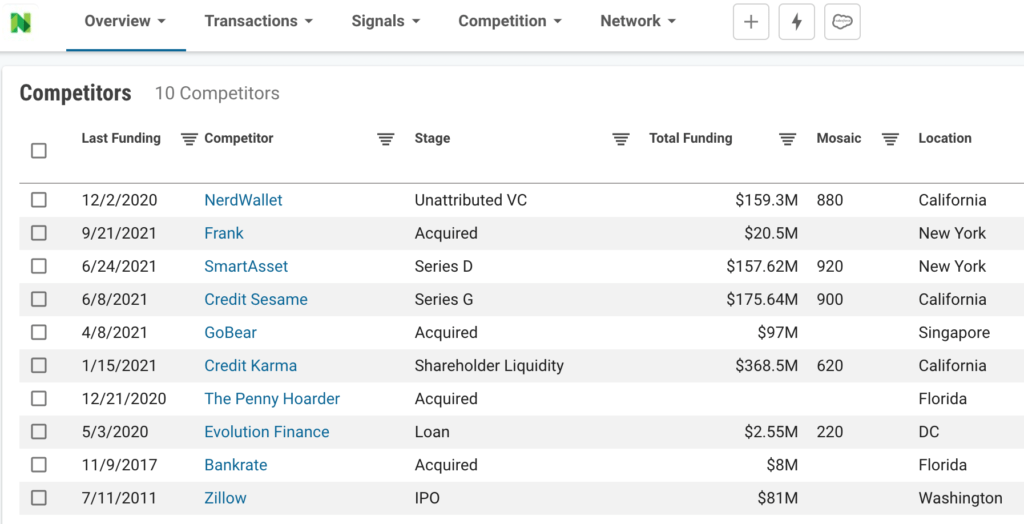 NerdWallet's valuation and valuation multiple
Per media reports, NerdWallet is seeking a $5B valuation.
On a trailing twelve months basis, that would imply a 20.4x price/revenue multiple for the business. 
Is that a fair multiple?
We used CB Insights' valuation and multiples data for NerdWallet's competitors to see how revenue multiples for other personal finance education & content companies stack up.
Based on an analysis of private, acquired, and public peers, the $5B valuation seems unrealistic. Below, using these comparables, we share a more appropriate valuation range NerdWallet might warrant. We also discuss potential acquirers of NerdWallet here.