With the acquisition, nCino will enhance its digital banking platform. Here are the top-line bullets you need to know.
nCino, a cloud-based banking services provider, has acquired SimpleNexus, a digital mortgage solutions provider, for $1.2B in a cash and stock deal. The deal is expected to close by the end of January 2022.
Who are the parties to the deal?
SimpleNexus: Utah-based SimpleNexus develops an end-to-end digital technology platform that connects borrowers, lenders, loan officers, and real estate agents to streamline homeownership and mortgage financing processes. It claims that around 14% of US mortgages have used its technology over the past 9 months. The company has partnerships with more than 80 banks and credit unions, 300+ independent mortgage banks (IMBs), and 41K+ loan originators, and it is supported by a team of 200 people. In October 2021, it acquired LBA Ware, a mortgage lending software company, to bring prominent lenders and a suite of mortgage technology integrations into its portfolio.
nCino: North Carolina-based nCino operates a cloud banking platform that enables lenders to manage the entire loan lifecycle. On average, its clients have experienced a 127% increase in account opening rates, a 25% increase in efficiency, a 40% reduction in loan closing time, and a 92% reduction in data re-entry. The company has established partnerships with around 1,200 global financial institutions, and it has around 1,200 employees. Some of its clients include Barclays, Santander's, TD Bank, and Thinktank.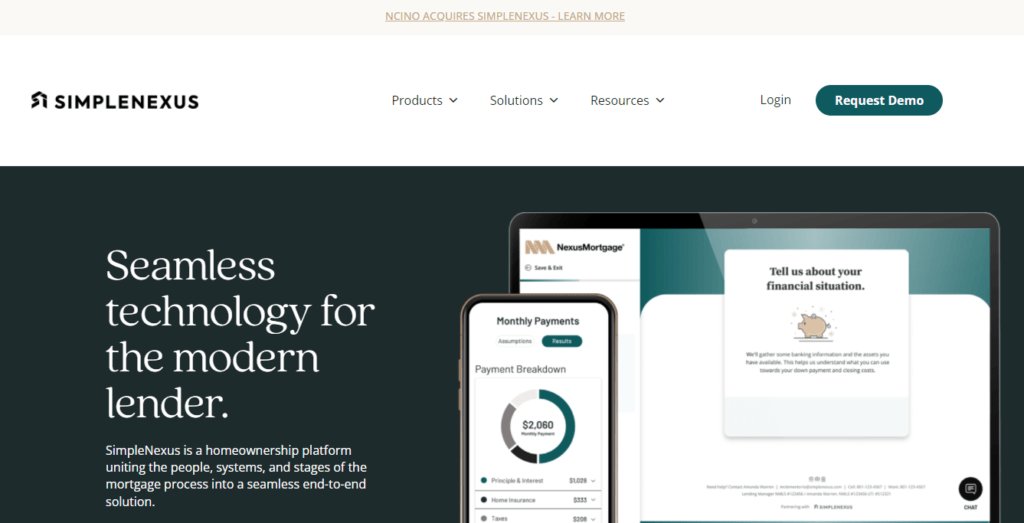 Source: SimpleNexus
Why does the market matter?
The global digital lending platform market is expected to grow at a CAGR of 16.7% and reach a value of $20.3B by 2027, according to Allied Market Research.
As of March 2021, mortgage tech funding had surpassed the $1.2B mark — marking a 24% increase from 2020's year-end total.
Homeownership demand surged amid the pandemic, increasing the need for solutions to manage financing and mortgage loans. Several lenders filed for IPOs during this period.