Adena Friedman spoke on equal access to information, educating to innovate, and emerging technologies like blockchain and machine intelligence at the 2018 Future of Fintech Conference in New York.
NASDAQ can "trade, clear, and settle any asset class on the planet," according to NASDAQ president & CEO Adena Friedman.
And to do so, the company relies heavily on technology.
"We are indeed a technology company…everything we do is founded on technology," said Friedman to Robin Wigglesworth of Financial Times during CB Insights' annual Future of Fintech conference. 
When asked about how the nearly 50-year-old company innovates, Friedman emphasized the importance of maintaining talent with an "innovative spirit" to help drive the industry forward. She also stressed the idea of educating and reeducating the team on the latest technology.
"Complacency is the killer of every great company."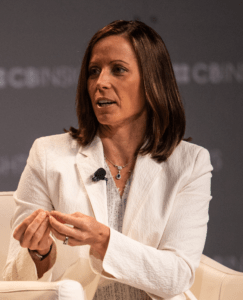 Recently, the company has worked with many of its clearinghouse clients to develop proof-of-concepts for blockchain technology. As a result of these collaborations, the company is now productizing and deploying certain blockchain services.
For example, NASDAQ has integrated blockchain across its entire messaging layer, while also embedding the technology into many of the company's software products.
But Friedman made sure to emphasize that blockchain is not the end result. Rather, blockchain is used to enable efficiency — helping to trade, clear, and settle transactions more seamlessly — and improve clearing infrastructure.
While NASDAQ certainly sees the potential of blockchain, Friedman took a more skeptical stance on ICOs.
She mentioned that it's NASDAQ's duty to provide equal access to great companies and investment opportunities for retail investors, and data to make informed decisions.
With ICOs, retail investors don't have equity nor do they have sufficient access to information.
"None of that is available [in an ICO landscape], and yet it's all being bought by retail…retail is not getting ownership of the company, they are getting an IOU for profits or an IOU for the product itself."
And due to the highly unregulated nature of the market, NASDAQ is unsure it will enter the crypto market anytime soon, but it will continue to operate as a technology partner to help companies develop, mature, and innovate.
Friedman herself said "[crypto] could ultimately become real and interesting in the financial layer of the Internet. It could also die on the vine and be a beanie baby phenomenon, we don't know yet."
Beyond blockchain, machine learning has also been a significant driver of technological advancement for NASDAQ.
"If I had to pick between cloud, machine learning, or blockchain as the most disruptive technology, I'd pick machine intelligence. It really changes how everyone interacts with the markets."
If you aren't already a client, sign up for a free trial to learn more about our platform.