As companies expand their reliance on cloud, startups are helping them juggle the individual requirements and benefits of multiple cloud services providers.
As organizations rely more on cloud services, they're starting to adopt multiple cloud providers. This allows them to leverage the best that each platform has to offer, while also improving efficiency and reducing costs.
In line with this trend, the cloud computing services industry is expected to reach $513B by 2022, according to CB Insights Market Sizing tool.
With the growing adoption of these multi-cloud strategies, startups providing security, data integration, automation, monitoring, and container-based software remain a focus for institutional investors.
Using CB Insights data, we identified 98 private companies working to improve the multi-cloud ecosystem. Each of these companies has raised disclosed equity funding in the past 24 months (since 6/26/16).
We've categorized each startup into one of 6 main categories: security & governance, containers & microservices, orchestration & automation, integration & migration, logging & monitoring, and cost management.
We define the multi-cloud ecosystem broadly to include software companies simplifying the relationship between various cloud providers or improving the management of individual resources from multiple providers.
This market map is not meant to be exhaustive of all companies in the space. Categories are not mutually exclusive. Clients with expert collections can download and edit the Market Map using our Collections tool here. 
Please click to enlarge.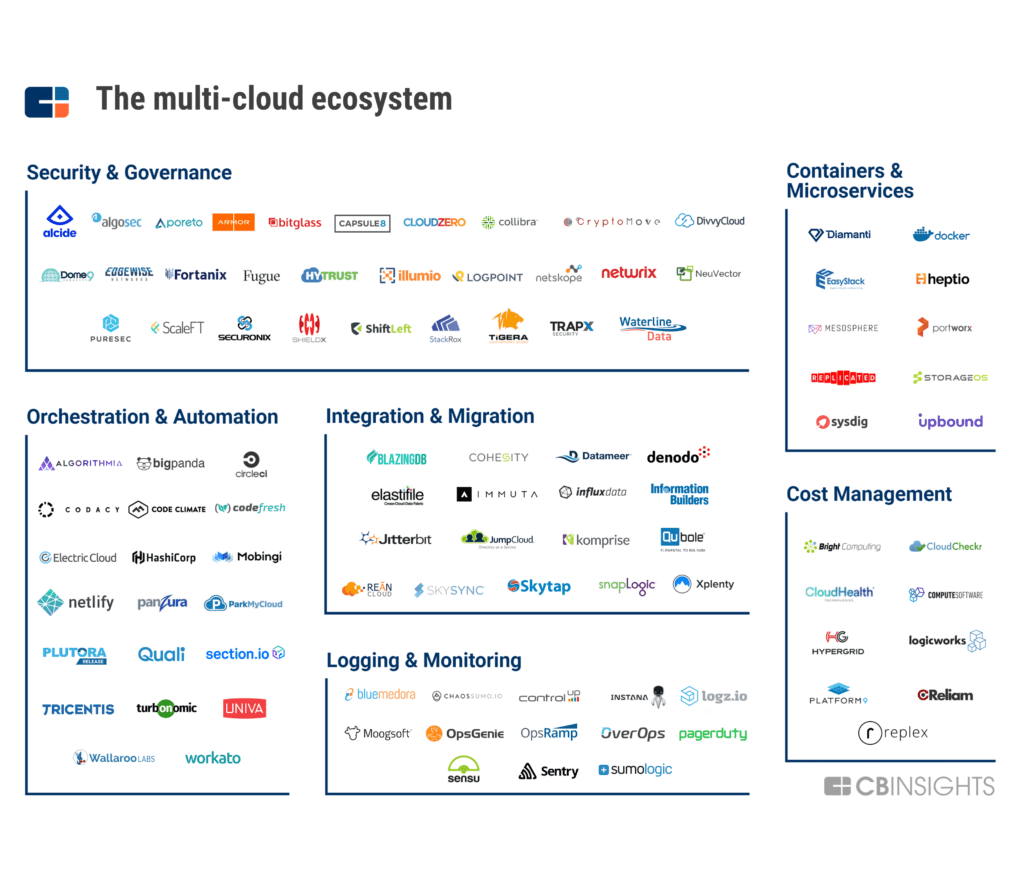 Category Breakdown
Security & Governance: In light of ongoing data breaches, organizations are prioritizing security. Startups in this segment protect the contents of private, public, and hybrid cloud environments. Governance solutions compliment security tools by managing data availability, usability, and integrity for a number (often thousands) of enterprise users.
Armor Defense offers cybersecurity software for public and private clouds, while Illumio specializes in securing cloud-hosted applications with micro-segmentation.
Containers & Microservices: As cloud computing infrastructure continues to improve, so does application architecture. Containerization offers a lightweight alternative to traditional, resource-intensive virtualization.
Startups in this category deploy and/or manage container solutions that are used as the foundation for microservices. Microservices offer single-functions or modular components of a larger application.
Docker provides a suite of container products, while Heptio improves preexisting container management tools (namely Kubernetes and Mesos).
Orchestration & Automation: Startups in this category automate services throughout the cloud. Solutions range from the automated deployment and testing of code to the automated configuration of new containers. Many of these companies adopt an "if this, then that" methodology that automates processes once certain criteria are met.
Companies such as CircleCI provide solutions for continuous integration and delivery, while companies like Codefresh autonomously deploy code into designated containers.
Integration & Migration: Transitioning to the cloud or between providers is a complicated process, especially for large organizations. Moreover, connecting data in real time via APIs has become increasingly complex as organizations adopt multiple cloud providers.
Startups in this category manage the movement of data from on-premise infrastructure to the cloud or from one cloud provider and/or application to another.
SnapLogic integrates data and applications in the cloud, while Xplenty allows users to design and deploy data pipelines without needing to code.
Logging & Monitoring: The increasing complexity of multi-cloud environments make it difficult to address complications in a timely manner. Logging and monitoring solutions help organizations monitor, log, and analyze the performance of cloud infrastructure and hosted applications in real time. Some cloud monitoring startups offer push notification alerts, while others predict when problems will arise.
Moogsoft monitors hybrid and multi-cloud infrastructure, while PagerDuty monitors public cloud infrastructure and application performance, in addition to providing cloud migration services and monitoring solutions.
Cost Management: With an increasing variety of cloud solutions comes increased complexity and cost. Cost management startups aid enterprise organizations in reducing the costs of their respective hybrid and/or multi-cloud strategies.
CloudHealth Technologies allows businesses to predict the performance and cost of their cloud services, while Platform9 increases the efficiency of deploying and managing clouds.
The Multi-Cloud Ecosystem Market Map Companies List
As of 6/26/2018
If you aren't already a client, sign up for a free trial to learn more about our platform.