Dietary supplement companies are moving away from big box retail, focusing on subscriptions and extreme personalization.
The dietary supplement industry is unregulated by the FDA and prone to deceptive marketing tactics. But according to the NIH, more than $12B is spent every year on products ranging from pediatric vitamins to plant-based nutraceuticals purported to prevent aging.
The FDA defines dietary supplements as products containing ingredients such as vitamins, minerals, herbs, amino acids, and enzymes, often sold in forms such as tablets, capsules, softgels, gelcaps, powders, and liquids. Dietary supplements often lack the extensive federal oversight, years of clinical research, and intricate supply chain issues of their medical device and pharmaceutical counterparts. This relatively straightforward product development cycle, combined with an increasing consumer focus on personal wellness, has resulted in continued growth in the supplement sector.
In order to carve out a niche for themselves, startups are now forming direct relationships with their customers through the use of product personalization, subscription options, and through a laser focus on user experience. We used CB Insights data to analyze the distribution models and product offerings of the most well-funded VC-backed supplements companies. Scroll down to see the full list of companies in the graphic.
annual financing trends
In 2017 YTD, vitamin and supplements startups have seen 39 deals worth $182M in disclosed equity funding. At the current run-rate, deals in 2017 are on track to reach a new high of 52, up 41% from the 37 seen in 2016. Funding is also on pace to grow 41%, and is expected to reach $241M by the end of this year.
2014 saw a huge upswing in total funding largely due to Twinlab Consolidated Corporation raising $187M from Capstone Financial Group. Flex Pharma also raised a $40M Series A that year from investors including Lightstone Ventures, Correlation Ventures, and The Kraft Group.
The largest deals of 2017 YTD include the $40M Series D to alternative nutrient manufacturer Calysta, the $35M Series B to pediatric supplement startup Before Brands, and the $35M private equity round to Mumbai-based nutritional ingredient manufacturer OmniActive.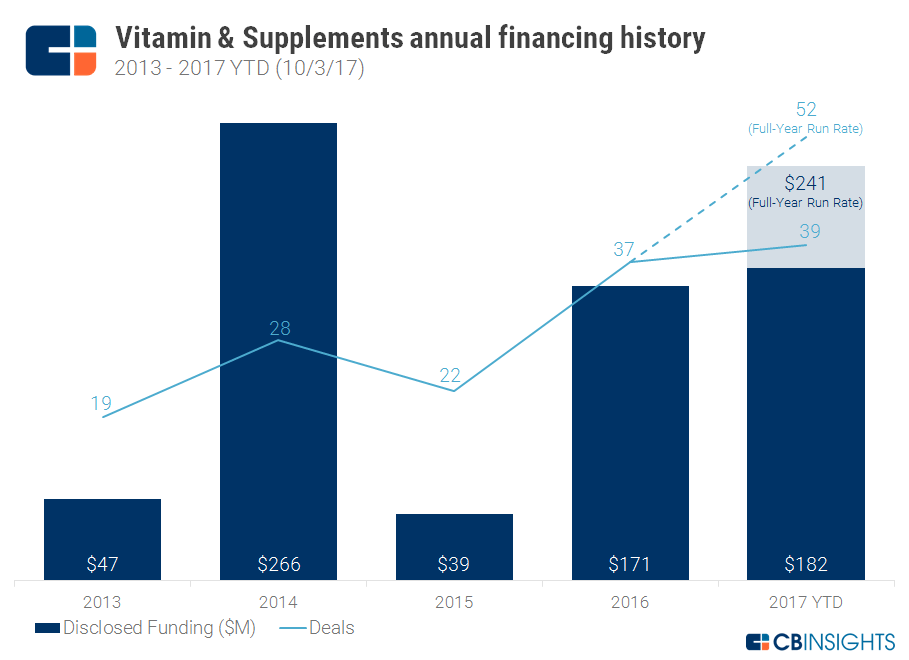 table: most well-funded vc-backed supplements companies
Click on the image below to enlarge. Many companies offer a wide variety of products. In such cases, price point reflects average price for an individual product.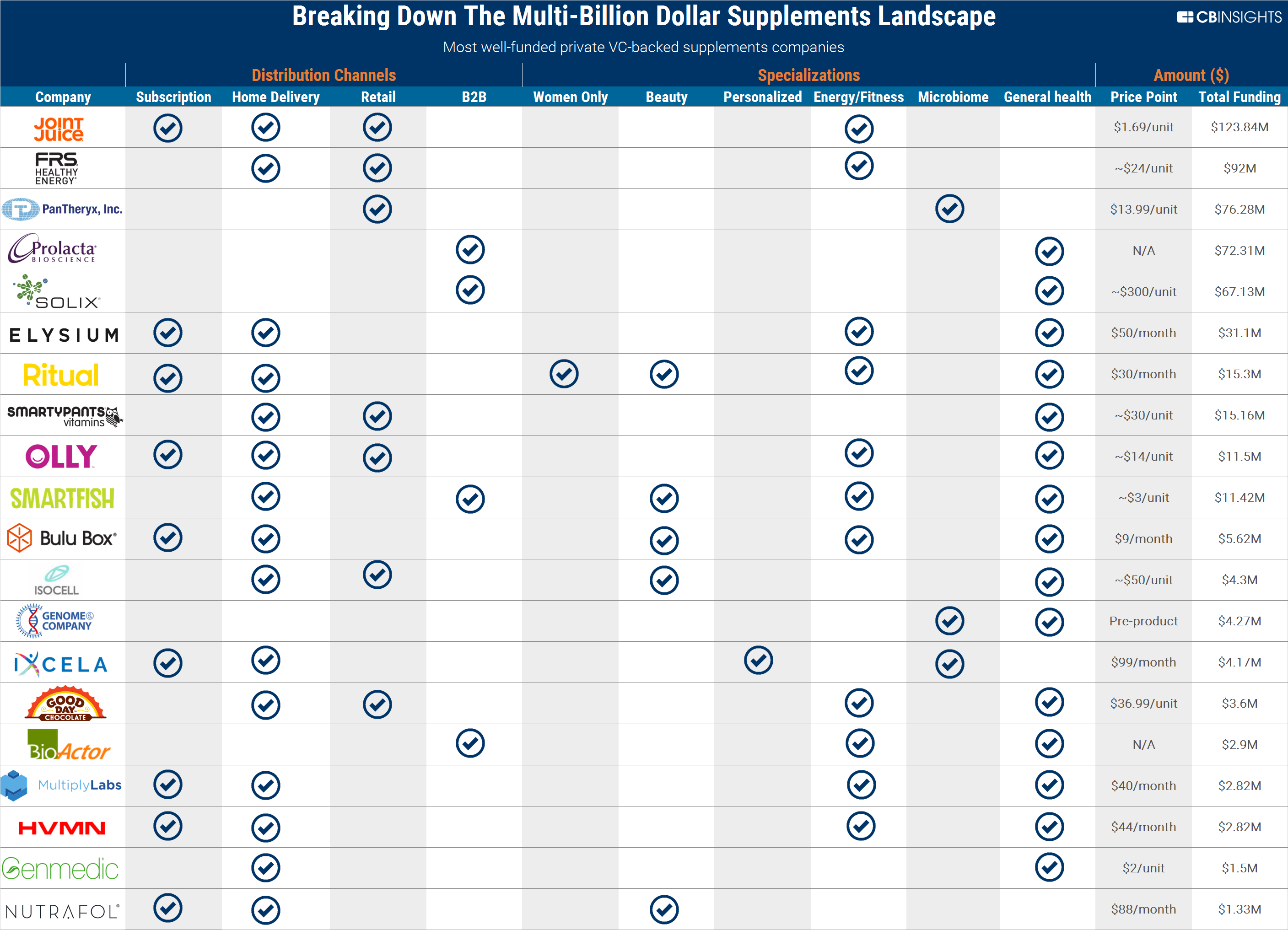 CATEGORIES:
Subscription: These companies offer monthly subscriptions either as their dedicated sales model or as an alternative to a one-time purchase. Bulu Box, for example, offers a monthly box containing 4-5 supplement brands for $8-10/month.
Home Delivery: These companies offer online purchases and home delivery, such as Elysium and HVMN.
Retail: These companies offer products in retail outlets such as pharmacy chains and grocery stores, but may also often have online ordering and home delivery options. For example, Joint Juice can be purchased online and in stores such as Stop & Shop, Costco, and BJs.
Business-to-business: These companies sell products to businesses, such as hospitals or other supplement companies, either in addition to or instead of direct-to-consumer. Solix and BioActor, for example, develop ingredients such as algae and olive leaf-extract that is then sold to other supplement companies for commercialization.
Women Only: These companies target products soley to women. Ritual, which sells 60 capsules containing 9 nutrients each for a $30/month subscription, is the only company on the list that falls into this category.
Beauty: These companies develop products intended to promote skin health, hair growth, and other cosmetic results. Nutrafol, for example, sells supplements focused on preventing hair loss in men and women.
Personalized: These companies allow the consumer to personalize the contents of their supplement, either by quantity or method of release in the body. Companies in this category include Multiply Labs and Ixcela.
Energy/Fitness: These companies develop products intended to boost energy, aid in weight loss, or promote fitness. Good Day Chocolate offers caffeine-containing products to promote energy, in addition to vitamin D and tumeric supplements.
Microbiome: These companies either utilize microbes in their supplements or develop supplements to promote microbiome health. Ixcela, for example, offers a blood test used to test for gut microbiome metabolites. It then sends the user supplements tailored to their specific dietary needs.
General health: These companies sell general-pupose supplements, such as multi-vitamins, often in addition to products with specific indications.
---
KEY TAKEAWAYS:
The most well-funded company on the list is San Francisco-based Joint Juice. Joint Juice has raised $123.8M from investors including Lurie Investment Fund, Lancaster Investment Partners, and Porter Capital Management. The single-product company manufactures a ready-to-drink glucosamine supplement that comes in two flavors, blueberry acai or cranberry-pomegranate, priced at $1.69/bottle.
Nine of the top 20 most-well funded VC- backed supplement companies offer subscription models. This is becoming a popular approach as it offers 1) more predictable revenue streams, 2) inventory predictability, and 3) direct customer relationships. Examples of startups taking this approach include Joint Juice, Elysium, Ritual, Olly, Bulu Box, Ixcela, and Multiply Labs.
Trust, transparancy and design are becoming key facets of many new supplement startups. Below, SmartyPants (backed by Collaborative Fund, CircleUp, North Castle Partners) demonstrates a level of transparency not typically seen in traditional supplement companies. The company offers details into their testing and manufacturing process, as well as a list of compliance standards achieved by the product.

Extreme personalization is a relatively new trend in the supplement landscape. While dietary supplement regimenss have always been personalized to some degree, typically by a patient's physician, advances in genomics and engineering are enabling startups to give this power to the consumer. Examples include Ixcela and Multiply Labs.
Ixcela (backed by iD Ventures America) sells microbiome test kits that look for internal variations in metabolites such as uric acid, serotonin, and tryptophan every 3 months. The company then sends a recommended monthly supply of personalized supplements tailored to the consumer's needs, in addition to diet and fitness recommendations.
Multiply Labs (backed by Y Combinator, Fenox Venture Capital, CRCM Venture Capital, Graph Ventures, and Programma 101), on the other hand, intends to 3D print capsules capable of tailoring the timed release of nutrients to the consumer's preference. They are aiming for a product launch in late 2017.
---
COMPANIES ON TABLE:
Most Well-Funded VC-Backed Dietary Supplements Companies

| Company | Total Funding ($M) | Select Investors |
| --- | --- | --- |
| Joint Juice | $123.84 | Nestle, Lurie Investment Fund, Lancaster Investment Partners, Porter Capital Management |
| The FRS Company | $92 | Oak Investment Partners, Radar Partners, RRE Ventures |
| PanTheryx | $76.28 | Sequel Venture Partners, Pegasus Capital Advisors |
| Prolacta Bioscience | $72.31 | DFJ Frontier, PhillipCapital, Health Evolution Partners, Gideon Hixon Fund, Mercury Fund, Funk Ventures, Arcturus Capital, Alta Partners, Juniper Networks |
| Solix Algredients | $67.13 | Shanghai Alliance Investment, The Southern Ute Alternative Energy Fund, Infield Capital, Infield Capital, Southern Ute, I2BF Global Ventures, Bohemian Ventures |
| Elysium Health | $31.10 | Morningside Ventures, Matt Mullenweg, Sound Ventures, Silicon Valley Bank, Breyer Capital, Brainchild Holdings, Robert Nelson, General Catalyst, Jim Manzi |
| Ritual | $15.30 | Upfront Ventures, New Enterprise Associates, Founders Fund, Norwest Venture Partners, Rivet Ventures, Troy Carter, Forerunner Ventures, FF Angel |
| SmartyPants Vitamins | $15.16 | CircleUp, North Castle Partners, Collaborative Fund |
| OLLY Public Benefit Corp. | $11.50 | Tim Koogle, Base Ventures, Obvious Ventures |
| Smartfish International | $11.42 | Investinor, Industrifonden |
| Bulu Box | $5.62 | Invest Nebraska, Nebraska Angels, Midwest Venture Alliance, Dundee Venture Capital, Triompf, Mid-America Angels, Flyover Capital, Linseed Capital, Monte Froelhlich, Two Bridges Capital Group |
| Isocell | $4.30 | Auriga |
| Genome & Company | $4.27 | DSC Investment, Paratus Investment, Korea Investment Partners, TIPS Program |
| Ixcela | $4.17 | iD Ventures America |
| Good Day Chocolate | $3.60 | AccelFoods, Boulder Food Group |
| BioActor | $2.90 | Nedermaas Ventures, Icos Capital, Chemelot Ventures, Hans van der Saag |
| HVMN | $2.82 | Andreessen Horowitz, Steve Vassallo, Matt Humphrey, Marissa Mayer, Mark Pincus |
| Multiply Labs | $2.82 | Programma 101, Fenox Venture Capital, Graph Ventures, Y Combinator, CRCM Venture Capital |
| Genmedic Healthcare | $1.50 | Corbin Wood, Brand Capital |
| NUTRAFOL | $1.33 | CircleUp, Unilever Ventures |
If you aren't already a client, sign up for a free trial to learn more about our platform.