Digital health companies are reshaping every aspect of healthcare, from disease diagnosis to care delivery to insurance and benefits. Our graphic visualizes the 10 most highly valued, privately held digital health companies worldwide.
The digital health space continues to mature. 
This year, digital health companies are poised to surpass 2018's record-breaking funding levels, as investors seek to back transformative healthcare technologies and services. The global pandemic has only intensified investment and innovation in the space, as public health remains top-of-mind for companies and investors alike.
FREE DOWNLOAD: THE COMPLETE DIGITAL HEALTH 150 LIST
Get an Excel file with the entire Digital Health 150, CB Insights' annual ranking of the 150 most promising digital health startups in the world.
Using CB Insights data, our graphic visualizes the top 10 most valuable digital health companies in the world. 
Our analysis only includes VC-backed companies that are currently active and privately held. Data is as of 9/16/20. Please click to enlarge.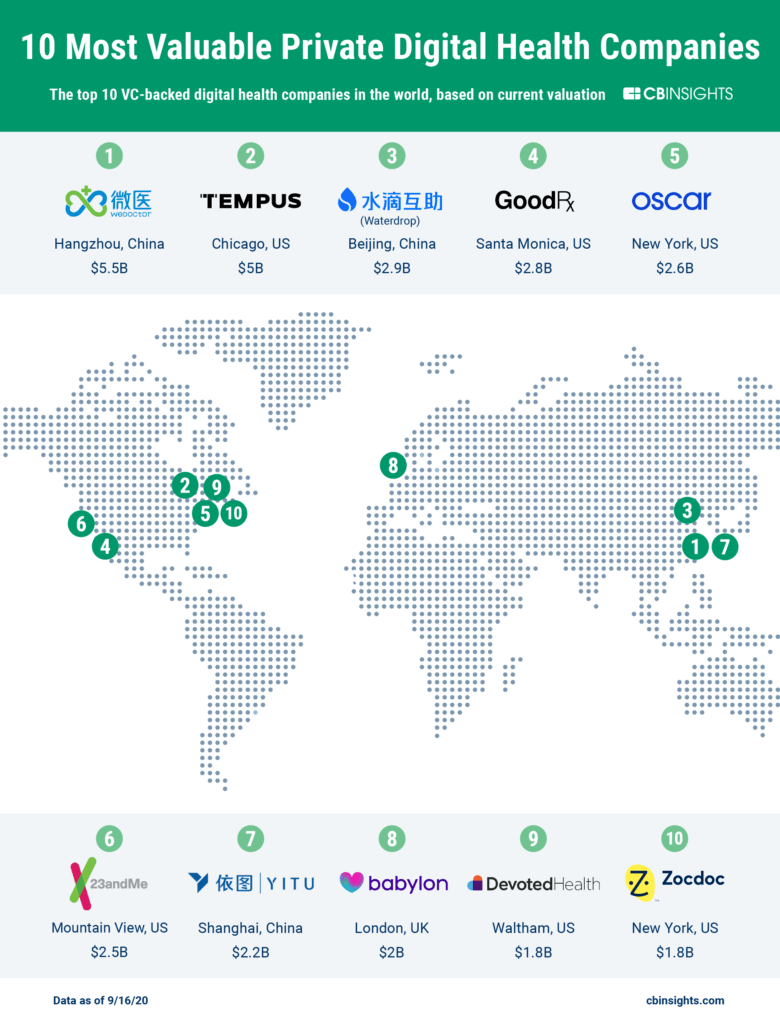 Highlights
Track all the digital health startups in this brief and many more on our platform
Startups working on digital health have the potential to change how medical care is practiced and delivered. Look for Digital Health in the Collections tab.
Track digital health startups
For more insight into what's next for the digital health space, take a look at the Digital Health 150 — our list of the most promising digital health companies in the world.
If you aren't already a client, sign up for a free trial to learn more about our platform.