Technologies like computer vision and vehicle connectivity are driving innovation in the automotive industry. Our graphic visualizes the 10 most valuable auto tech companies around the globe.
Technology is reshaping every aspect of the auto industry.
Developments like autonomous driving, vehicle connectivity, shared mobility, and the digitization of auto retail are bringing about a sea change in how people and goods move. 
The Covid-19 pandemic has only accelerated this shift, from lockdowns spurring innovation in auto retail to e-commerce growth increasing interest in delivery and logistics.
Using CB Insights data, we visualized the top 10 most valuable private auto tech companies in the world.
Our analysis only includes VC-backed companies that are active and privately held. We exclude subsidiaries, as well as companies purely focused on electric passenger vehicles.
Please click to enlarge.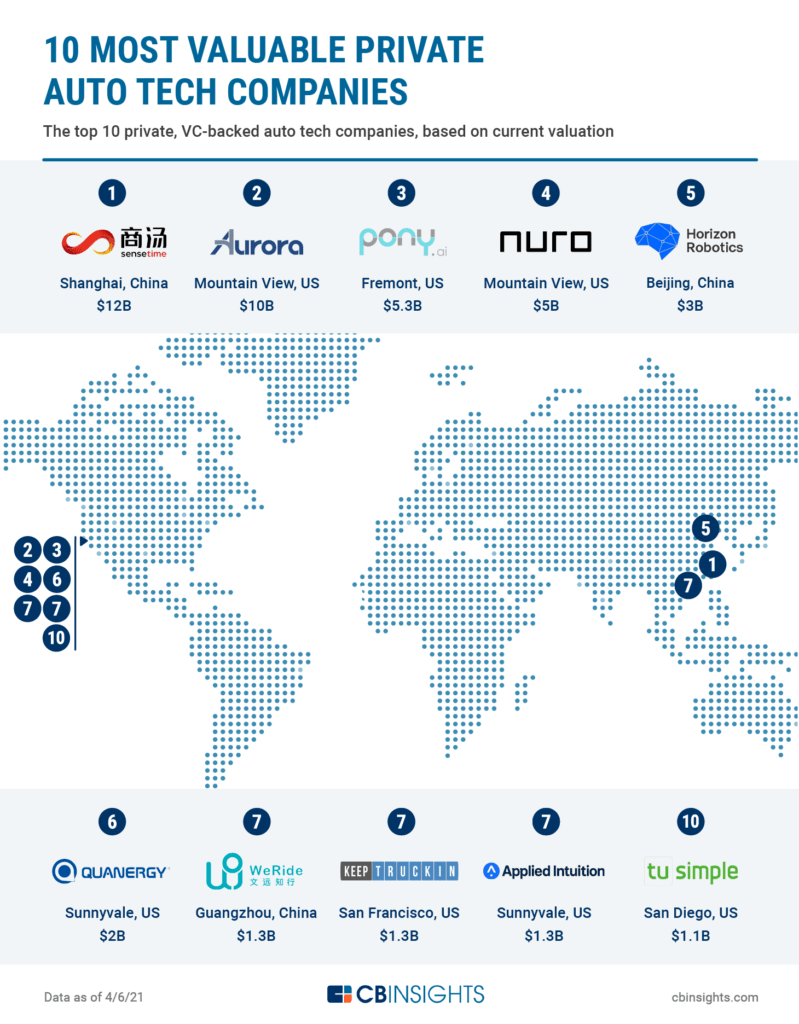 Key takeaways
Autonomous vehicle tech leads: A majority of these companies operate in the autonomous vehicle (AV) tech market, which is worth an estimated

$2.9T

, per CB Insights' industry analyst consensus

.

Some companies, such as Aurora, Pony.ai, and trucking-focused TuSimple, are full-stack AV developers handling end-to-end hardware and software development, while Quanergy and Horizon Robotics supply hardware such as AI processors and lidar systems.
Most valuable companies: China-based vision and perception software provider

SenseTime

is the most highly valued auto tech company, worth $12B as of December 2020.

Aurora

($10B, December 2020) and

Pony.ai

($5.3B, November 2020) round out the top 3 most valuable companies here.

Geographic distribution:

Seven of these 10 companies are based in the US — specifically, in California — while the remaining 3 are based in cities across China

.

Funding trends:

In aggregate, these companies have raised $9.6B in funding since 2010. SenseTime has raised the most funding of the group, at $2.6B. 

With the exception of

KeepTruckin

, all 10 companies have raised funding rounds since 2020, with more than half raising fresh capital in 2021.

Top investor:

Beijing-based 5Y Capital is the top investor for this cohort, with 10 investments to 3 unique companies — Pony.ai, Horizon Robotics, and SenseTime.
For more on the auto tech space, take a look at our latest State Of Mobility report, as well as our client-only brief on What The Auto Tech Industry Could Look Like In A Post-Covid World.
If you aren't already a client, sign up for a free trial to learn more about our platform.