We rank the top 10 investors based on their early-stage bets on today's billion-dollar companies.
Venture capital investing is a game of home runs. VCs are always looking for the investment that can "return the fund" and make up for all their losses — and then some.
For this reason, it's not only important to invest in high-performing companies, but also to invest in them early. Getting involved early on generally means greater equity, control, and eventual returns.
Using CB Insights data and our real-time unicorn tracker, we dug into investors' portfolios to see which have backed the most current unicorns when they were just taking off (as of Q2'21). 
Note: we define "early stage" as seed and Series A rounds. Please click to enlarge.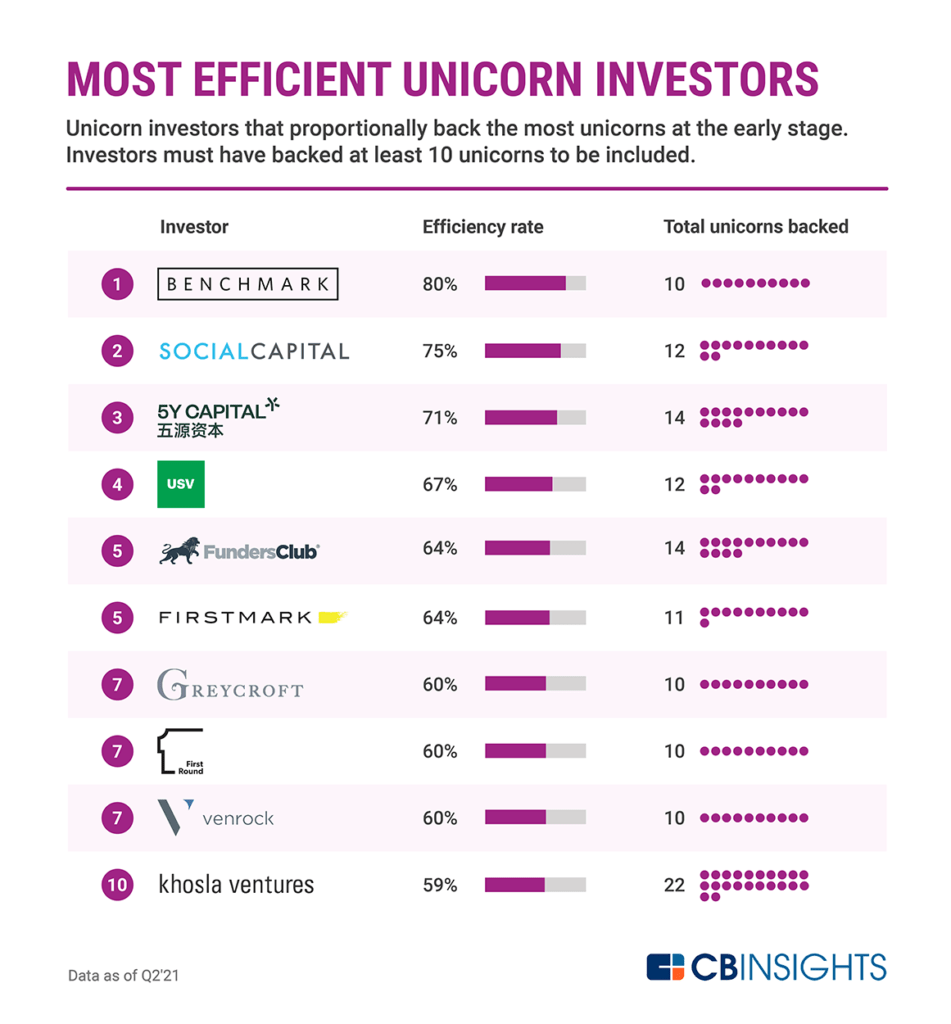 Smart Money investor Benchmark leads in efficiency for early-stage unicorn investments, with an 80% efficiency rate. This means that of the 10 unicorns in its portfolio, it backed 8 of them at the early stage.
To point to an example of one of its successful early-stage bets, Benchmark participated in chat platform Discord's Series A round in 2013, when the company was valued at $23M. As of December 2020, Discord was valued at $7B.
(We go deeper into the early-stage bets from Smart Money VCs like Benchmark here.)
In terms of unicorn efficiency, Benchmark is followed by US-based Social Capital (75%) and China-based 5Y Capital (71%). Examples of early-stage bets from these investors include:
Greenlight

:

Social Capital backed Greenlight's seed round in 2017, when it was valued at $23M. The company, which offers smart debit cards for kids, has since grown its valuation by 100x, to reach $2.3B as of April 2021.

We Doctor

:

5Y Capital backed this healthcare app's Series A in 2012. As of February 2021, We Doctor is valued at $7B.
Rounding out the top 10 most efficient unicorn investors are: Union Square Ventures (67% efficiency), FundersClub (64%), FirstMark Capital (64%), Greycroft (60%), First Round Capital (60%), Venrock (60%), and Khosla Ventures (59%).
For more unicorn investor analysis — including which investors have backed the most unicorns across funding stages — dig into the full report here.
If you aren't already a client, sign up for a free trial to learn more about our platform.