France's electric utility giant Engie tops the list with 8 investments, followed closely by Oakland-based incubator, Powerhouse.
In 2017, the solar industry has closed a record number of deals, pulling in 111 investments as of last month.
Using CB Insights data, we outlined the most active investors financing equity deals to solar companies. The most active backers are diverse, from French energy utility company Engie — which operates multiple nuclear energy reactors — to Oakland's Powerhouse, an incubator with a notable focus on the solar industry.
It should be noted that grants, debt, and project finance are common methods of financing in the solar industry. For example, China's Dongguan Sungen — which trades solar cells and modules — has received a $77.3M grant from the local Municipal Government of Dongguan. Investors like the US Department of Energy and the National Science Foundation have also been highly active in giving out grants and financing debt rounds.
Our definition of the solar industry includes companies that manufacture products that use solar technology as well as those who distribute, install, and maintain solar technology. It also includes companies that are working on improving the core elements behind solar technology.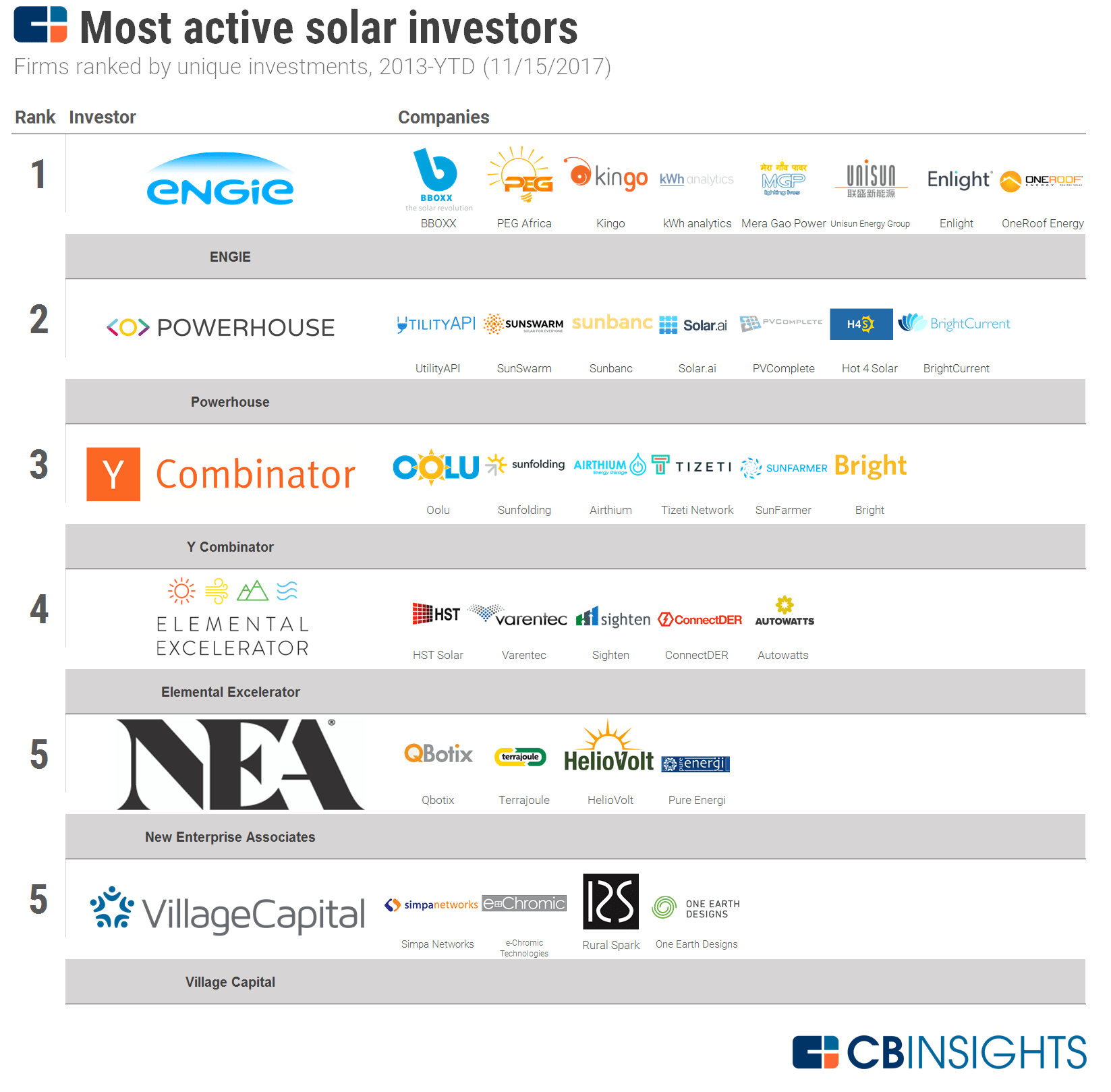 Key takeaways:
Energy incumbent leads the way: 
The most active investor in the solar industry is France's Engie, an electric utility company known as a pioneer in the distribution of nuclear energy.
With 8 unique investments to the solar space, the company mostly invests in later-stage bets, closing 3 Series B rounds and two corporate minority rounds since 2013.
In 2015, it announced that it would cease investing in coal plants, instead redirecting capital to energy sources that would emit fewer greenhouse gases. It has also committed to a goal of providing 20 million people around the globe with sustainaible, decentralized energy by 2020. This has naturally led the firm to make many of its investments in emerging markets.
Among Engie's investments is PEG Africa, a solar home system that operates across West Africa on a pay-as-you-go model. This allows customers to pay for their solar home systems in weekly or monthly installments. PEG Africa's solar home packages include lights, a phone charging facility, a lantern, and a radio.
Accelerators and incubators:
Three of solar's most active equity investors are incubators or accelerators, investing in early-stage startups.
The solar industry's second most active investor, Powerhouse, is based in Oakland, California. It's a rare incubator that focuses entirely on solar companies, housing and investing in early-stage clean tech entrepreneurs. Among its 7 solar-related investments is UtilityAPI, which allows solar and energy storage companies to utilize data about their customers' energy usage. Largely, it houses and invests in startups that use software to solve clean energy problems.
Y Combinator, solar's third most active investor with 6 investmentts, has backed several companies in the industry including Oolu, which plans to provide affordable solar energy in West Africa.
Hawaii-based Elemental Excelerator, which has itself received funding from a diverse cohort, is solar's fourth most active investor, with 5 investments in the space. Among Elemental Excelerator's investors is GE, the United States Department of Energy, the US Navy, and Japan's largest public utility TEPCO (Tokyo Electric Power Company Holdings). The accelerator funds startups at two stages of development: For those that have a prototype and team, it offers up to $75k to help find customers. For those that also have customer traction and the resources to grow, the accelerator offers up to $1M to scale across Hawaii and Asia Pacific.
If you aren't already a client, sign up for a free trial to learn more about our platform.