OrbiMed remains the most active healthcare VC in Q2'21, as global healthcare funding continues to shatter funding records.
In the wake of the global Covid-19 pandemic, the healthcare industry has attracted major attention, deals, and investment dollars.
In fact, Q2'21 set another quarterly funding record, as $34.7B was invested into healthcare startups across nearly 1.6K deals. This represented the seventh consecutive quarterly rise in global healthcare funding, driven by investor appetite for digital health startups.
Amid this flurry of activity, we looked at the most active investors of Q2'21.
Investors are ranked according to the number of unique healthcare companies they inked new or follow-on deals with in Q2'21. The list excludes incubators/accelerators like Y Combinator and Techstars.
Top healthcare investors
Healthcare-focused VC firm OrbiMed Advisors took the top spot on our list, backing 25 healthcare companies in the second quarter of 2021 (flat from Q1'21).
Please click to enlarge.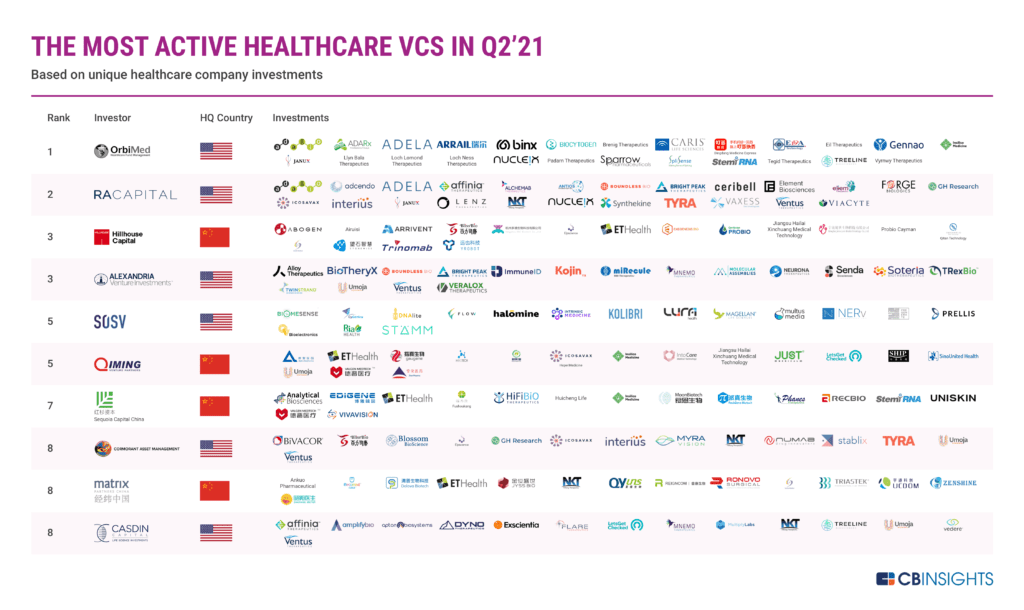 OrbiMed's Q2'21 investments included backing mega-rounds (worth $100M+) to companies such as:
The investor also backed rounds to several stealth mode startups in conjunction with accelerator program i2020 and European VC firm BioGeneration Ventures.
Other top investors include RA Capital Management (backing 24 companies in Q1'21), Hillhouse Capital Management (17), and Alexandria Venture Investments (17).
Six of the top 10 investors in our list are headquartered in the US. The remaining 4 — Hillhouse Capital Management, Qiming Venture Partners, Sequoia Capital China, and Matrix Partners China — are based in China.
NiKang Therapeutics, Ventus Therapeutics, ETHealthcare, and Umoja Biopharma were each backed by 4 of the top investors on this list.
Top digital health investors
Digital health startups — which include companies in the healthcare space that use technology and software as key differentiators — accounted for 40% of both healthcare deals and funding raised in the second quarter of the year ($14.1B across 628 deals).
In this red-hot sector, General Catalyst is the leading investor, backing 13 digital health companies in Q2'21.
Trailing behind is Hillhouse Capital Management (10), followed by Qiming Venture Partners (9).
The majority of the top 10 digital health investors are based in the US, with a few based in China and 1 in Singapore (Temasek).
For more insights into recent healthcare activity, check out our State Of Healthcare Q2'21 Report: Investment & Sector Trends To Watch.
If you aren't already a client, sign up for a free trial to learn more about our platform.