Investors placed significant bets in Q2'20, as healthcare funding set a record and deals bounced back.
In Q2'20, healthcare funding shattered records to hit $18B, while deals grew 6% from Q1'20's 5-quarter low. This sector's performance represented an anomaly among a larger backdrop of declining dollars in global VC funding during Q2. 
We take a look at the most active healthcare investors of Q2'20 below. These investors are ranked by the number of unique healthcare companies they inked new or follow-on deals with in Q2'20. The list excludes incubators/accelerators like Y Combinator and Techstars.
There was a 3-way tie between Perceptive Advisors, Google Ventures, and F-Prime Capital for the title of top healthcare investor of the quarter. Each inked 11 deals; Google Ventures and F-Prime Capital had 4 overlapping investments: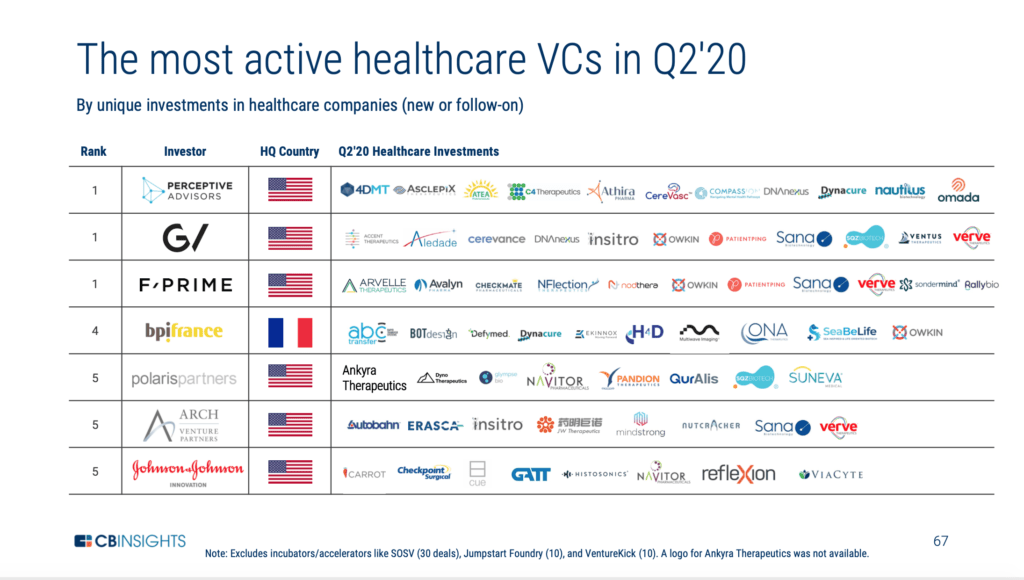 Trailing just behind is Bpifrance, with 10 deals, followed by another 3-way tie between Polaris Partners, Arch Venture Partners, and Johnson & Johnson, which all participated in 8 deals. All of the top investors on this list are based in the US, with the exception of Bpifrance.
Appearing in multiple portfolios were the aforementioned Owkin, PatientPing, Sana Biotechnology, and Verve Therapeutics, as well as SQZ Biotech, Dynacure, and Insitro. 
In the digital health space, Optum Ventures was the most active investor, with 7 investments, narrowly breaking ahead of General Catalyst, Andreessen Horowitz, and Khosla Ventures, which each had 6 deals. Google Ventures followed with 5 deals. We define digital health to include companies in the healthcare space that use technology and software as a key differentiator.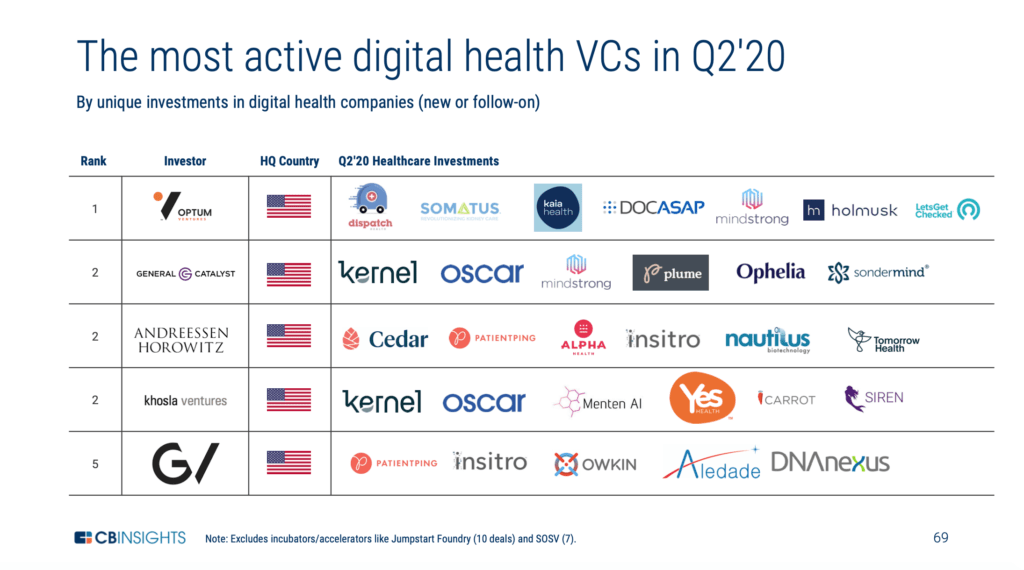 For all of the underlying data and insights, check out our State Of Healthcare Q2'20 Report: Sector And Investment Trends To Watch.
If you aren't already a client, sign up for a free trial to learn more about our platform.