Europe-based digital health companies have raised $11.8B in aggregate. Here are the top investors and where they're putting their bets. 
Digital health has steadily racked up investor attention in the past few years, with 2019 alone garnering a staggering $18.5B across 1,751 deals. 
While the US still claims the majority of digital health deals, Europe has gained traction as well, with Europe-based digital health startups raising a record $2.6B across 300+ deals in 2019. Even as 2020 has seen funding plummet amid the Covid-19 pandemic, investors are making more concentrated bets both globally and regionally as mid-stage deal share continues to climb.
Using CB Insights data, we identify the most active investors in Europe-based digital health startups, based on the total number of companies backed. Our definition of digital health includes companies in the healthcare space that use technology and software as a key differentiator.
Please click to enlarge.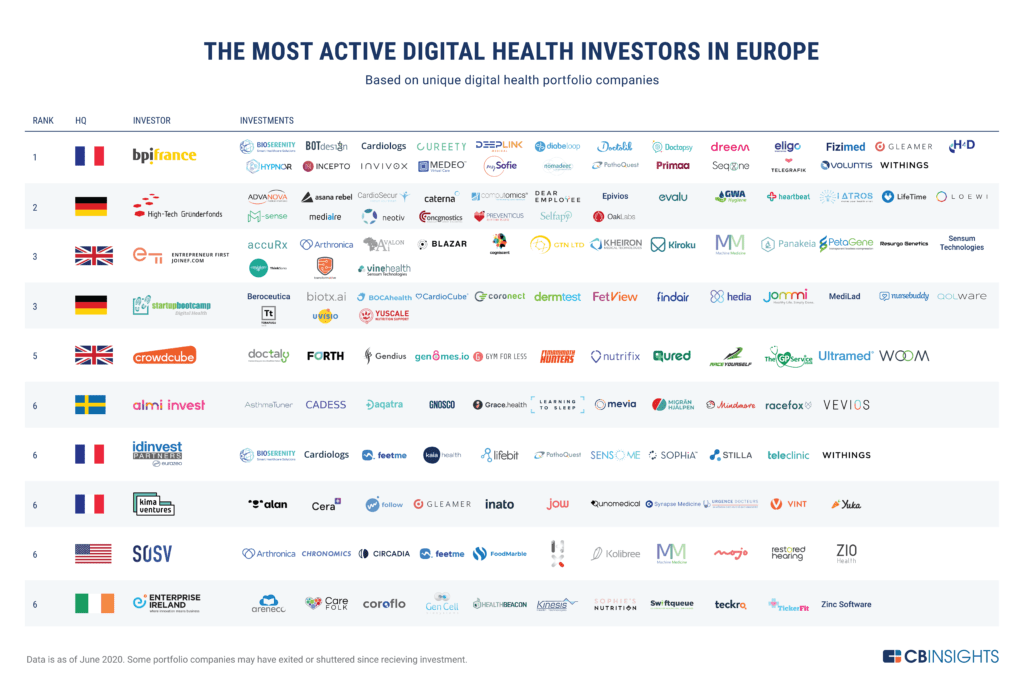 Key takeaways
Bpifrance leads top investors
France-based investment bank Bpifrance is the most active investor in Europe's digital health scene, backing 25 companies including BioSerenity, Doctolib, and HypnoVR.
Following Bpifrance is Germany-based VC firm High-Tech Grunderfonds (20 investments). Tied for third place with 16 investments each are UK-based incubator Entrepreneur First and Germany-based accelerator Startupbootcamp Digital Health.
One particular area of focus for Bpifrance is remote monitoring. The bank has invested in startups making connected health devices, such as BioSerenity and Dreem. 
The most well-funded startup in this cohort is Doctolib, which has $267M in total disclosed funding and is backed by Bpifrance. The French investment bank has backed 5 of the top-funded startups across the top investors' portfolios.
AI & diagnostics startups attract multiple top investors
Companies that have received backing from more than 1 top investor include: 
France is a hotbed for digital health in Europe
France has seen the most activity in terms of digital health investments in Europe. Three of the top 10 European digital health investors are based in France: Bpifrance, IDInvest Partners, and Kima Ventures.
All the Europe-based digital health startups that have had multiple top investors — with the exception of Machine Medicine (UK) — are based in France as well.
Check out the top-funded digital health startups across the European continent here, and read about funding trends in the region here. 
If you aren't already a client, sign up for a free trial to learn more about our platform.