Moody's acquisition of RMS helps it target P&C insurers and reinsurers. Here are the top-line bullets you need to know.
Moody's, an integrated risk assessment firm, has acquired RMS, a risk management solutions provider, for $2B.
Who are the parties to the deal?
RMS: California-based RMS is a provider of climate and natural disaster risk modeling and analytics. The company has over 400 risk models that cover 120 countries. It expects to generate about $320M in revenue and $55M in operating income for the fiscal year ending in September 2021.
Moody's: New York-based Moody's is a global integrated risk assessment firm that provides analytical solutions and insights for risk management. The company has more than 11,500 employees in over 40 countries. Its database has more than 400M private companies, $71T in rated debt and over 35,000 rated transactions and entities. The company reported revenue of $1.6B in Q2'21.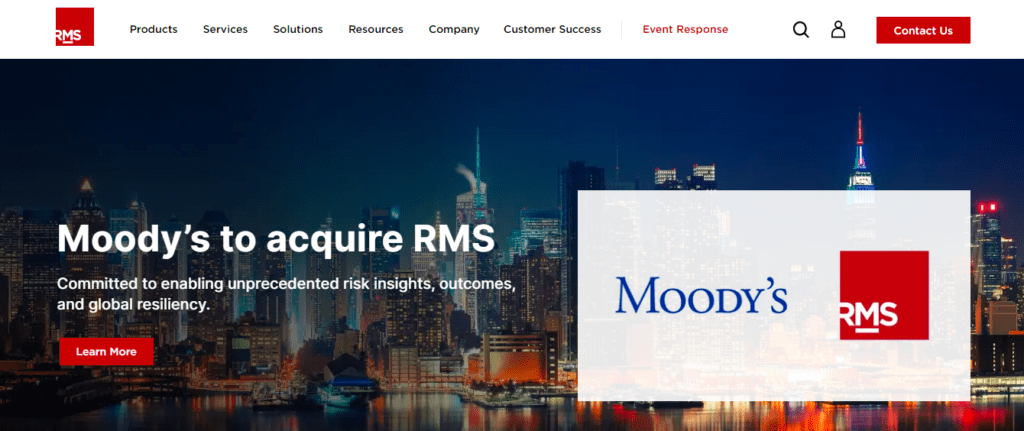 Source: RMS
Why does the market matter?
The acquisition strengthens Moody's position in the risk assessment space where:
The crisis management software market is projected to grow by $9.35B at a CAGR of 5% from 2020 to 2024, according to Research and Markets.
Increasing business risks due to climate change, the Covid-19 pandemic, increasing cyberattacks, and the occurrence of natural disasters have accelerated industry growth as industries look to build resiliency through risk insights.