The perception of the millennial generation as exceptionally narcissistic, immature, and disengaged from society has fueled a thousand hot takes on the industries they're "killing." Here's what's really going on.
Every few weeks, another story about the dreaded generation surfaces: millennials are killing casual dining; millennials are killing breakfast cereal; millennials are killing home ownership.
Pundits aren't shy about diagnosing what's causing these deaths, either.
Also known as Gen Y, millennials are often painted as screen addicts who can't eat a meal without sharing it on Instagram — which is why this population won't sit down for a meal at Applebee's. They're commitment-phobes who balk at the idea of being tied down, and that's why home ownership rates are down.
It's true that millennials' entry into their prime earning years has coincided with the decline of industries like luxury goods, chain restaurants, department stores, and many others.
But in most cases, the real story is more complex than catchy headlines can really do justice.
Millennials aren't shunning luxury goods; they're just renting them instead of buying. They're not abandoning gyms; they're opting into studio classes and alternatives like Peloton.
And they're not killing casual dining. In fact, millennials eat out more often and spend more on restaurants than any other generation.
In this report, we explore 14 key consumer areas that millennials have been accused of "killing" — and dig into the real story behind the clickbait headlines.
Why the millennial generation is so different
The media caricature of millennials glosses over how changing consumer preferences are driven by complex factors — like millennials' financial situation, the ethics they want their products to embody, and their greater focus on health.
Millennials are in debt. They earn less, hold fewer assets, and have less wealth than members of previous generations did when they were their age, according to the Fed. Many are burdened by student loan debt, as median incomes have failed to keep pace with the skyrocketing costs of four-year college programs.
While American paychecks have increased over the past few decades, the purchasing power of those paychecks has remained stagnant, according to a recent Pew study.
Managing money that doesn't go as far — when it's not tied up in debt payments — hugely affects how millennials budget and spend.
Millennials value spending their money ethically. Rather than valuing lower prices above all else, 73% of millennials are willing to pay more for products or services that are sustainable or help promote a positive impact on the world.
When it comes to investing, millennials are twice as likely to make sustainable investments compared to the average investor, with 75% reporting that they think their investment choices can influence climate change (as we discussed in this fintech trends report).
Millennials prioritize health and wellness. No generation has been more health-conscious than millennials, with 9 in 10 believing that it's important to eat healthily and indulge only occasionally. Millennials are the generation most concerned with natural and ethical food products, and they account for more than half of organic food consumption.
As consumer preferences have changed, some companies have navigated the shifts gracefully while others have failed. But to interpret those failures as "deaths" at the hands of millennials is too easy. In virtually every case, the real cause is a textbook failure to adapt to changing conditions.
We take a closer look at the categories below.
Table of contents
What's really "killing" these industries
---
1. Cereal
The breakfast food that's too "inconvenient" for millennials may actually just be too sugary
The $9B cereal industry is in trouble. Sales have declined by 17% over the last decade, and some cereal industry executives have put the blame on millennials.
In a highly publicized 2016 survey, Mintel found that 40% of millennials preferred not to eat cereal for breakfast because it takes too long to prepare and clean up.


The news that millennials were too lazy to eat cereal was catnip for many publications, eager to drive traffic for their coverage of this controversial age group's habits.
But a closer analysis of the data suggests that it is less that millennials are ditching cereal, and more that their relationship with it is shifting. In short, instead of seeing cereal as a breakfast staple, they're consuming it as a snack.
The perception that millennials are averse to anything prep-intensive fits neatly into the narrative around other high-profile "millennial trends."
For example, the rise of "athleisure" brands like Lululemon and Athleta has been attributed to millennials' search for clothing options that let them easily transition from the yoga studio to the office. By this reading, cereal similarly doesn't fit into the "on-the-go" millennial lifestyle.
Some cereal companies believe that the real problem they're facing is one of increased choice. In the 1950s and 1960s, the biggest innovations in breakfast were Eggo Waffles and Pop-Tarts. Cereal was a reliable stand-by breakfast that thrived before public attitudes — especially among millennials — turned against sugar.
"Cereal used to be the only breakfast option, [but] there's a lot more to choose from than there ever used to be," says Andrew Shripka, Kellogg's associate director of brand marketing.
Research shows that today, instead of eating a bowl of cereal for breakfast, many millennials are opting for quick-cooked hot grains, breakfast sandwiches, fruit-flavored smoothies, and yogurts. With less sugar, more protein, and more fiber, these options align better with millennial nutrition standards than sugary, processed cereals.

There is a bright spot for the cereal industry, however: 82% of millennials say they are likely to think of cereal as a great snack (far more than any other generation).
Savvy marketers at struggling cereal brands may be able to reverse their fortunes with the millennial set. Overhauling recipes to reduce sugar, embracing the shift from "part of this complete breakfast" to an appealing snack-time option, and finding ways to repackage cereal into more convenient grab-and-go formats may allow cereal brands to better compete with more portable options that millennials prefer.
The question that cereal brands should be asking is not, "How do we make millennials eat cereal for breakfast?" Instead, it's "How can we make cereal a more appealing snack?"
However, with some cereal makers such as General Mills doubling down on targeting young kids' breakfasts, millennials are also set to play an important role in this aspect of the industry's future — even if they aren't eating cereal themselves in the morning. Over 1M millennials give birth each year, according to the National Center for Health Statistics, meaning that millennial parents will be making many of the purchasing decisions that these cereal brands are after.

---
2. Casual dining
Millennials eat out more than any other generation — they just don't want to sit in booths
Casual-dining chains such as Ruby Tuesday, Olive Garden, and Applebees saw explosive growth throughout the 1980s and '90s as a booming economy gave suburban families more discretionary income.
Then millennials came along and changed the rules, refusing to pony up for the "experience" of enjoying a booth at one of these restaurants — or at least, that's what the media says.
But when you look closer at the changes happening in the space, it's clear that this is less about extinction than it is about evolution. Millennials are trading one kind of restaurant for another that better matches their preferences and values.
Restaurant sales in the US are estimated to have hit an all-time high of $863B in 2019, up nearly 4% from a year earlier, according to data from the National Restaurant Association.
But it's true that these gains aren't going to sit-down eateries like Olive Garden or Applebees. In 2017, the number of casual-dining locations among top chains shrank by 1.5%. Ruby Tuesday was one of the hardest hit, with a 15% decline in sales.
Research shows that millennials are instead flocking to higher-end eateries when they can afford it, and fast, healthy options when they can't.
The growth in the dining sector is coming from fast casual chains like Panera Bread and Chipotle rather than sit-down restaurants.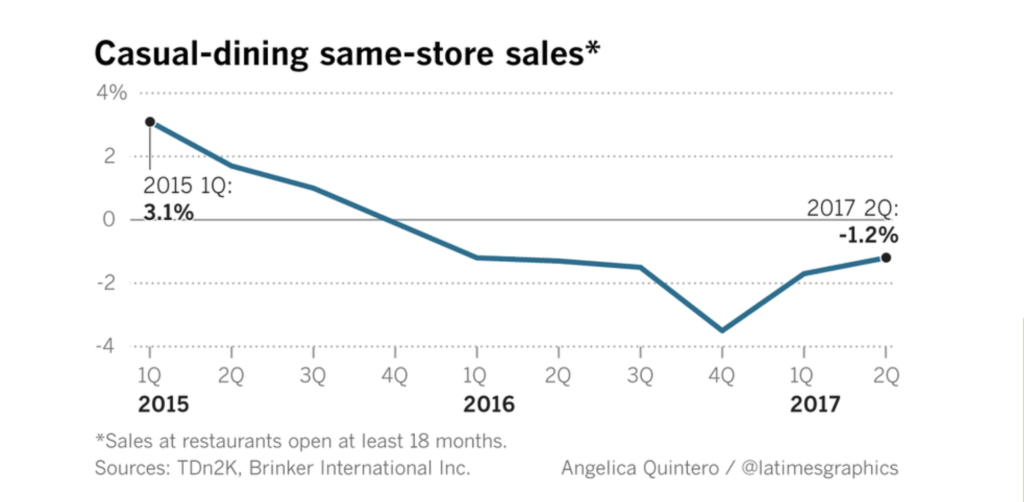 Same-store sales across casual dining locations in the United States fell each quarter between Q4'15 and Q4'16. Source: Los Angeles Times
Fast casual eateries like Chipotle and Panera put more emphasis on healthy, organic, and even locally sourced ingredients, which align with millennial concerns about nutrition and sustainable consumption. These restaurants are easy grab-and-go options, appealing to millennials' desire for efficiency.
Another way fast casual dining chains are making themselves more appealing to millennials is by catering to another demographic: millennials' kids. As an increasing number of millennials have children, restaurant chains like Firebirds Wood Fired Grill, Tender Greens, and Cicis Pizza are moving to appeal to these parents by offering healthier and more expansive kids menus.
By offering more dine-and-dash convenience, revising menus to highlight more health-conscious fare, and even reimagining spaces to better align with contemporary design sensibilities, former dining heavyweights could reclaim some of their market share from the fast casual invaders.
Some of these adjustments are already underway. Casual-dining restaurants are changing up their decor, switching to small plates, and adding meatless burgers, all in an effort to win the approval of millennials.
---
3. Department stores
Millennials aren't turning their backs on brick-and-mortar, but traditional departments stores are pricey and have a limited selection
There's no denying that traditional department stores are in turmoil. Department stores saw $230B in total sales in 1999. By 2016, that number had fallen to $155.5B.
Experts predict more than 1,000 department stores will die by 2023, and their overall share of the apparel category will plummet by 66%.
One powerful illustration of department store decline is Macy's. Once a staple of the American shopping landscape, Macy's said in early 2020 that it would close 125 stores and cut thousands of jobs to reduce costs.
But does the blame for department stores' woes really lie with millennials and their fickle spending practices?
Millennials are 6.4% less likely than other generations to say they shop in department stores, according to a Deloitte survey. One popular explanation for this is that millennials are simply shopping less in physical locations in general, preferring to do their shopping online. Some data backs this notion up, millennials in the US made 60% of their purchases online last year, according to a survey by CouponFollow.
With their spending power hampered by large student loan debts and other obligations like rising rent costs, millennials may also simply have less disposable income to spend on clothes than previous generations. Fashion e-commerce provides an extensive selection and the convenience of direct-to-your-door delivery, creating a compelling value proposition for department stores to compete with.
Attracted by the prospects of minimalism and sustainability, some millennials are also choosing to rent clothes instead of buying them.
This trend is quickly gaining traction. Rent the Runway, one of the most popular rental services, raised $125M at a $1B valuation last year.
Some incumbents are already moving to respond. Urban Outfitters, American Eagle, and Express are some of the brands that recently launched their own clothing rental services to cash in on this trend.
Still, 50% of millennials say they prefer going to physical store locations.
Not all in-store retailers have fallen out of favor with millennials the way department stores have. Over two-thirds of millennials say that they have shopped at off-price retailers like TJ Maxx and Marshalls. Between 2006 and 2015, off-price retail sales went from $18B to $35B — a jump of 94%.
Some millennials also favor fast-fashion outlets like H&M and Zara, though many of these fast-fashion brands have come under scrutiny due to controversial labor practices and concerns over the environment impact of short-lived clothes.
"Mass merchants," such as Amazon, Walmart, and Target have also seen an uptick in millennial spending due to their price sensitivity and convenience.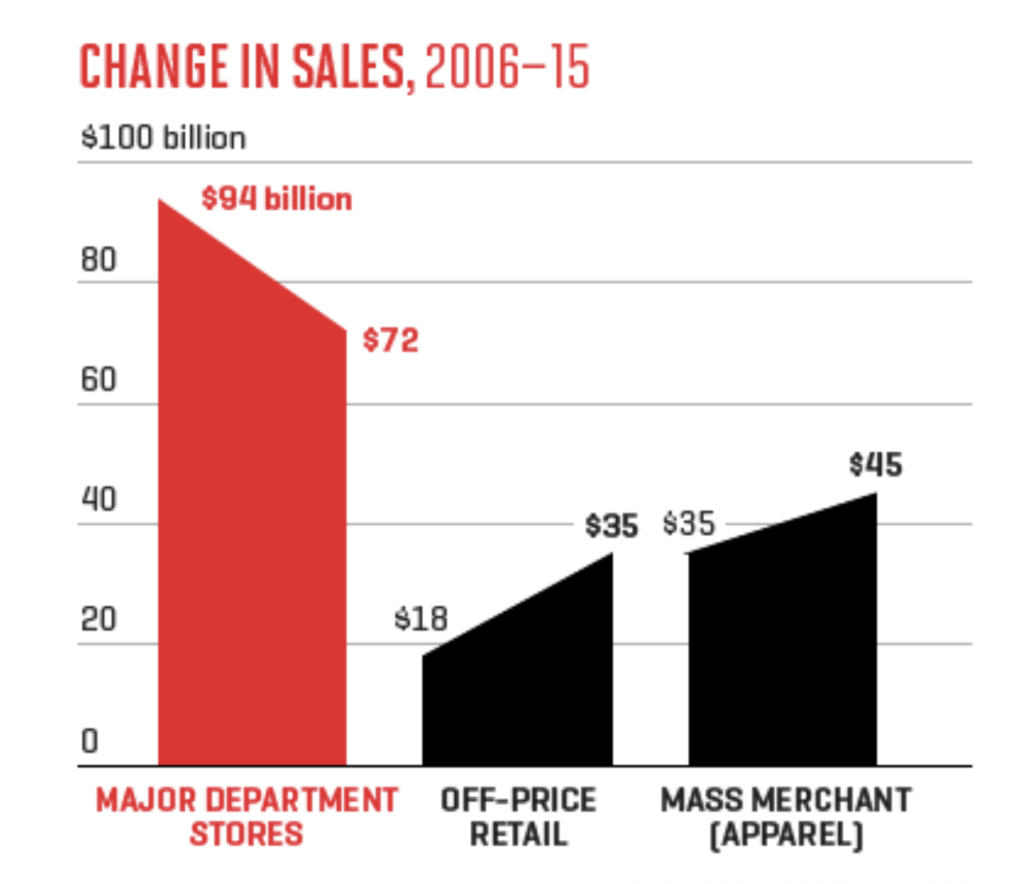 While major department store sales have dropped, lower-price chains such as TJ Maxx and Walmart have grown by leaps and bounds. Source: Fortune
Some department store chains are trying new ways to lure millennials. US department store chain Kohl's is experimenting with Outfit Bars, where customers can come in and shop for clothing items based on curated, mixed-brand looks.
The idea is to cater to the "time-starved" customer who does not have time to browse huge department stores to mix and match clothing items, says Kohl's merchandising head, Doug Howe.
If department stores can tap into millennials' hunger for experience and convenience, and address their broader concerns about cost and ethical consumption, they could still draw younger shoppers back in.
---
4. Luxury goods
Millennials like luxury, but they rent more and buy less
It's one of the most widespread and persistent "truths" about the millennial generation: millennials care about experiences instead of things, so they're not buying sports cars and luxury watches.
The data supports that to some extent: 72% of millennials prefer to spend money on experiences instead of items, according to a report by Harris Group. More than a quarter of millennials in the United States reported in a 2017 Deloitte survey that they had not made a luxury purchase over the last year.
But the truth is more complex. In reality, millennials like things and experiences. It's just that recent evolutions in the "things" space have changed the way consumers think about luxury.
With the rise of mass manufacturing, luxury brands no longer carry the cachet they once did. Anyone with the means can get a designer bag at their local mall. And thanks to emerging rental models, ownership is no longer essential.
Even so, millennials form an increasingly important demographic for these brands. By 2025, millennials will account for nearly half of the buyers of the $1.5T luxury market, reckons a 2019 Boston Consulting Group report.

Some luxury brands are hitting their stride with millennials. LVMH Moët Hennessy Louis Vuitton, parent to the Vuitton suite of products and cosmetics chain Sephora, has managed to entice millennials to embrace the luxury look at more affordable prices.
Tapestry, the maker of Coach bags, saw a 31% revenue spike in 2018 after acquiring millennial favorite Kate Spade. Gucci has also had some success with millennials — the company's sales rose by 86% in 2017 following a targeted online "geek chic" campaign. Millennials accounted for approximately half of revenues.
For those who want designer clothing but are short on cash, startups have a solution: rental. Services like Rent the Runway offer designer clothing in the mail for a monthly fee, as well as letting users rent pieces on a one-off basis. Growing at a rate of over 150% in 2018, Rent the Runway has over 9M members and $100M+ in annual revenue.
The clothing rental model has struck a chord among millennials, likely because of its emphasis on flexibility. Almost a fifth of millennials rent clothing or accessories, according to a survey by Price Intelligently.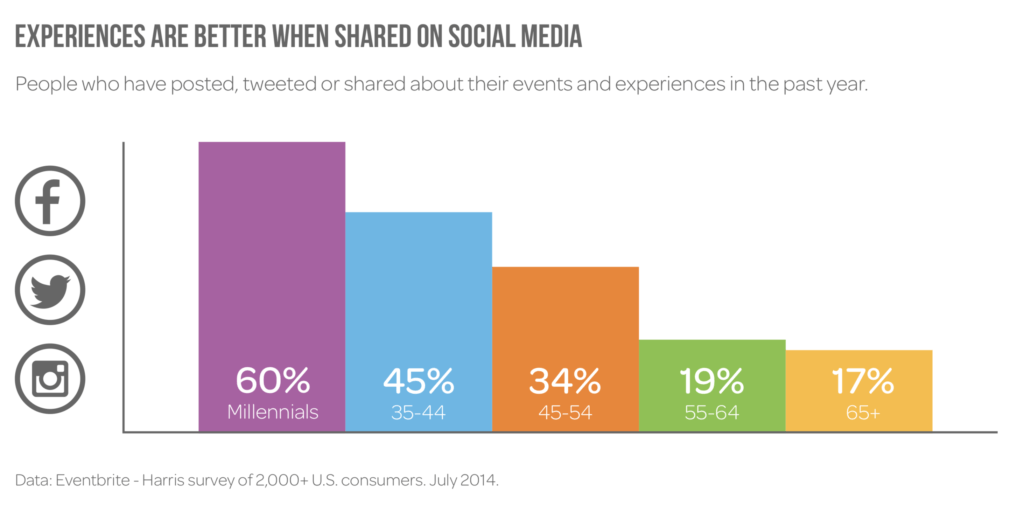 Millennials share online about events and experiences at higher rates than any other generation. Source: Eventbrite
Moving foward, the rental model could pose a challenge to traditional luxury brands unwilling to adapt. But, as the success of LVMH and Tapestry illustrate, there are opportunities for creative brands to claim their slice of the millennial pie.
---
5. Cable TV
Millennials are cutting the cord, but Gen X is more pro-streaming than any other generation
For many, the term "cord-cutters" — consumers who forego cable subscriptions in favor of streaming services like Netflix, Hulu, and Amazon Prime — is synonymous with the millennial generation.
It's also synonymous with the biggest threat to cable dominance the industry has ever seen.
As of 2018, 187M US adults had cable, satellite, or telco-provided pay TV. Still, cable providers have good reason to be alarmed: the number of pay-TV subscribers who cut the cord in 2019 was expected to be 39M, nearly 19% higher than a year earlier, according to eMarketer.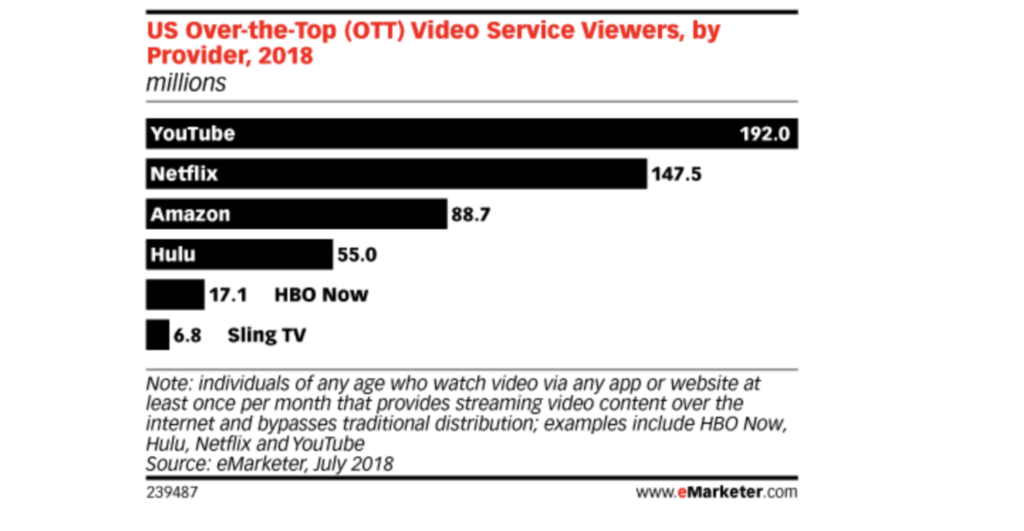 Streaming video services are attracting millions of viewers, posing a threat to cable. Source: eMarketer
The cord-cutting trend is real, and millennials play a big role. A staggering 88% of US consumers between the age of 22 and 35 pay for a video streaming service, compared with only 51% that subscribe to pay TV, according to a 2019 Deloitte report.
The cord-cutting phenomenon coincides with millennials' entry into the cable market. Early versions of streaming services like Netflix, Hulu, and Amazon Prime Video arrived in the mid-to-late 2000s, just as millennials were graduating from high school or college and assuming responsibility for their own entertainment setups.
The average cable subscription is $85/month. Netflix subscriptions cost $8.99-$15.99 a month, and Hulu subscriptions run $5.99-$54.99 a month depending on if live TV is included. This matters to a generation struggling to pay off student loans and find gainful employment.
Aside from price, another major factor is flexibility. Unlike traditional cable's pre-determined programming, streaming services give viewers the freedom to watch what they want, when they want — an appealing feature for a generation that tends to value convenience and personalization.
However, millennials are not the only generation abandoning traditional cable. In fact, cord-cutting is even more prevalent among people aged 35-44. Twenty-three percent of households in that demographic have cut the cord, compared to 21% of millennials, according to Statista.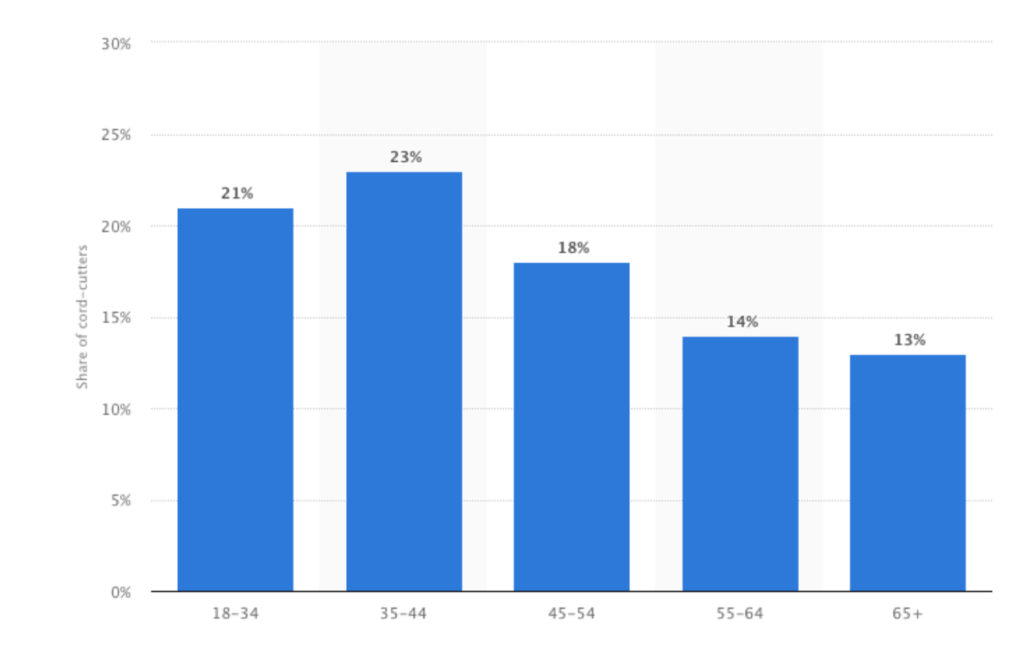 Gen-Xers and baby boomers are abandoning traditional cable subscriptions in numbers similar to or even greater than millennials. Source: Statista
The popularity of cord-cutting across generations suggests that the flexibility and cost-effectiveness of streaming services is not purely a "millennial trend," but a structural disruption.
With all of these factors in mind, it's no surprise that traditional cable is under pressure. But individual networks are taking steps to align themselves with the new paradigm.
Premium cable channels like HBO and Showtime have introduced their own a la carte apps with pricing similar to Netflix or Hulu. If cable providers want to stem the tide of customers abandoning their services, they should consider doing the same. Comcast is experimenting with streaming as an add-on to regular cable, and others are likely to follow suit.
---
6. Gyms
Solo exercise is out and group classes are in for the "lonely generation"
Once a staple of the fitness landscape in America, gym chains like Gold's, 24 Hour Fitness, and LA Fitness are coming under threat. Industry insiders are pointing fingers at millennials.
Millennials and Gen Z make up 80% of health club members — in line with the idea that these generations prioritize fitness more than their predecessors.
Millennials spend an average of $40 per month on fitness, compared to $25 for Gen Xers and $15 for baby boomers. But instead of traditional gym memberships, millennials' tastes have driven a new trend toward fitness classes. They're willing to pay as much as $35 a class for a personalized, high-intensity workout experience.
Overall, studio gyms make up the fastest-growing segment of the fitness industry — they grew by 70% between 2012 and 2015, compared with 5% for traditional gyms.
One of the most prominent success stories in this space has been SoulCycle. With nearly $118M in revenue in 2017, the indoor cycling studio attracts legions of enthusiasts and celebrities, including Michelle Obama, Lena Dunham, and Jake Gyllenhaal. CrossFit, Orangetheory Fitness, and Pure Barre have also taken the workout world by storm.
ClassPass, which allowers users to book classes across multiple boutique gyms, raised $85M in 2018 with the aim of expanding globally. The company gives users the flexibility to try different types of exercise and customize their workout schedule without being tied to an annual contract.
The class-based model also centers heavily around community and socialization, which reflects millennials' hunger for social contact. The Cigna U.S. Loneliness Index found that 45% of millennials experience loneliness — second only to their successors, Gen Z ( adults ages 18-22). Millennials may be turning to the fitness class model — at least in part — to make social connections.
Some traditional gyms are already taking steps to provide what millennials want in a fitness experience. Gold's Gym, for example, has done away with annual fees and introduced a smartphone app. Fitness apps have seen a surge in popularity — their usage increased 4x between 2014 and 2017.
As with the shifts in many other industries, the idea that millennials are actively "killing" gyms doesn't hold up. Rather, millennials are willing to pay a premium for fitness experiences that fulfill their desire for flexibility and community — and the fitness industry should take note.
---
7. American cheese
Millennials aren't turning against cheese, they're avoiding fake, processed foods
Millennials are rejecting the processed American cheese in favor of natural alternatives.
US sales of processed cheese fell for the fifth straight year in 2019, declining by 3.3% according to IRI. On the Chicago Mercantile Exchange, the 500 lb. barrels of cheddar used to make American cheese are now trading at an unprecedented discount compared to 40 lb. blocks of cheddar.
Millennials are favoring more natural cheeses made by smaller producers. Specialty cheese actually drove a 40% increase in US cheese factories between 2000 and 2017. Notably, sales of Annie's mac and cheese — which features real cheese — doubled from around $200M to $400M between 2014 and 2017, following the brand's acquisition by General Mills.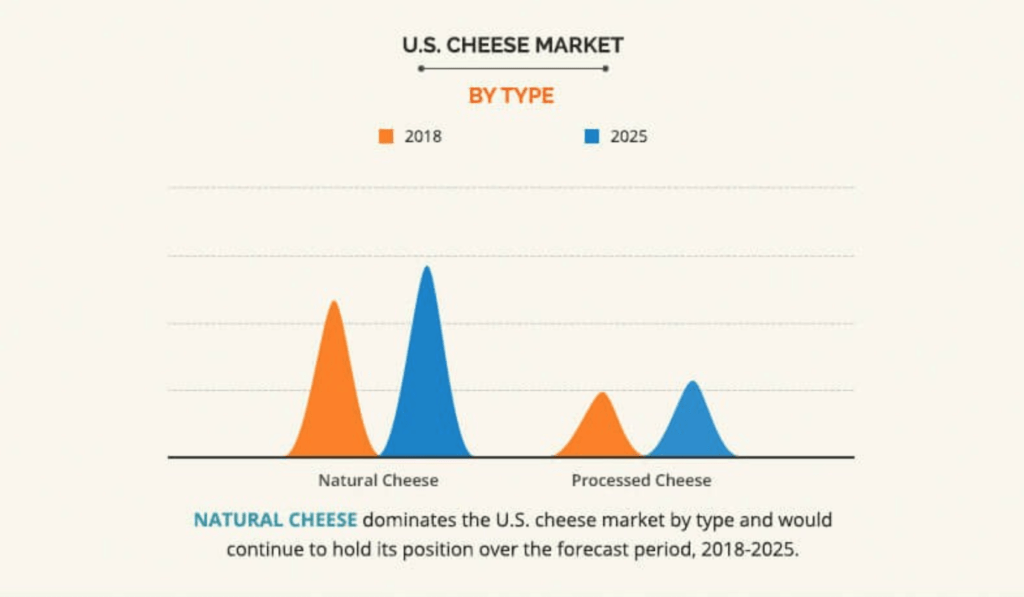 Processed cheese is losing out to natural cheese, a trend that will continue for the foreseeable future. Source: Allied Market Research
Fast-food outlets are jumping on the trend, switching to cheddar, Gouda, and other cheeses in their sandwiches and burgers. This includes Panera, Wendy's, and even McDonald's, which now sells Big Macs with a non-artificial cheese.
---
8. Beer
Craft beer is on the rise, while mass-market beers are losing popularity
Mainstream beer brands like Coors, Budweiser, and Heineken are feeling the pinch, as shifts in millennial drinking behavior and preferences are changing consumption habits.
Goldman Sachs downgraded the ratings of Constellation Brands (Corona, Modello) and Boston Beer Company (Sam Adams, Angry Orchard) in 2017, based on research showing that millennials are drinking less beer than previous generations.
Beer lost 10% of its market share to wine and hard liquor between 2006 to 2016. A 2016 Harris poll found that a full 20% of young drinkers were expected to opt for wine during the Super Bowl, and another 20% for spirits. For a public event often synonymous with beer guzzling, those numbers sent a shock through the American beer industry.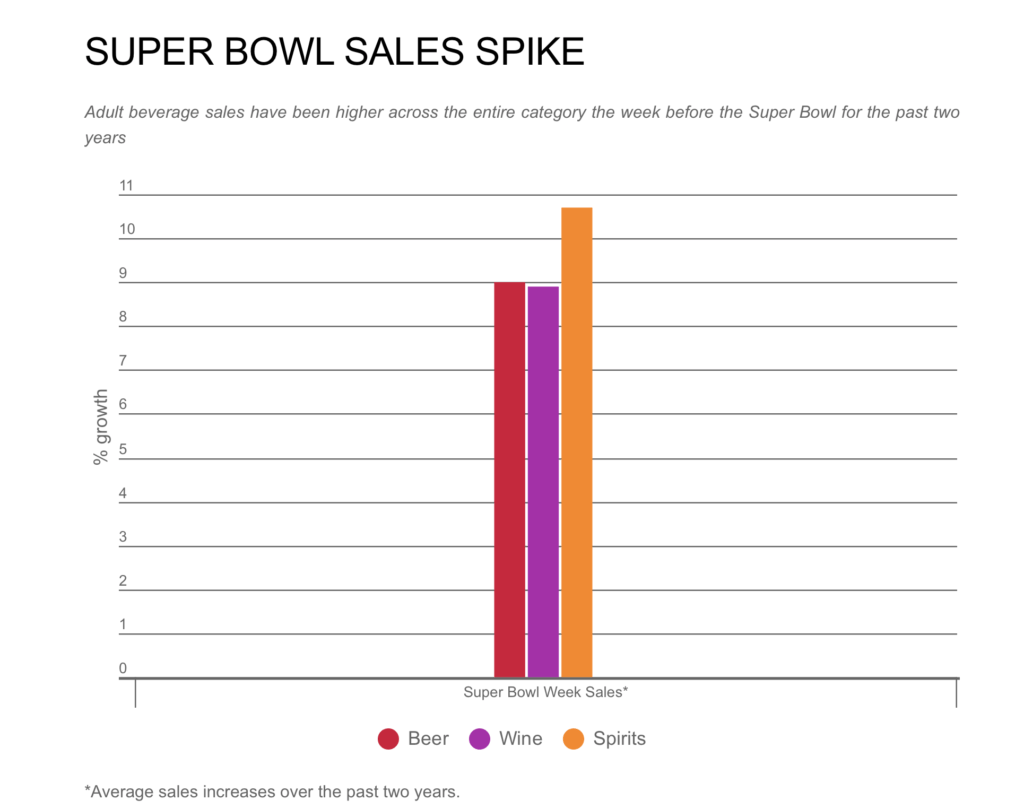 Super Bowl Sunday is synonymous with beer drinking, yet sales of spirits have surpassed beer during the preceding week, with wine closing in. Source: Nielsen
Changing dietary preferences, such as gluten-free diets, may be partially responsible for the increased popularity of wine and spirits.
But young people are also drinking less overall. This trend presents a lot of opportunity for innovation.
Nonalcoholic drinks already make up 10% of those sold by AB InBev, and the company plans to double that in the next 6 years. In January, AB InBev said that it would soon launch more no-to-low alcohol beers.
Molson Coors, meanwhile, is experimenting with marijuana-infused beverages. Both companies are expanding into the small, but millennial-friendly kombucha space, with Molson Coors' acquisition of Clearly Kombucha and AB InBev mulling a similar move.
When millennials do drink beer, they're more likely to choose craft beers. They enjoy the range of flavors and styles of small-batch beers, and the community that's grown up around them. Half of the respondents to a 2019 DSM survey of people under age 30 said they'd increased their craft beer consumption.
Millennials are also spending more on craft beer per month than on phone bills and other utilities, a 2019 survey found. Craft beer makers that emphasize sustainability tend to do well — in keeping with millennials' broader priorities around the environment.
Craft beer consumption in the US has grown by 500% in the last decade and quadrupled its market share. This shift toward smaller indie brewers hasn't gone unnoticed by the big players in the beer industry.
In recent years, Anheuser-Busch has made a habit of buying up smaller craft labels — purchasing 13 craft brewers in the US since 2010 — including Goose Island Brewery in 2011, Wicked Weed in 2017, and Craft Brew Alliance in 2019. MillerCoors has taken a similar tack, acquiring popular craft names including Terrapin Beer Co in 2016.
The adoption of craft sensibilities appears to have served the beer giants well, with AB InBev's revenue from craft and specialty brands increasing by 18% in 2018.
Buying up smaller labels has also given AB InBev another way into consumer's lives: hard seltzer. Many smaller craft brewers including Platform make hard seltzer, a drink gaining popularity among millennials. Sales for spiked LaCroix, for instance, increased by 166% in 2018, according to Nielsen.
The beer industry illustrates another instance in which the key to successfully navigating shifts in consumer preferences is not to change millennials — but to change with them.
---
9. Canned tuna
Millennials like tuna, but they prefer it outside of the can
The canned-tuna industry is in decline. Per capita consumption of canned tuna has dropped 42% over the past three decades, with sales of the fish slumping reportedly 4% by volume from 2013-2018.
Some say millennials are to blame.
There's clear evidence that canned-tuna consumption among millennials is significantly lower than it is for other age groups. In a 2018 Mintel study, only 32% of 18- to 34-year-olds reported "recently" buying tuna, compared to 45% of those 55 years or older.
One theory that has become popular with tuna incumbents is that, as with cereal, canned tuna requires too much preparation for millennials. "A lot of millennials don't even own can openers," Andy Mecs, vice president of marketing and innovation for StarKist, told the Wall Street Journal.
But upon closer examination, this theory — which relies on a well-worn stereotype about lazy millennials — doesn't hold up.
While sales of canned tuna are down, sales of fresh and frozen fish among millennials are up. Buying fresh fish in a store and eating it requires much more preparation than buying canned tuna.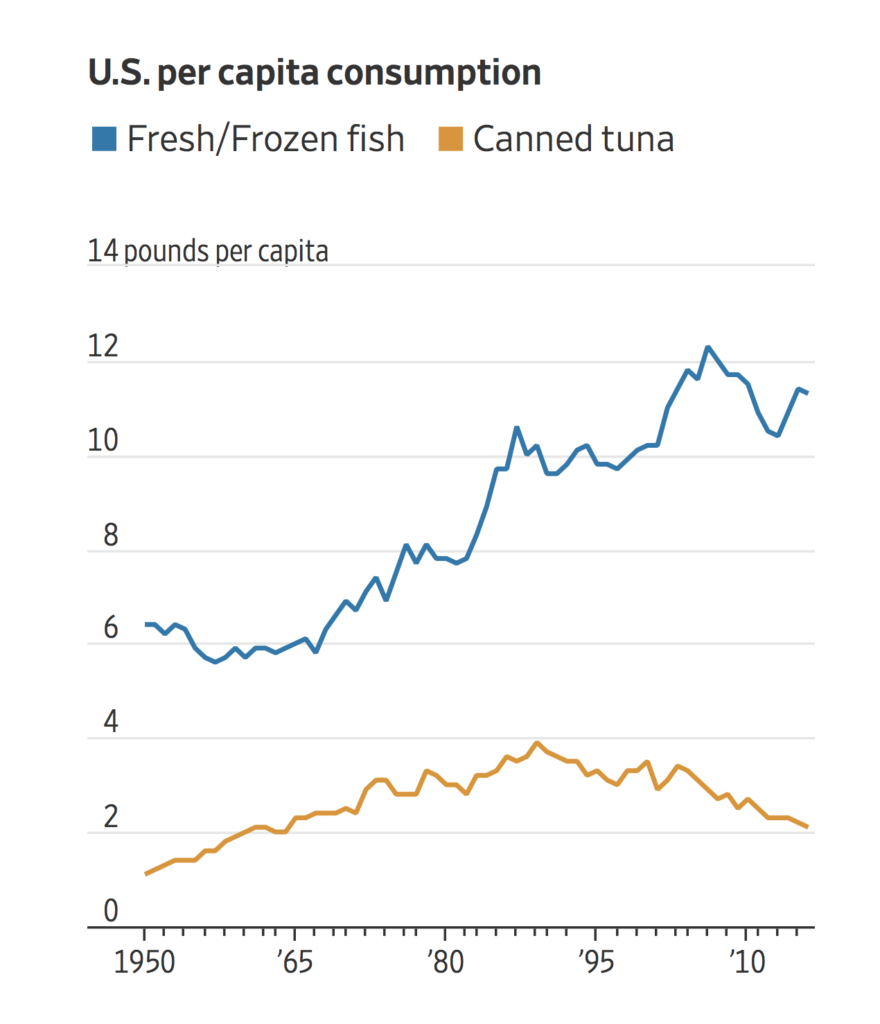 Millennials are buying more fresh and frozen fish, while sales of canned tuna are tanking. Source: Wall Street Journal
There's no better illustration of the shift in millennial tuna-eating habits than poke. Once virtually unknown outside elite foodie circles, the native Hawaiian dish, which commonly features raw tuna, has seen explosive growth in popularity over the past several years.
Over the past 4 years, mentions of poke bowls on menus have more than doubled, according to Datassential. Further, deliveries of poke bowls increased by 365% in 2018 compared with a year earlier, according to GrubHub data.
Poke bars embody many things millennials appreciate, offering fast, fresh, protein-rich, relatively inexpensive meals. It can be made with salmon or other fish, but tuna is the most popular base.
Evidence suggests that some of canned tuna's difficulties may be of the industry's own making. One possible culprit: the well-publicized issue of dolphins getting caught in tuna nets, which clashes with millennials' concern about sustainable food practices. Brands that market themselves as "dolphin safe," such as Wild Planet and Safe Catch, are seeing major gains. Smaller fish brands now control 6.3% of the market, up from 3.7% in 2014.
To remain relevant to this generation of consumers, canned tuna brands will have to convince millennials that they are prioritizing ethical practices.
---
10. Motorcycles
The rising micromobility movement is making motorcycles smaller and better suited for millennials
For the Easy Rider generation, motorcycles symbolized rebellion and freedom — but millennials aren't buying it. To them, these expensive toys are a waste of cash.
Today, the average Harley rider is 50 years old, and millennials are only about 66% as likely to ride a motorcycle as Gen Xers and baby boomers.
By 2017, the growth rate for all motorcycle ownership had fallen from about 5% on a normal basis down to 0%, according to an analysis by Alliance Bernstein. The waning trend is evident in stock performance as well: Shares of Harley-Davidson decreased by nearly 20% in 2018 alone.
Millennials have the lowest motorcycle ridership of any generation. Source: CNBC
This popular Facebook post summarizes much of the media's attitude about what's driving the trend: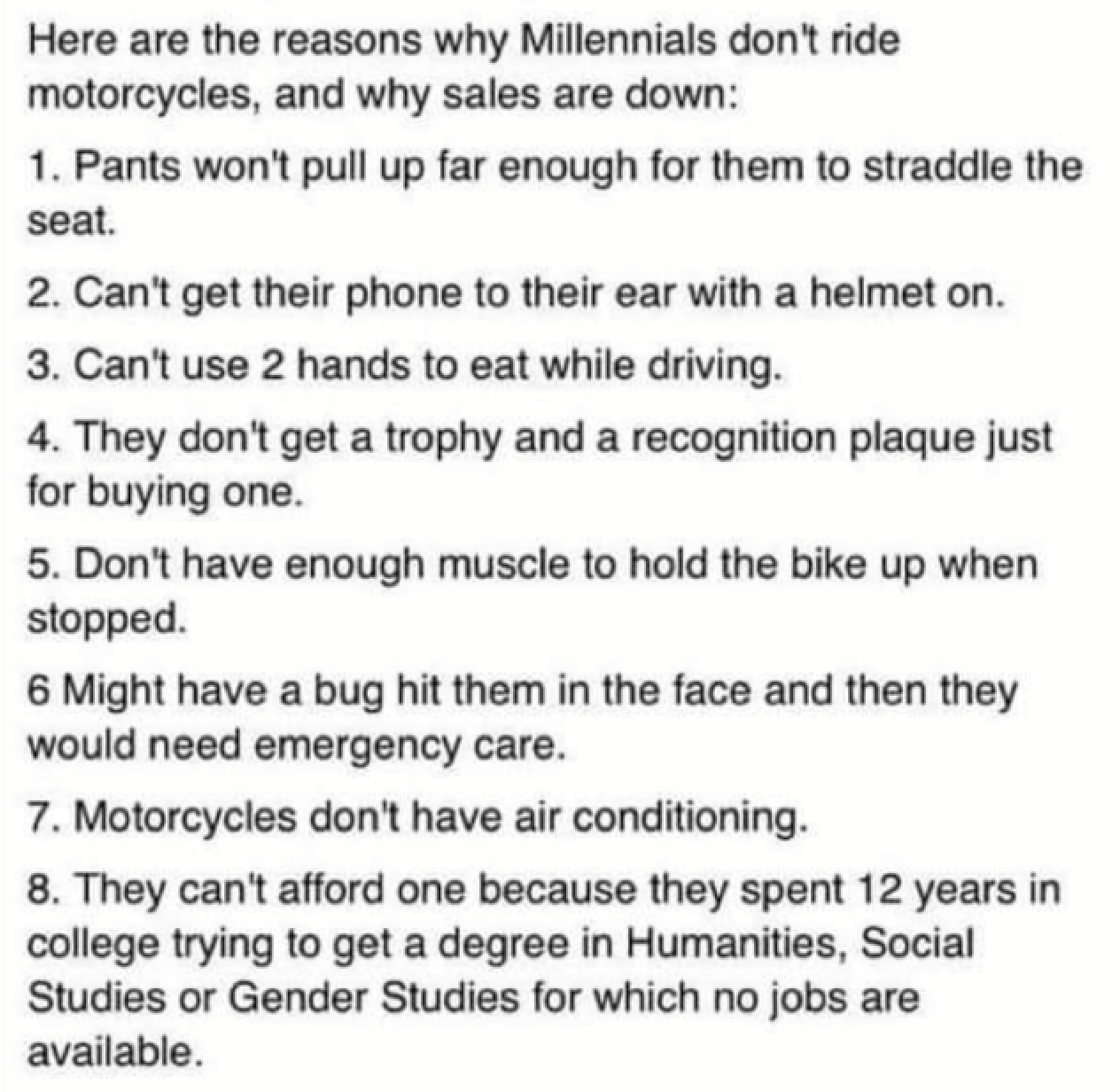 But analysts have pointed to the financial consequences of student loans and a tighter employment market for young adults in America. Today, millennials average twice as much student debt as the previous generation, making the prospect of paying $100+ a month on a motorcycle loan prohibitive for many.
"For young adults, especially, we're finding there's a financial pressure that might not have been there in the past," says Heather Malenshek, Harley's vice president for global marketing.
Young urbanites are instead going with cheap and practical options, such as on-demand electric scooters from companies like Bird and Lime.
Electric scooters are much more eco-friendly than gas-guzzling motorcycles, which appeals to environmentally-conscious millennial consumers. Scooters are also more conducive to urban riding, an important factor for a generation that is significantly more likely to live in a city than their parents.
Some players in the motorcycle industry are making efforts to adapt, shifting to smaller, lighter models. These bikes are easier for the first-time rider, more affordable, and better for urban riding — qualities tailor-made to appeal to millennial sensibilities. Between 2011 and 2016, sales of bikes with smaller engines increased by 12%, compared with a 7% gain for bigger, more powerful motorcycles.
In the motorcycle space, the secret to survival may be to think small.
---
11. Golf
The exclusive private country club is in decline for a generation more focused on inclusion
The golfing industry is struggling to survive. Yet again, it looks like millennials' shifting priorities may be driving the sport into the rough — and the industry will need to evolve if it hopes to recover ground with younger consumers.
In the mid-1990s, 9M 18- to 34- year-olds were playing golf, compared to just 6M in 2018. Overall, the sport has lost 5M participants in the US since 2008, according to the National Golf Foundation.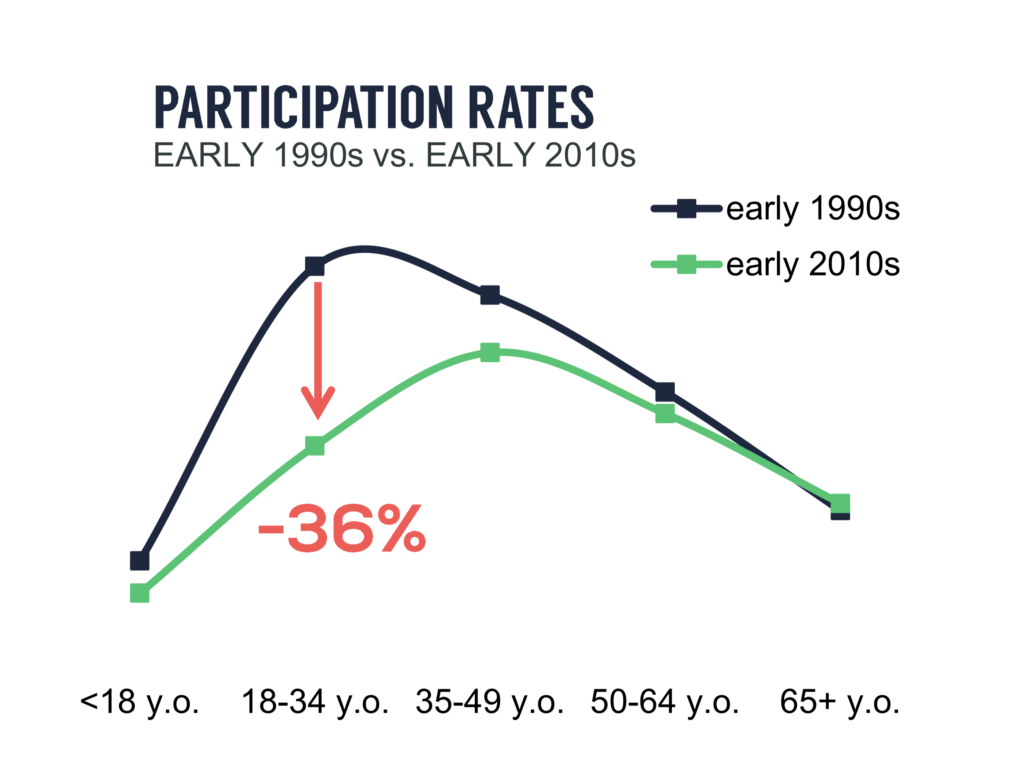 Golfing among the 18-34 age group is down 36% since the early 1990s, and millennials are a much larger generation — signaling big trouble for the industry. Source: Golf2020
Golf has long been associated with exclusivity and luxury — something boomers and Gen Xers are more likely to value. Millennials, by comparison, value inclusiveness and accessibility, and are more likely to have a distaste for country club activities.
The sport also skews heavily male, and for a generation that has seen significant gains in female employment, whiffs of a "boys club" atmosphere are also likely to be a turn-off.
But some signs suggest there's still a chance for the golf industry to change its fortunes with millennials. Newcomers to golf are 35% female, 26% non-Caucasian, and 70% under the age of 35.
The infrastructure is there to support an increase in golfers from underrepresented groups. 75% of all golf courses in the United States are on public land — a higher percentage than ever before in history. Because these courses are often owned by a municipality, they generally charge much lower greens fees than private country clubs.
Despite their Mad Men-era image, golf clubs could attract millennial interest with a 21st-century update. Millennials seek flexibility, opportunities to socialize, and amenities such as pools and fitness centers.
As with gyms, millennial golfers want customization and personalized service. Over half (51%) say they'd prefer a flexible membership combining a low social fee for full access to the club, with golf on a pay-per-use basis.
Some country clubs seem to be listening to millennials: they are now adding health and wellness options and more family-friendly activities to their offerings. Many clubs have also introduced a broader range of dining options and have begun to allow a casual dress-code.
In short, golf will need to be more inclusive, affordable, and flexible if it wants to win over millennials and reverse the downward trend.
---
12. Raisins
Millennials want to avoid added sugar, even in a 'healthier' source
According to Sun-Maid's CEO Harry Overly, raisins have a millennial problem.
When the National Consumer Panel set out to ask 120,000 different American households about their snack and food consumption, they found that the consumers of raisins overwhelmingly tended to be from older generations.
Overly responded to this report by stating that raisins had "skipped a generation," and that they "were no longer top of mind for millennials starting to have children."
Sun-Maid's new advertising has tried to fight that trend by tapping into millennials' childhood nostalgia.
One problem for Sun-Maid and raisin farmers might be that health-conscious millennials are increasingly cutting sugar out of their diets. Raisins are high in sugar (around 70% by weight).
Of course, this isn't the first time that raisins have faced disaster and emerged intact. In the 1970s, the California Raisin Advisory Board (CalRAB) tried a variety of different kinds of advertising approaches to make raisins "cool." Nothing worked until 1986, when the California Raisins made their big-screen debut in an instant classic commercial for the Sun-Maid corporation:
With a similarly savvy marketing move, it's possible that raisin sellers could engineer a similar upswing with millennials. However, to do it, they'll have to prove that they've heard millennials' nutritional concerns.
Some raisin industry leaders are doing exactly that. Sun-Maid, for example, is unveiling a new line of sour raisin snacks made with natural fruit juice and no added sugar.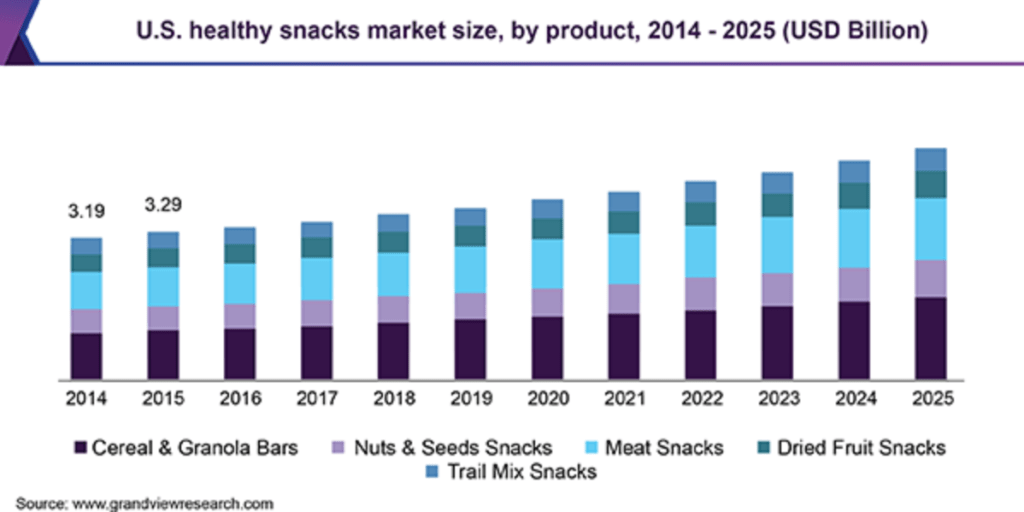 Dried fruit snacks comprise a sizable chunk of the growing US healthy snack market. Source: Grand View Research
Healthy snacks represented a $23B opportunity worldwide in 2018. By expanding its selection of natural fruit snacks, it appears Sun-Maid is working to claim a slice of that pie.
---
13. Diamonds
Millennials are ditching traditional diamonds for cheaper gemstones and lab-grown options
When diamond company De Beers declared the 2010s as "The Diamond Decade," it was still riding high on strong demand for the valuable resource, partly driven by well-crafted marketing campaigns promoting their rarity.
However, these ideas have seemingly failed to impress millennials, often characterized in the media as a generation opposed to "hand-me-down ideals" and more activist when it comes to matters of ethics and sustainability.
Sales of rough diamonds in 2019 are estimated to have fallen by 25%, according to Bain & Co's Global Diamond Industry report. Meanwhile, global retail sales of diamond jewelry are estimated to have gone down by 2% in the same year.
Millennials may be moving away from mined diamonds but they are embracing their lab-made versions — and diamond companies are paying attention.
A number of large diamond makers have launched their own lines of synthetic diamonds to compete. At the same time, however, those companies (including De Beers) are also recommitting to the traditional diamond marketing playbook, looking to fight back against anti-diamond sentiment.
The millennials-are-killing-diamonds narrative gained traction in 2016, when The Economist posed a question in a tweet asking why the generation was not buying the gemstone.
A few common themes emerged in response. For one, many debt-laden millennials are put off by diamonds' high price point. While older generations considered it appropriate to spend 3-months' salary on an engagement ring, this rule of thumb no longer appeals to young millennials. About 66% of Americans believe that engagement rings should cost below $2,500, according to a 2019 survey by TD Ameritrade. Meanwhile, couples in the UK are now choosing to spend the equivalent of only about $700 on engagement rings, according to an Allianz report.
Millennials are also likely to get married later than their parents and are showing different jewelry preferences when they do. Many millennials are flocking to diamond alternatives such as personalized birthstones or gemstones like emeralds, aquamarines, or sapphires. These rivals are often much cheaper than diamonds, but can offer almost the same level of durability and sparkle.
One popular diamond alternative is morganite, a pink-hued stone that is actually rarer than a diamond. It also undercuts diamonds when it comes to price: one carat of morganite only costs about $300, compared with close to $2,000 for a diamond.
Lab-grown diamonds — which have the same chemical composition as naturally occurring variants — are also gaining traction. In a survey, 70% of millennials said that they would consider buying a lab-grown diamond, which can cost about a third less than mined diamonds.
And research has shown that this sentiment is likely real. In one study, when given a choice between buying a one carat mined diamond for $5,000 and a 1.25 carat synthetic diamond for the same price, a majority of subjects opted for the latter.
Sales of these lab-grown diamonds are expected to reach almost $28B by 2023, up 70% from 2015, according to a study by Kenneth Research.
Apart from being less expensive, these diamonds also fit in with millennials' preference for responsible sourcing and manufacturing. Made in a lab, synthetic diamonds are free from many of the common ethical concerns around "blood diamonds."
While the diamond industry is spending large sums of marketing dollars fighting back against the trend towards synthetic diamonds, it is also hedging its bets. Preparing itself to navigate this shift in consumer preferences, De Beers launched Lightbox Jewelry in 2018, a company that exclusively sells fashion jewelry made with artificial diamonds.
However, as more millennials get engaged, incumbent diamond makers are doubling down on marketing efforts targeting the generation.
In 2016, the Diamond Producers Association, a group of 7 leading diamond producers, launched a "real is rare, real is a diamond" campaign to lure millennials away from synthetic diamonds. But they have their work cut out for them if they want to compete on price and satisfy ethical concerns.

---
14. Pet food
Healthier, high-quality pet food is appealing to millennials, mass-market incumbents are already adapting
Some millennials, the story goes, treat their pets like children.
And while previous generations might have considered their pets part of the family too, millennials have taken it to the next level. Brands catering to millennials are offering designer dog clothes for hundreds of dollars and millennials are reportedly more likely to go into debt to provide for their pets.
In light of this trend, it might seem odd that millennials are being blamed for killing the pet food industry. And you would be right to be skeptical.
The reality is that millennials' preference for sustainably-sourced, clean food products influences how they choose food for their pets too. Though they may be "killing" the mass-market, grocery-store variants of pet food, this does not mean that pet-food companies are going out of business.
Most of the popular pet food brands such as Pedigree and Purina are owned by packaged food conglomerates like General Mills and Nestle, which are changing their sales strategies in line with shifting consumer preferences. With millennial customers favoring premium pet products, these companies are now investing in niche, organic, and fresher pet food offerings.
Millennials are ditching the standard kibble for premium and fresher products like grain-free and preservative-free food, sending the natural pet food market soaring. The US organic pet food market was estimated to be worth $7B in 2018, up 10% from a year earlier, according to Winsight Grocery Business. This compared with growth of only 2% in traditional pet food products.
While baby boomers still account for the largest share of US consumer spending on pets, millennials are fast increasing their slice of the market. Millennials spent nearly $17B on their pets in 2018, according to Petfood Industry, up 25% from a year earlier.
Millennials are also often choosing to buy pet food through monthly, box-subscription services such as NomNomNow, The Farmer's Dog, and Ollie. About a fifth of consumers aged between 18 and 34 want to have fresh meals for their pets delivered, according to a 2019 survey by Mintel.
This focus on premium and healthier pet food products has provoked a reaction from big consumer product brands.
General Mills, maker of Cheerios and Yoplait yogurt, entered the natural pet food market in 2018 with its $8B acquisition of Blue Buffalo Pet Products.
J.M. Smucker, the company behind Jif peanut butter and Crisco cooking oils, bought Ainsworth Pet Nutrition, the parent company of Nutrish pet foods, for $1.7B. Nutrish specializes in pet food made with real chicken and vegetables.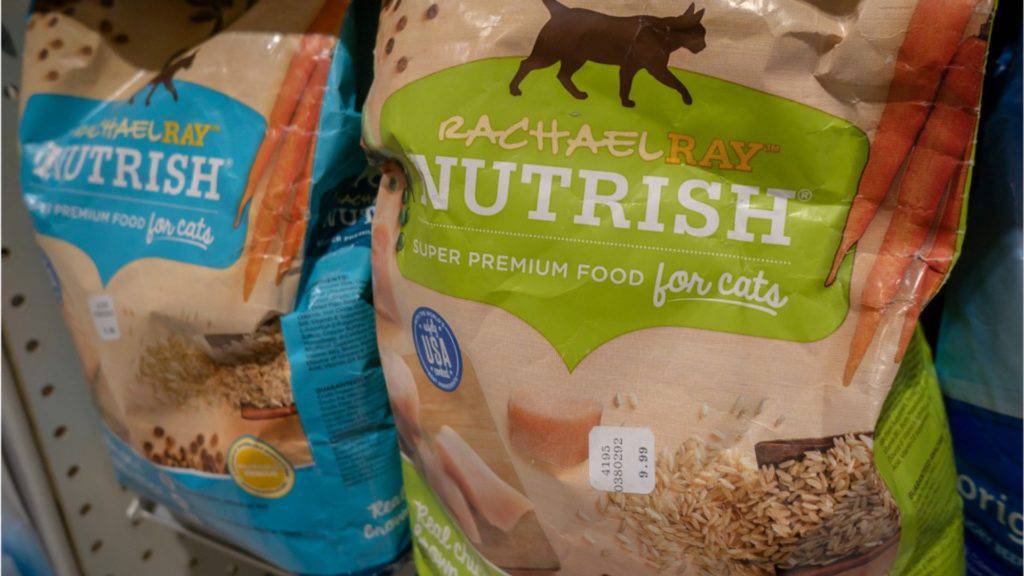 As consumers demand high-quality and healthy pet food, packaged foods companies are taking stock and buying up niche pet food brands.
While these deals show that the traditional packaged goods companies are paying attention to the changing trends in pet food, there will be obstacles as the market continues to shift.
The millennial desire for healthier, more natural pet food isn't going away. One challenge for the pet food industry will be delivering on the promise of sustainable and healthy food while keeping the costs down enough to maintain mainstream accessibility.
---
What's really 'killing' these industries
Industries are not being threatened by millennials themselves. The threat comes from younger, more adaptive brands that have zeroed in on millennial habits and preferences, and are actively leveraging those insights to unlock huge market potential.
The message from millennials is clear: brands that prioritize convenience, personalization, and sustainability will thrive. Brands that continue to cling to outmoded ideas of consumer behavior will continue to struggle.
A number of industries have already figured this out. For example, the $3.7B wellness economy, which spans everything from fitness and athleisure to mental wellness and personal care, is thriving thanks to young consumers. Pet care, coffee, snacks, and live entertainment are also successfully connecting with millennial shoppers.
Industry disruption was happening long before millennials came along, and it will continue long after. The brands that manage to survive changes in consumer preferences are the ones that listen, adapt, and realize that shifting markets are not a threat, but an opportunity for creative transformation.
If you aren't already a client, sign up for a free trial to learn more about our platform.