MENA investors hold stakes in 17 unicorn companies valued at $1B+, including DiDi Chuxing, Sofi, and Knotel.
Investors based in the Middle East and North Africa (MENA) are hunting unicorns — participating in deals to startups valued at $1B+.
Past unicorns with backing from MENA investors include US ride-hailing giants Uber and Lyft, among others.
Using CB Insights data, we visualized MENA's unicorn hunters and their investments in today's global unicorns, all tracked on CB Insights' real-time unicorn list. We include private, active companies only. Our analysis excludes MENA-based investors that are not direct investors or LPs in a fund that has invested in a unicorn.
Please click to enlarge.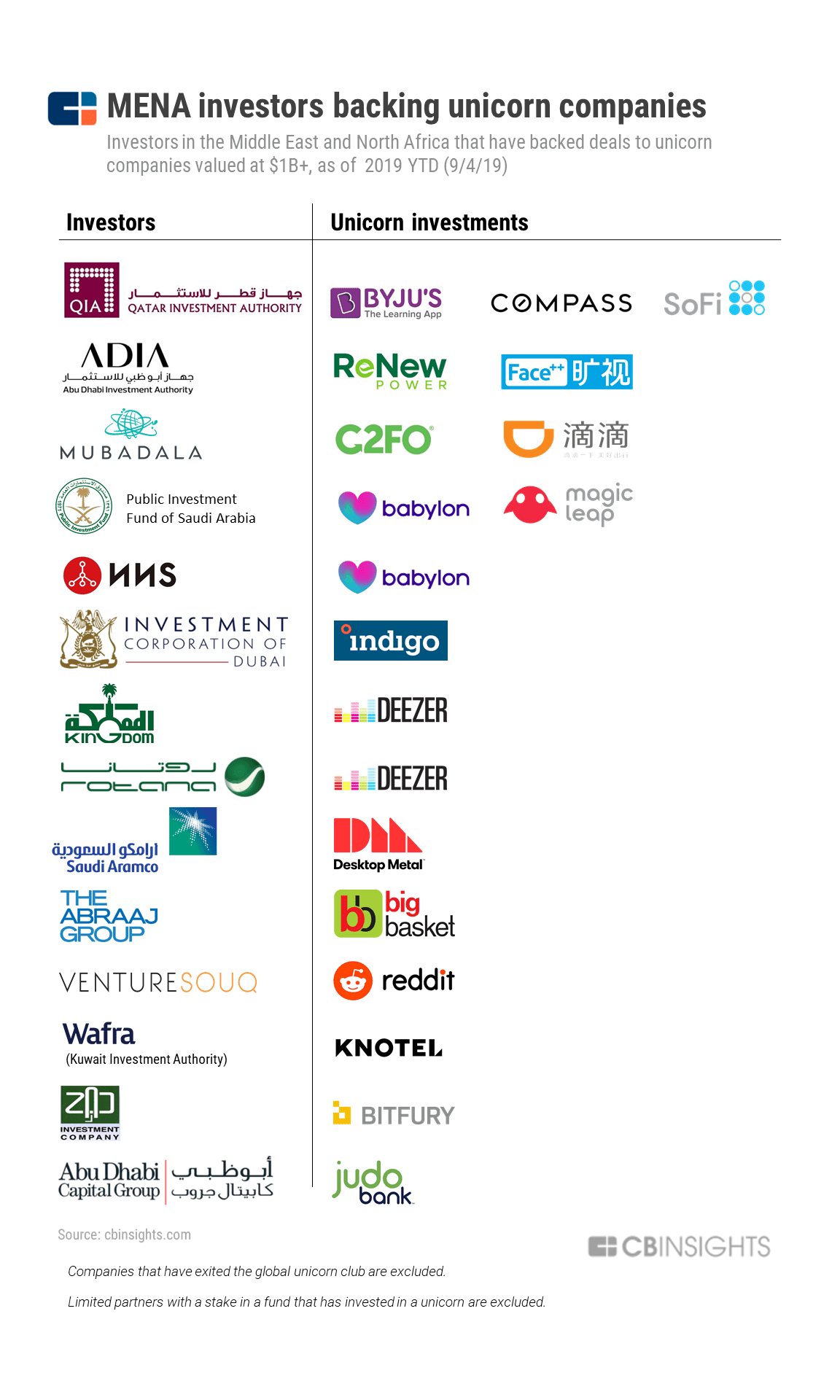 Key takeaways
MENA's unicorn investors range from sovereign wealth funds such as the Qatar Investment Authority (QIA) to corporate venture firms like Saudi Aramco Energy Ventures.
The QIA is the only MENA investor that has backed 3 companies in the global unicorn club. Three other MENA-based investors have participated in deals to 2 unicorns: Mubadala, Abu Dhabi Investment Authority, and the Public Investment Fund of Saudi Arabia.
Only 2 unicorn companies have been backed by multiple MENA investors: French music platform Deezer (backed by Rotana Audio Visual and Kingdom Holding Company) and UK-based healthcare AI company Babylon Health (Public Investment Fund of Saudi Arabia, NNS Holding).
In total, 14 MENA investors hold a stake in 17 unicorn companies as of 2019 YTD (9/4/2019).
United Arab Emirates leads unicorn investments 
The highest concentration of MENA investors with unicorns in their portfolio are in the United Arab Emirates (UAE). Seven of the 14 MENA investors in the graphic above are based in Dubai or Abu Dhabi, within the UAE.
Mubadala, a fund based in Abu Dhabi, participated in DiDi Chuxing's $4B Series H round (alongside SoftBank Group) in December 2017. China-based ride hailing giant DiDi Chuxing is the most valuable MENA-backed unicorn and the second most valuable private company in the world, with a $56B valuation.
Mubadala has also backed US-based fintech startup C2FO, participating in the company's $100M Series F round in February 2018.
The Abu Dhabi Investment Authority (ADIA) backed China-based computer vision tech platform Face++ in a $750M Series D in 2019 and backed India-based renewable energy company ReNew Power in a $265M private equity round in 2015.
Dubai-based VentureSouq is the only MENA-based venture capital firm with a stake in a unicorn. VentureSouq backed US-based web community reddit in the company's $200M Series C in July 2017.
From edtech to blockchain, MENA investors back a wide range of unicorns
Other MENA investors not based in the UAE also have stakes in the global unicorn club.
The QIA in Qatar has backed three unicorns: US-based fintech Sofi, US-based real estate tech startup Compass, and India-based edtech company BYJU's.
The Public Investment Fund of Saudi Arabia (PIF) backed US-based augmented reality company Magic Leap and UK-based digital healthcare company Babylon Health.
Other Saudi Arabia-based investors include The Kingdom Holding Company, which backed Deezer alongside Rotana Audio Visual in 2018, and Zad Investment Company, which backed Netherlands-based blockchain unicorn BitFury in a $20M Series A in 2014.
US-based Knotel, which offers premium office space, is one of the newest additions to the global unicorn club, reaching a $1B valuation in August 2019. Knotel's recent $400M Series C saw participation from Wafra, the investment arm of the Kuwaiti sovereign wealth fund.
If you aren't already a client, sign up for a free trial to learn more about our platform.