Xbox could implement a network-wide anti-cheating software that uses artificial intelligence to track the pace of players' progress in video games.
Cheaters beware.
A recently published Microsoft patent application highlights the use of machine learning to detect cheating in video games.
The company, which makes the Xbox gaming console and owns the Minecraft franchise, has plans to aggregate data on players' scores, achievements met, items awarded, and ranks achieved.
Then, using machine learning techniques, it will isolate outliers in the data to determine whether or not a player must be flagged for cheating.
Microsoft's Process For Flagging Players
Microsoft has drastically grown its presence in the gaming realm, acquiring more gaming companies in 2018 than it has over the last 5 years combined.
In its patent titled "Detecting Cheating In Games With Machine Learning," the company proposes the use of machine learning technology to develop a behavioral analytics engine that will detect anomalies in gaming.
When a user plays a game, behaviors are logged, from user scores and rankings to interactions with other players. These behaviors are then analyzed and deemed normal or outlying, based on collected data.
A sudden spike in a player's ranking, for example, might be deemed abnormal — and therefore flagged for cheating potential.
This patent is a move by Microsoft to integrate information across data silos, ie between a gaming platform like Xbox and a third-party game. Using machine learning, the company could analyze a large collection of unstructured data — which otherwise might be inaccessible — to derive insights on whether or not a user is cheating.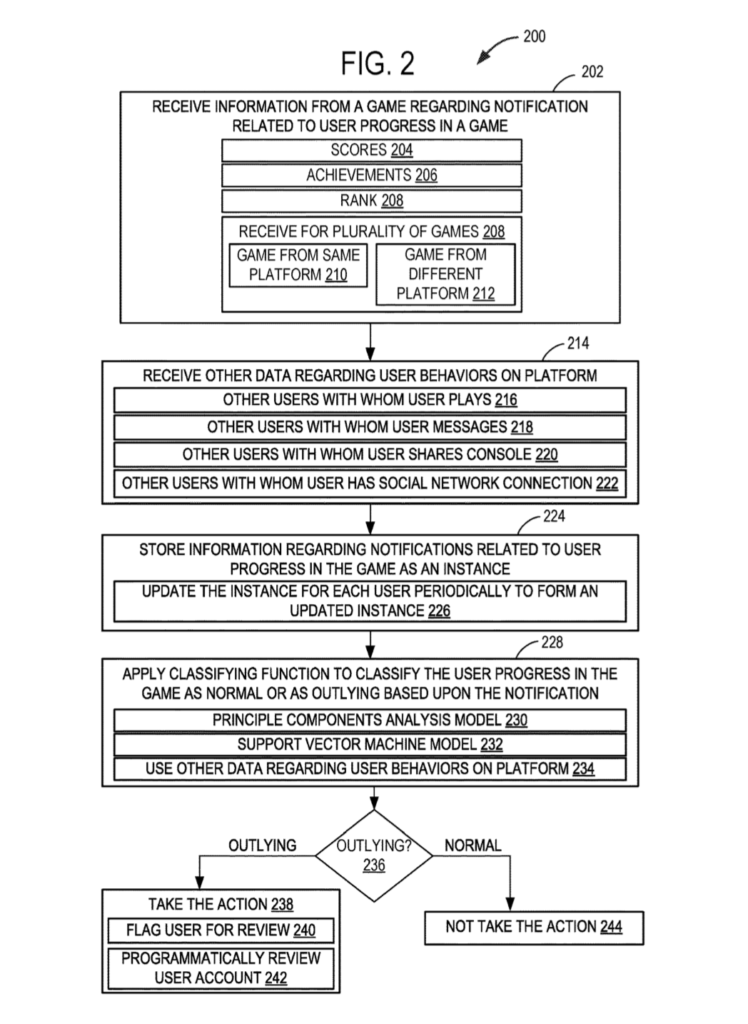 If the cheating detection module suspects foul play, actions taken against the player could range from a warning email to a suspension or ban from the Xbox network.
Currently, games often provide their own personalized anti-cheating software and features. With Microsoft's new patent, cheating detection moves to the platform level, and the same software can be used for a variety of games. 
Microsoft launched TruePlay as part of Windows 10 last year to detect cheating at platform level for PCs. Unfortunately, TruePlay was not well-received. It applied only to a small selection of Windows games, and failed to gain support from other game developers.
Despite its failure, Microsoft continues to implement anti-cheat systems for video games, showcasing its commitment to fair play.
But Microsoft isn't the only company working on anti-cheat software, especially given the rise of e-sports and competitive gaming, in which real cash and sponsorships are in play. Other examples include the Valve Corporation and Blizzard Entertainment.
Heavy research is also being done into keyboard and mouse movements to detect cheating, as is the case with mouse and keyboard scripting on games like Overwatch and Dota 2.
If you aren't already a client, sign up for a free trial to learn more about our platform.