We analyzed 10 years of earnings transcripts from Facebook, Apple, Microsoft, Google, and Amazon (FAMGA). According to mentions, Microsoft and Google are far more focused on artificial intelligence and machine learning than their peers.
Funding to the private market AI category jumped 141% from 2016 to 2017. In total, companies in this category raised $15.2B in financing throughout 2017 — its biggest year yet. 
But despite seeing over $30B in private market investment since 2013, big tech companies like Microsoft and Google now dominate the enterprise AI space, making the environment difficult for smaller, upstart competitors.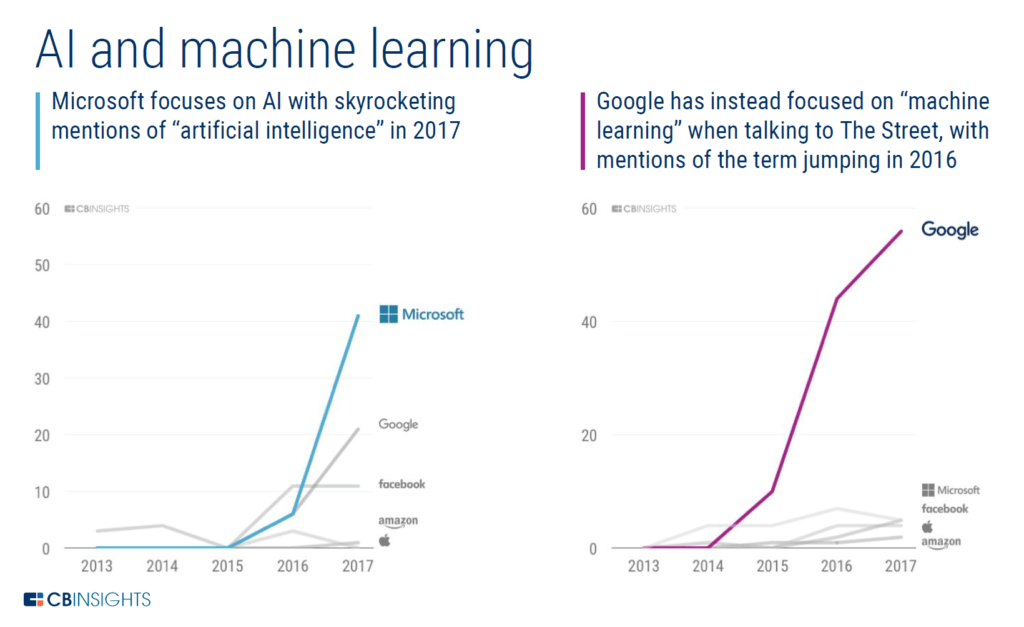 Microsoft, in particular, has a strong focus on artificial intelligence products and solutions.
The company has pivoted away from a majority of its consumer products toward opportunistic initiatives in enterprise software and cloud computing. In Q4 2017, approximately $19B of the company's near $29B in annual revenue was generated from enterprise products like software licenses, consulting services, and Microsoft's "Intelligent Cloud" platforms.
But as the cloud industry, in particular, has become more commoditized, Microsoft has pushed beyond the service layer to AI-focused solutions to further differentiate itself from competitors and to attract new enterprise clientele.  
In a January 2017 earnings call, Microsoft CEO Satya Nadella highlighted the company's efforts to democratize artificial intelligence for all:
"Everyone I meet is talking about building their own digital capability to transform their product, service, and business model. They are looking to Microsoft for security, productivity, business process, cloud, and AI platforms to help drive their own transformation.
In this last quarter, we have continued to build momentum across all these areas and in particular, AI. Just this month we acquired AI deep learning startup Maluuba, whose work in natural language processing will help advance our strategy to democratize AI for everyone."
But Microsoft isn't the only tech giant focused on artificial intelligence.
Search giant Google has spoken far more about AI during earnings calls than Microsoft, but has focused on the key application of AI known as "machine learning."
While Microsoft has yet to release its machine learning developer platform Windows ML, Google launched TensorFlow — its free, open-source machine learning framework — back in November of 2015.
This service is available to all developers as a stand-alone framework, but also within the company's Google Cloud Platform catering to business organizations. TensorFlow is now the most popular free, open-source framework in AI.
For Google, machine learning is also core to many of the organization's consumer products, especially search products like the new voice-enabled Google Assistant. As of January 2018, the Google Assistant is available on more than 400M devices worldwide, including Android phones, Google Home products, iPhones, TVs, and more. Google emphasized its commitment to voice-enabled products during a 2017 earnings call, which we analyzed here.
And beyond its own products, Google invests heavily in the broader machine learning ecosystem.
The Alphabet subsidiary DeepMind (acquired in January 2014) plays an important role in researching the future of machine learning and the broader implications of an artificially intelligent world.
In an April 2017 earnings call, Google CEO Sundar Pichai emphasized how important AI is to the future of the company and how machine learning is helping to improve the entire Google product ecosystem:
"I'm really happy with how we are transitioning to an AI-first company. The Google Assistant is one of our first steps towards that future…
Advances in machine learning are helping us make many Google products better. One example from this quarter is the launch of parking predictions in Google Maps. Beyond that, we continue to set the pace in machine learning and AI research. We introduced a new technique for training deep neural networks on mobile devices called Federated Learning. This technique enables people to run a shared machine learning model while keeping their underlying data stored locally on mobile phones. DeepMind is bringing AlphaGo to China in May, pairing AI with the world's best players at the Future of Go Summit. And it's very exciting to see the incredible things that developers and researchers are building on the TensorFlow platform."
If you aren't already a client, sign up for a free trial to learn more about our platform.