In the last week, Microsoft has acquired more gaming companies than it has over the last 5 years. In addition, the company has announced the development of a device-agnostic game streaming service.
Each year, game developers, console manufacturers, and industry enthusiasts gather in Los Angeles for the annual Electronic Entertainment Expo, known popularly as E3. At the event, the best developers and manufacturers showcase their upcoming products. And each year, Microsoft presents the newest developments for the Xbox ecosystem.
But this year was a bit different.
As part of Xbox's hour-long keynote, the company announced the acquisition of 4 game development studios as well as the formation of a first-party game studio called The Initiative. In total, Microsoft has acquired 5 gaming companies in 2018 year-to-date — the same number of gaming companies it acquired across the last 9 years.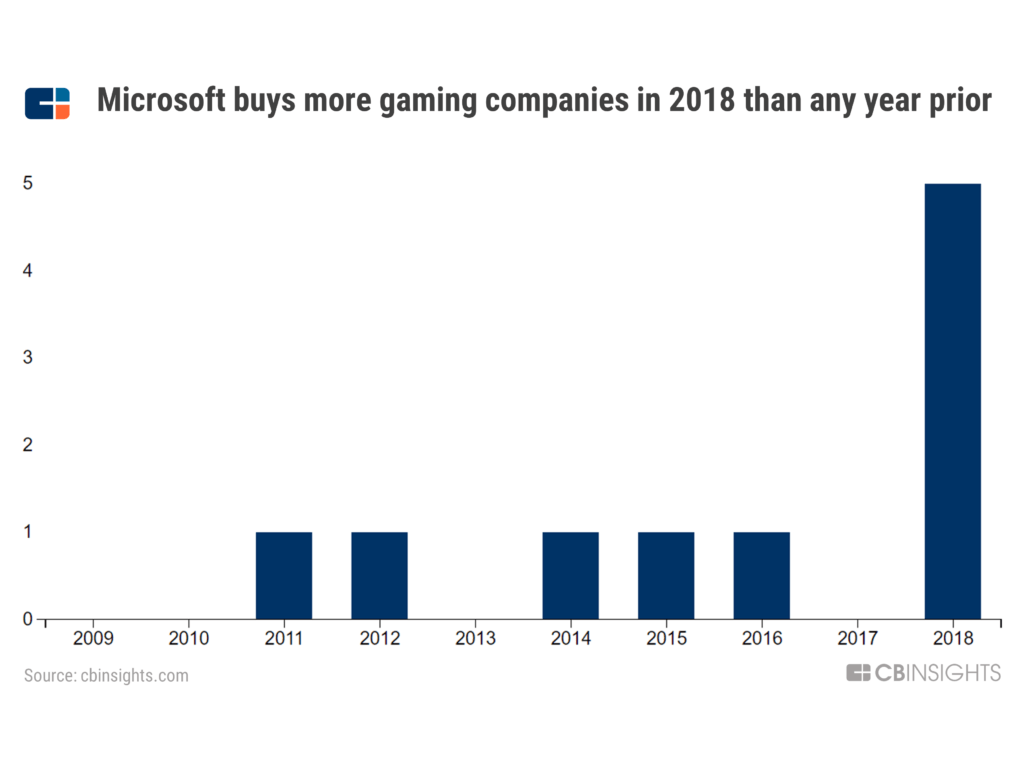 The last gaming studio Microsoft purchased before this year was in 2014. The company acquired Mojang, developer and publisher of popular open-world game Minecraft, which has sold at least 144 million copies across numerous platforms, and is the second best-selling game of all time (behind only Tetris).
However, these recent purchases are focused exclusively on strengthening Xbox's portfolio of console exclusive games — games that retain current customers and attract new ones (think Halo, Gears of War, and Forza Motorsport), and can't be played anywhere else.
Together,  the companies acquired — Compulsion Games, Ninja Theory, Playground Games, and Undead Labs — possess talent in building open world environments or telling captivating stories, according to Microsoft's Executive VP of Gaming Phil Spencer.
Games will also benefit from earlier Microsoft acquisitions like PlayFab (January 2018) and Havok (October 2015), both of which offer game development tools. In addition, these games will benefit from services provided by Microsoft Azure's Game Development Cloud.
Today, companies like Ubisoft and 343 Industries (developer of recent Halo games and established by Microsoft Studios) use Azure to accommodate large online multiplayer gameplay, while others develop entire games using Azure's infrastructure and development tools.
By attracting more developers to Azure, Microsoft may also incentivize those developers to create more Xbox exclusive games — a benefit to both sides of the business. But in addition to reliable infrastructure and advanced development tools, developers and publishers look for platform reach.
While Xbox's distribution is strong, more consumers own Sony's Playstation. This may have been a driver behind Microsoft's decision to develop a game streaming service, which was also announced during the company's recent E3 keynote.
As stated in our recent report on gaming trends, "while Xbox does not offer a cloud-based [streaming service] at this time, the company is uniquely positioned to do so with Microsoft's robust cloud infrastructure."
In launching such a service, Microsoft will expand its reach and provide console-quality gaming on any device, including Xbox, PC, or smartphones.
While Playstation already offers a game streaming service of its own, Playstation Now, the company discontinued it on a majority of devices to focus on the service for console and PC. With that said, certain, early reviews indicated issues with latency.
On this matter, Microsoft may be better positioned to deliver a more reliable and seamless service with the help of Azure.
While these recent consumer developments came as a surprise to many, the company has emphasized gaming more on recent earnings calls.
Using CB Insights Earnings Transcripts tool, we see that 'gaming' has been mentioned over 60 times by Microsoft executives over the last 3 quarters.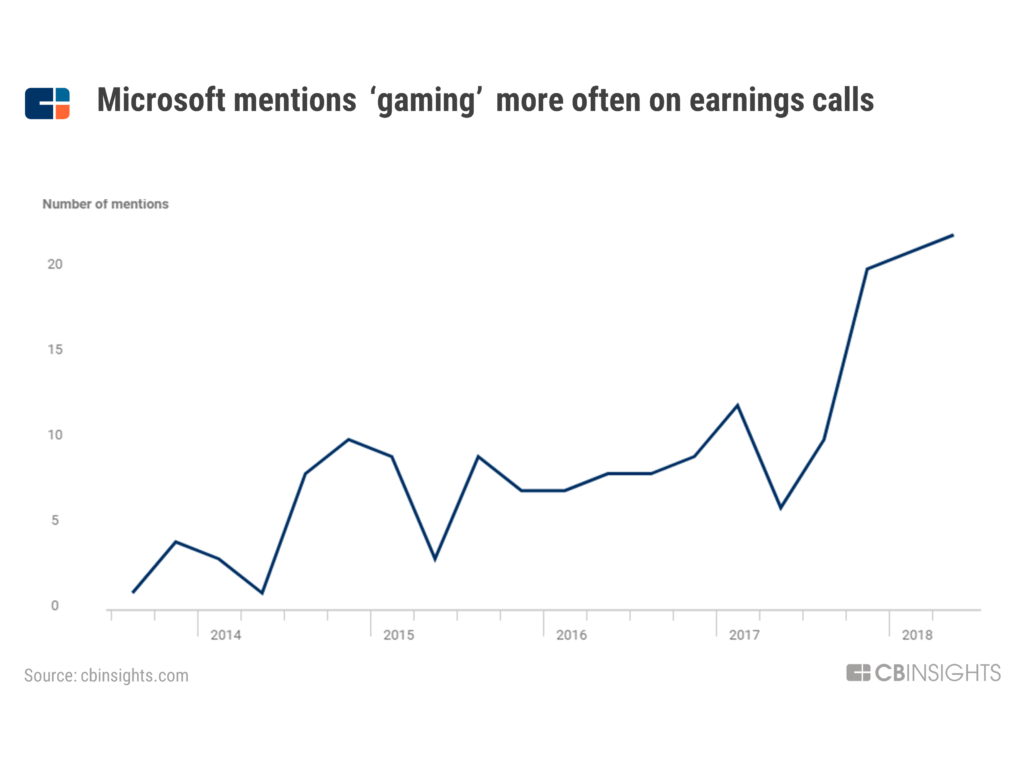 On the most recent call in April, Microsoft CEO Satya Nadella expressed the company's commitment to 4 key areas in gaming.
"[Microsoft] continues to pursue [its] expansive opportunity in gaming from the way games are created and distributed to how they are played and viewed."
In the same quarter, Microsoft's gaming revenue jumped 18% from the year prior, while subscriptions to Microsoft's Xbox Live, which provides online multiplayer functionality, were also up 14% year-over-year.
These recent initiatives and acquisitions by the company support the 4 opportunities outlined by Nadella. In doing so, they should help Microsoft expand its market share of the $129B gaming industry (according to CB Insights' Market Sizing tool).
If you aren't already a client, sign up for a free trial to learn more about our platform.