We analyzed the earnings transcripts of Facebook, Apple, Microsoft, Google, and Amazon, and found that Microsoft is the only company talking about edge computing.
Edge computing is an emerging concept where connected devices process data closer to where it is created — or at the "edge."
This can either be within the device itself (i.e. where the sensors are located), or within a hyper-local server close to the device. It provides an alternative to sending data to a centralized cloud for processing.
Some of the biggest players in tech are exploring edge computing, potentially giving rise to the next big computing race.
Microsoft, in particular, has been very vocal about its efforts related to edge computing. The company has mentioned edge computing and related topics 29 times on 2018 earnings calls, already exceeding the 26 mentions from all 2017 earnings calls. Other insights and highlights:
No other FAMGA companies mention edge: Microsoft is the only FAMGA company to mention edge computing on earnings calls. Neither Amazon, Apple, Facebook, or Google have mentioned edge computing over the last 5 years. Any mention of the word edge relates to irrelevant topics such as cutting-edge technology or edge-to-edge displays.
Edge is a multi-billion dollar opportunity: According to the CB Insights Market Sizing tool, the global edge computing market is estimated to reach $6.72B by 2022. Although a nascent space, edge computing could prove to be more efficient in some areas where cloud computing operates.
Microsoft CEO confirms that Edge is a priority: On an earnings call from April 2018, Microsoft's CEO, Satya Nadella said, "the intelligent cloud and the intelligent edge era is already upon us. It represents a tremendous opportunity. We took significant steps this quarter to put this at the forefront of everything we do, realigning our entire engineering organization to accelerate innovation and better serve the needs of customers and partners."
Microsoft actively invests in edge and IoT: Together, Microsoft and the company's venture arm, M12, have invested in 6 companies related to edge computing or IoT over the last 2.5 years. Notable investments include robotics companies Sarcos and Comfy, drone companies Airobotics and AirMap, as well as artificial intelligence companies Syntiant and Bonsai (which was then acquired by Microsoft in June 2018).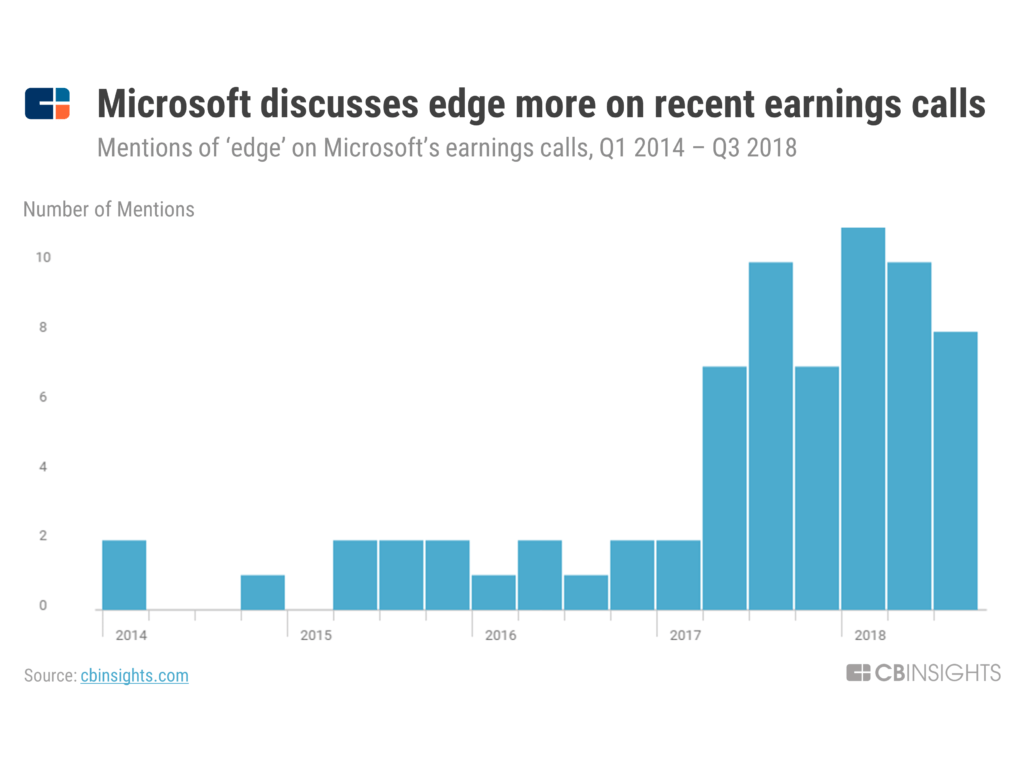 Readers can learn more about edge computing by reading our explainer on the topic, What Is Edge Computing?
If you aren't already a client, sign up for a free trial to learn more about our platform.