With the acquisition of Ally.io, Microsoft plans to enhance its employee experience platform. Here are the top-line bullets you need to know.
Microsoft, a computer technology company, has acquired Ally.io, an Objectives and Key Results (OKR) software firm, for an undisclosed amount.
WHO ARE THE PARTIES TO THE DEAL?
Ally.io – Seattle-based Ally.io's solution enables businesses to monitor goals and manage performance. Since its inception less than 3 years ago, the startup has created over 1M OKRs. Ally.io's client base has grown to over 1000, and it maintains operations that span 80+ countries. Its major customers include Dropbox, Slack, and Google, and the company is supported by a team of over 250 employees.
Microsoft – Washington-based Microsoft is a software, hardware, and technology company. In addition to offering computer software, it also designs and sells consumer electronics — such as PCs, gaming consoles, tablets — and their associated accessories. Its revenue for the fiscal year ended June 30, 2021 came in at $168.09B, up 18% year-over-year. The company has more than 182,268 employees globally.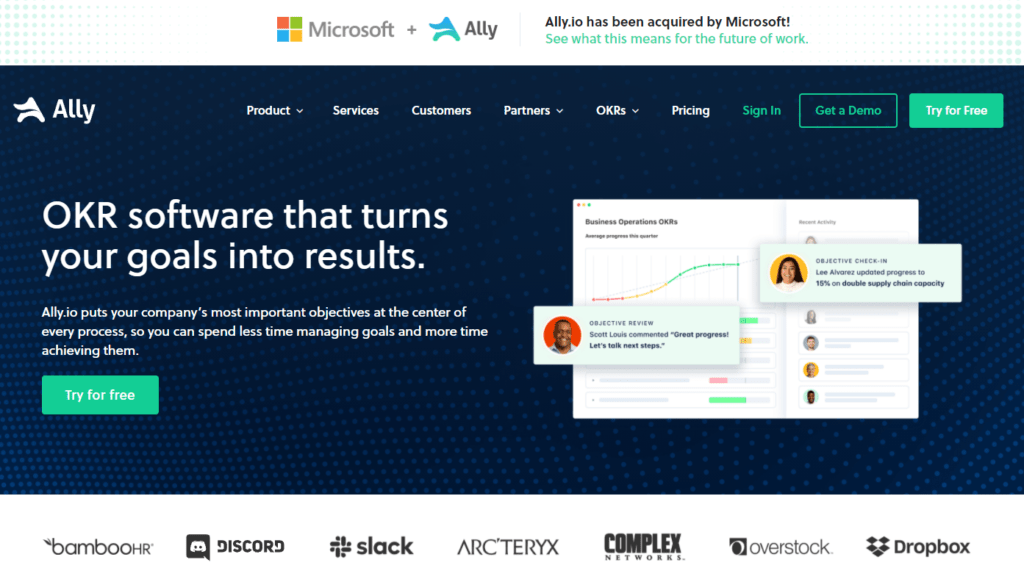 Source: Ally.io
WHY DOES THE MARKET MATTER?
The global OKR software market is projected to grow at a CAGR of 12.6% and reach a value of $1.84B by 2028, according to Verified Market Research.
The increasing awareness of OKR software benefits and rising demand for such software among SMEs in the Asia-Pacific region are contributing to market growth.