Odyssey Energy Solutions and other micro-grid startups are rapidly raising funding while expanding their reach — and established utility companies will need to adapt.
Micro-grids serve as smaller-scale versions of the power grid and provide energy to local communities. Their ability to deliver power via renewable energy sources at affordable prices is garnering interest from investors who are keen on implementing these systems in developing markets where stable grids are absent.
Micro-grid startup Odyssey Energy Solutions recently closed a $15M Series A funding round, just 7 months after its seed round. It is now expanding its business beyond emerging markets in Africa to new markets in Latin America and Asia.
Other micro-grid providers, like Zola Electric and d.light, have raised hundreds of millions of dollars expanding electricity access in Africa. As the adoption of micro-grids powered by renewable energy rises, utility companies are increasingly adapting their business models and grid management strategies to accommodate these new energy sources.
In this brief, we use CB Insights data to explore the current state of the micro-grid market, covering:
Total funding
Early-stage performance and top-funded players
Days between funding stages
Total funding
Micro-grid funding hit $716M in 2022, representing a 67% increase from 2021 and a 356% jump from 2020. This growth reflects a strong interest in distributed renewable energy projects, particularly those designed to expand electricity access in Africa.
In 2022, half of micro-grid providers raised funding, with a handful securing sizable rounds. That capital is most likely still being used in 2023, reducing the immediate need for additional funds. The startups that have raised in 2023 so far are mainly newcomers or early-stage companies, resulting in this year's reduced year-to-date funding total.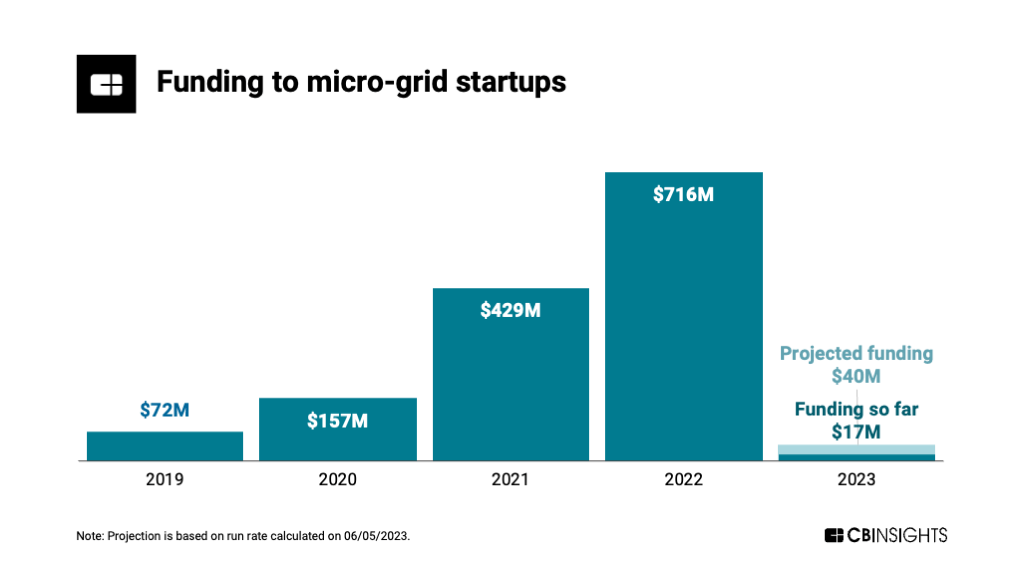 Data as of 6/5/2023.